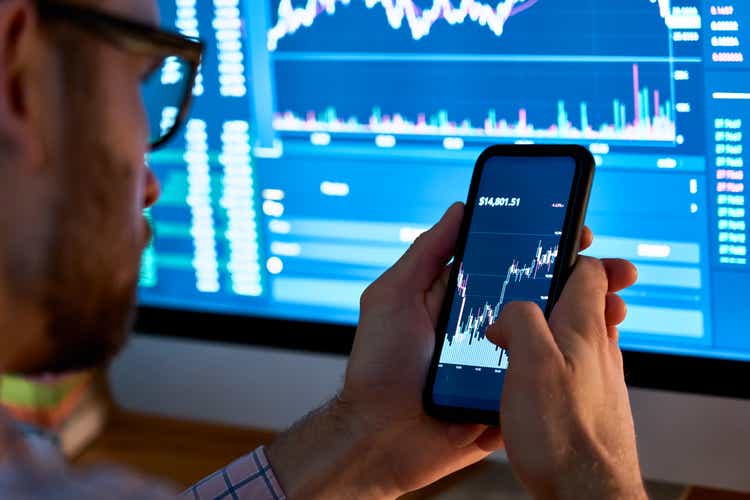 MICT Inc. (NASDAQ:MICT) used to be known as Micronet, a supplier of electronics hardware for fleet and remote worker management. The company has reduced its stake in Micronet to 37% so the financials of Micronet are no longer consolidated into MICT.
With the acquisition of Intermediate in 2019, the company reinvented itself into a platform business with three lines of business:
Insurance business
Stock trading platform
Commodities platform
Before we'll get to that we have to warn investors that this isn't for the faint of heart. On the plus side:
The company has a lot of cash ($105M at the end of Q3)
Two businesses are growing rapidly and a third one could launch at any moment.
The market cap is well below the cash holdings.
On the negative side:
The CEO, Darren Mercer, has a controversial history with his company BNN which, as far as we know, went bankrupt.
The company just received a delisting notice as the shares have traded below $1 for 30 days. This isn't a disaster, as they have 180 days to remedy that and very likely another 180 days beyond that, and in any case it can easily be remedied with a reverse merger.
The company is about to use some of the $105M (plus newly shareholder approval for potential further share issuing) to acquire other companies. Maybe they score a hit with these, but we would prefer they concentrate on their existing businesses.
So you have been warned, this isn't for the fainthearted. However, if even just one of their businesses takes off (and there are signs of that happening), this could be a multi-bagger.
Insurance business
The company entered the insurance business when it acquired GFHI BI Intermediate (a wholly-owned holding company of GFHI) in July 2020. GFHI is the 100% owner of Bokefa, which has interests in the following insurance brokers:
Guangxi Zhongtong Insurance Agency (through a VIE structure)
Beijing Fucheng Insurance (24% equity stake, 76% VIE agreements)
Beijing Fucheng Insurance is also the 100% owner of Beijing Yibao Technology, which is a majority (60%) owner of Guangxi Zhongtong
All-Weather Insurance Agency (technically, Bokefa issued All Weather a loan of RMB30M with the shares of All Weather pledged and Bokefa having an exclusive option to purchase all the outstanding shares for the amount of the loan). Another loan ($776K) was supplied in September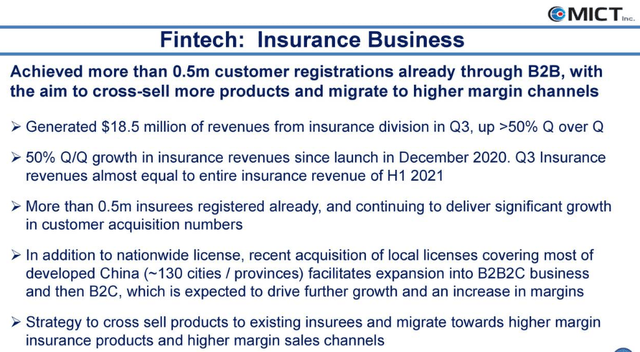 Of these businesses, only the insurance platform produces (rapidly rising) revenues, the stock trading platform has just started and the commodities platform is delayed as partners await the form of new Chinese regulations.
Nevertheless, the insurance platform, which was launched in December 2020 is off to a promising start, increasing revenues by 50% sequentially both in Q2 and Q3 in which it reached $18.5M.
After having acquired a national license, the company followed up with acquiring some 130 local licenses which have made them an attractive partner (Q3CC):
the most strategic thing we did was get the one hundred and thirty -- increase our license portfolio to one hundred and thirty. That means big insurers who struggle for nationwide reach, true nationwide concentrated reach are talking to us about different products
This enables the company to move away from its reliance on relatively low-margin auto insurance and cross-selling higher-margin products from partners to customers, increasing both the TAM and gross margins. The strategy was described during the Q2CC:
our strategy has been ultimately to get access to as many underlying insuree through brokers as possible, with two particular aims in mind. The first is to ultimately migrate those insurees from the B2B to the B2C model which will have a significant positive impact on our margins. And secondly, to offer more profitable insurance products, higher margin products
The revenue streams are coming from (10-K):
commissions earned on insurance sales, as well as from finance fees, insurer marketing fees and through the monetization of Intermediate's big data.
The company offers an insurance broker platform, it's not an insurance company so it doesn't face underwriting risks and capital obligations, it's similar to Huize Holdings (HUIZ).
Stock trading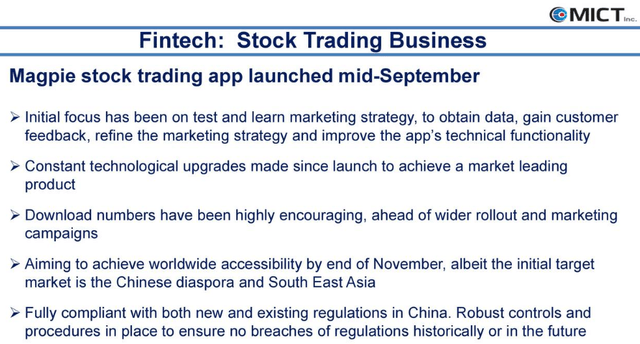 The app launched in mid September 2021. The company is initially focused on the Hong Kong market where there are 2M people who trade stocks on mobile apps. After that, they intend to acquire licenses in other southeast Asian countries, focusing on the Chinese diaspora for clients.
Mainland China will only become a focus when regulation becomes clear on what markets can be legally accessed from mainland China, which is a bit of a grey era at the moment, as we know from Futu (FUTU).
Having improved the speed and functionality of its platform and tested different marketing strategies, the company is about to embark on a serious marketing effort.
Commodities trading
There is a third plank in their business model the launch of which was originally scheduled for the end of September 2021 has been delayed as their partner waits for regulatory clarity.
That partner is Shanghai Petroleum and Natural Gas Trading Center which (Q2CC):
is responsible for at least 20% of all oil and gas trades in China. Their association has an excessive 2,500 members, including companies, super huge oil and gas companies through to city and provincial government departments – oil and gas requirements through to a host of medium sized corporations involved in the industry. We are hoping to act as a broker for a few hundred of those members.
Breakeven
The company has OpEx of $8.6M in Q3, or an OpEx run rate of $34M per year. Gross profit was $2.7M, or a run rate of $10.8M a year, but that run rate is very likely to increase as:
Q3 revenues increased 50% over Q2
Gross margin improved to 14.8% in Q3 from 5.4% in Q2
At a 20% gross margin (and an OpEx run rate of $34M a year), revenues need to be $170M a year to break even, at 30% gross margin the breakeven point falls to $113.3M. Their revenue run rate is already $74M but given the growth momentum, that's likely to increase significantly.
We think with further significant revenue growth a 30% gross margin seems well within the realm of possibilities, given the momentum in revenue growth and its effect on gross margin expansion due to the inherent scalability in the business model. Gross margin is also likely to expand as a result of product mix (see below).
The company could actually be profitable within a couple of quarters with a huge amount of cash on its balance sheet to boot. More skeptical/risk-averse investors might want to wait in order to gauge the revenue/gross margin trajectory better with another data point provided by Q4 figures, which should arrive fairly soon.
Suppose there is another 40% sequential revenue growth in Q4 which would produce a $26M quarter or a $100M+ run rate already. If the cost of revenues rises proportionally (with the same 40%), this would produce a gross profit of $4M in Q4, a $16M run rate and already covering nearly half of the OpEx run rate.
So growth will have to slow down a lot for the company to put break-even out of sight and one might want to keep in mind that stopping cash outflow is likely to happen well before reaching break-even.
But Q4 is also likely to produce revenues from the stock trading app so the picture can be muddied. In any case, with $105M of cash, they have a long runway to reach a scale where they're no longer losing cash.
Margins
Gross margin is likely to improve further due to:
Expansion of business, a platform business tends to be very scalable and we already saw that happening in Q3 with a large improvement in gross margins.
Becoming less reliant on auto insurance and cross-selling other (higher margin) insurance products like life and medical insurance
Moving to B2B2C and especially moving to B2C
On the latter (Q3CC):
Fucheng Insurance further enables us to accelerate onboarding of new agents onto our platforms all throughout China. It also creates the opportunity to promote our business through some of China's biggest online portals, which will provide business-to-business-to-consumer (B2B2C) as well as business-to-consumer (B2C) channels. When Fucheng Insurance initiates its nationwide rollout of its mobile application, it will facilitate access to those portals' vast customer bases, which will also offer MICT'S full suite of insurance products.
Fucheng is a daughter company of Bokefa (which owns 24% outright and controls the other 76% through VIE agreements). Bokefa is a wholly-owned subsidiary of BI Intermediate, the daughter company of MICT.
While it is likely that revenue and margins of the insurance business will improve further and probably by quite a lot so that the company might approach breakeven fairly soon, they are of course opening two other platform businesses, which need their own time to scale.
They are embarking on a marketing blitz for their stock trading app, with unknown consequences for S&M expenditures and a considerable amount of the stock trading platform costs is fixed and up-front (like customer acquisition cost, as there is significant competition in Hong Kong).
Cash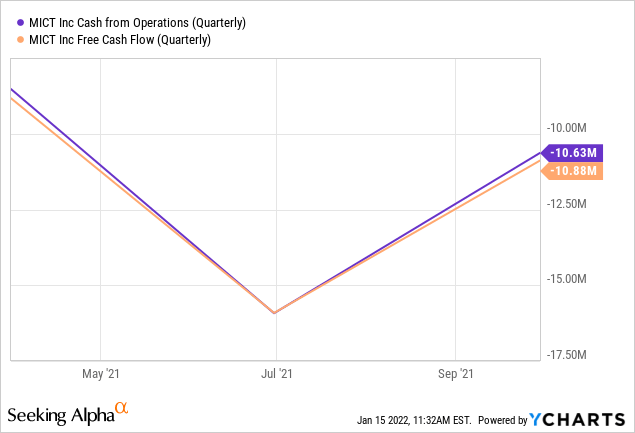 Over the past 12 months, the company lost $31.75M in free cash flow but with revenues rising much faster than operational cost and gross margin rising considerably as well this should diminish considerably. In any case, the company has $105M of cash left (down from $114M at the end of Q2) plus 63.5M of outstanding warrants, although all of them are out of the money at present:

The cash comes in handy as it enables them to provide margin finance and trade clearing capabilities in both their stock trading as well as commodity trading applications, these tend to be highly profitable businesses.
One might also appreciate the 37% stake in Micronet that the company still has, and 37% of NIS 44M is about $5.2M.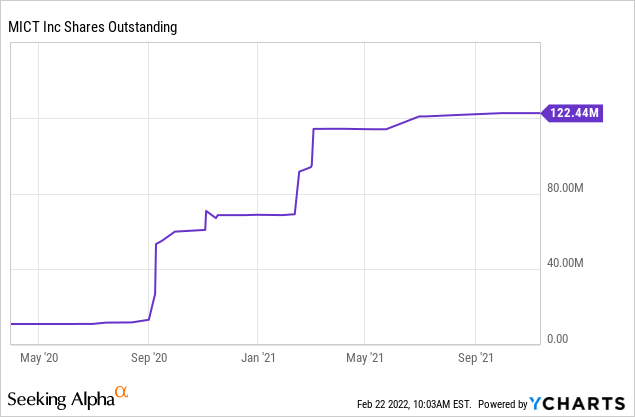 Valuation
While MICT announced they are looking at acquisitions, but for now they still have $105M in cash on the balance sheet, which is larger than the company's market cap ($87M), the company has a negative enterprise value, we haven't seen that too often.
Even on a P/S basis, the shares trade at 1.3x sales, which seems very low to us given the fast growth.
Even if we includes all the warrants (which we haven't as all of these are out of the money at present) we arrive at around 185M outstanding shares and a fully diluted market cap of $132M and one should keep in mind that if these warrants are exercised they would also bring in cash.
Conclusion
Q4 results would give us indications about whether the growth momentum in their insurance business can be maintained and whether that business experiences further margin expansion due to scale and a predicted shift to higher-margin B2B2C and B2C activities.
Insofar as that growth and margin expansion is confirmed, the company is on a path towards breakeven and generating cash flow, although it's unclear how the launch of their two other businesses affects that picture, it's unlikely these will be cash neutral from launch.
Q4 will also give investors an indication of the results of their marketing blitz for their Magpie stock trading app, and we're awaiting decisions about the launch of their commodities trading platform.
One cloud hanging over the stock is their Nasdaq listing, given that the shares have fallen below $1 this is in peril, although it can be remedied with a reverse split.
This isn't a slam dunk though. Huize Holdings (HUIZ) is a much bigger Chinese online insurance broker platform, still isn't profitable and has an enterprise value of just $50M whilst their revenues are growing at 70%.
Another thing that we find curious is that the company spends very little on R&D ($400K or 2% of revenue in Q3) whilst launching three platforms. The core of their stock trading platform has been licensed from a third party but still, they're improving it.
So while this isn't a stock to bet the bank on, offering a high-risk/high-reward proposition which should become a little clearer with Q4 results.