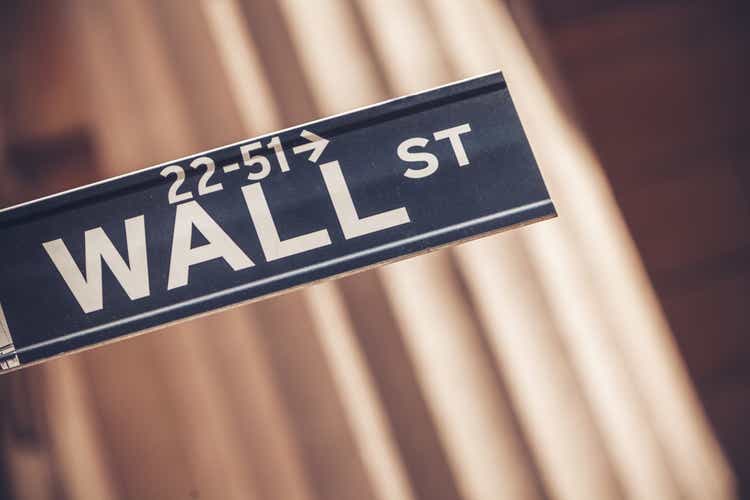 Author's note: This article was released to CEF/ETF Income Laboratory members on January 31th, 2022.
The First Trust Multi-Asset Diversified Income Index Fund (NASDAQ:MDIV) is a multi-asset class index ETF. MDIV's underlying index methodology consistently leads to significant, semi-permanent losses during downturns and recessions. This is a significant negative for the fund and its shareholders, and a deal-breaker for me. As such, I would not invest in the fund.
MDIV - Basics
Investment Manager: First Trust
Underlying Index: NASDAQ US Multi-Asset Diversified Income Index
Expense Ratio: 0.68%
Dividend Yield: 5.25%
Total Returns 5Y CAGR: 2.80%
MDIV - Subpar Index Methodology
MDIV is a diversified multi-asset class index ETF. It tracks the NASDAQ US Multi-Asset Diversified Income Index, an index meant to provide investors with diversified exposure to income-producing asset classes. Both the index and MDIV are comprised of the following asset classes, equal-weighted:
Dividend-paying equities
REITs
Preferred shares
Energy MLPs
High yield corporate bonds
The index and fund are rebalanced every quarter, so there might be small variations in asset class weights between rebalancing dates. The fund is currently slightly overweight equities, due to the long-running equity bull market, recent losses notwithstanding.

Securities for each asset class, except high yield corporate bonds, are selected on the basis of their dividend yield and volatility. The index selects the 25 highest-yielding securities from each asset class subject to a volatility constraint, meant to exclude excessively risky, volatile securities. Securities must also meet a basic set of liquidity, trading, and size criteria. This index methodology is somewhat common, and consistently fails in a similar manner.
High-yield securities are relatively risky securities: yields are high for a reason, and risk is generally that reason. Volatility screens exclude the worst of the bunch, but the bad still get in. As an example, in late 2019, just before the coronavirus pandemic, the fund was overweight mREITs. These are basically excessively leveraged mortgage investments, with all the risks inherent in excessively leveraged investments.

Risky securities tend to underperform during downturns and recessions. This was the case for mREITs during 1Q2020, the onset of the coronavirus pandemic.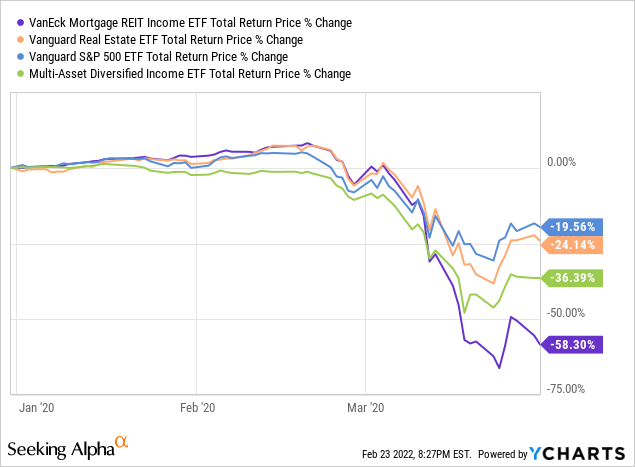 Plummeting prices are large price movements, and so directly increase volatility. This was also the case for mREITs during 1Q2020.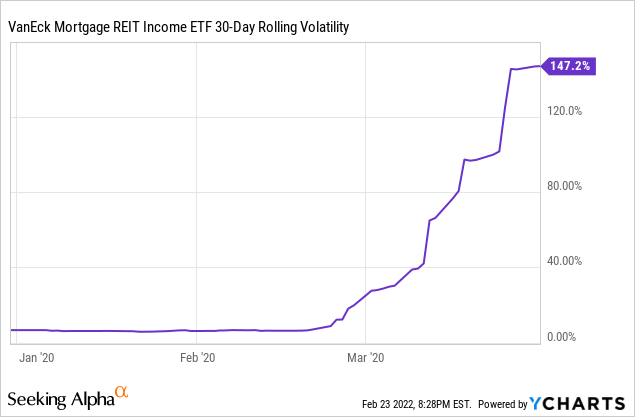 The volatility screen detects that massive volatility spike, and immediately excludes / sells all relevant mREITs. From looking at past fund filings, it seems that MDIV sold its mREIT holdings sometime between March 31st 2020, and June 30th 2020. Although we don't have exact dates for when the fund bought and sold its different securities, this was very clearly an unprofitable, destructive trade. MDIV was heavily invested in mREITs during the first half of 2020, during which these securities significantly underperformed.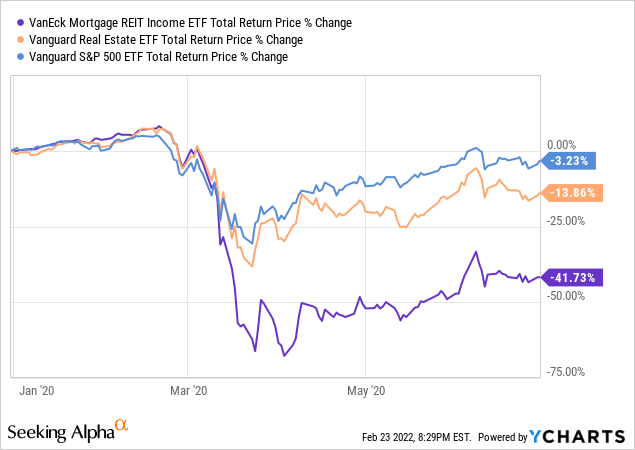 MDIV had sold its mREITs holdings by the second half of 2020, during which mREITs recovered, seeing massive gains and outperformance.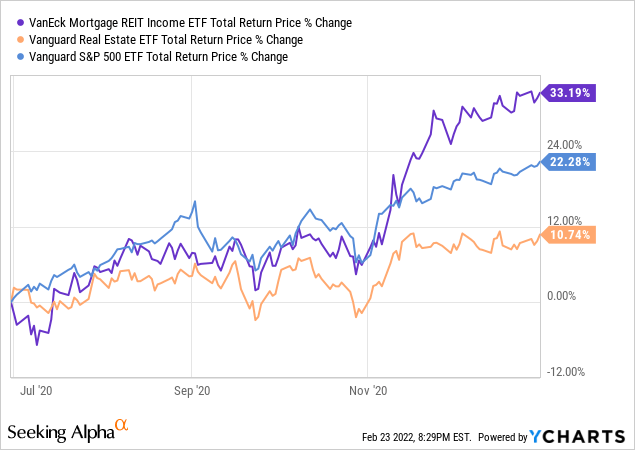 MDIV consistently sells its assets at fire-sale prices during downturns and recessions, a self-evidently disastrous strategy. Selling low means consistent underperformance and semi-permanent losses: no recovery if you sell. MDIV significantly underperformed its peers and the S&P 500 during 2020, as expected.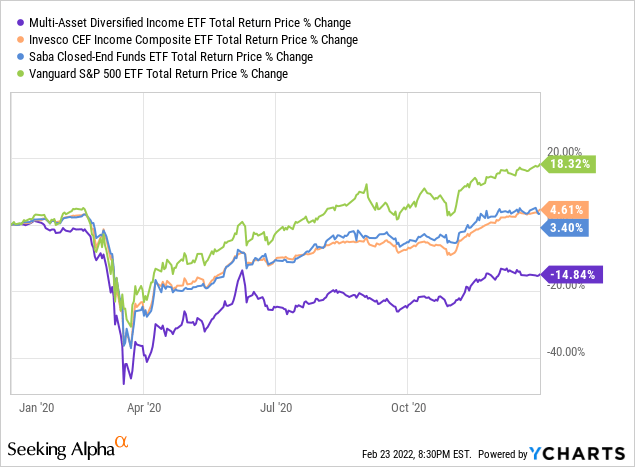 In my opinion, the issues above are deal-breakers, and so I would not invest in MDIV. I'll be going through a couple other important considerations and alternatives to the fund, but the issues above are key.
MDIV - High Yield Corporate Bonds
MDIV's high yield corporate bond holdings are selected in a different manner from the above. To reduce operating expenses and complexity, the fund's entire high yield corporate bond allocation is through a 20% investment in the First Trust Tactical High Yield ETF (HYLS), a fund of these same securities. HYLS is actively-managed, and so does not suffer from the issues above.
Investing in a fund through another fund sometimes results in excessive management fees. To remedy this, First Trust has waived HYLS's fees for MDIV's investors until at least January 31st 2023. This prevents MDIV's investors from paying investment management fees twice. First Trust has extended these waivers before, and I think the company is likely to continue extending them moving forward.
MDIV - Excessive Energy Exposure
Relative to most multi-asset class index funds, MDIV is significantly overweight energy MLPs. Energy is a small industry, accounting for less than 3% of the S&P 500 by market-cap. Energy MLPs are an even tinier percentage of that 3%. The entire energy MLP industry is worth $240 billion, there are several companies worth multiples of that. Apple (AAPL) is worth $2.6 trillion, more than ten times as much as the entire MLP industry. A 20% allocation to energy MLPs is a massive overweight position in a tiny industry niche. Said allocation significantly increases portfolio risk, volatility, and energy price exposure. Expect significant losses if energy / MLPs underperform. This was the case during 1Q2020, the onset of the coronavirus pandemic, and the last major commodity price crunch. MLPs significantly underperformed equities, causing MDIV to moderately underperform relative to its peers, and to equities.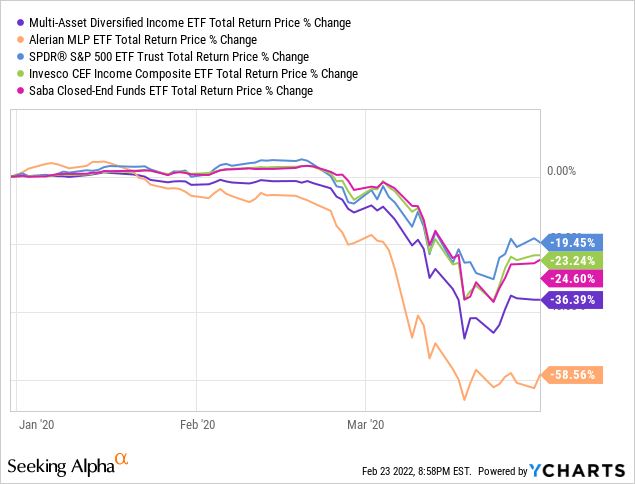 On the other hand, MDIV's increased energy price exposure allows the fund to outperform when energy prices are rising. This has been the case YTD, during which MDIV has outperformed, as expected.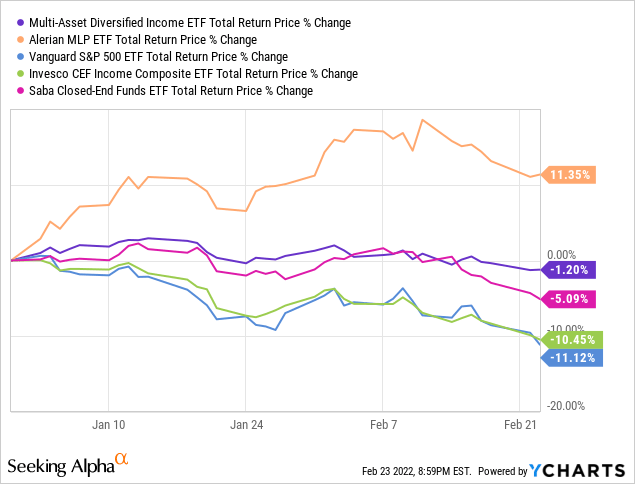 In my opinion, although MDIV's increased energy exposure makes some amount of sense under current economic conditions, I don't think that a massive overweight position in a relatively small, volatile industry is prudent. This is particularly important for an income fund like MDIV, as income investors tend to be retirees, for whom capital preservation and risk-reduction are paramount. MLPs are fine investments, but relatively risky, and a 20% allocation to this is simply excessive.
MDIV - Alternatives
Investors looking for strong, diversified, multi-asset class income ETFs have several alternatives to MDIV. The Saba Closed-End Funds ETF (CEFS) and the Invesco CEF Income Composite Portfolio ETF (PCEF) are two particularly strong choices.
Both are ETFs which invest in a diversified portfolio of CEFs, but focusing on bonds and assorted fixed-income securities. Both have higher yields, stronger performance track-records, and safer holdings and strategies compared to MDIV.
PCEF is an index fund, invests in over 100 CEFs, and yields 7.5%. I last covered PCEF here.
CEFS is actively-managed, has a more concentrated portfolio of a couple dozen CEFs, yields 8.6%, and has outperformed since inception due to management alpha. I last covered CEFS here.
In my opinion, CEFS is broadly superior to PCEF, although some investors might prefer the extra diversification offered by PCEF.
Conclusion
MDIV's underlying index leads to consistent underperformance, and significant, semi-permanent losses during downturns and recessions. As such, and considering the existence of stronger alternatives to MDIV, I would not invest in the fund.