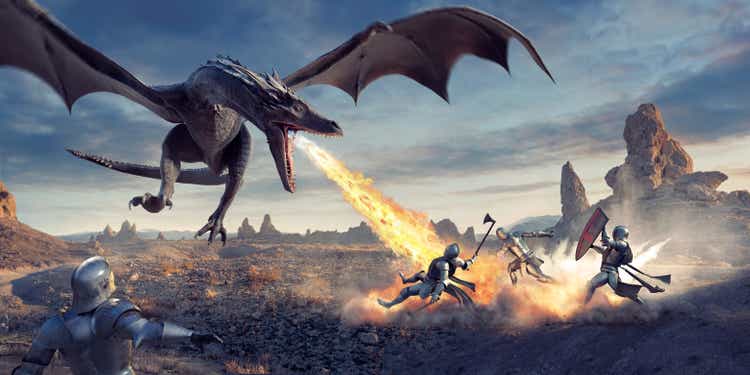 Investment Thesis
By introducing its new privacy update, Apple Inc. (NASDAQ:AAPL) issued a war cry against Meta Platforms, Inc. (FB), which has been one of the leading online media companies, apart from Alphabet (GOOG) (GOOGL). In FY2021, Meta reported advertising revenues of $114.93B, while GOOG reported $209.4B in the same period. On the other hand, without a formal breakdown, a Bernstein estimate for AAPL's advertising revenue in FY2021 is approximately at $3B.
Assuming that AAPL is playing catch up in the global advertising market, its Total Addressable Market (TAM) is huge. Meta reported a similar revenue market share at 47.1% for the US and Canada region, which has the largest share of iPhone users at 46.9%. Likewise, GOOG reported the majority of its revenues at 46% from the US in 2021. Given that the mobile advertising market is expected to grow to $782.1B in 2028, at a CAGR of 34.8%, we expect Meta to lose a significant amount of its advertising dollars moving forward, as AAPL expands its advertising strategies aggressively.
Assuming the rumors are correct, AAPL is also set to enter the AR/VR market by the latest 2023, if not earlier. In 2007, AAPL had broken Nokia's and BlackBerry's (BB) dominance in the cellphone industry when it introduced its very first smartphone, iPhone. In addition, the company released Apple Watch in 2014, which had combined fitness tracking capabilities with talk and text functionality, making it a "breakout star of wearables." Assuming a similar impact, FB's metaverse strategy will suffer a definite headwind moving forward.
For this article, we focus on the impact of AAPL's privacy changes and potential AR/VR entry on Meta's future growth. We encourage you to read our previous article on Meta, which focuses on how Instagram will fare against the intense competition from TikTok.
According To Apple, Privacy Is Supposedly A Fundamental Human Right
Since April 2021, AAPL has released multiple privacy updates for its iPhones, giving its users the choice to block the Identifier for Advertisers (IDFA), as part of its iOS 14.5 and 15 updates. Of 86% of iOS devices that run the recent software updates, up to 46% are opting out from the App Tracking Transparency (ATT), as of December 2021. Despite other companies such as Snap (SNAP) and Meta developing their own first-party technology to drive their advertisement strategies within their own apps, the latest privacy setting had made the advertisements' targeting less effective in attracting potential customers.
Instead of tracking the individual users, the new restrictions seem to target groups with similar patterns/ interests, where information is anonymized and aggregated for privacy reasons. The new targeted ads had cost some marketers a revenue decline of up to 40%, with Meta reporting a $10B headwinds in its future advertising revenue in its FQ1'22 earnings call. It had resulted in a massive sell-off and decline in Meta's stock valuations, from $323 on 2 February 2022 to $206.16 on 18 February 2022.
AAPL Service-Based Revenues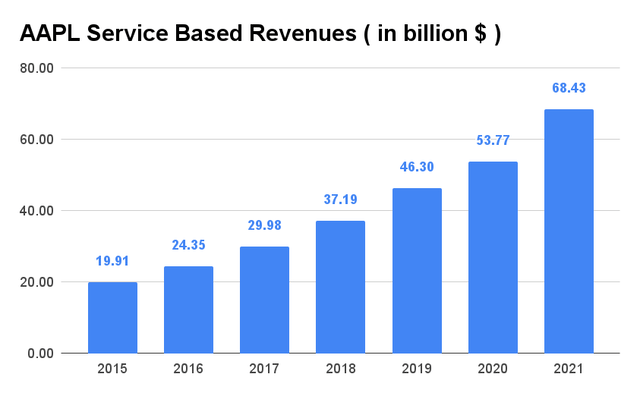 Despite the appearance of high moral horses, consensus estimates an obvious economic motivation behind AAPL's newest privacy update. Hidden in its services revenue segment, AAPL offers "advertising, AppleCare, cloud, digital content, payment, and other services." Despite not breaking out the individual components in its financial results, Bernstein estimates that AAPL generated approximately $3B in advertising revenue in FY2021. It represents a massive increase from an estimate of $300M in FY2017. Brian Bowman, CEO of Consumer Acquisition, said:
Apple has been able to stake out the moral high ground, I think, claiming that they're focused on user privacy. But in reality, they really surrendered app discovery to and merchandising to Facebook and Google. What I see them doing is trying to get that control back. (CNBC)
AAPL relies on SKAdNetwork for its targeted advertising, which is touted as more private than the personalized ads used by many other apps. Additionally, AAPL has Apple Search Ads, which allows app developers to pay for prime real estate to appear high up on searches on the Apple App Store. AAPL's ads are now responsible for 58% of all iPhone app downloads in FY2021, at over triple the market share from 17% in FY2020 following its recent privacy update. Shani Rosenfelder, head of content for AppsFlyer, said:
We've really seen a huge increase in Apple search ads market share. They've become the new number one player, and they passed Facebook, which dominated iOS in the past. (CNBC)
Consensus estimates that AAPL may generate up to $5B through app advertising revenue in FY2022, representing a YoY growth of 66%, and up to $20B by 2024, at a CAGR of 60.69%. In addition, the mobile advertising market is expected to grow from $96.4B in 2021 to $782.1B in 2028, at a CAGR of 34.8%. Therefore, AAPL stands to gain more market share as it grows its advertising revenue in the future, at the expense of Meta's growth.
AAPL Inevitable Entry Into The VR/AR Market
Based on rumors and market insiders, AAPL is planning to launch a VR/AR headset by late 2022 or 2023, with mass productions planned in August 2022. It is not surprising news given AAPL's aggressive acquisition of multiple AR/VR technologies in the past decade, such as Spaces and NextVR in 2020. AAPL had been silently building its arsenal of relevant technologies while waiting for the right time to strike. With Meta's introduction of the Metaverse concept in September 2021 and the availability of VR devices in multiple forms, AAPL's breakthrough launch will be highly anticipated by Apple and gaming fans alike.
We expect AAPL's AR/VR devices to be highly popular, boosting its revenues moving forward, given how AAPL has successively launched multiple popular products with its disruptive technology through the years. The company has done so while significantly impacting the relevant industries, such as:
iPod in 2001, which phased out Sony's (SONY) Discman and Walkman.
iPhone in 2007, killing off Nokia's dominance in the cellphone market.
MacBook Air in 2008, setting the precedent for thinner, lighter laptops.
iPad in 2010, which sold over 19M units in its first twelve months.
Apple Watch in 2015, overtaking Rolex's unit sales by 2017 and the entire Swiss watch industry by 2018.
iPhone 13 in 2021, accounting for a good portion of AAPL's revenue of $71.6B for FQ1'22.
It is evident that AAPL is the market leader in smart technological products, given its revolutionary software and design. With consumers' enduring demand for its new product releases, it is no wonder that AAPL will continue to report robust revenues for its products, especially for its AR/VR headset once it is launched. In turn, it would be direct competition to Meta's Oculus Quest 2 and the future Project Cambria, which is set to launch in 2022 as well. Despite forming only a small part of Meta's revenue stream at less than 3% in FY2021, the eventual success of its Metaverse project hinges upon the adoption rates of its VR hardware. As a result, given AAPL's stellar track record, investors have a right to be concerned about Meta's future growth, given its all-in bet on the Metaverse concept.
As of the end of 2021, FB had sold approximately 10M sets of Oculus Quest 2, with Sony selling 6M sets of its PlayStation VR. Despite the slower uptake compared to other smart devices, we have noted that adoption of the technology rose rapidly during the pandemic as remote work became the norm. A total of $12B was spent on AR and VR headsets, software, and services in 2020, representing a 50% increase from 2019's levels. In addition, the combined AR/VR global market is expected to grow to $2T by 2027, at an impressive CAGR of 68.5%. As a result, we expect AAPL to reap massive revenues from its Wearables, Home, and Accessories segment, once the AR/VR demand picks up moving forward.
AAPL Posted Record-Breaking Revenues In FQ1'22
AAPL Revenue and Net Income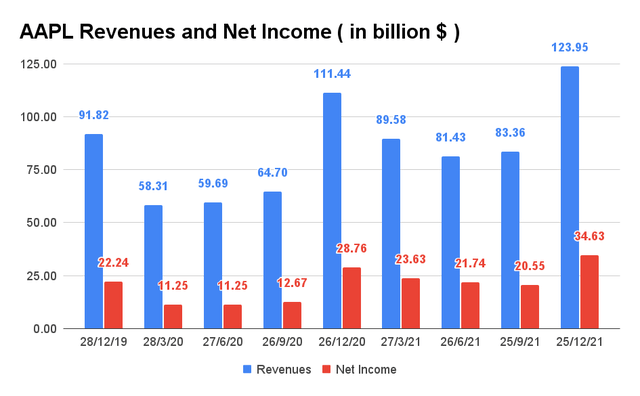 Over the past five years, AAPL has reported remarkable revenue growth at a CAGR of 11.9%. Its revenues grew to $365.81B in FY2021 with 33.2% YoY increases and 40.6% from FY2019. Furthermore, the company's net income grew 64.9% YoY and 71.3% from FY2019. Despite the global supply chain issues and chip shortages, AAPL reported record-breaking revenues in FQ1'22 at $123.94B, representing impressive QoQ growth of 48.6% and YoY 11.2%. In addition, the company reported a 9% YoY increase for its active installed base of devices from 1.65B in FQ1'21 to 1.8B in FQ1'22.
AAPL Revenue Comparison By Category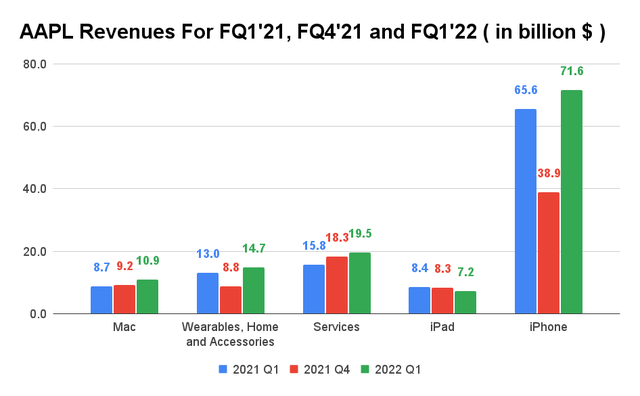 Its iPhone accounted for the lion's share of its revenue at 57.5% in FQ1'22 at $71.6B, mainly attributed to the robust demand for iPhone 13. In addition, the company reported an increase of 18.4% and 67% QoQ for its Mac and Wearables, Home, and Accessories sales for FQ1'22. Most importantly, its services (including advertising) recorded $19.5B of revenues, representing 6.5% QoQ and 23.4% YoY growth.
Despite its previous $6B loss of sales in FQ4'21 due to the global supply chain issues, AAPL has evidently done exceptionally well for itself, as other industries such as automotive and medical device producers faced challenges in meeting demand and are experiencing massive delays and losses. As a result, we can get a critical glimpse of how well run its global operations are, despite the multiple headwinds to the industry. Moving forward, we expect AAPL to continue its stellar performance, which in turn will bolster its stock performance for the long term.
Why Did FB Stock Drop?
Meta Revenue and Net Income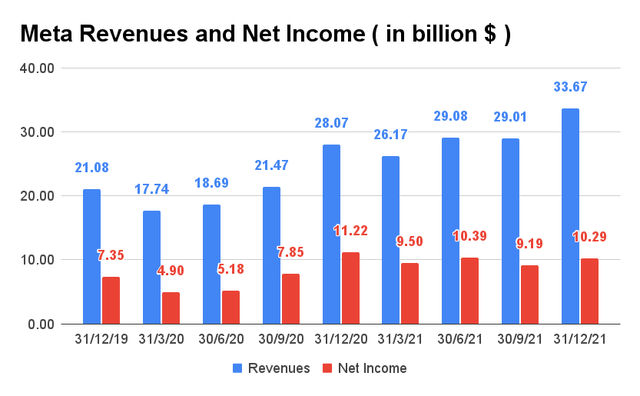 Meta's revenue has grown at a CAGR of 33.67% since 2016. In FY2021, the company reported revenues of $117.92B, representing impressive growth of 37.18% YoY and 66.8% from FY2019. It is important to note that Meta's advertising revenues of $114.93B accounted for the lion's share of its sales at 97.4% in FY2021. Despite the growth of 36.5% YoY, it is of little wonder that investors were troubled after the company highlighted a $10B worth headwind in FY2022, due to the policy change in iOS. Furthermore, given its gross profit margin of 80.8% in FY2021, we also expect a massive impact on Meta's bottom line moving forward.
The GOOG announcement on 16 February 2022 dealt an even more significant blow to Meta's advertising revenue, as GOOG altered its privacy policies for all Android phones. Given that the Android smartphone users represent 69.74% of all global phone users at 2.8B people, its impact on Meta will be worse than the ones from the iOS. Despite GOOG's promise of a more "long-term, collaborative approach to privacy-protective personalized advertising" over the next two years, its adverse impact on Meta is ultimately done, with its shares falling another 2% after GOOG's announcement. Many marketers who originally moved to the Android version of apps at 70% Android and 30% Apple after the privacy changes on iOS, may potentially rely on other marketing methods instead of the traditional ad spending.
In addition to the $10B headwinds, the QoQ growth for Meta's family Daily Active People (DAP) is slowing down from 1.8% in FQ3'21 to 0.3% in FQ4'21. Additionally, the company invested an outlandish amount of $10B on its Metaverse vision, representing an astonishing amount considering that both Meta's top and bottom lines will be declining moving forward. The CEO himself had estimated another five to ten years before its vision of Metaverse materialized. As a result, we may expect continuous aggressive spending for Meta's Reality Labs segment moving forward, which may further influence investors' sentiments negatively, given that the Metaverse has yet and will not generate significant revenue for the company in the next few years. The Reality Labs only generated $2.2B of revenues in FY2021, compared to its $114.9B of advertising revenues.
Combined with the intense competition from ByteDance's (BDNCE) TikTok, Meta may have to acknowledge that its days as an advertising mammoth are over. That is until its Metaverse is ready and assumingly widely adopted, though its initial responses for the virtual concept have been lukewarm at best, with some describing it as a "dystopian world."
So, Is AAPL/FB Stock A Buy, Sell Or Hold?
AAPL And Meta Projected Revenue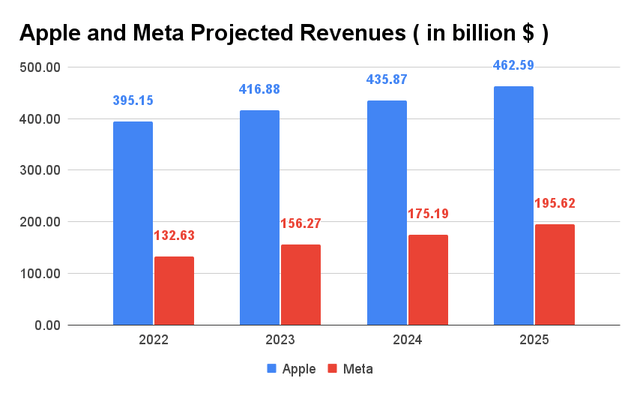 AAPL is expected to grow its revenues at a CAGR of 5.39% over the next three years, while Meta will report a CAGR of 13.83% over the same period. These numbers suggest that both companies will experience an apparent deceleration of revenue growth moving forward. Nonetheless, for FY2022, consensus estimate that AAPL and Meta will report revenues of $395.15B and $132.63B, representing YoY growth of 8% and 12.4%, respectively. As a result, both companies are still expected to report favorable growth ahead.
AAPL is currently trading at an EV/NTM Revenue of 6.57x, higher than its 3Y mean of 5.17x. AAPL is obviously inflated now, given its recent blockbuster performance for FQ1'22. Nonetheless, given that the company has multiple tailwinds to its growth, we expect AAPL to continue its strong business and stock performance moving forward. As a result, aggressive investors may still buy AAPL, given its capability in overcoming the global supply chain issues and strong demand cycle. Otherwise, we encourage other investors to wait and see if there is a slight retracement moving forward.
On the other hand, Meta is trading at 3.98x, lower than its 3Y mean of 6.91x. Despite the undervaluation, we do not think it is a good entry point for Meta yet. Given the recent GOOG announcement, we expect Meta to retrace further before recovering from a favorable catalyst in the future. There's no doubt that Meta is a solid stock, however, given the recent market reaction, we encourage some patience for interested investors before adding Meta to their portfolio.
Therefore, we rate AAPL as Buy for aggressive investors only and Meta Stock as Hold for now.