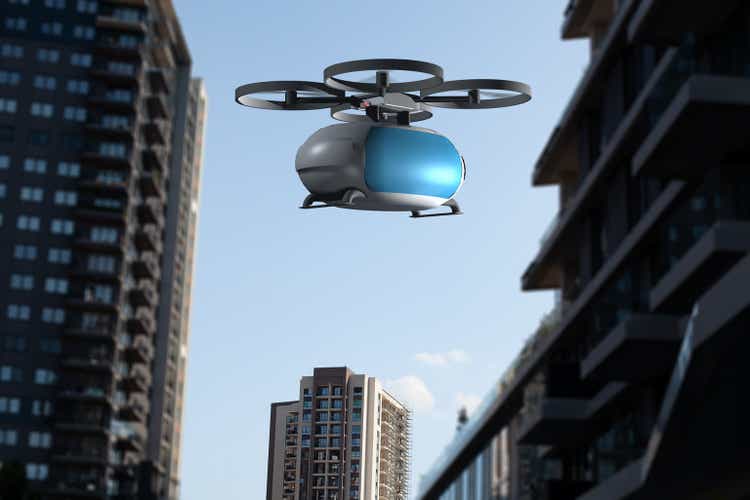 Right now, it's incredibly easy to simply dismiss Joby Aviation (NYSE:JOBY) and its aerial ridesharing business. The market appears to be doing precisely that: JOBY trades more than 50% below the merger price set in its combination with special purpose acquisition company Reinvent Technology Partners, a deal that closed in August.
There is no shortage of reasons to believe the decline will continue. So-called de-SPACs, at this point, are close to universally loathed. The same projections for massive future growth and profitability for the future that led retail investors to pile into RTP and other SPACs now look laughably optimistic. (Even by the aggressive standards of the group, Joby's projections stand out for their sheer audacity.)
Competition is intense. Regulators will be watching closely; there's a legitimate possibility that the eVTOL (electric vertical take-off and landing) industry simply will never exist, at least in our lifetimes. And while JOBY stock is much cheaper, this still is a company now valued at nearly $3 billion with a business model that, even if all goes perfectly to plan, won't drive material revenue until 2024.
Indeed, Joby seems to highlight the dark side of the SPAC model that became so popular in 2020 and 2021. Proponents argued that SPACs, given their ability to provide financial projections that traditional initial public offerings do not, allowed individual investors access to innovative pre-revenue companies. Skeptics argued that it was precisely those individual investors who would get hurt in a bubble that inevitably would deflate. With ~80% of recently closed de-SPACs trading below $10, and much of the 2020/2021 cohort underwater, the skeptics appear to have won the debate, at least for now. In that context, buying a speculative de-SPAC like JOBY now looks something like owning a tech stock in the second half of 2020, a move that ignores the risk that even a stock down 50%-plus can still drop another 100%.
And yet, like a number of sold-off de-SPACs, it's impossible not to be at least a little intrigued by Joby Aviation and the eVTOL model more generally. The space is crowded, certainly, but it does appear that Joby is the early leader. eVTOL adoption may not be quite as far in the future as it might seem. It's possible to build a case here that suggests JOBY is a zero, say, 80% of the time — yet provides four-digit returns in enough scenarios to still make the stock a buy, with Joby Aviation warrants (NYSE:JOBY.WS) amplifying that risk/reward.
Personally, I can't quite get to that bull case. Most notably, both the level and timing of potential profits suggest some real caution toward the "huge profits or bust" thesis. But amid a landscape of crushed de-SPACs that seem likely headed to zero, Joby at least has a shot. And that makes it more interesting than it might initially appear.
How Has Joby Stock Performed?
Taking the broad view, there are some obvious concerns with Joby. One is that JOBY stock has performed rather weakly even on a relative basis.
When the merger between RTP and Joby was announced last February, JOBY did get a pop to $15-plus. But the gains were exceptionally short-lived. Broader SPAC/de-SPAC weakness (the group seems to have peaked just before the Joby-RTP merger was announced) no doubt was a factor. But Joby, despite the potential implied by its business model, never really caught investor attention.
Indeed, by late March, what was then RTP stock already had neared the $10 redemption price. When the merger closed in August, 62% of the 69 million shares outstanding were redeemed. And after some post-close volatility, JOBY has headed mostly straight down, bottoming below $4 last month before something of a bounce of late.
That trading alone undercuts one potential pillar for a bull case: that JOBY is being unfairly or unwisely sold off amidst a broader plunge in the group. Optimism toward the stock simply was never that high to begin with, certainly by SPAC standards.
And it's not terribly hard to see why. An "air taxi" business seems almost fantastical, and at the very least far off in the future. SPAC investors too often looked past the sponsor, but RTP was led by LinkedIn co-founder Reid Hoffman and Zynga (ZNGA) founder Mark Pincus. Both have backgrounds in software, not hardware, yet aimed to choose the winner in a hardware-based (and currently non-existent) market. To top it off, the merger with RTP closed at an enterprise value of over $6 billion, a valuation underpinned by projections that seemed, shall we say, aggressive: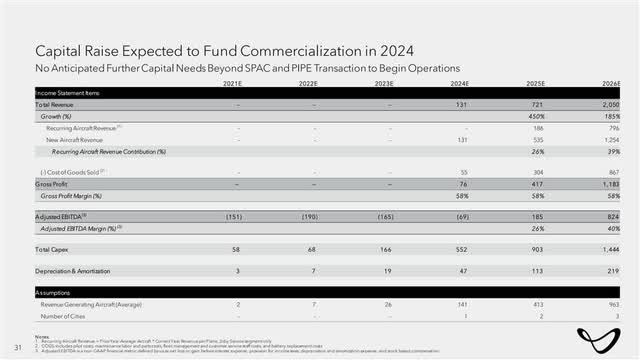 Joby planned to launch in 2024 — and two years later generate more than $800 million in EBITDA (earnings before interest, taxes, depreciation and amortization) and something like $450 million in net income. It was going to not only get its own aircraft approved by regulators (most notably the Federal Aviation Administration) but convince riders, in ~24 months, to take $2 billion worth of short-haul rides in nearly 1,000 vehicles in markets across the world. In so doing, Joby would have to outmaneuver a number of well-funded competitors. Four eVTOL companies themselves have executed SPAC mergers; a fifth, Wisk Aero, last month received a $450 million investment from Boeing (BA).
The optimism extended beyond the financial projections. On the conference call held in conjunction with the official merger announcement, Joby chief executive officer JoeBen Bevirt said the shift to eVTOLs could be "more profound than the shift from horses to automobiles." The company's chairman positioned aerial ridesharing alongside the development of railroads and jet aircraft, and compared its business model to Boeing's founding of United Airlines (UAL). Hoffman described Joby as "Tesla (TSLA) meets Uber (UBER) in the air," an analogy he's repeated in varying forms since.
Both RTP and Joby have told a grand, exceedingly optimistic story. But, again, public market investors for the most part haven't bought that story. Joby did raise an $835 million PIPE (private investment in public equity) alongside the SPAC merger, but with redemption rates soaring, in retrospect it's clear that so many PIPE investors assumed they'd be able to dump post-merger shares on the market and/or didn't do their due diligence to the extent required.
The skepticism from the market isn't surprising. Simple common sense argues against plans for an air taxi service that is not just operating, but exceptionally profitable (Joby projected 2026 EBITDA margins of 40%!). And with the SPAC bubble now burst, it's not hard to see Joby as a good example of the excesses in that trend, with retail investors buying into a story that simply isn't going to work out.
Where Is JOBY Stock Heading?
But, to be fair, there are some reasons to see JOBY as a long-term buy, if certainly an aggressive one.
One key, if broad, argument for JOBY is that significant players seem to have validated the company's efforts. Toyota (TM) led Joby's Series C funding round in 2020, investing nearly $400 million in the process. Uber owns a stake as well, after Joby acquired Uber Elevate (the company's aerial ride-hailing business) early last year.
Unrelated third parties seem to support Joby's competitive strength; as Nick Clayton noted on this site last month, Lufthansa Innovation Hub called out Joby as the "most promising frontrunner" in the industry. Despite the performance of JOBY stock so far, the public markets too seem to believe that Joby is the front runner. Joby still has an enterprise value of ~$1.5 billion; the figure for Archer Aviation (ACHR) is now negative, while Lilium (LILM) (pro forma for its merger) appears to have an EV less than one-tenth that of Joby.
A Morgan Stanley analyst too is on board. This month Kristine Liwag set a price target for Joby stock of $21. That target actually has been raised from $16 in the origination of coverage in September.
It's worth noting that the firm seems incredibly (and potentially overly) optimistic toward eVTOLs in general, forecasting a market that could reach $18.9 trillion (yes, trillion with a 't', a double-digit percentage of global GDP) in 2050. And those skeptical toward Wall Street motives might note that Morgan Stanley was the sole book-running manager of the initial public offering of for Reinvent Technology Partners, the SPAC with which Joby Aviation merged. That might create a conflict.
But even so, this is a call with significant reputational risk for both the firm and analyst Liwag. This is not a bucket shop calling for a triple in some unknown small-cap biotech. This is Morgan Stanley projecting 300%-plus upside in a speculative de-SPAC at a time when de-SPACs (and particularly speculative ones) are seen as laughable at best and criminal at worst. Even considering the IPO relationship with RTP (one that presumably could continue on with Joby), the incentives for Morgan Stanley, and Liwag in particular, probably lie more with herd behavior than going out on a limb.
At the very least, major corporations, institutional investors and industry observers are willing to claim that there's something here, rather than just a pie-in-the-sky idea sold to retail investors during what in hindsight looks like a bubble. And that take seems reasonable, even to someone like myself who is generally enormously skeptical toward de-SPACs.
After all, I'd argue that some form of aerial ridesharing will eventually be a normal part of human life. The ability to fly (relatively) short distances in small vehicles is so self-evidently attractive that it features in myriad views of the future. Think The Jetsons, or further back Leonardo da Vinci's well-known fascination with individual flight. And humankind generally, at some point, finds a way to bring these widely-desired possibilities (like, say, the ability to be almost anywhere in the world and read stock analysis from brilliant and handsome authors) to life.
Meanwhile, it does seem like Joby has an edge. The company wasn't founded to jump on the SPAC trend; it was established back in 2009. Test flights are occurring regularly (even if one did crash last week), and Joby seems clearly further along its timeline than competitors. It was the first eVTOL to receive 'G-1' certification from the FAA (Archer followed in September), which provides a roadmap toward satisfying that regulatory body.
There are obvious concerns, certainly, but Joby has addressed some of those concerns. Local authorities will have a say; but Joby has developed its eVTOLs not only with an eye toward reducing the volume of noise, but the type, making it more ambient than annoying. That should remove some of the 'NIMBY' concerns that might thwart market development. Safety is of enormous importance, but Joby's aircraft have multiple redundancies that should get them at worst equivalent to helicopters on that basis. Joby will have to secure a large workforce of well-trained pilots, but its certification will allow it to access both helicopter and airplane pilots, potentially expanding its labor pool. There's a way to see a legitimate 'air taxi' business arriving in the next few years, even if $2 billion in revenue by 2026 seems the longest of long shots.
Again, it's easy to dismiss Joby. But I don't think it's quite right to do so.
Is JOBY Stock A Buy, Sell, or Hold?
The problem is, there doesn't seem like quite enough to buy JOBY at the lows, for two key reasons. Even assuming that short-distance aerial flights do become a reality, when that happens and for how much both are hugely important to the stock.
The 'when' issue seems far more pressing than eVTOLs claimed when their SPAC mergers were announced. Even Morgan Stanley has pushed its industry forecasts out for years. Getting an aerial ride-sharing business to scale requires not just FAA certification. Local authorities have to permit flights and the necessary infrastructure (vertiports and EV charging stations most notably). Customers have to become comfortable with the flights. Even with the Uber Elevate deal, there's still work to do in terms of the platform. And Joby will need to raise capital to do all this: the company said last year that it would be funded through to commercialization thanks to the SPAC and PIPE, but the pre-merger redemptions change that math. That capital raise will require dilution of current shareholders, probably in the range of at least 20% given the current market capitalization. (Joby has a $400 million-plus hole to fill from redemptions, and later-than-expected profitability adds to capital requirements.)
In other words, the current price still is discounting in a rather valuable business in the future. A 15% discount rate, and assuming ~25% dilution on the way, implies a 2036 valuation for Joby in the range of $15 billion. Lyft (LYFT) right now has a market cap of $13 billion. Time matters greatly here, and it's difficult to see Joby pushing through red tape in anywhere near the amount of time it projected twelve months ago.
There's also the matter of how profitable this business can be. Given Joby's plan to own the aircraft, the entire model seems to come down to utilization — and the company's projections on that front too seem audacious: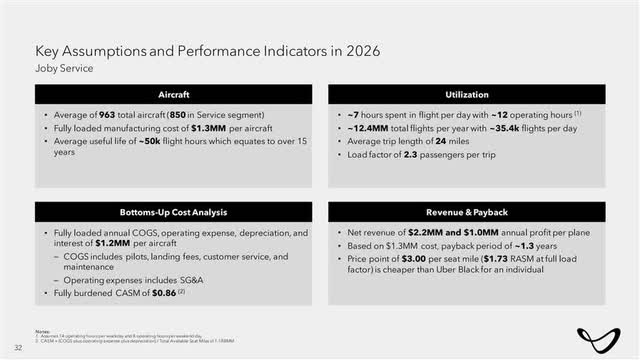 Joby's EBITDA projections rely on its eVTOLs being in flight roughly seven hours per day, and in total operating 14 hours each weekday and eight on the weekend. In other words, ridesharing eVTOLs in this model have to look like a reasonable facsimile of their automotive counterparts: in constant motion with a steady flow of passengers.
But as a skeptical venture capitalist noted for eVTOL.com, that kind of utilization faces serious roadblocks. Pilot supply isn't just about training pilots to fly the plane; given weather challenges, they need to be instrument-rated (ie, able to fly with limited visibility). That will not be the case initially, per Joby management, but it will take time and capital to get to that point, if Joby can do so at all; as that VC pointed out, Uber has some 200,000 drivers just in California. Obviously, most of those drivers are part-time in a way that Joby pilots will not be, but there's still a need to onboard thousands of pilots, the majority of whom will have to be brand-new to the industry.
Just as importantly, battery charging is a big concern. Joby aircraft will need to have reserve power, will have redundant motors, and will need to charge quickly. That combination can lead to significant downtime that on its own pushes down the per-day utilization for eVTOLs.
And utilization is everything in this model, because Joby will own the planes. Its model is the purest form of the insight that led to Uber's creation: that millions of cars are sitting around doing nothing, and can be profitably put to use at incremental cost. But unlike Uber and Lyft, Joby is taking on those costs (depreciation, maintenance, fuel, labor) that independent contractors bear in the automotive side of the business. Because of that, its margin profile is more like those contractors than the platform; its vehicles need to be consistently busy, and for myriad reasons that seems far from guaranteed even a decade out.
All told, it's somewhat tempting to look at JOBY as a binary play: a zero if it busts and a 10x-plus if it wins. But given the importance of utilization, and the time required to achieve real scale even if Joby is a success, there's far more of a middle ground here at play. It's absolutely possible that Joby in, say, 2032 is an intriguing niche business operating in 28 cities in 9 countries while generating positive free cash flow — but that's simply not enough to generate material risk-adjusted returns from the current price. Given a nearly $3 billion market cap and future share issuance, it's potentially not enough to generate any returns at all.
In other words, it's easy to discount the obvious risk of Joby failing. But investors need to remember that there's some risk in success, too. Even down 50%, it doesn't look like that risk is necessarily priced in.