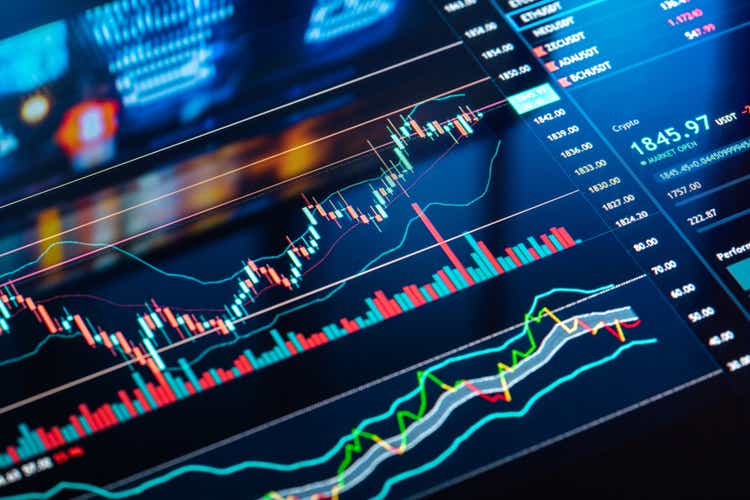 This article was first released to Systematic Income subscribers and free trials on Feb. 22
In our previous municipal sector update, we worried about the level of future returns given low underlying bond yields, expensive CEF discounts and rising leverage costs. What a difference a month and a half makes - since then the CEF sector has fallen around 10%. Being firmly value investors, we find this a very good thing as the sector now offers a much more attractive point for new capital.
In this update, we discuss the improved valuation profile of the sector, take a look at the fundamentals and highlight where we are seeing opportunities.
A Better Time To Invest
We view the municipal tax-exempt bond sector as one of the more attractive parts of the broader income space, particularly in CEF format for the following reasons.
First, while CEF discounts have widened substantially, corporate credit spreads have not moved a whole lot. We can see this in the following chart which plots corporate credit spreads (x-axis) and credit CEF sector discounts (y-axis). What it shows is that discounts are back in the middle part of their 5Y range while credit spreads remain fairly tight.
What this suggests is that tilting to higher-quality assets like municipal bonds can make sense in this environment since the impact of any sharp credit spread widening will be relatively muted on these higher-quality assets.
Second, tax-exempt discount valuations look attractive within the broader CEF space. We can see this from the following extract of the service CEF Tool. Municipal sector discounts are, on average, wider relative to the median in absolute terms and look cheap in relative terms. For instance, the national tax-exempt discount percentile is just 24% right now meaning it has only been wider of the current 5.45% level less than a quarter of the time in the last 5 years while the median sector discount percentile is 48% meaning it is pretty close to the middle part of its historic range.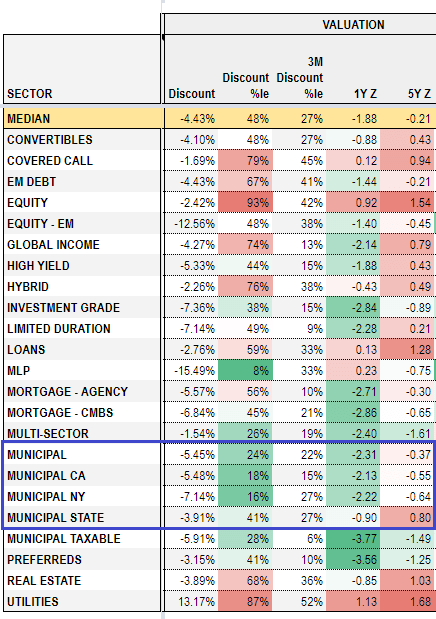 Third, the municipal sector has underperformed Treasuries year-to-date. Year-to-date both the longer-term investment-grade and high-yield sub-sectors yields have risen by nearly 0.8% - close to double that of the 10Y Treasury yield. According to Bank of America, AAA munis are pricing in a 2.5% 10Y Treasury yield with respect to existing tax rates. Treasury / Muni ratios have corrected and moved to the top range of 2019. This offers a significant margin of safety as the 10Y Treasury yield remains sub-2% at the moment.
Finally, fundamentals remains attractive. Median year-on-year tax collection growth is robust with median January collections up 26%. Rating actions have stabilized even in the relatively stressed healthcare sector with upgrades now exceeding downgrades. A number of state governors have proposed tax cuts, illustrating the strong fiscal positions of many states - for example, Califnora projects a $45bn surplus while New York has erased its projected deficits.
Let's Be Upfront About The Risks
A number of risks remain for investors in the sector.
A key headwind is that CEF leverage costs have started to rise. Tax-exempt leverage costs are typically anchored off the SIFMA rate just as taxable fund costs are anchored off Libor. And just as Libor has recently risen in response to the fully priced in Fed March hike, so has SIFMA.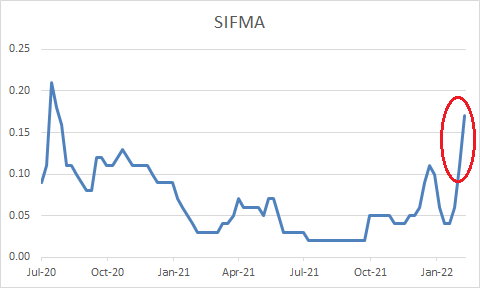 We are yet to see a significant downshift in municipal sector distribution coverage numbers. The sector average coverage level has decreased gradually over the past year despite a number of funds already cutting their distribution levels (which would normally support coverage, all else equal). We expect this trend to accelerate once the Fed begins to hike rates.
The chart below shows the trailing-twelve month distribution trend of the tax-exempt Municipal CEF sector for the previous 10 years, starting at 100 with our annotations.
The key takeaway in the chart is that changes in short-term rates largely explain the moves in tax-exempt sector distributions. For example, between 2012 and 2016, the Fed held short-term rates at a near zero level. Then the Fed started to raise rates at the end of 2015, with the upper limit ending at 2.5% by the end of 2018. During this period the distribution trend accelerated downward. Then in 2020 the Fed sharply cut the policy rate back to zero which resulted in an increase in sector distributions which has now leveled off somewhat.
What this means going forward is that we expect the sector to largely reverse its previous income and distribution boost, resulting in a number of cuts. In our view, this is the price of admission to the CEF sector and is offset by its more attractive valuation. Investors who want to sidestep leverage cost - driven distribution cuts may want to stick with open-end funds or unleveraged CEFs.
What We Are Doing
We have recently taken advantage of the dislocation in the CEF sector to rotate from our "dryer powder" allocation of open-end funds and term CEFs into perpetual CEFs.
Year-to-date open-end funds like ETFs and mutual funds have outperformed the broader CEF sector as the table extract from our service Funds Tool shows below.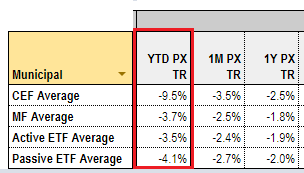 Term CEFs have also outperformed perpetual CEFs - the chart below shows how term CEF discounts have held in quite a bit better than their perpetual counterparts in the tax-exempt sector. This is something we have discussed a number of times in the past and is a feature of the CEF market that continues to inform our allocation stance.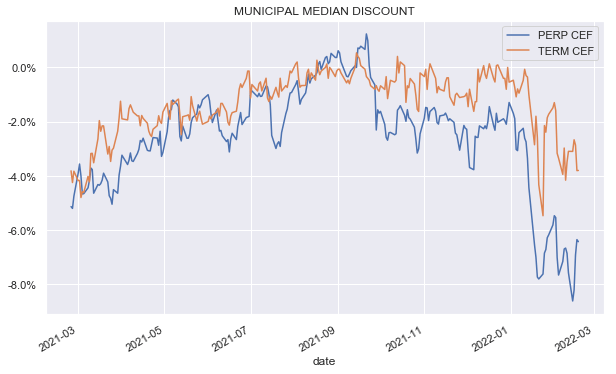 In terms of the credit profile, we find that the broader investment-grade sub-sector offers a somewhat more attractive valuation.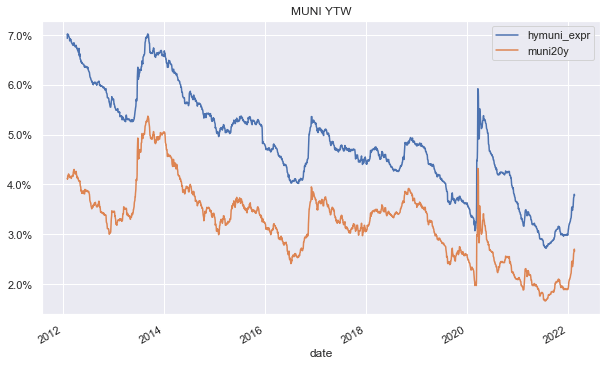 This is more easily observed in the following chart which shows the differential between high-yield and investment-grade tax-exempt bond yields, showing that high-yield munis offer a historically low yield pick-up relative to investment-grade bonds (the ratio of the two sub-sector yields shows a similar picture).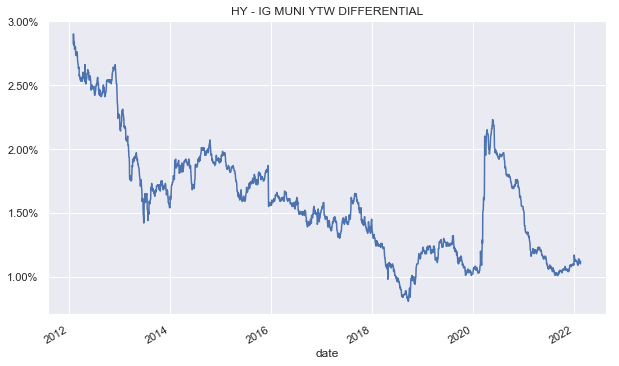 This is why the majority of our rotation has taken place in the investment-grade focused space.
Specifically, we have added to the Eaton Vance Municipal Income Trust (EVN) and BlackRock MuniYield Quality Fund III (MYI), among other funds.
EVN is trading at a 8.3% discount (vs. 5.4% sector average) and a 4.67% current yield.
EVN has a 79% allocation to investment-grade rated bonds with an average duration of 7.7. Sub-sector overweights are in GO, transportation and hospital bonds.
EVN has delivered above-sector performance in total NAV terms across the last 3 and 5 years.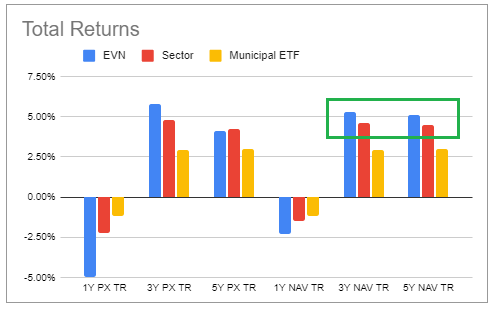 Distribution coverage remains above 100% with a sizable positive UNII amount.
The fund's valuation has recently cheapened relative to the sector which offers an attractive entry point in our view.
MYI has a 89% investment-grade allocation with a focus on Transportation, GO and health sub-sectors. It is trading at a 7.9% discount and a 4.67% current yield. MYI has delivered a 5Y total NAV return of 4.6% or 0.2% above the sector average. Coverage has downtrended somewhat - a very common pattern in the broader sector, however, UNII remains at a relatively high level.
Separately, we continue to find value in short-dated high-yield munis such as the Nuveen Short Duration HY Municipal Bond Fund (NVHAX) given the sharp flattening in the yield curve. This sub-sector offers a lower duration option relative to the broader Municipal sector along with a higher yield.

NVHAX has posted very impressive returns - on par with CEFs despite its lower-duration stance (which equates to holding lower-yielding securities due to the upward-sloping nature of the yield curve) and carrying little leverage. And unlike its NHMAX sister fund, it remains open to new investors.

Takeaways
The tax-exempt sector remains an attractive place for new capital. Higher Treasury yields are an obvious risk and rising leverage cost will be a headwind to CEF income, however, in our view the much improved valuation picture relative to 2021 is enough to make the sector attractive. Strong fundamentals, a supportive supply picture and a higher-quality profile in an environment where lower-quality assets remain expensive add to the investment case.