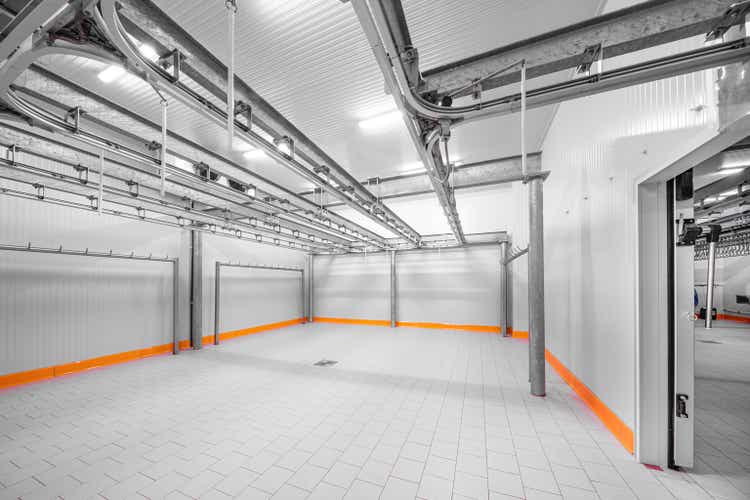 Thesis: Hybrid Business Model Creates Problems
Americold Realty Trust (NYSE:COLD) is a real estate investment trust focused on a particular niche within industrial real estate: refrigerated storage. The REIT owns almost 250 temperature-controlled warehouses around the world that are used for food storage by grocery stores as well as food producers and distributors.
After production, refrigerated or frozen foods have to get from their production plant to the fridges in the grocery store or freezer rooms in restaurants somehow. COLD's specialized warehouses play a critical role in that supply chain.
However, there is one element of COLD that makes it a bit different than other industrial REITs. Unlike most forms of real estate in which the tenant manages the operations within the property while paying rent to the landlord, COLD's properties draw revenue from two segments:
Rent & Storage: 42.1% of revenue
Warehouse Services: 57.9% of revenue
Refrigerated storage warehouses are run more like data centers or hotels than traditional real estate, in that the landlord also manages the operations of the warehouses. For most of COLD's warehouses, the REIT owns the real estate and manages the operations, but for a minority of warehouses COLD only handles the operations and does not own the property.
Somewhat like Iron Mountain's (IRM) paper storage and shredding segments, COLD provides other services in addition to owning real estate.
This hybrid business model exposes COLD to certain inflationary pressures, mainly rising labor costs. In 2021, COLD's net operating income margin dropped considerably, from 35.7% in 2020 to 27.2% in 2021.
This led to COLD's AFFO per share finishing 2021 lower than management's original guidance and 2022's guidance coming in nearly 10% lower than 2021's print at the midpoint.
No wonder COLD's stock price has severely underperformed the average of other industrial real estate, represented below by the Pacer Benchmark Industrial Real Estate ETF (INDS):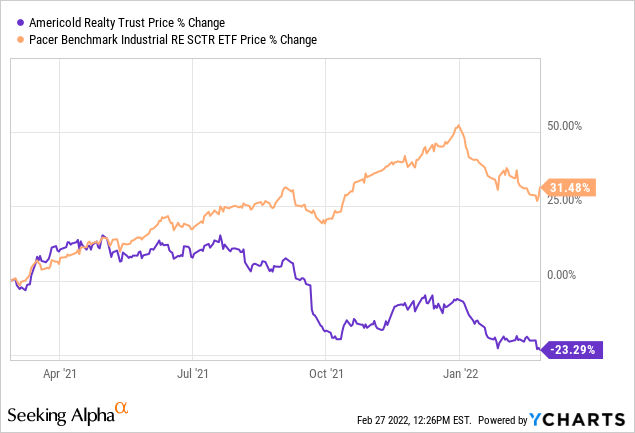 Is the worst of the selloff over for COLD? Frankly, even after all the pain it has already endured, I'm not convinced the pain is over yet. As of this writing, COLD is valued at 23.4x 2021 AFFO and 25.6x the midpoint of 2022 AFFO guidance.
Moreover, with a dividend payout ratio of 76.5% of 2021 AFFO and 80-88% of 2022 AFFO, COLD has very little room to increase the dividend anytime soon.
On top of this, COLD recently endured a shakeup in the C-suite, as former CEO Fred Boehler was sacked in November without any stated cause. Now, the new CEO, George Chappelle, appears to have excellent experience and credentials, but sudden top management changes always cause some uncertainty.
Bulls will argue that food demand has been incredibly high over the last few years. But it is unclear to me how much this elevated demand will continue now that pandemic-era stimulus has been depleted. And unlike normal warehouse/logistics real estate, the growth of e-commerce is not a significant tailwind for COLD.
The hybrid landlord/operator business model employed by COLD is not appealing to me, so I am not a buyer of the stock at this time. But let's take a look through the specifics of COLD to see if I'm missing something.
Overview of Americold Realty
COLD is the largest REIT focused on temperature-controlled warehousing as well as the second largest company in both the United States and the world (by market share) in this space. For instance, in the US, COLD's market share is just shy of 22%.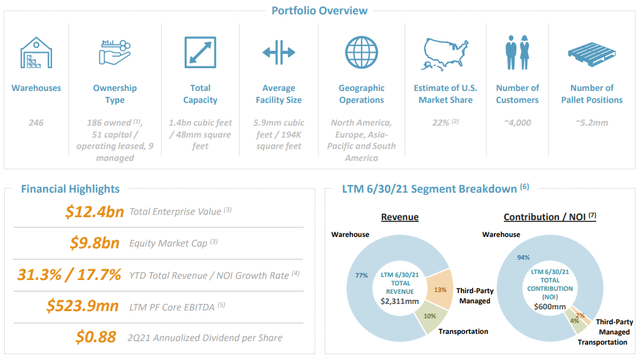 As you can see above, most revenue and the vast majority of NOI is derived from warehouse rent & storage, but some revenue and NOI also comes from third-party management and transportation services.
Margins for its warehouse services segment are far lower than for warehouse rent. For the twelve months ending in Q2 2021, the NOI margin was 63% for rent & storage and 8% for warehouse services. In the latter half of 2021, margins for both compressed.
COLD's storage pallets are used for a wide variety of food and beverage types.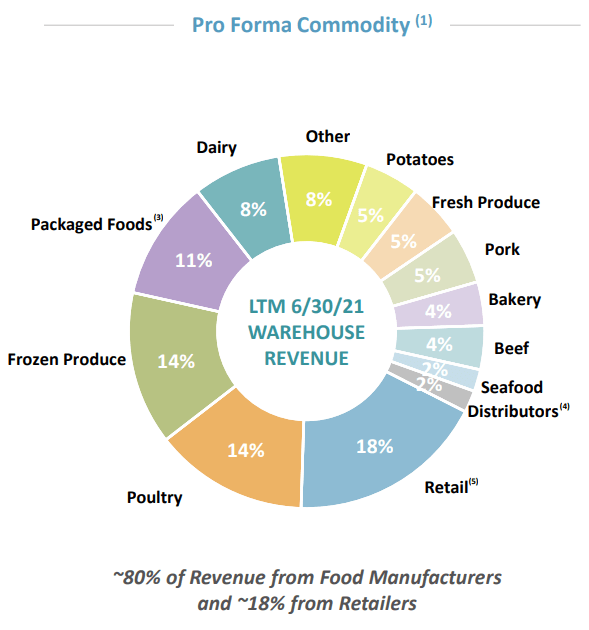 The bulk of COLD's revenue is derived from the world's largest food manufacturers, such as General Mills (GIS), Conagra Brands (CAG), Kraft Heinz (KHC), Nestle (OTCPK:NSRGY), Danone (OTCQX:DANOY), Unilever (UL), and others. Most of the remaining revenue comes from grocery retailers like Walmart (WMT), Kroger (KR), Whole Foods (AMZN), and Grocery Outlet (GO).
Though the majority of COLD's geographic presence is in North America, the REIT also owns or manages operations at facilities across the world, including in Europe, Australia, New Zealand, and South America.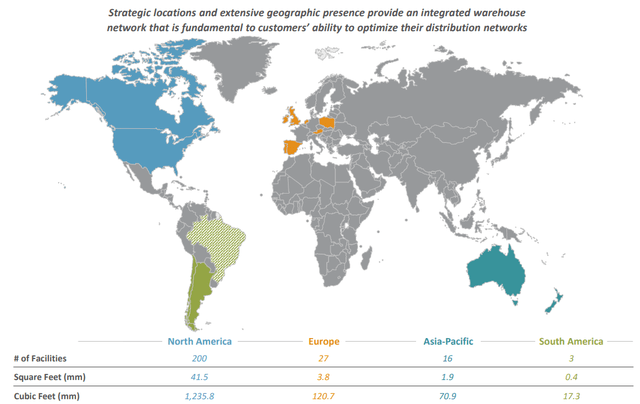 In addition to its second largest market share position, this global presence demonstrates COLD's size and scale, which are surely an advantage during difficult periods like the current one.
As of the end of 2021, COLD had $3.1 billion of debt on its balance sheet, up from $2.9 billion at the end of the second quarter. And net debt to pro forma core EBITDA sat at 6.1x, which is definitely on the high side.
2021 Performance & 2022 Outlook
For the full year of 2021:
Total revenue increased 36.6%, driven primarily by incremental rent from acquisitions.
Total rent per occupied storage pallet increased 7.5%, but unfortunately economic occupancy (paid occupancy rather than the number of pallets physically used) dropped from 79.2% in 2020 to 77.8% in 2021 as supply chain disruptions stalled food production.

Total NOI increased 14.2%.

Core EBITDA rose 11.4% on an actual basis or 11.0% on a constant-currency basis.

And yet, AFFO per share of $1.15 was significantly below the guidance range of $1.36 to $1.46 given at the beginning of 2021.
COLD's 2021 AFFO per share of $1.15 declined nearly 11% from 2020's $1.29. In fact, 2021's number was even lower than 2019's AFFO per share of $1.17.
Interestingly, despite lower average occupancy of storage pallets, COLD's throughput increased 24.8% in 2021. In other words, items weren't staying in its warehouses for as long as in 2020 but rather being shipped out to their end destinations as quickly as possible.
Due to a big jump in labor costs, COLD's Q4 warehouse same-store NOI dropped 8.2% even as same-store revenue rose 2.5%. For the full year, however, warehouse same-store NOI increased 12.7% on a same-store revenue increase of 34.6%.
The decline in occupancy along with rising labor costs (and labor shortages generally) ate up virtually all of the impressive revenue growth.
For 2022, AFFO per share guidance of $1.00 to $1.10 represents yet another year of declining profits. This is a big disappointment, as just a few months ago the consensus analyst estimate for 2022 AFFO per share sat at $1.23.
Here's the context that management gave for this disappointing AFFO per share guidance on the Q4 conference call:
COVID related supply chain and labor disruptions continue to impact the global food supply chain in 2022. And this can be seen in our occupancy and throughput. Achieving the high end of our guidance range would result from macro-economic factors driving an improvement in food manufacturing, which would result in higher levels of occupancy and throughput volumes. The lower end implies the occupancy levels and throughput volumes to deteriorate. The low end of guidance implies wage and inflationary costs running at elevated levels above our expectations, taking into account the lag Rob previously mentioned, the high end implies inflationary pressures moderate.
In other words, even if inflationary pressures moderate in 2022, COLD's AFFO per share will still decline year-over-year.
But by the time COLD repairs its margins and gets back to some state of normalcy, will consumer demand growth for food and beverages still be growing at the pace it's grown over the last few years? People can only eat so much food, and grocery store inventory levels can only rise so high.
Perhaps a return to normalcy will be a double-edged sword for COLD, repairing margins while simultaneously diminishing the growth outlook.
Bottom Line
COLD is not for me. I initially became interested in the company when I saw the recent stock price selloff, thinking that it might be an attractively valued play on industrial real estate (albeit a niche within that space). But upon further inspection, I am of the opinion that COLD's problem is its hybrid business model.
I would find cold storage real estate attractive to own if it was net leased and operated by the tenant. But that is not the case for COLD.
Since I am not at all confident in the notion that high growth in demand for food products will continue forever. I am likewise not at all confident that COLD's AFFO per share growth outlook in a post-COVID inflation world is attractive enough to make the stock a "buy" at its current price.