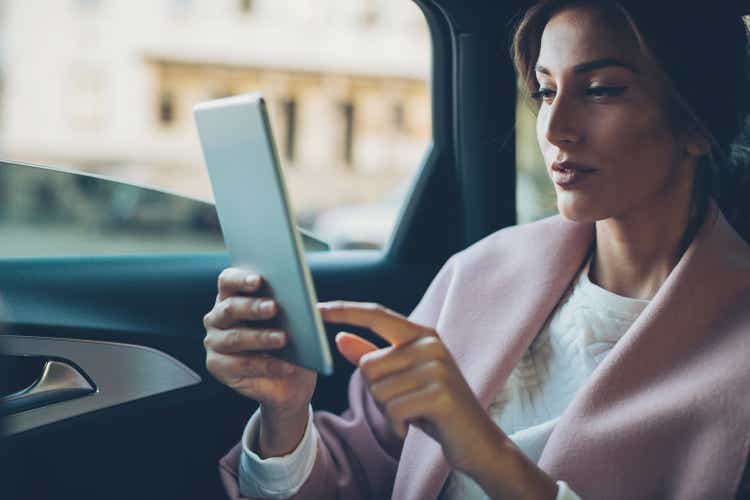 Investment Thesis
Farfetch (NYSE:FTCH) has seen its shares left for dead. However, it's actually reporting a meaningful improvement in operations.
I go through and explain why I'd previously issued a sell recommendation only to see the stock fall 50% (including Friday's 40% pop) and why now, I'm reverting my assessment.
I contend that the focus of the story here will be on Farfetch's path towards profitability rapidly emerging.
Here's why I argue that investors would consider putting this stock on their watchlist.
Investment Sentiment Starts to Return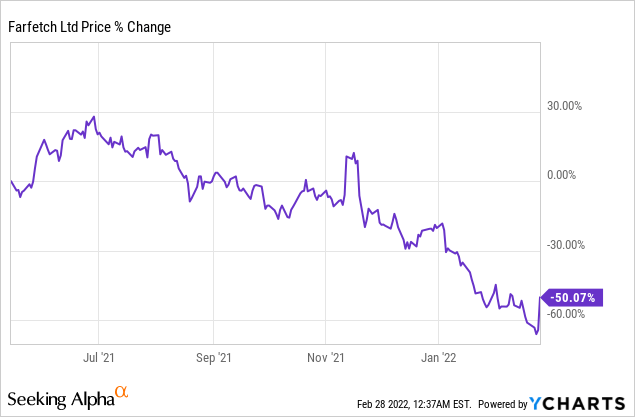 On 14 May, I wrote to Deep Value Return members that they should sell Farfetch's stock. It was a really difficult call to make and it caused me a lot of anguish. The stock at the time was trading at near its lows over the previous 6 months, and there's nobody out there that likes to admit they made a terrible mistake.
I said then,
I should have been swifter on my feet to cash in earlier in February [2021]. But I can't deal with facts in the past. I have to take ownership here and be honest with myself and you.

The easiest option for me would be to bury my head in the sand and pretend that what's happening isn't happening. That would be the easy option. But I will not do that.
I believed that there was a strong likelihood that the stock would continue to implode further. And as you can see from the graph above, since that date, including the pop in the share price on Friday, the stock is still down 50%.
Then, in November, I published my point on the SA website saying ''I don't think it's worthwhile being invested in Farfetch.'' Since that point in November, the stock is down just over 40%, including Friday's pop.

However, I now believe that the story is starting to change.
Revenue Growth Rates Slow Down

Farfetch doesn't provide investors with guidance for the year ahead. What it does provide is Gross Merchandise Value (''GMV''). Over the past 2 years, GMV translates into revenues at very approximately 53% for both 2020 and 2021 periods.
This implies the following estimates for 2022:
Digital GMV could reach approximately $4.8 billion.
Brand GMV could reach approximately $580 million.
On a revenue estimate, this could translate into somewhere near $2.8 billion in 2022. My estimates for Farfetch's revenues are ever-so-slightly lower than what analysts estimate, at closer to $2.9 billion in revenues, but perhaps not overly meaningful in the grand scheme of things?
Nevertheless, it appears that both according to my own estimates, as well as, analysts' consensus, Farfetch is likely to grow its revenues at approximately 26% over the coming year.
Why Farfetch?
Farfetch is a luxury marketplace. Like all marketplaces, the trick is to get enough buyers to be willing to pay for merchandise. Marketplaces can have wonderful network effects and be awesome businesses if they can keep costs under control.
Throughout the pandemic, we've seen all kinds of marketplaces surface. But very few luxury brands' marketplaces have the presence of Farfetch.
During the earnings call, Farfetch discussed its move to do away with meaningfully discounting its brands. And how this hasn't prevented its guided GMV from continuing to grow at mid-to-high 20s% GMV rates.
Clearly, this is all together leading to an improvement in its bottom-line profitability.
Path to Profitability in Focus
The following figures show Farfetch's profitability profile during 2020:

As you can see above, Farfetch's Q4 2020 adjusted EBITDA stood at 2.2%, which wasn't strong enough to see its full-year 2020 swing to the positive.
Now, compare its progress in 2021:

Every quarter points to a dramatic improvement, with the all-important Q4 quarter firmly sealing the progress that Farfetch made throughout 2021.
What's more, for 2022 as a whole, Farfetch is now guiding for 1% to 2% EBITDA margins.
If we take the midpoint of this estimate, we are going to be looking at approximately $42 million of adjusted EBITDA compared with negative $47 million in 2020 and positive $2 million in 2021.
However, we appraise Farfetch's bottom line, at close to $42 million of EBITDA, it's a meaningful improvement from what was essentially breakeven in 2021.
FTCH Stock Valuation - Cheaply Priced
Before going further, I'll highlight that one of the reasons why I had issued a sell recommendation in the past was that Farfetch was being too quick to dilute shareholders.
To illustrate, compared with Q4 of last year, the total number of shares outstanding has increased by 36% y/y to 473 million.
However, as it stands right now, Farfetch's balance sheet carries approximately $700 million of net cash. This implies that the business has more than enough funds to invest in its growth prospects without having to further dilute shareholders to bolster its capital requirements, at least in the near term.
Next, Farfetch is priced at approximately 185x this year's EBITDA. Clearly, this is a very punchy multiple.
However, the progression that Farfetch has seen over the previous 2 years is inspiring. At the present rate, it's not inconceivable that Farfetch's EBITDA profile could reach $80 million in 2023.
This would put the stock at 96x its 2023 EBITDA. Clearly, still not the cheapest stock out there, but it's the pace of change on its bottom line that matters here more, rather than thinking solely about its multiple.
The Bottom Line
Farfetch has been a difficult stock for anyone to consider this past year. Including the rally in its share price on Friday of 40%, I suspect that the vast majority of readers are still very much underwater here and unwilling to consider this investment.
And I understand that there are many psychological barriers to overcome before re-considering this investment right now. Once bitten twice shy. Presently, there's a lot of JOMO (Joy of Missing Out). Let's just hope it doesn't turn into FOMO at the worst price point. Whatever you decide, good luck and happy investing.