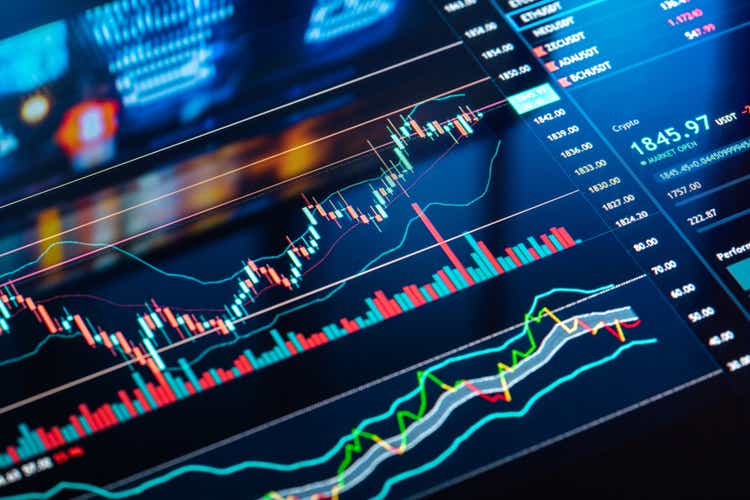 This article was first released to Systematic Income subscribers and free trials on Feb. 23
In this article, we take a look at the TCG BDC (NASDAQ:CGBD) - a near pure-play credit BDC, trading at an 11.4% total (regular + supplemental) Q1 dividend yield and an 83% valuation. In our view, CGBD can be attractive for investors looking for either a more credit (rather than equity) focused BDC or for a BDC with potential valuation upside.
The first key takeaway is that the company's unusually low valuation given its strong performance appears to be a function of its elevated non-accruals and potential preferred dilution - however, as we show, these do not fully explain the valuation, i.e., even in the worst-case scenario for both issues, the valuation remains attractive. The second takeaway is that a company like CGBD with a primarily floating-rate asset focus with little equity footprint is well-positioned in an environment of falling equity prices, rising interest rates and stable credit spreads. We continue to hold CGBD in our High Income Portfolio.
Q4 Update
CGBD posted solid Q4 results.
NII increased by 2.6% (blue bars in the chart) to $0.42 - the third consecutive quarterly increase. The company focuses on income numbers ex-preferred dividends (more on the preferred later) which we call Adjusted NII - these are shown as red bars and these are the ones you will find in the presentation under "NII". This more conservative adjusted NII has remained above total dividends (regular and specials) for 3 quarters in a row despite two raises in Q3 and Q4 specials.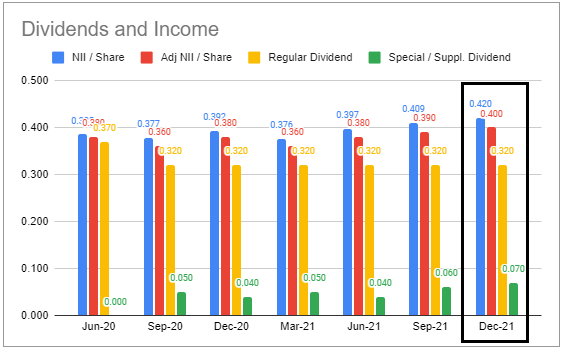 The NAV rose by 1.5% - a steady increase observed in each post-COVID quarter. The last two NAVs have exceeded the pre-COVID level. Management has guided that the boost was largely driven by positive performance in the non-accrual and watchlist holdings - more on the SolAero position later.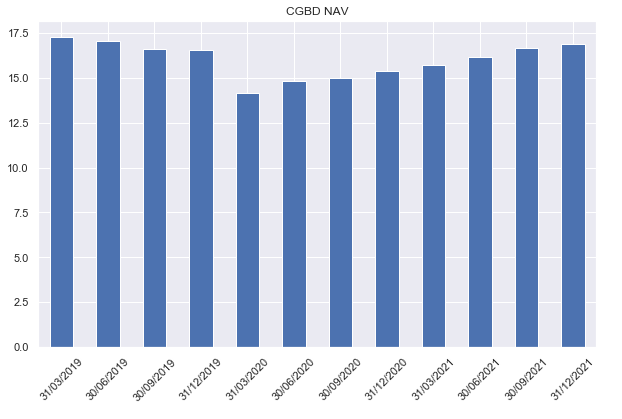 This chart is a better view of the quarterly NAV increase. The recent quarter NAV increase was below its previous quarters. This is expected and likely due to two factors - 1) CGBD has fewer retained earnings due to its previous dividend increases and 2) as a low-equity allocation BDC, there is less upside from further unrealized gains as credit valuations are already fairly high. That said, the SolAero position sale is expected to boost the NAV by over 1% in Q1, so we do expect a further small NAV increase in Q1 unless credit spreads widen significantly from here on.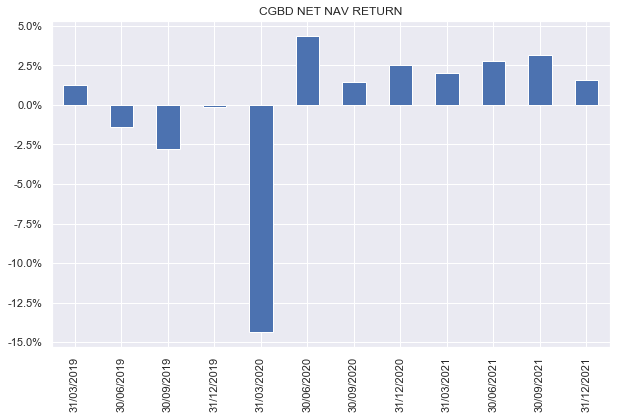 If we compare Q4 NAV changes across the sector, CGBD looks pretty good, being in the top half of the companies that have reported so far.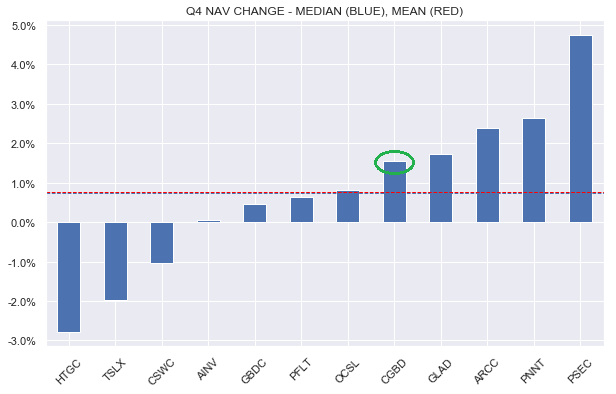 If we look at total NAV returns which includes dividends (our preferred measure), we see that CGBD remains in the top half as well with a strong 4% QoQ return.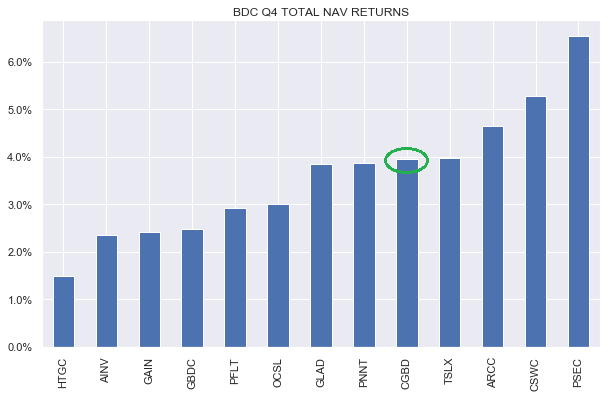 CGBD raised its special dividend by a penny to $0.08 - resulting in a total Q1 dividend of $0.40 - an increase of 2.5%. At this rate, dividend coverage based on Adjusted NII is exactly 100%. Given the increase in Libor since the start of the year and an expected hike in March, we wouldn't be surprised to see a small temporary drop in NII in Q1 given the presence of Libor floors on the asset side of the balance sheet.
The company repurchased 0.6m shares during the quarter at an average discount of 18% to Q4 NAV, driving a NAV accretion of $0.03 or 0.2%. This is the third consecutive quarterly increase in the special.
Non-accruals rose 0.5% though they remained flat on an at-cost basis QoQ and have downtrended over the past 18 months. There are two ways in which non-accruals can grow - either due to previously performing assets moving to non-accrual or due to non-accrual assets being marked up, i.e., increasing the likelihood of moving back to performing assets or due to a higher expected recovery. For CGBD, the QoQ increase in non-accruals was the latter scenario as a number of non-accrual assets were marked up, specifically the SolAero position.
On the call, management said they exited SolAero in Q1 - one of the non-accrual names - at 90% vs. their previous mark of 38%. This will provide a 1% lift to the NAV in Q1, all else equal. Q1 non-accruals will also fall around 0.6% on both at-cost and fair-value basis, all else equal.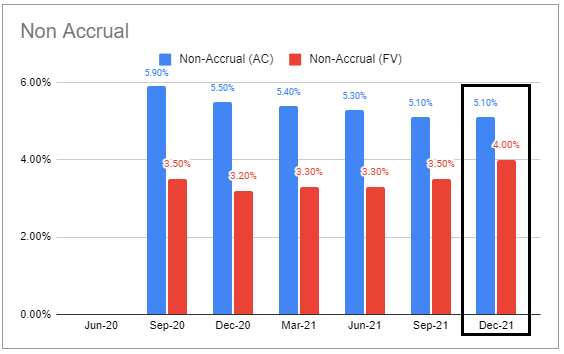 Portfolio quality has remained steady QoQ.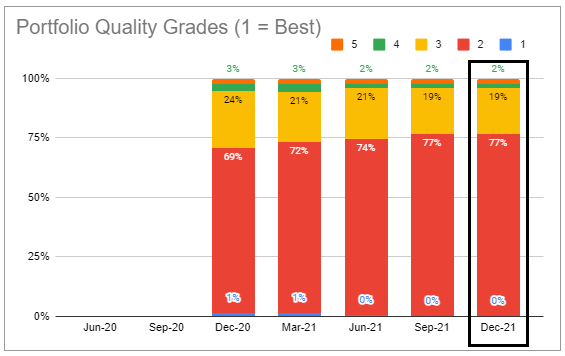 Net new investments were marginally negative. This is not uncommon in Q4 given the significant amount of prepayments in the quarter due to strong IPO and M&A activity.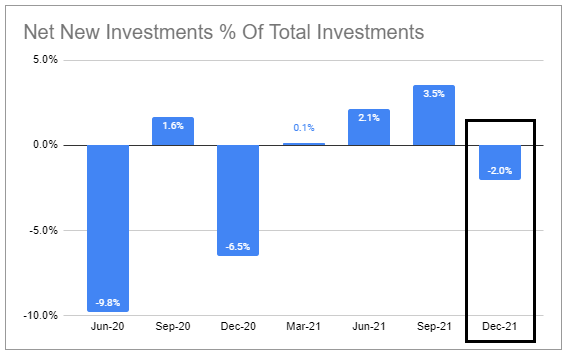 Given the negative net new investment position, leverage ticked slightly lower. On the call, management said they are sitting at the lower end of their leverage target range (1.0-1.4x from Q3 guidance) which gives them additional capacity to drive income.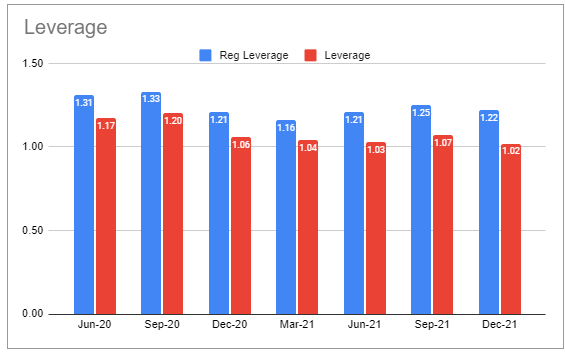 Weighted-average debt yield ticked lower. We get the same picture across the broader BDC universe given a very competitive environment for new assets and expensive valuations in publicly traded credit in 2021. If anything, the yield drop of the CGBD portfolio has been very muted - other BDCs have seen a much sharper drop-off in portfolio yield.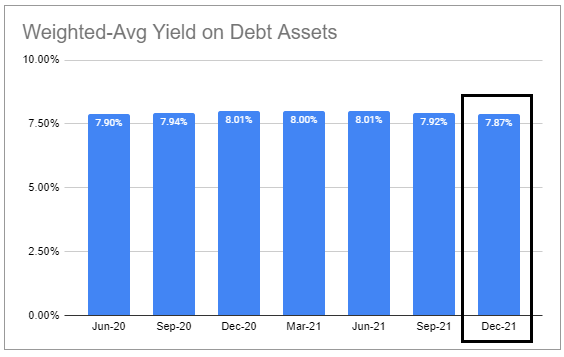 In terms of Libor impact on income, we expect NII to drop initially and then rise above its starting level, all else equal, after about 4 Fed hikes. On the call, management has guided that they expect this to happen in Q3 which makes sense given the current consensus priced into Fed Funds futures.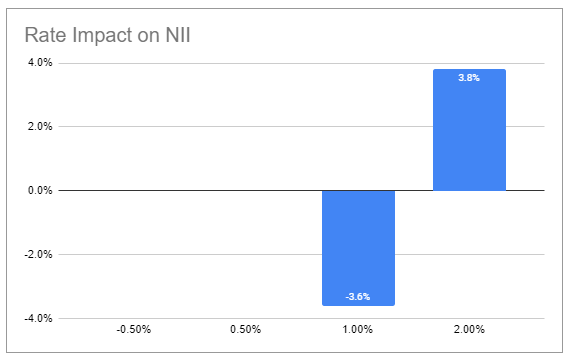 A Word About The Preferreds
There is one unusual feature of the CGBD balance sheet which is its $50m 7% convertible private preferred stock that was issued to a Carlyle affiliate during the COVID drawdown. The preferred conversion price is $9.46. Given Q4 NAV was $16.91, this is obviously potentially very dilutive. If the preferred is fully converted, the share count will rise from 54.2m to 59.5m which would cause a drop in the NAV of about 4%.
In addition, it would also obviously drive NII lower since the amount of income-producing assets would remain the same (i.e., the numerator) but the number of shares (i.e., the denominator) would increase by 10%. As a partial offset, the company would get rid of the 7% cost on $50m. Net net, a full conversion should cause a drop in NII of about 4%.
Apart from a relatively high level of non-accruals, this potential conversion is a likely candidate for the stock's unusually low valuation. However, even if this happens, the stock's valuation would rise from 83% as of this writing to 86% - clearly, it can't explain all of the undervaluation.
According to the CEO, Linda Pace, the conversion is "not in the cards" - presumably one Carlyle affiliate doesn't want to burn the clients of another Carlyle affiliate. The party line is that the preferred is viewed as relatively cheap equity, i.e., with a cost of 7% which is well below the NII NAV yield of nearly 10% for the common. This makes sense, and even if it gets converted, the worst-case dilution impact is not massive.
Takeaways
CGBD has continued to perform very well over the last 18 months or so. We can see this in the following chart where the company's quarterly total NAV returns are shown in blue bars and sector average is shown in red bars. The yellow line shows the trailing-twelve-month differential between the two. The line was below zero between 2018 and 2020, showing that CGBD underperformed the sector in that period. Since then, the line has bobbed slightly above zero most of the time, showing that the company has outperformed the sector in that period. This may not be particularly impressive, but CGBD has one of the lowest equity allocations. Despite this, it was able to slightly outperform the sector over the last 7 quarters in a period of very strong public equity returns.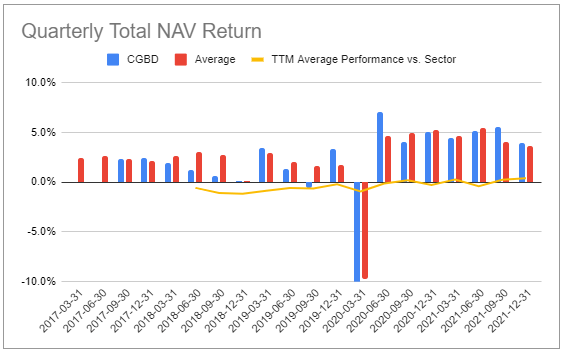 When allocating to BDCs, investors have to, at the very least, consider the company's prospective returns and its current valuation. If we plot the 3Y total NAV return of the sector (y-axis) versus current valuations, we get the following picture.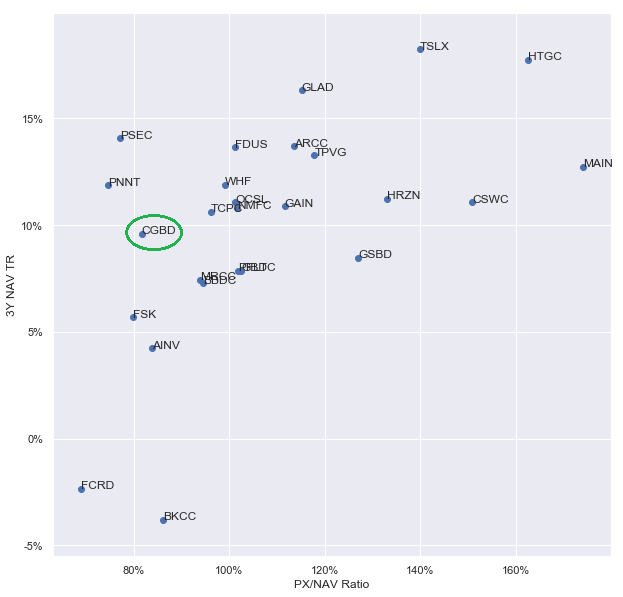 CGBD has delivered a respectable return of 9.6% over this period - about 0.5% below the average in total NAV terms. It is one of three BDCs with relatively high returns over this period that trade at a valuation of around 80% - (PNNT) and (PSEC) are the other two. In our view, CGBD is the most "normal" among this trio - PNNT has a large equity allocation it is trying to work out of, and PSEC is a company with large REIT and CLO Equity holdings - both fairly unusual for BDCs.
As we discussed above, two possible reasons why CGBD remains undervalued are its relatively high non-accruals and the potential preferred conversion. However, even if the company writes down its entire non-accrual portfolio and has the preferred converted, its valuation will still be 10-15% below the sector average.
Another way to combine the prospective return and valuation is to consider the following chart which simply divides the 3Y total NAV return by the valuation. This shows the returns investors should expect on their capital if 1) forward 3Y NAV returns replicate themselves across the sector, i.e., each BDC repeats its past 3Y NAV return for the next 3 years and 2) valuations don't change. By this metric, CGBD will post returns in the top third of the sector - a pretty attractive proposition, particularly given the valuation margin of safety.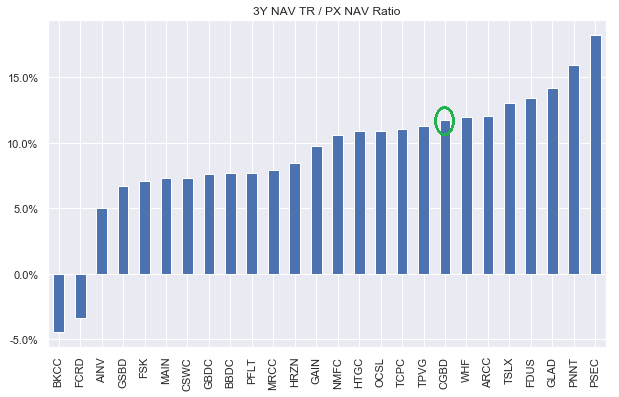 In short, we continue to find value in CGBD and stick with our allocation to the stock in our High Income Portfolio.