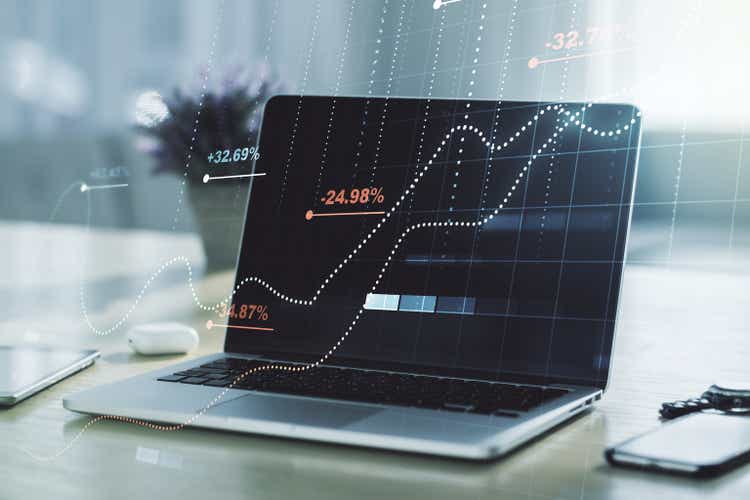 Written by Nick Ackerman, co-produced by Stanford Chemist
With the recent events going on in Europe, the international trade play might take the backseat again for another year. That being said, a fund such as Calamos Global Total Return Fund (NASDAQ:CGO) can continue to be one on an investor's watchlist. The basic idea is that global investments are cheaper relative to their U.S. counterparts. More uncertainty globally means that I'm less bullish on that playing out for 2022 than I was at the beginning of 2022 - just a couple of short months ago.
When looking at CGO, it reminds me of Calamos Strategic Total Return Fund (CSQ) but with a global tilt to its portfolio. CSQ has done incredibly well over the years, thanks largely to the heavy equity sleeve in the portfolio. This has also served CGO well, but the global positioning was an area that has kept the fund's returns hampered. The latest declines in CGO, while tempting, might not be worth buying just yet.
The Basics
1-Year Z-score: -0.97
Premium: 0.59%
Distribution Yield: 8.76%
Expense Ratio: 1.69%
Leverage: 33.74%
Managed Assets: $200 million
Structure: Perpetual
CGO will "seek total return through a combination of capital appreciation and current income." The way they attempt this is; "by investing in a globally diversified portfolio of equities, convertible securities and high-yield corporate bonds." Generally, equity positions are the largest allocation of the fund. That's followed by a material allocation to convertibles and then corporate bond exposure to a lesser degree.
The fund's expense ratio is higher, as seems to be the case with the whole lineup of Calamos funds. Often it seems a bit justifiable due to reasonable returns and their focus on convertible bonds. Convertible bonds aren't generally accessible by most retail clients, which can involve some higher expenses.
CGO is also highly leveraged, another feature of most Calamos funds. That brings the fund's expense ratio up to 2.3% when including those costs. The borrowings are based on LIBOR plus 0.80% for their credit facility. They also have outstanding mandatory redeemable preferred, issued at various dividend rates between 2.45% and 4.24%.
Due to the floating rate expenses, expense ratios were higher in 2018/19. The fund's expense ratio had touched 2.98% and 3.42%, respectively. I would anticipate those expense ratios returning over the next couple of years.
An additional concern for some investors here would be the fund's size. At only around $200 million, that can leave a lack of liquidity for larger investors. The average trading volume is only around 27.5K, according to Yahoo Finance.
Performance - A Watchlist Name, Not A Buy Yet
Below is a 10-year total return comparison between CGO and CSQ. It leaves us with a clear takeaway that CSQ has performed much better historically. At the same time, CSQ trades at a slight discount and CGO still trades at a slight premium.
Besides that, I would have anticipated CGO to perform better due to global valuations being more attractive. Due to the instability created by Russia invading Ukraine, it would seem that CSQ probably has a better chance to continue its outperformance over at least the short term.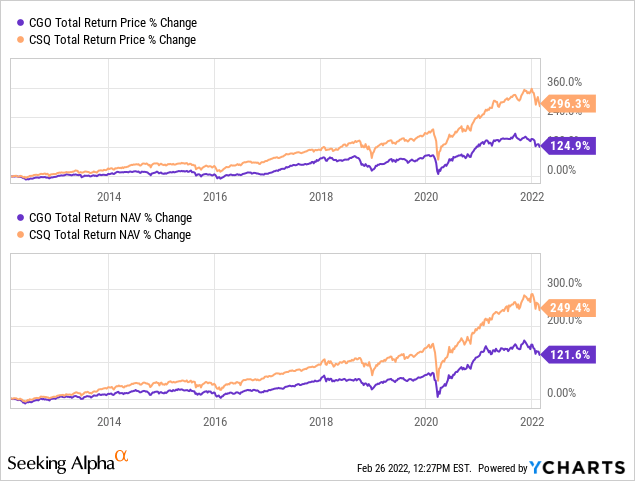 At the very least, it would make CGO much more appealing should it collapse to a sizeable discount. That would be one way to change my mind between CSQ and CGO too. However, for me, CSQ is a core-type position that can be mostly set-and-forget.
It has been quite a lengthy period of time that the U.S. has been outperforming its international counterparts.
Of course, just because something underperforms for a long time doesn't necessarily mean it will outperform going forward. What can indicate something going forward might outperform is better valuation. Here is from JPMorgan and looking at global valuations. We can see that relatively speaking, the U.S. is expensive at this time.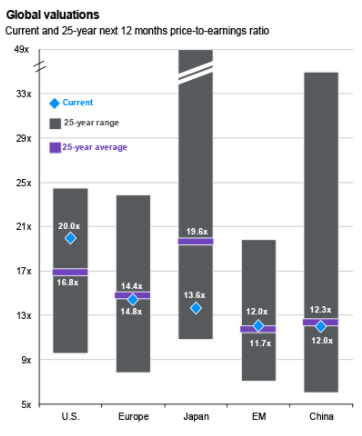 Based on the longer-term history of CGO, the fund isn't necessarily overpriced on its discount/premium basis either. Over the last 5 years, we can see that the fund has come to an average premium of just over 4%.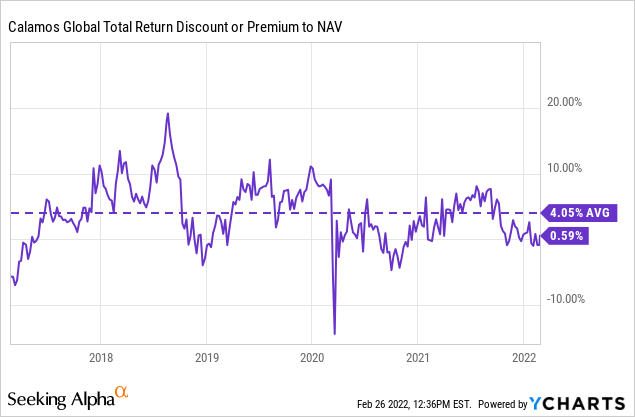 Distribution - Consistency Is A Plus
For most income investors, consistency can be a crucial attribute of anything they want to invest in. For CGO, we have one cut in the fund's history. That was during 2008's great financial crisis. Since then, they have maintained the same monthly distribution rate at $0.10.
That can also be compared with CSQ's distribution. They cut several times throughout 2008/09. Since then, though, they have also raised 4 different times and are back at the high watermark it had previously achieved.
Based on CGO's distribution, it works out to a current yield of 8.76%. On an NAV basis, it comes in similarly at 8.81%. While this seems fairly elevated, it isn't that uncommon for CGO to be paying at this level. In fact, over the last 10 years, it is still below the average.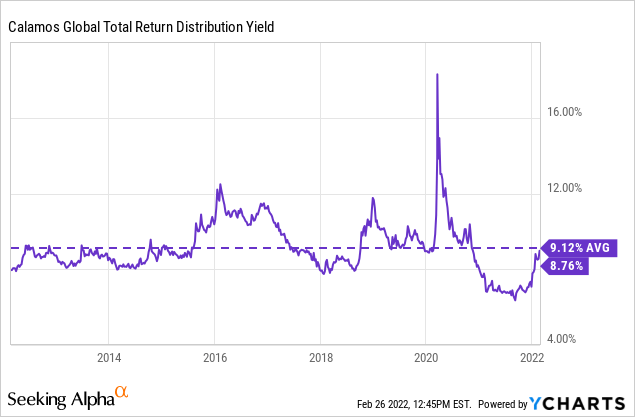 I suspect that means they will maintain the same rate and probably aren't too concerned to trim, especially when they have gone through far worse declines in 2020. That being said, the fund relies on capital gains to a considerable degree. In a prolonged down period, there could be a risk that they would trim the distribution to preserve the NAV.
Over the last fiscal year, we see that they actually produced no net investment income.
NII took a substantial hit from "(Amortization)/accretion of investment securities." That took $950,000 away from the net interest of $1.284 million provided. They then collected dividends of around $2.4 million, and dividends withheld reduced that by nearly $128K. All said, the fund had a total investment income or TII of roughly $2.618 million against the $3.127 million in expenses. Thus, we arrive at a negative NII figure.
Since the fund has been under pressure through 2022 so far, it looks like distribution coverage will be under pressure. Again, simply because the fund requires regular gains to keep up with the distributions, it pays to shareholders. This will be something to watch or avoid if one believes that we are in for a prolonged down market.
The last two fiscal years show that it was classified 100% as ordinary income for tax purposes. That would suggest that holding the fund in a non-taxable account would be more ideal.
CGO's Portfolio
Looking at CGO's portfolio, it can be challenging to keep track of. CEFs aren't necessarily the most transparent investment structure, and high turnover will make that more difficult. CGO had reported a turnover rate of 120% in the previous year. In 2020, it was even higher at 153%.
That being said, the fund's overall asset allocation hadn't changed all that much over the last 4 months, from when we previously covered the fund. At that time, the common stock slice came to 60.2%. Today, it has only inched up to around 61.57%. It has a meaningful 23.49% present in convertible bonds - a slight decline from the 24.2% it had reported prior.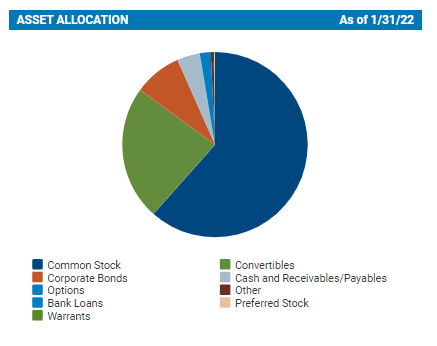 The largest sector allocation of the fund is tech. However, it isn't to a large degree that one might expect. In fact, it is almost a full 5% differential lower than CSQ's 23%, for context.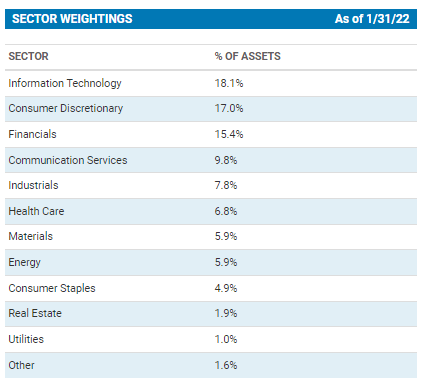 This also represents a decline from the tech allocation it had previously when it was right near 21%. As we can see, some turnover is going to be changing the characteristics of the fund.
CGO's country exposure has stayed relatively the same over the period. U.S. positions make up the largest slice of the pie to a large degree. However, in aggregate, other countries still make up nearly 50% of the fund. This is also fairly common with "global" funds, where the U.S. allocation still makes up an overwhelmingly large portion of the assets.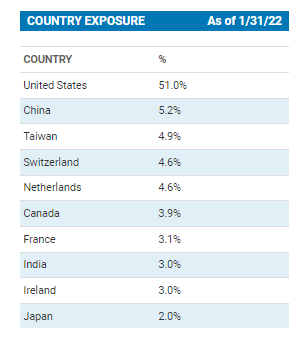 The top 10 holdings come with some familiar names we saw last time.
Taiwan Semiconductor Manufacturing (TSM) comes in at a hefty 3.8% of the portfolio, a sizeable increase from the 3.2% it held previously. Previously, a position that wasn't in the top ten was the Ford Motor Company (F). In this case, the convertible bonds are at a 3.6% allocation. That puts the holding well in the second-place spot for weightings in the fund.
Convertible bonds will often track the pricing of the common stock counterparts. Shares of F had been on absolute fire before the latest volatility in the overall broader market. That being said, the stock is still up more than 51% over the last year. That likely helped increase the position in CGO's portfolio. However, they also increased their position quite materially. We can see that these positions were present as of October 31st, 2021 and in the Semi-Annual Report for the period ending April 30th, 2021.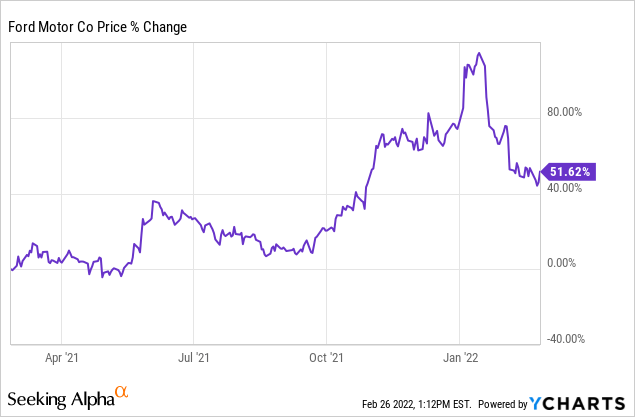 The portfolio duration comes in at 2.7 years, which is relatively low. That indicates that higher interest rates wouldn't necessarily have a significant direct impact on the portfolio. That doesn't mean that, indirectly, it won't impact the fund when the market sells off due to rate fears.
One final note for those that aren't familiar, convertible bonds are issued primarily as unrated securities. This is because qualified institutional buyers often buy them. That means the issuing company can save costs and time as institutions will have their own process for rating an investment. That's why we see a 51.5% allocation to unrated securities for CGO at the end of January 2022.
Conclusion
CGO hasn't been the best performing historically as global positions seem to have held the fund back. While I was rather bullish on international positions, I'd have to presume the new instability in the market means we won't see that play out for this year again. Despite the better valuations internationally as opposed to the U.S., there is greater uncertainty now. This position can remain on the watchlist, and what could spark more interest could be a deeper discount. At a 5 or 10% discount, I might be persuaded to change my mind.