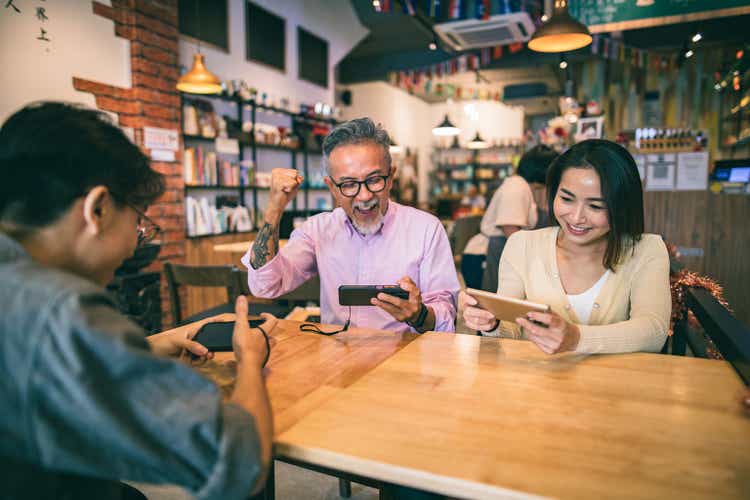 Investors have limited sources of information available to them when trying to analyze companies that are new to public markets. Without a track record and a history of easily accessible and professionally audited financial statements, there are really only three main things to rely on: 1) What management is saying about the company's potential 2) what the general outlook is for the industry they operate in at large, and 3) comparable peers who have been around a while if any. #2 is likely the most useful and reliable, but #1 and #3 are tricky. As for the first item, what if management is wrong or outright lying? As for the last item, a peer-to-peer comparison may not be valid since ideally, the company is trying to NOT be like peers by bringing something novel and competitive to their space.
My intent with this article is to discuss these matters as it relates to PLAYSTUDIOS (NASDAQ:MYPS), a mobile video game company that I have been exceptionally bullish on until now. Bottom line up front: it appears as though management was either disastrously wrong or lying when they laid out their business prospects when they first went public. While they operate in the video game realm that, in my opinion, is the most certain megatrend of our time, and while their direct peers are successfully executing, MYPS isn't living up to the hype. Nonetheless, my cost basis is low enough to have absorbed the risk and the stock is worth holding on to.
Broken Promises
If I could sum up the entirety of MYPS short existence, it would be with two words: lowered guidance. They talked a mighty good talk out the gate just last year when they went public via SPAC, showing how rapidly they have grown revenues and how they believed their revenue growth would accelerate:
The above slide is from their investor presentation published mid-year 2021. Interestingly, that presentation has since been removed from their website. Note that 2022 revenue was expected to be $440 million. Now look at their actual results and revised projection for 2022:
| | | | |
| --- | --- | --- | --- |
| | 2020 | 2021 | 2022 (expected) |
| Revenue (mil) | $270 | $287 | $305-$325 |
*Data compiled by author
Even at the top end of the range, guiding to only $325 million of revenue in 2022 is a MASSIVE shortfall from the $440 million they guided to not even a year ago.
Kingdom Boss
Part of the shortfall just mentioned is no doubt due to the company abandoning the widescale release of their much-anticipated RPG game called Kingdom Boss, produced in conjunction with game developer "Boss Fight". They invested heavily in this project which created tremendous drag on EBITDA, but assured investors that it would generate at least $60 million in revenue annually. But now they have shelved the project, and all the front-end costs incurred will never realize a return.
It is boggling my mind a bit how quickly they apparently soured on this game. Here is what they had to say about it just last quarter:
The game is a stunningly rich and immersive role-playing game with an art style derivative of their popular dungeon boss aesthetic, and gameplay modeled after the category leading AFK arena. The product was originally expected to launch in early summer, but as conveyed during our last earnings call, we push the targeted launch to the fourth quarter to allow for more refinements and performance optimizations. There's still work to be done, and our partners now hopeful that the game will be ready to launch by the end of the year.
And just the quarter prior to that:
Next up is Kingdom Boss, an innovative and beautifully executed RPG game that brings the dynamism of rewards to the $6 billion vertical. For the first time, players will be able to go to battle in an immersive fantasy world, while accumulating benefits in the real one.
But now they have stuffed the project:
As I've shared, (Kingdom Boss) struggled to achieve all the criteria that were established for a full-scale launch even after making the game available in North America late in the fourth quarter. And while Boss Fight (the developer) has consistently assured us that based on their experience, the product is on a constructive path, currently, we've elected to suspend development and reevaluate our options.
I am very curious which specific criteria were not met that would cause them to step away, even after continued assurances from the game developer. After all, Boss Fight is no slouch in the gaming space. From their website:
Founded in 2013, Boss Fight's veteran team has produced some of the industry's best-selling and most critically acclaimed games for mobile, social, PC, and consoles. These titles include the Age of Empires Star Wars: The Old Republic, and Halo Wars franchises, as well as the free-to-play mega-hits CastleVille and FrontierVille. Most recently, Boss Fight's team developed the hit mobile game Dungeon Boss.
Why PLAYSTUDIOS would apparently disregard their advice to press forward with the project is odd.
Kingdom Boss never was marketed for wide release, but it has been available on the app store and google play for several months. I personally downloaded it and played quite a bit a few months back, in the name of research, of course. I found no serious problems with the game. The graphics were clean, the storyline and gameplay were engaging enough, and I thought they had struck a good balance between letting in-game currency accrue for free while offering packages for purchase that could accelerate the experience of leveling up and so forth. It is highly rated on both the app store and google play, the former having been rated 1,100 times with an average of 4.8/5 stars and the latter having 4.5/5 stars with nearly 5,000 votes. The game also has its own subreddit. WHY WOULD THEY ABANDON THIS GAME!? To be clear, MYPS does not own the game. They didn't develop it. Per the conference call:
Our contributions to this franchise has been to underwrite its development, manage the UA activities, support playAWARDS integration, and generally provide insights gleaned from play testing.
But they clearly enabled the game to be developed in the first place by underwriting it. It feels a bit like they are abandoning their own baby.
We got a little more information in the Q&A session:
So obviously we were deeply committed to Kingdom Boss and spent quite a bit of time and also a lot of money advancing it through our partnership with Boss Fight. As we've shared in the past, it was complicated because we really struggled to get all the metrics to a place where we felt like the product was healthy and investable in a place where we can really commit the tens of millions of dollars that would be required in order to really scale its audience and get it to perform and contribute to the levels that we had originally anticipated.

And so we just finally got to a place where we felt like continuing to consume not only the money and resource that we're applying to it, but also the capacity for members of our team, tending to it and doing all we could to support the Boss Fight Group and trying to get it to a place where it was more per formant, but we just got to a place where we felt like it's time to suspend this product and kind of regroup and assess what our other alternatives and options might be for it to the extent that we can feel -- that we feel that it has the potential ultimately to be reconstituted at some point. We just aren't in a place where we can make that decision yet, but we'll be evaluating that in the coming weeks.

So that's how and why we ultimately arrived at the decision which we think is absolutely the right one to help us also bring some focus to the other new product initiatives that are getting some traction that we're pretty excited about. We want to make sure that we're allocating both our attention and our UA capital and development subsidies to the efforts that we think are going to yield for us.
I am all for management not giving into the sunk costs fallacy. But I do wish they had laid out the numbers for us a little bit better so that investors could see specifically how the game was no longer worth pursuing.
EBITDA guidance
Here is where things get really peculiar. First, observe the trajectory of their historic EBITDA: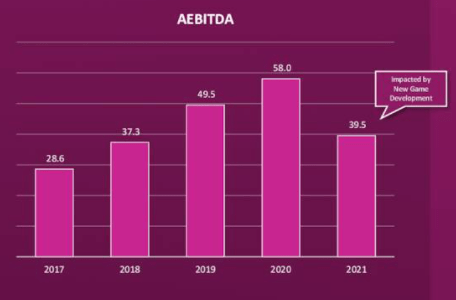 Remember what I said earlier about Kingdom Boss development dragging down EBITDA? That is abundantly obvious in the chart. Yet in spite of Kingdom Boss costs now going away and a projected revenue increase of between 6% and 13% for the full year, they are guiding to 2022 EBITDA of only $40-$50 million. Um, what? Even if they achieve the high end of this guidance, that number will only barely improve over 2019 numbers, and in 2019, they had only $240 million in revenue! $50 million in EBITDA would also be well below 2020 numbers, but that is due to the anomaly that COVID presented. Lots of people were stuck at home on their phones a lot in 2020. Naturally, that bodes well for MYPS, being a mobile gaming company.
At the low end of 2022 guidance, they will barely exceed 2021 EBITDA. It is peculiar how they can expect to potentially have a situation where they grow revenue by 6% but only grow EBITDA by 1.25%. Of course, the answer is a massive increase in expenses.
During the conference call, they spoke at length about the opportunity for them to develop and integrate into their rewards platform a new Tetris game for mobile, which title they recently obtained the exclusive rights to. No doubt, the muted EBITDA projection is due to expected costs associated with developing this new Tetris game. The problem is that this is the same narrative they spun with Kingdom Boss, but that was a failure to launch apparently. How can we expect them to succeed with Tetris where they failed with Kingdom Boss? It is hard to keep confidence in this team.
The other big hit to EBITDA will come from an $8 million write-off of capitalized software development costs associated with Kingdom Boss. All of this is understandable, but it makes me worry that MYPS will never get to a normal operating state where expenses normalize and EBITDA can surge.
Valuation
The good news is that shares are priced reasonably even in this situation where guidance has been drastically lowered. Let's lay out some assumptions:
1) After surging at remarkable rates in the 2017-2019 period, revenue growth has since slowed and was only 6% for 2021 over 2020. The low end of their guidance would see them grow 6% too in 2022. Let's maintain that value and say that revenue continues on the 6% annual pace through 2026.
2) As revenue growth has slowed, margins have compressed. After hitting an all-time high EBITDA margin of 21.5% in 2020, the 2021 margin went all the way down to 13.7%. The low end of their guidance would show a similar number in 2022. Let's then-after assume margins expand to 14% in 2023 and then go up by 200 bps every year until getting up to 20% in 2026.
3) The market is currently valuing MYPS at a price to EBITDA multiple of 17. Let's assume that contracts to 15 in 2026.
Under this scenario, MYPS will generate $77 million of EBITDA in 2026. Divided by current diluted shares outstanding would result in EBITDA per share of $0.56. At a multiple of 15, we get a stock price of $8.40. Discounted back to the present at my required rate of return of 12% gives a price of $4.76. Here is all that in a spreadsheet:
*Author's calculations
In other words, if MYPS can have revenue of $385 million by year-end 2026, an EBITDA margin of 20%, and the market assign them a multiple of 15, the stock trading at $4.76 or below will bring a 12% return. The stock is currently trading at $4.86.
Conclusion
Valuation aside, there are several other reasons to not lose confidence in MYPS's prospects, though my personal expectations have become more muted.
First, the CEO has been buying tons of stock on the open market and said that other non-reporting employees at the company have been doing the same.
They were emphatic on the conference call:
I also want to reaffirm the conviction and optimism that's shared among our leadership team. As you may have seen, I've been actively purchasing stock to a 10b5-1 plan and other nonreporting members of management have made purchases as well.

We firmly believe in our strategy and with our buying shares in the open market, I want to back up our position at our current price in no way reflects what we believe to be our fair value.
These remarks make me believe there are things that they see that I simply can't see. I want to give them the benefit of the doubt.
Which brings me to my second point. The failures and half-truths notwithstanding, there are yet untapped revenue streams available to MYPS that could unlock tremendous opportunity. Primarily, they intend to market their platform to other parties for them to use in their business models. In essence, they seem to want to become an expert and provider of loyalty program platforms, what they are calling loyalty-as-a-service. Considering how popular and valuable loyalty programs have become, this could be a vast market. They are also looking into e-commerce, blockchain/NFTs, and expanded advertising relationships. Any one of these potential revenue streams could put MYPS back into high growth mode.
Third, MYPS is sitting on A LOT of cash. They have $213.5 million of cash and no debt. That's 1/3 of their market cap in cash. That cash can go a long way to adding new game titles or otherwise investing in growth.
Finally, and the big thing undergirding all of this is that I am young. I can afford to lose every cent of my MYPS investment and it won't have an impact on my larger financial situation. I can handle a lot of risk. Therefore, I am holding onto my MYPS position. Buying at these prices has a good chance of returning at least 12%.
My hope is that other investors find this information useful in their own decision-making process, but please don't take this article as any recommendation to buy, sell, or hold.