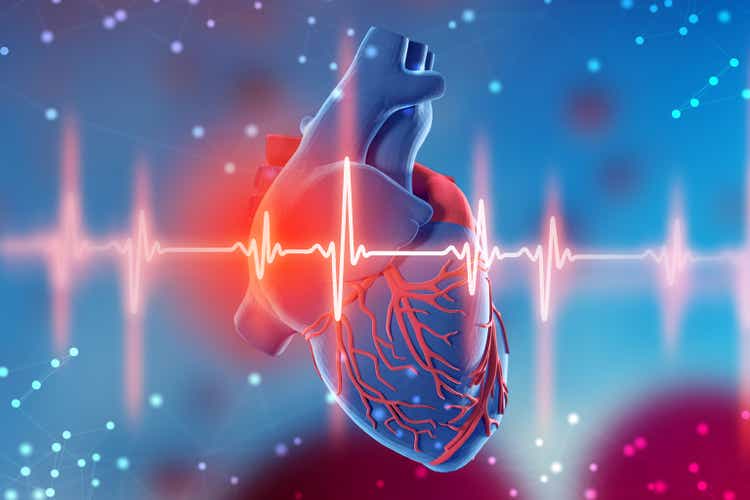 Sodium-glucose contransporter-2 inhibitors (or SGLT-2 inhibitors) are already starting to change the standard of care for some people with heart failure, and there's mounting clinical evidence provided by a number of trials that suggests these drugs could become important and widely-used medications in an even broader range of heart failure types. That's very encouraging news for Lexicon Pharmaceuticals (NASDAQ:LXRX), but there are still meaningful challenges between now and future commercial success.
Since my last update on Lexicon, these shares have lost a little more than 40% of their value – they had been modestly outperforming a weak biotech tape until Monday's announcement regarding the need to resubmit the New Drug Application (or NDA) for sotagliflozin, the company's entrant into the SGLT-2 heart failure market.
Although I believe many retail investors still seriously underestimate the marketing challenges ahead of the company, this decline has taken the shares back to an interesting place. While I'm very definitely concerned about the amount of dilution the company will likely face to raise funds to market sotagliflozin on its own, the shares may be worth a look again for very risk-tolerant investors.
Technical Challenges In The Sotagliflozin Program
In conjunction with fourth quarter earnings, Lexicon announced on February 28 that the company had pulled its NDA for sotagliflozin due to a technical omission that could not be corrected without withdrawing and then resubmitting the NDA.
The issue really was a "technical issue", with the company accidentally excluding certain documents related to clinical site monitoring visits, and it has no bearing on the efficacy or safety of the drug. Nevertheless, the process of fixing the application and resubmitting the NDA (management mentioned an early second quarter target) will push the potential launch out of 2022 and into the first half of 2023.
An Improving Outlook For Heart Failure
As clinical data continue to accumulate, the opportunity for SGLT-2 drugs in heart failure looks better and better. Moreover, while allowing for all of the issues and challenges in making cross-study comparisons, the profile of Lexicon's drug also continues to improve.
Technically sotagliflozin targets both SGLT-1 and SGLT-2, making it chemically different than "pure" SGLT-2 drugs like AstraZeneca's (AZN) Farxiga, Boehringer Ingelheim/Lilly's (LLY) Jardiance, and Johnson & Johnson's (JNJ) Invokana. While the addition of the SGLT-1 activity hasn't seemed thus far to mean much for the drug's efficacy in diabetes, it is possible that it leads to some benefits in heart failure.
Looking back at the European Society of Cardiology meeting in late August, a pooled presentation from Lexicon's SOLOIST and SCORED Phase III studies of sotagliflozin showed an absolute risk reduction of 33% in cardiovascular death, hospitalizations, and urgent visits due to heart failure, and that effect was present across a broad range of ejection fractions, including participants with preserved ejection fraction (a historically harder-to-treat subgroup).
A post-hoc analysis also turned up a noticeable benefit in heart attack (myocardial infarction) and stroke, with 32% and 34% risk reduction, respectively. To my knowledge this is the first meaningful evidence of reduced MI and/or stroke reduction, and it's an effect that other trials of other drugs hasn't yet demonstrated, though it's worth noting again that this is a post-hoc analysis.
Meanwhile, data from other competing compounds, including Jardiance and Invokana, have been positive but not dominating. The EMPEROR-Preserved study in patients with preserved ejection fraction showed a 21% risk reduction, while Johnson & Johnson's CHIEF-HF study showed broad efficacy across a range of participants with or without diabetes and including those with preserved ejection fraction, but used a very different endpoint (the Kansas City Cardiomyopathy Questionnaire).
I still want to see data from AstraZeneca's DELIVER study, but thus far the competing data haven't been quite as strong as I feared they would be, raising the possibility that Lexicon will be able to get meaningful label differentiation and at least some edge in marketing. To that end, I'd also note that the ESC Task Force included sotagliflozin on a list of medications recommended as standard of care for patients with acute or chronic heart failure – an unusual move for a drug that isn't yet approved.
Marketing Will Still Be A Challenge
Lexicon previously announced that they will be seeking a broad label from the FDA, and it looks like they may well get it. That will help the marketing effort, but there are still significant challenges ahead.
For starters, drugs like Farxiga have a long lead in the market and grabbing market share from established drugs is not easy. While bulls are going to argue that sotagliflozin has better data, the reality is that cross-study comparisons are not definitive (due in part to different endpoints, different inclusion/exclusion criteria, and different enrollee attributes) and doctors are typically skeptical of such claims in the absence of head-to-head studies, and Lexicon hasn't done those studies.
Second, marketing this drug is going to be expensive. Over 15 years ago, a biotech called Amylin co-marketed a new diabetes drug with Lilly. Amylin built a sales force of over 150 reps, with half calling on primary care physicians and the other half calling on specialty endocrinologists. That effort cost the company around $300 million a year. Given that Lexicon is looking to market sotagliflozin with a 100-rep force targeting roughly 8,000 cardiologists, I believe $300M is at least a valid ballpark estimate of what go-it-alone SG&A costs could look like, and Lexicon ended the quarter with less than $87 million in cash.
Short of a last-minute reversal of course that sees Lexicon sign a comprehensive marketing / licensing agreement with a large established pharmaceutical company, I believe Lexicon's best hope is that the stock gets a pop from successful Phase II studies of LX9211 in two pain indications and upon FDA approval of sotagliflozin – allowing the company to raise equity capital on less dilutive terms and fund that commercial launch.
The Outlook
A broadening potential market for SGLT-2 drugs in heart failure is definitely a positive for Lexicon, but I remain deeply concerned about the company's ability to capture meaningful market share away from already-approved and marketed drugs – not only does Lexicon have to convince doctors that there are compelling reasons to switch patients to sotagliflozin (and/or start new patients on the drug), they have to get the drug into formularies and deal with other "blocking and tackling" issues that take time and resources.
I remain curious to see what becomes of LX9211 in its two Phase II studies. I find the novel mechanism of action intriguing, but pain is a tough space. The timeline for the trial read-outs has also slipped again, with RELIEF-DPN-1 results by the end of Q2'22 and RELIEF-PHN-1 sometime in Q3. Strong efficacy with little confounding from placebo results should provide a strong boost to the shares. LX9211 is currently worth about $2/share in my updated model, but that contribution would more than double on a clearly successful outcome.
With sotagliflozin, I've made some modelling changes to my estimates of the total addressable market, Lexicon's market share potential, the time it will take to get there, and the likely need for dilutive financing. For the latter, I did assume a meaningful improvement in the share price relative to today's price, and the risk of having to raise more money at low share prices remains a significant one.
As is, I still expect sotagliflozin to generate less than $1B in revenue and it's worth about $4/share in my model today. That's on par with my prior estimate, as a larger addressable market was offset by increased dilution to raise funds to support the marketing effort. The biggest potential value driver here, other than better funding terms, is simply more market share. While I'm more bullish on the overall market potential of SGLT-2 drugs in heart failure, I still believe Lexicon will struggle to gain more than "also-ran" market share (in the neighborhood of 10%).
The Bottom Line
Between sotagliflozin and LX9211, I still believe Lexicon is worth around $6/share. With the shares knocked back hard on the withdrawal of the sotagliflozin NDA, this is a more interesting opportunity at today's price. I continue to believe that this is a very high-risk situation, but for investors who believe that Lexicon can establish sotagliflozin as a truly differentiated option in the heart failure treatment space, this is worth a more serious look.