ZROZ: How I Think About Treasury Ownership
Summary
Too many investors think of asset ownership binarily, as either good or bad based on their price movement convictions. This is a bad approach.
I use ZROZ to illustrate how I think of bond funds strategically, and why I am long treasuries when no one else seems to be.
I continue to think that a diversified approach that invests in treasuries is most appropriate for this period of high uncertainty.
Looking for a helping hand in the market? Members of Storm-Resistant Growth get exclusive ideas and guidance to navigate any climate. Learn More »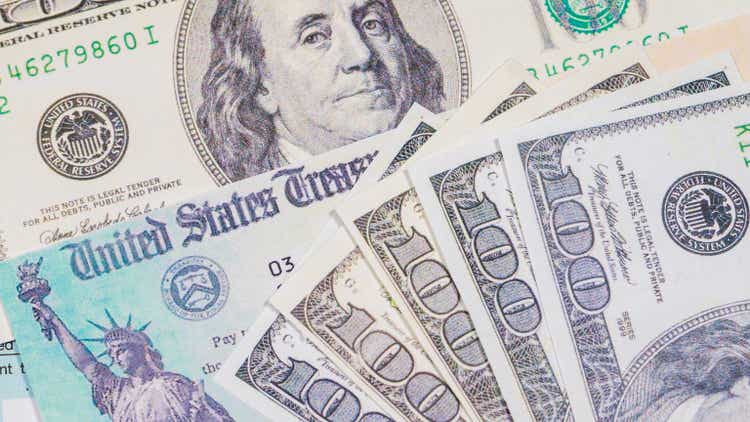 I have a thesis, based on casual observation of investor behavior: many (too many, to be frank) think of asset ownership binarily, simply as either good or bad. It's good because investors think that the price will likely go up in the future; or bad because the price should go down instead.
To me, this is the wrong approach to investing. I explain below one way to think about treasuries, as I watch the closely followed 10-year treasury yield sink back to March 2021 (and even April 2012) levels again - during a year when nearly everyone called for rates to head to the moon. To illustrate my points, I will use the longest-term duration treasury fund that I know of, the PIMCO 25+ Year Zero Coupon U.S. Treasury ETF (NYSEARCA:ZROZ).
What is ZROZ?
ZROZ is a fund that holds zero-coupon, long-dated treasury instruments. This is about as aggressive as it gets in the world of US government bond investing, since shareholders assume the most inflation, interest rate (and sure, default) risk.
Currently, ZROZ has an estimated yield to maturity of 2.2%. Considering the 30-year inflation breakeven rate of 2.2%, ZROZ is effectively positioned to catch up with rising consumer prices over the next three decades, and barely so (but keep in mind, inflation expectations can change over time). The fund's effective maturity is 27.4 years. Within the portfolio today, not a single bond representing more than 1% allocation matures before 2047.
Because the underlying treasury instruments do not pay coupons, investors should not expect periodic cash payments. However, ZROZ makes capital gain distributions every so often - around 60 to 65 cents per share per quarter in the past year. Since the start of the pandemic, ZROZ's yield has fluctuated from 1.5% to 2% (see chart below).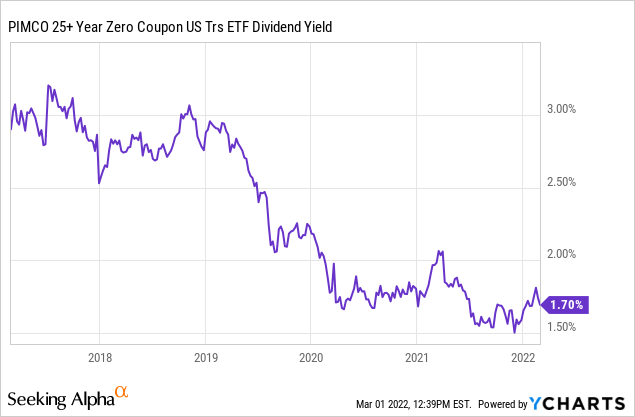 Investing is not guessing
Last time I wrote about ZROZ was in mid-March of last year, when nearly every analyst, their relatives and their pets predicted that treasury prices would fall apart as the world recovered from the COVID-19 crisis. Nearly twelve months later, ZROZ has outperformed the S&P 500 (SPY), having climbed just north of 9% — using March 1 intraday prices, cash distributions included. See chart below through February 28.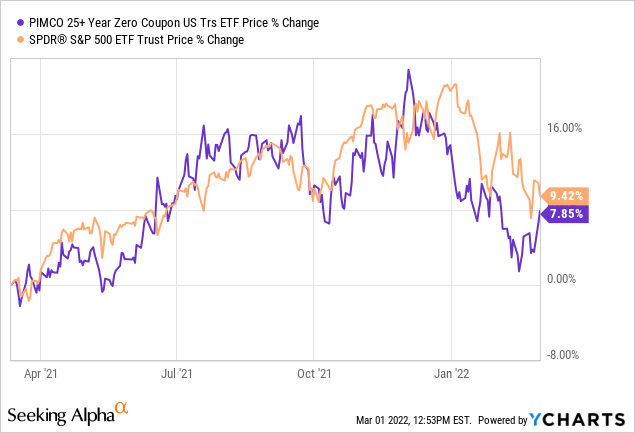 Back then, I made a prediction about treasury prices: they would go up in the short term, contrary to the overwhelming consensus opinion, for reasons that I explained in that article. But even so, I do not think that investors should consistently make investment decisions based on their personal convictions. Instead, I see ZROZ and its treasury fund peers as strategic holdings inside diversified portfolios.
At the core of the investment philosophy is the fact that the future is uncertain. Yes, inflation is hot, and that's not good for bonds. Yes, the federal funds rate will rise in 2022. But who could have accurately predicted a full-scale conflict in Eastern Europe in Q1? And who can predict the next development that might disrupt the global economies and social order?
Do I think that an effective yield to maturity of 2.2% for the next 30 years is attractive? Not really. Do I expect ZROZ price to go up from here? I can't guarantee it. But let's take a step back: over time, long-duration bonds have allowed investors to produce substantially better risk-adjusted returns across many decades, in part because they tend to thrive when stocks are not doing so well.
The chart below shows the performance of a 50/50 stock and long-term treasury portfolio compared to a stock-only approach since 1927 - that's right, going back nearly one hundred years. The time horizon is long enough to include every global event under the sun: recessions, depressions, economic booms, wars, pandemics, high inflation, rising interest rates.
While the diversified approach has historically produced lower absolute returns by two percentage points per year, the risk-adjusted performance (measured here simply by dividing annual returns by annual volatility) has been substantially better. The maximum peak-to-trough losses, meanwhile, have been only half as destructive of portfolio value.
Key takeaway
I am a treasury bull, but not because I think that bond prices will rise. I am long treasuries because they are very much the best complement to stocks, since they have historically allowed investors to produce far superior risk-adjusted returns - the Holy Grail of investing, in my view.
The current year has not been easy for stock-and-bond, diversified investors. A 50/50 SPY and ZROZ approach, for example, has been down 7.5% YTD - while the maximum drawdown of the past 10-plus years has been just about 10%, using month-end prices. But this is not to say that diversification is dead. Instead, I continue to think that the strategy is most appropriate for this period of high uncertainty.
Join our community
"Thinking outside the box" is what I try to do everyday alongside my Storm-Resistant Growth (or SRG) premium community on Seeking Alpha. Since 2017, I have been working diligently to generate market-like returns with lower risk through multi-asset class diversification. To become a member of this community and further explore the investment opportunities, click here to take advantage of the 14-day free trial today.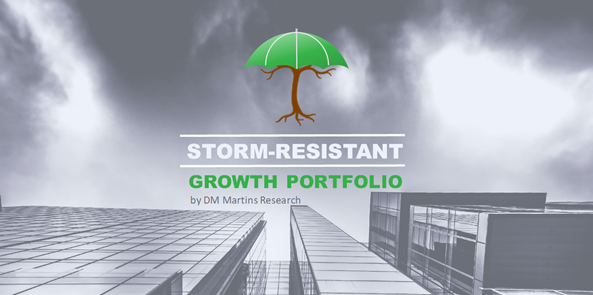 This article was written by
Tracking Economic Inflection Points To Guide Your Asset Allocation Strategy
Daniel Martins is a Napa, California-based analyst and founder of independent research firm DM Martins Research. The firm's work is centered around building more efficient, easily replicable portfolios that are properly risk-balanced for growth with less downside risk.
- - -
Daniel is the founder and portfolio manager at DM Martins Capital Management LLC. He is a former equity research professional at FBR Capital Markets and Telsey Advisory in New York City and finance analyst at macro hedge fund Bridgewater Associates, where he developed most of his investment management skills earlier in his career. Daniel is also an equity research instructor for Wall Street Prep.
He holds an MBA in Financial Instruments and Markets from New York University's Stern School of Business.
- - -

On Seeking Alpha, DM Martins Research partners with EPB Macro Research, and has collaborated with Risk Research, Inc.
DM Martins Research also manages a small team of writers and editors who publish content on several TheStreet.com channels, including Apple Maven (thestreet.com/apple) and Wall Street Memes (thestreet.com/memestocks).
Analyst's Disclosure: I/we have a beneficial long position in the shares of SPY either through stock ownership, options, or other derivatives. I wrote this article myself, and it expresses my own opinions. I am not receiving compensation for it (other than from Seeking Alpha). I have no business relationship with any company whose stock is mentioned in this article.
Seeking Alpha's Disclosure: Past performance is no guarantee of future results. No recommendation or advice is being given as to whether any investment is suitable for a particular investor. Any views or opinions expressed above may not reflect those of Seeking Alpha as a whole. Seeking Alpha is not a licensed securities dealer, broker or US investment adviser or investment bank. Our analysts are third party authors that include both professional investors and individual investors who may not be licensed or certified by any institute or regulatory body.