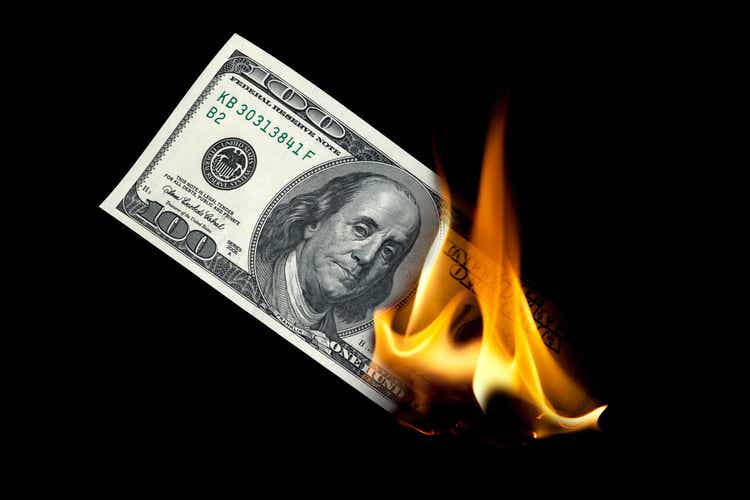 Romeo Power (NYSE:RMO) recently announced a $350mm equity line of credit with Yorktown. (See the SEC filing disclosing this here.) Considering that the entire market cap is about $230mm at a share price of $1.75, this implies shares outstanding growth of 150%! (The transaction is denominated in dollars, so if the share price goes down, the dilution and share required to get used the entire line go up.)
The EV sector has taken a beating lately. The companies who enter into these "Equity line of Credit" (ELOC) type agreements tend to get punished more than the peer group, because it is a last resort for liquidity. Take a look at the performance of other companies who have issued ELOCs:
Nikola (NKLA) was at $17.50/share with a market cap over $7bb when it announced a $300mm equity line of credit, followed by another $300mm equity line. $600mm / $7bb is about 8.5% dilution. The share price is down more than 50%.
Lordstown Motors (RIDE) was at $8.50/share with a market cap over $1.5bb when it announced a 400mm equity line of credit. $400m / 1.5bb is 27% dilution. The share price is down about 70%.
RMO was at $2/share with a market cap over $270mm when it announced a 350mm equity line of credit. 350mm / current 230mm market cap is 150%+ dilution. Where will RMO trade next?
Where did all the cash go?
RMO showed $180mm on the balance sheet at the end of the 3rd quarter. Its quarterly burn rate is around $30 million dollars. It has publicly disclosed that its JV partner, Borg Warner, exercised its option to put its share of the JV to RMO, with an estimated cost to RMO of about $28 million. As it ramps up capacity and revenue, working capital requirements are likely to grow significantly, as are their capital expenditure requirements. We think capex ought to be $50 million or more from Q4 '21 to Q4 '22, and the working capital could be up to $100 million if-and this is a big "if"-the company intends to come remotely close to hitting its growth forecasts. Summing it all up, we project that if RMO does not abandon its growth plans or quickly start using the ELOC to raise capital, it will be out of cash by around June. Of course, the working capital assumptions above further assume that customers do not cancel purchases due to credit risk concerns. Finally, RMO stated several times that it would like to sign one or two more battery supply agreements. The last one cost them $65 million. This brings up another important point, besides customers walking due to liquidity concerns, RMO needs to worry about battery cell manufacturers, who are operating in a sellers' market, refusing to work with them or requiring even larger upfront payments.
Running out of cash causes a lot of problems. Between its burn rate, partner buy out, capital expenditures, working capital, and potential battery supply agreement investments, we project that RMO will be quite active issuing shares via its ELON (again relative to its current market cap) and we believe that many investors do not understand this dynamic. Hopefully, this article helps keep Seeking Alpha readers informed on this front.
As a last point, it appears that RMO's customers have noticed issues, too. Most of its large named customers (Nikola and Lightning Motors) have signed large, public deals with Proterra, which is RMO's biggest competitor. Those press releases can be found here and here.