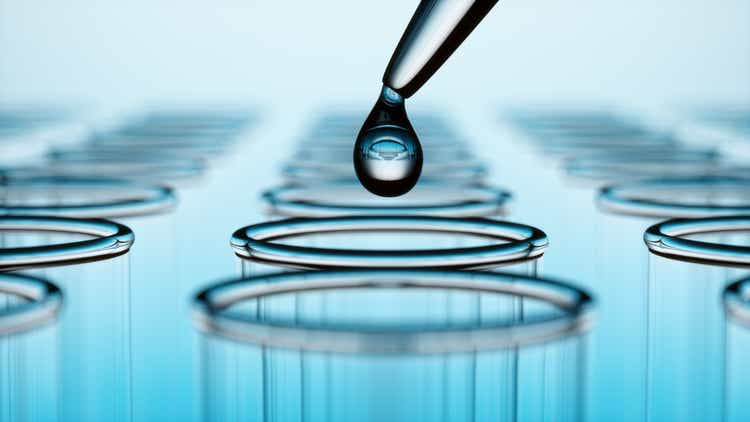 Cardiff Oncology (NASDAQ:CRDF) is a great long-term biotech to own. The reason why I state this is because of one drug in its pipeline, which is being built on the notion that it can help the current standard of care therapies overcome resistance observed. The name of this cancer drug is onvansertib, which is a Polo-like Kinase 1 (PLK1) inhibitor. This lead drug is being explored in a Phase 1b/2 study using onvansertib in combination with FOLFIRI/Avastin to treat patients with metastatic colorectal cancer (mCRC). However, what makes it very unique is that unlike Amgen (AMGN) with LUMAKRAS and Mirati Therapeutics (MRTX) with Adagrasib (MRTX849), onvansertib targets the entire KRAS mutation. Whereas Amgen's and Mirati's drugs only target a specific type of KRAS known as KRAS G12C. This type of advantage allows Cardiff to go after a larger population as opposed to these other pharmaceuticals. With proof of concept of onvansertib established in patients with mCRC, achieving superior outcomes over historical controls, I believe that Cardiff is a great long-term investment. Not only that, but if final data confirms prior findings, it is my belief that it will ultimately be acquired.
Onvansertib Holds Potential To Overcome Cancer Resistance For Many KRAS-Mutated Solid Tumors
Onvansertib is being used to treat patients with metastatic colorectal cancer patients who have the KRAS mutation. Colorectal cancer is, as the name suggests, a type of cancer of the colon or rectum. It is a lower part of the digestive tract. In the early stages, the issue first starts up as noncancerous polyps. At this early stage, patients experience no symptoms at all. However, patients must get screened by doctors to see if these polyps come about. That's why it is said that people should get checked at the age of 50, but earlier for someone who is at more severe risk. Patients who are at the cancerous stage of colorectal cancer (colon cancer) will have several symptoms such as:
Abdominal pain
Diarrhea
Constipation
Blood in the stool
These are just some of the symptoms that are involved, there are plenty more. It is not only an unmet medical need, but it is a pretty good-sized population as well, which I believe will be a good market opportunity. The global market opportunity for colorectal cancer is expected to reach $17.8 billion by 2026. It is expected that there are more than 200,000 U.S. cases per year. You might be wondering that this $17.8 billion market opportunity number is for the entire colorectal cancer population. How does it play into only these patients who have the KRAS mutation? Well, believe it or not, but it is still a large market opportunity anyways. It is said that about 50% of colorectal cancer patients have the KRAS mutation. Which is why it became a good first indication for Cardiff to go after, because of how much KRAS mutation expression is found in this type of cancer.
Onvansertib holds great potential to be added to current therapies to treat patients with an unmet medical need. Specifically, patients who have KRAS mutated solid tumors. Why I believe that Cardiff is great to own as a long term is because it has already established proof of concept in treating 2nd-line metastatic colorectal cancer (mCRC) patients who have the KRAS mutation. This is positive data that has been released from the Phase 1b/2 study using onvansertib in combination with FOLFIRI and Avastin (bevacizumab) for the treatment of these patients. This trial aims to enroll a total of 100 patients who have KRAS-mutated mCRC. The thing is that the data shown to date has been quite good and that is because the biotech has overcome an enormous obstacle. These aren't just KRAS-mutated mCRC patients, which are already difficult to treat as it is. These patients have already gone through and failed on standard of care (SOC) treatment FOLFOX (fluoropyrimidine and oxaliplatin) with or without Avastin.
The goal is to show that by adding in onvansertib, these patients might see a response finally. At the recommended Phase 2 dose of 15 mg/m2 for results released thus far, it was shown that 13 out of 48 patients (27%) achieved a confirmed response (CR) or partial response (PR). At that time, there was 1 patient that was still in the process of being scanned on whether or not they responded. Even if you look at the data, you might say well 27% isn't that big of a number at first. Of course, this is natural. However, when you compare onvansertib plus FOLFOX/Avastin compared to FOLFOX/Avastin, there is a huge difference for this patient population. Metastatic colorectal cancer patients with KRAS mutation who receive any other type of SOC therapy, including FOLFOX/Avastin, only achieve an objective response rate (ORR) of 5% to 13%. Another positive that came from the study is that the therapy continues to do well. This is proven in that median progression-free survival (mPFS) has not yet been reached.
As I noted at the beginning, Cardiff's drug has a shot at targeting larger patient populations compared to Amgen with LUMAKRAS and Mirati with Adagrasib. Both of these drugs only go after tumors that have the KRAS G12C mutation. For example, LUMAKRAS (sotorasib) was approved by the FDA to treat patients with KRAS G12C mutated locally advanced or metastatic non-small cell lung cancer (NSCLC). With the focus only being on KRAS G12C, this is only 11% to 16% of the NSCLC population. A small portion of the population, whereas if this drug targeted all KRAS NSCLC mutations, it could reach up to 40% of the entire population. Another example would be that only 3.8% of mCRC patients have the KRAS G12C mutation which limits the possible treated population. This is the advantage that onvansertib has is that it can be applied to all KRAS mutations and not a specific type like KRAS G12C.
Onvansertib's Potential To Overcome Resistance In Two Other Indications
Onvansertib is a good drug because it is a PLK1 inhibitor. Such PLK1 inhibitors existed beforehand, but they lacked the necessary functions in order to be used for patients with cancer. That's because they were not given as an oral drug and they were not selective in only targeting PLK1. Plus, they were not as safe as next-generation drugs like onvansertib. The thing that makes this drug so good is that it has been proven in preclinical studies to work with 12+ therapies in a synergistic function. How is this point proven? Well, it comes down to the undertaking of taking other targeting damaging agents like chemotherapies/others and using them in synergy with onvansertib to help overcome cancer resistance and improve survival outcomes.
As such, Cardiff has two other Phase 2 studies it is working on. One Phase 2 study is treating patients with metastatic pancreatic cancer and the other is treating patients with Zytiga-resistant prostate cancer. One Phase 2 study is using the combination of onvansertib plus irinotecan plus 5-FU in patients with pancreatic ductal cancer. Pancreatic ductal cancer makes up about 90% of all pancreatic cancer cases. This is a bold study, because pancreatic ductal cancer is already tough to treat as it is. However, the company is taking on 2nd line treatment where patients have already failed on prior Abraxane/Gemcitabine therapy. The primary endpoint of this open-label Phase 2 study is objective response rate (ORR). There are two major reasons why this is a good target. For starters, pancreatic ductal cancer doesn't have many treatment options and is a huge unmet medical need. A second major reason is that KRAS mutation is found in 95% of pancreatic cancers. The improvement here is that SOC therapy only provides a response rate of 7.7%. Hopefully, the addition of onvansertib can do well here with SOC.
The other Phase 2 open-label study is using onvansertib together with Zytiga/prednisone to overcome resistance observed with Zytiga. Thus far, results from this study have been pretty good. It had been shown that 8 out of 26 patients (31%) had disease control of their prostate cancer at 12 weeks. That was the goal of the study to reduce prostate-specific antigen progression at 12-weeks. Why this particular study and why the need for onvansertib together with Zytiga? It is because Zytiga is an androgen receptor signaling inhibitor (ARSi). The ARSi drugs work well, however, there are two issues that still exist with it. They are:
Resistance occurring for many 9 to 15 months after receiving an ARSi
A median overall survival (mOS) benefit of only 4 months
The thing is that there needs to be a new treatment addition and hopefully onvansertib becomes an option. The reason why the study was measured out to 12 weeks is because of what also occurs with Zytiga. Metastatic castration-resistant prostate cancer patients have two rising specific antigen value events separated by at least one week with minimal or no symptoms while taking Zytiga/prednisone therapy.
Financials
According to the 10-K SEC Filing, Cardiff Oncology had cash, cash equivalents, and short-term investments of $141 million as of December 31, 2021. The net cash used for operating activities for full year 2021 was $23 million, which was an increase of $6.7 million from the prior year. It believes that it has enough cash on hand to fund its operations for at least the next 12 months from the date of the filing of the 10-K, which was filed on February 24, 2022. Based on this estimate, I believe that another cash raise might be necessary by Q3 of 2022.
Risks To Business
While results from the Phase 2 open-label study using onvansertib for KRAS-mutated mCRC patients has been good thus far, about 29% objective response rate or higher, there is no guarantee that the final outcome will be similar. With more patients being recruited into the study, this number could ultimately change when final results are released. The other risks in the pipeline deal with the ongoing Phase 2 studies using onvansertib. These studies include using the drug to go after patients with pancreatic cancer and Zytiga-resistant metastatic castration-resistant prostate cancer (mCRPC). There is no guarantee that either of these studies will ultimately receive a positive final outcome. However, I believe Cardiff will do well due to the data seen to date from the Phase 1b/2 study in patients with KRAS-mutated metastatic colorectal cancer. The final risk would be another cash raise as I noted above, because it only has enough cash to fund its operations for at least the next 12 months. Again, I expect a cash raise at least by Q3 of 2022.
Conclusion
The final conclusion is that Cardiff Oncology is a great long-term biotech to own. I base this on the fact that it has established proof of concept mainly in using onvansertib plus FOLFIRI/Avastin for the treatment of patients with KRAS mutated metastatic colorectal cancer. However, some data has also been released from the Phase 2 study using onvansertib with Zytiga/prednisone in Zytiga-resistant mCRPC patients as well. About 31% of patients had achieved disease control rate at 12 weeks, which met the primary endpoint of the study. I think that onvansertib has so much potential, especially when you consider that it can synergize well with 12+ other therapies. Based on all these reasons, this is why I believe that Cardiff is a great long-term biotech to own. If all 3 of these studies turn out to be successful, I would go as far as to say that Pfizer (PFE) or another big pharma could decide to buy it. Pfizer has already made a $15 million equity investment into Cardiff. I think that this biotech has a bright future with its PLK1 inhibitor onvansertib.