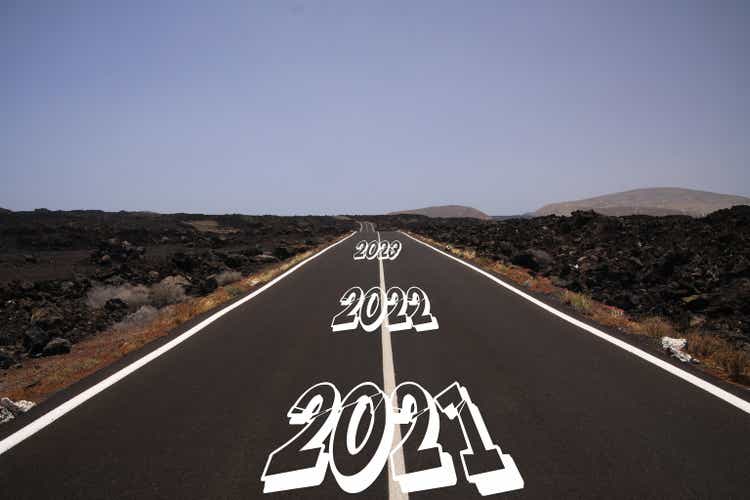 Introduction
Since my first cannabis articles for Seeking Alpha in 2019 I have emphasized that investing in this sector is a long-term proposition. A long-term horizon requires a long-term plan, which I accordingly formulated around that time. This article describes that plan, including how it has helped me navigate the volatile, difficult to assess cannabis environment.
The Current State of Cannabis
Cannabis stock performance was ugly in 2021, and so far 2022 hasn't been any better. Some of the widely held names:
A longer term perspective shows something different and should provide shareholders a ray of hope. Many of the widely held names are actually ahead of their IPO period prices.
| | | | | |
| --- | --- | --- | --- | --- |
| | IPO period price | Current Price | Year Ago Price | IPO period |
| Green Thumb (OTCQX:GTBIF) | $10.04 | $19.65 | $32.50 | June 2018 |
| Trulieve (OTCQX:TCNNF) | $10.51 | $21.48 | $46.37 | Sept 2018 |
| Curaleaf (OTCPK:CURLF) | $5.85 | $7.10 | $16.20 | Oct 2018 |
| Cresco (OTCQX:CRLBF) | $4.34 | $6.70 | $14.14 | Dec 2018 |
NOTE: IPO prices are approximate, based on SA charts. Current prices as of 2/23/2022.
Already we can see how a long-term perspective might constructively change one's outlook. A long-term plan is an effective way to deal with the doubts, questions and even confusion that sometimes accompanies emerging industry investing, and consequently increase the chances of a positive long-term outcome.
My Cannabis Portfolio
| | | | | |
| --- | --- | --- | --- | --- |
| | First Purchase | Purchase Price | Gain/Loss % | % of Account |
| STOCKS | | | | |
| Ayr Wellness (OTCQX:AYRWF) | Aug 2020 | $10.95 | +36 | 8.4 |
| Cresco Labs (OTCQX:CRLBF) | Nov 2021 | $8.59 | -12 | 5.6 |
| Green Thumb (OTCQX:GTBIF) | Mar 2021 | $27.07 | -22 | 7.9 |
| MediPharm Labs (OTCQX:MEDIF) | Jan 2020 | $0.70 | -83 | 0.6 |
| MariMed (OTCQX:MRMD) | Sep 2021 | $0.84 | -12 | 6.0 |
| Trulieve (OTCQX:TCNNF) | Nov 2018 | $16.90 | +39 | 21.8 |
| ETFs | | | | |
| CNBS (CNBS) | Nov 2021 | $20.15 | -36 | 4.8 |
| MSOS (MSOS) | Oct 2020 | $25.47 | -9 | 8.7 |
| YOLO (YOLO) | Feb 2019 | $15.89 | -32 | 8.1 |
| Total Gain/Loss | | | -7.5 | |
| CASH | | | | |
| Cash | | | | 27.9 |
The portfolio is a mix of individual names and ETFs, and longtime readers will note that I have written positive articles on six of them. The latest purchases are Cresco in November 2021 at $8.59, CNBS in November 2021 at $20.15, YOLO in November 2021 at $15.53, and an addition to MariMed in February 2022 at $0.74. The low total portfolio loss is due to overweighting Trulieve and the absence of a couple of names sold in December for tax loss purposes. The total loss is about 20% when tax loss sales are included.
The Five Year Plan
Q: What's the most important thing about a plan?

A: The most important thing about a plan is to have a plan.

Q: What's the second most important thing?

A: The second most important thing about a plan is to remember you have one.

Q: What's the third most important thing?

A: The third most important thing is to revise the plan periodically.
My five year plan for cannabis investing is simple:
Hold all current positions for about five years.

Add to positions incrementally and slowly, with preference for the smaller positions.

Sell only if there are developments that permanently damage a company's prospects.

Invest in a new name only if a company demonstrates superior management capabilities. This should be a rare event.
Rationale:
1. Hold all current positions for about five years: As discussed above, I have always viewed cannabis investing as a long term proposition. Over the last several years many people have been led to believe returns of 100%, 500%, or 1000% are to be expected in high growth companies in emerging industries. Well, maybe, but with a few rare exceptions they have not proved sustainable and the list of exceptions is getting smaller by the day. This doesn't mean the companies are not viable; many have a bright future in the long run. Cannabis, EVs, green power, fintech, crypto and the others will be a big part of the future. But it's too easy to be swayed to and fro by the dangerous short term winds of sentiment, financial commentary, politics, or general market trends. A commitment to hold positions for five years takes these distractions out of the picture, discouraging poor decisions on both buying and selling.
This strategy is only valid if the cannabis industry will grow substantially. Fortunately, although stock prices have plummeted the outlook for the industry is still very strong. Full access to serious market research reports is expensive, but many research firms provide summaries to pique reader interest. Recent research provides these global projections of the compound annual growth rate [CAGR] from a 2021 base of around $27-28 billion:
| | | | |
| --- | --- | --- | --- |
| | Sales Projection | CAGR | |
| | Global sales 2028 $145.8 billion | CAGR 27.2% | |
| | Global sales 2028 $197.74 billion | CAGR 32.0% | |
| | --- | CAGR 26.7% | |
| | Global sales 2027 $114.7 billion | CAGR 26.8% | |
Evidence on the ground supports these projections, particularly in the US. The number of jurisdictions where cannabis is legal continues to grow (current count is 18 recreational and 38 medical), in many of the newer states (and countries!) growth is ramping up, and the industry is becoming more sophisticated about how to sell to consumers.
In retrospect it is clear that cannabis was swept up in the recent mania that invaded emerging high-growth stock prices. When sentiment reversed to risk-off in 2021 cannabis was again included. What's left is the actual business case for cannabis stocks, which based on projected growth is very bright.
Long term investors can take comfort in the fact that the longer term performance of some cannabis stocks has actually been very good. As this list shows, share prices of some of the most prominent names have appreciated since they went public:
Green Thumb +95%

Trulieve +104%

Curaleaf + 21%

Cresco +54%
Investors in many tech darlings in their IPO period would be envious:
There are, of course, other companies with different results, and market conditions at the time of an IPO are important.
2. Add to positions incrementally, with preference for the smaller positions (Curaleaf and MariMed). Although share prices dropped - a lot - in 2021, the prospects for the portfolio companies have not changed. As long as I still have confidence in a company, the share price is irrelevant, and I will continue to add. Although it's impossible to predict prices in the short term, appreciation is highly likely in the long term.
Volatile stocks overshoot in up markets and undershoot in down markets. We have seen this happen twice in each direction with cannabis. It appears that we are close to a sector low, but my additions will be gradual because that has worked well in the past. It's why my portfolio has a 20% decline compared to a roughly 50% decline in cannabis stocks as a whole.
3. Sell only if there are developments that permanently damage a company's prospects. I will sell only if something happens that will permanently damage a company's future. This could be an accounting scandal, indictment of the company or its officers, sudden deterioration in financial performance revealing a flawed model, or any number of things. This is unlikely because I built my portfolio based largely on the quality of management, but one never knows.
4. Invest in a new name rarely and only under special circumstances. One circumstance might be developing a new side to cannabis that sets a company apart. Cannabis REIT Innovative Industrial Properties (IIPR) is one example. Another circumstance would be business performance over time that reveals clearly superior management. We each have our ideas about which companies have the best prospects, but the industry is too new for such superiority to be clear. My own assessment is that leadership at Trulieve and Ayr Wellness may be the first to stand out, and I already own those. Until then I continue to evaluate companies on two primary questions:
First, how well does a company meet

its state's business objectives?

Second, what are the earnings per share a company produces?
In other words, the bottom line is the bottom line.
What will drive cannabis shares higher from here?
The legal/regulatory environment
There are several important ways that this could happen:
Decriminalization: Reducing or eliminating criminal penalties for owning or selling cannabis. The minimum federal penalty for possession of any amount is still a year in jail and a $1,000 fine; the minimum for selling is five years and $250,000.

Descheduling: Cannabis is a Schedule 1 substance under the Controlled Substances Act of 1970, as are heroin and LSD. Removing it would boost its availability and acceptance.

SAFE Banking Act: Passing this legislation would allow cannabis companies to access all the services of the banking system, from which they are excluded by the Controlled Substances Act.

Deregulation: The FDA has been extremely slow in approving cannabis derived materials for use in drugs or food. Approvals will vastly expand the number of stores selling those products.
Unfortunately, there is little momentum for advances in any of these areas. Legislation/regulation is a factor in a five year plan, but investors planning on it in a shorter time frame are likely to be disappointed. The Brookings Institution as produced a very useful overview of the Federal situation.
Improved company and sector fundamentals
New Cannabis Ventures has 53 entries on its public cannabis firms list. Ayr Wellness CEO Jon Sandelman has observed that every industry eventually consolidates to four or five dominant names. As we go in that direction, investor attention and money will be consolidated with the survivors. Also, as the industry grows it will attract more attention from the larger investor community. At the same time, the huge amount of capital invested in growth, whether organic or by acquisitions, will begin to pay off. Currently much of the money that goes to cannabis stocks is speculative, and as we have seen speculative share price fluctuations are transient. As companies become more established they will attract more long term investing dollars, which is what really leads to higher prices in the long run.
Summing Up
Do you still have faith in cannabis as an investment? I do, but that faith is firmly settled on the long term and that is where I keep attention focused. This five year plan makes the path forward quite simple: own good companies, add incrementally, sell rarely. This plan is not for everyone, but it suits my personality and investing style. It's a way to avoid some of the pitfalls of a volatile emerging industry, stay clear of the pernicious influence of short-term thinking, and stay focused on the most important goal: the accumulation of wealth over time. It might even bring back some of the fun of investing we can lose track of in tough times.