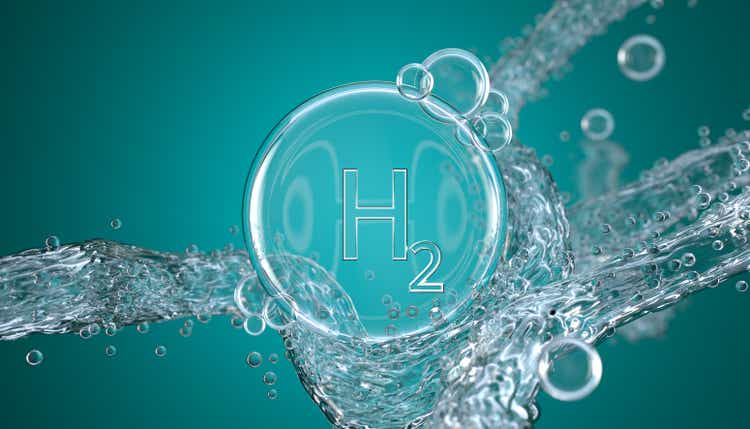 Note: I have covered Plug Power (NASDAQ:NASDAQ:PLUG) previously, so investors should view this as an update to my earlier articles on the company.
On Tuesday, Plug Power reported another set of abysmal quarterly numbers as the company's core material handling business remains an unmitigated disaster:
While revenue came in slightly ahead of consensus estimates, this was solely a function of the recent acquisitions of Applied Cryo Technologies and Frames Group which contributed an aggregate $15.8 million in revenue for the quarter including $7.6 million in sales of oil and gas equipment.
In addition, the company disclosed electrolyzer sales of $16.7 million during FY2021, a tiny fraction of the "at least $50 million" projected by CEO Andrew Marsh on Plug Power's business update call at the beginning of the year.
That said, management just recently increased its electrolyzer shipment guidance for this year by more than 50% to 155 GW but neither provided revenue nor margin guidance for this important new segment.
Even when adjusted for some minor warrant charges, consolidated gross margin of negative 52.3% represented a new multi-year low for the company as Plug Power continues to suffer from highly unfavorable service contracts with leading customers like Amazon (AMZN) and Walmart (WMT). In recent years, these customers have forced the company into certain amendments to the further detriment of Plug Power.
As a result, the company recorded an additional $56.3 million "provision for loss contracts" in Q4 thus bringing the total amount for FY2021 to $72.0 million, more than double than last year's $35.5 million.
Remember, the provision pulls forward expected future service contract losses thus materially benefiting service gross margins going forward.
The company is experiencing similar issues in its leasing business ("Power Purchase Agreements") but without specific accounting guidance permitting upfront loss recognition, the company will continue to recognize massive service contract losses in this segment for the foreseeable future.
Plug Power currently estimates future losses for leasing service contracts of approximately $169.3 million including $24.0 million in non-cash warrant charges. This represents a more than 40% increase from the $120.0 million estimate provided in May.
Plug Power's ongoing inability to get a handle on service contract losses even caused the company's auditors to express an adverse opinion on the effectiveness of its internal control over financial reporting as disclosed in the recently filed annual report on Form 10-K.
That said, the company reiterated its commitment to reduce its services costs on a per unit basis by 30% in the next 12 months and 45% by the end of 2023:
We expect this improvement on our service costs to materialize in our margin run rates in 2022, potentially resulting in breakeven service margin run rates by year end.
Please remember the above-discussed positive impact on future service margins from the massive year-end increase to the provision for loss contracts.
Auditors also noted the company's approach of determining standalone selling prices for its products as another critical audit matter.
In layman's terms: With basically all fuel cell units sold as part of the company's GenKey offering which combines hydrogen fueling and aftermarket service, management has some discretion on revenue allocation.
But in contrast to the massive restatement required last year as a result of the company (intentionally or unintentionally) inflating gross margins by wrongly allocating large amounts of cost of goods sold to research and development expense, potentially incorrect segment revenue allocation would have no impact on consolidated gross margin.
Please also note that the SEC has required the company to file another amendment to its 2020 Form 10-K to "include revised management's discussion and analysis disclosures for all restated periods, including restated quarterly periods, and to disclose that the material weakness identified as of December 31, 2020 also existed in 2018 and 2019". Hopefully, the SEC also required management to come up with an explanation for providing a massive windfall profit to Amazon by waiving all remaining warrant vesting conditions in late 2020.
Product margins of just 16.6% hit new multi-year lows likely due to a combination of inflationary cost pressures, supply chain issues, start-up losses in the electrolyzer segment and the addition of low-margin sales from Applied Cryo Technologies and Frames Group.
Hydrogen fueling margins remained under severe pressure as the company is still largely dependent on purchasing expensive gray hydrogen from industrial gas suppliers. Plug Power's small blue hydrogen production in Charleston, Tennessee has been unable to offset the impact of rising natural gas prices.
While the company is targeting 70 tons per day of green hydrogen production by the end of this year, fuel margins are likely to remain weak for the first half of 2022 as new capacity is scheduled to come online mostly in Q3 and Q4.
On the conference call, management reiterated its ambitious target of achieving hydrogen gross margins of 30% (up from negative 167% in Q4 adjusted for warrant impact) by the end of next year without raising prices for customers (which would be largely impossible anyway given the fixed-price structure of their fueling contracts with key customers).
Even after using almost $850 million of cash in FY2021 for losses from operations, increased working capital requirements, capital expenditures, funding of joint ventures and acquisitions, Plug Power still has ample liquidity with $2.5 billion in cash and cash equivalents and another $1.2 billion in available-for-sale securities.
That said, the company has stated its expectations for cash usage to increase to approximately $1 billion per year going forward, so liquidity should come down considerably over time.
Operating expenses skyrocketed by almost 70% sequentially to $113.0 million which management attributed to the increased scope of the company as well as a number of acquisition charges. Going forward, Plug Power expects operating expenses around $90 million per quarter.
In FY2021, Plug Power's international expansion continued to struggle with only 5% of revenues derived from markets other than North America. For FY2022, the company guided for international sales to increase to 25% of sales.
While this forecast is supported by the recent acquisition of Netherlands-based Frames Group, investors should note that the company's newly-established joint ventures in France, Spain and Korea had not yet commenced commercial operations at the end of FY2021 while the proposed joint venture with Fortescue Future Industries in Australia is still subject to negotiation.
Given this issue, achieving approximately $225 million in international sales next year appears to be quite a stretch.
Particularly Plug Power's joint venture with Acciona in Spain will take time to ramp up with two liquid hydrogen plants with an output of 15 tons per day currently targeted to come online by the end of 2024.
HYVIA, the company's joint venture with Renault in France doesn't look much better at this point with just 250 FCEV sales targeted for this year.
In Korea, the company will initially focus on stationary applications with shipments expected to commence later this year.
Bottom Line
More of the same at Plug Power with management touting the company's future prospects while margins in the core material handling business continue to deteriorate.
Going forward, the future performance of the material handling business will largely depend on the company's ability to produce liquid green hydrogen at sufficient margins and to a lesser extent on improvements in service costs.
After performing well below management's stated expectations at the beginning of FY2021, the electrolyzer segment should see a decent ramp-up this year but, unfortunately, the company has been leaving investors in the dark regarding its margin expectations for the business.
There won't be much if any improvement to the company's operations in the first half of FY2022 given escalating prices for gray hydrogen and continued pressure on product gross margins from a variety of external and internal factors as discussed above.
Going forward, investors should keep a close eye on margins in the important electrolyzer segment. Failure to achieve sufficient economies of scale would represent a major red flag.
It will likely take well into FY2023 before market participants will be able to better assess the company's execution against its stated medium-term financial targets.
With some renewed and likely persistent tailwinds from severe geopolitical tensions, I firmly expect investors to look beyond the company's abysmal FY2021 financial performance and muted near-term outlook.