Generac And Its Green Initiatives
Summary
Extreme weather? Power loss? Generac wants to help.
The company, long known for its fossil fuel-powered backup energy generating equipment, is now offering clean solar + battery energy solutions.
Generac appears to be financially sound and is growing its revenues and profits. Does the stock price, well off last November's highs, now offer a good entry point?
The future is unknown and while clean energy is clearly on the upswing, it remains to be seen if Generac will successfully manage the transition.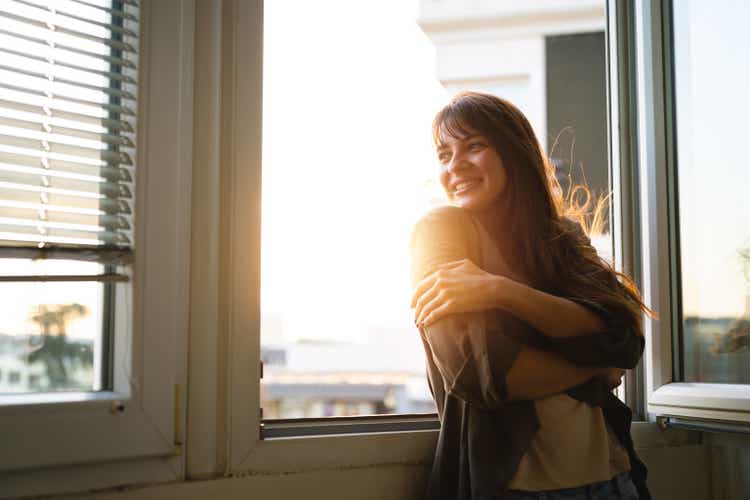 Frozen natural gas and wind infrastructure in Texas last February caused widespread power outages and may have contributed to over 200 deaths. To make matters worse, many utility customers got stuck with outrageous electric bills once the power was restored. Was this a one in 100-year event or a sign of the times?
I'm going out on a limb and saying extreme weather and the Texas grid failures of last February are, due to climate change, not an outlier but rather an increasingly common occurrence.
Scientists tell us that relentlessly rising greenhouse gas levels and global temperatures make extreme weather events even more likely in the future. The graph below shows how extreme weather events have been on the upswing in the U.S. over the last few years.
Recent grid failures have sparked strong demand for backup power. As a result, Generac (NYSE:GNRC), the world's leading manufacturer of backup power equipment, has and may continue to see strong demand for its products.
Generac has many portable (and some permanent) power equipment products
Wisconsin-based Generac is a 60-year-old company, well-known for its fossil fuel-fired backup electrical generators. The company also sells several other less well-known products such as light towers (think night lighting at road construction sites), dust collectors, wash racks, water pumps, engines, alternators, transfer switches, energy storage, and more. Products are sold globally (but primarily in the U.S.) into the home, commercial, and industrial markets. Generac sells its products over the internet, at specialty supercenters, and big-box stores such as Home Depot (HD) and Lowe's (LOW).
As noted above, recent power outages have the company (and many others) rushing to fill the increased demand for backup electric power generation. To that end, the company over the last couple of years has introduced new products such as the Guardian 26kW home backup generator. Generac claims the Guardian, which runs on natural gas or propane, is smarter, more user-friendly, more compact, and less costly than earlier (and competitor's) generators.
More interestingly, however, are the company's new green energy initiatives over the last few years.
Generac's new clean energy moves
Today's trend is away from traditional fossil-fuel-fired backup generators which can be noisy, smelly, polluting, time-consuming to maintain and at times dangerous. Battery-powered units which can be recharged either by standard 120-240v outlets or solar panels are increasingly popular.
In late 2019, after acquiring Neurio Technology (home energy management) and Pika Energy (residential and commercial solar energy storage) Generac introduced PWRcell -- a solar + battery storage whole-house system. PWRcell not only provides protection from power outages but the battery stored energy can also be used at the owner's discretion any time - -- maybe to keep electricity bills down during high TOU (Time-Of-Use) rate periods. The solar component allows recharge capabilities if the grid is down for an extended period of a day or more.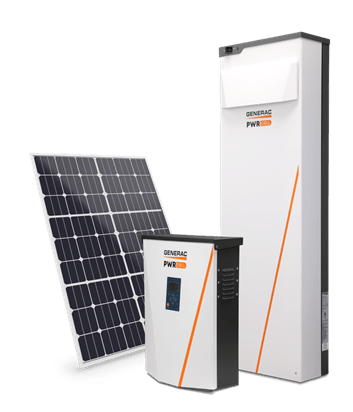 Then, in 2020, the company continued its clean energy initiatives by enhancing PWRcell, forging a relationship with Momentum Solar, joining forces with Baker Electric (solar + storage), and acquiring Enbala Power Networks (grid optimization and control software).
In 2021 Generac entered the solar microinverter market with the acquisition of Chilicon (grid-interactive solar microinverter and monitoring solutions). Then later in the year acquired Ecobee (smart thermostats and security systems).
So far in 2022 Generac has announced a partnership with Southern California Edison in a Virtual Power Plant program (distributed solar) and appointed Nam Tran Ngyun, a past SunPower (SPWR) executive to its board.
At this time, PWRcell and the other green initiatives are in various rollout stages so it's difficult to predict their future success.
A flood of competition in the solar + battery arena
A profusion of companies are now moving into the solar + storage field, both from the top down (whole-home systems such as Generac's) and bottom-up (inexpensive solar-charged power stations -- one of which even mimics Generac's name). All these companies will likely enjoy growth from the large current pool of non-solar users rather than directly competing with each other.
That being said, Generac's PWRcell competes with Tesla's (TSLA) Powerwall, Enphase's (ENPH) Encharge batteries, Sunrun's (RUN) Brightbox batteries, and others that offer whole-home solar + battery systems. With both grid failures and the cost of electricity on the rise, the appeal of free solar as fuel will only go up.
Will the PWRcell and other green initiatives be successful? Maybe, but competition will be fierce and it's difficult to tell who will eventually win out. Currently, Tesla with its Powerwall is the leader but who knows the future? I personally like Enphase with its solar microinverters. (With Enphase's latest microinverters batteries are not needed -- a big savings -- to power a building with solar if the grid is down.)
The appeal of solar as fuel, of course, is that's it costs nothing, is nearly maintenance-free, and is delivered directly to your property. We now have the technology (and it's continually improving) that allows us to inexpensively use solar to power practically anything -- from street lights to air-conditioning to Teslas.
Stock performance
As noted above, GNRC, currently at $316 a share, is still well off last November's highs despite the better than expected fourth-quarter numbers.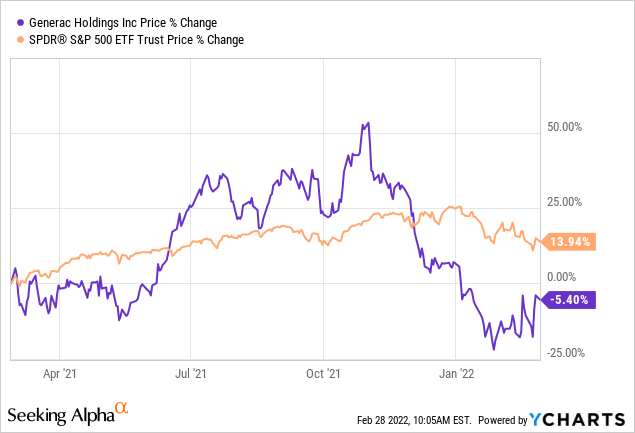 Revenue, earnings, EBITA, and free cash flow
A quick look at Generac's financials shows a well-established $20 billion market cap company. The current ratio is 1.9, trailing PE is 37, and forward PE is 23. Total debt/equity is 0.51. Stock Price to sales is 5.14.
Generac's income statement shows 2021 annual gross revenue at $3,737 million and a gross profit of $1,360 million. Annual net income has increased steadily from 2015's $78 million to $556 million in 2021. SeekingAlpha currently gives GNRC a profitability grade of B+.
In 2021 EBITDA was $828 million, up from 2016's $264 million in 2016.
Free Cash-flow was $3.24/share in 2018, $4.01 in 2019, $6.81 in 2020, and $4.80 in 2021. Acquisitions in 2021 likely reduced cash flow numbers in 2021.
Generac's growth Catalysts
Looking at growth, most metrics show A's and B's. Alpine Capital in a December 2021 article notes that the company's revenue has grown at a CAGR of 18.84% over the last five years and that home standby power generation "delivered exceptional growth" in the third quarter of 2021.
In addition to the new clean energy products, the company is moving into international markets and hopes these initiatives will keep CAGR high for the next several years. Seeking Alpha currently gives Generac a growth grade of B-.
Valuation
Seeking Alpha authors give Generac only a D- for valuation; that doesn't look good. The sticking point: Is Generac an old-style industrial company like Cummins Engine (CMI) or will it become a new green energy growth one like Tesla? Clearly, investors would like to see the latter but since it is only a company in (partial) transition to clean energy we will have to see how things pan out.
I'm calling Generac a Hold at this time
So summing it all up: On the bullish side, we see GNRC continuing to grow its revenue and profits and now entering the high-growth clean energy products field. One might also note that the stock price, well off recent highs, may now be in buying range.
On the bearish side, one might say GNRC is late to the green energy game and its success in selling clean energy into a market of traditional non-solar users may be problematic.
Weighing all this, I'm going to rate GNRC a Hold at this time.
It's kind of like speculating on whether Ford (F) or General Motors (GM), just now transitioning into EVs, will succeed in competing with Tesla. Can GNRC do it? Stay tuned.
This article was written by
I am retired and have been in the market since the late 1970s. I currently have a diversified portfolio of technology, REIT, renewable, and precious metal equities.I am especially interested in the renewables sector, primarily solar. I have solar panels on my house and own a Tesla Model 3,The dark clouds of climate change are on the horizon and for our children and grandchildren's sake, we need to move away from fossil fuels, and soon. There are many opportunities for investors to profit here but sorting them out is tricky so let's explore this together.
Analyst's Disclosure: I/we have a beneficial long position in the shares of ENPH, TSLA, RUN either through stock ownership, options, or other derivatives. I wrote this article myself, and it expresses my own opinions. I am not receiving compensation for it (other than from Seeking Alpha). I have no business relationship with any company whose stock is mentioned in this article.
Seeking Alpha's Disclosure: Past performance is no guarantee of future results. No recommendation or advice is being given as to whether any investment is suitable for a particular investor. Any views or opinions expressed above may not reflect those of Seeking Alpha as a whole. Seeking Alpha is not a licensed securities dealer, broker or US investment adviser or investment bank. Our analysts are third party authors that include both professional investors and individual investors who may not be licensed or certified by any institute or regulatory body.