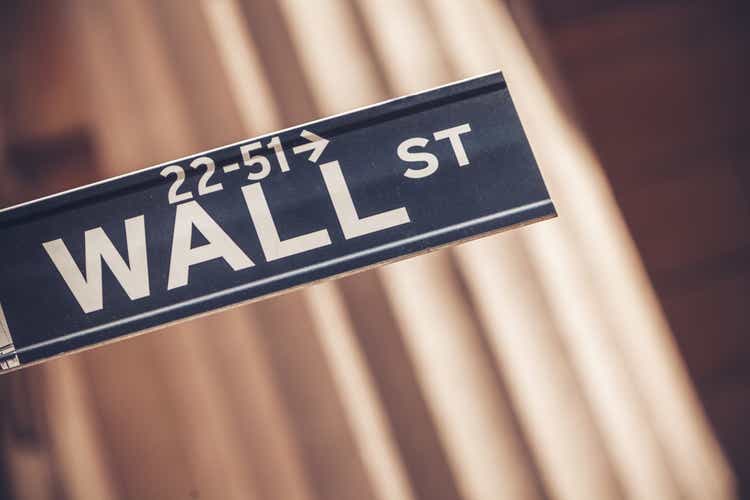 (This report was first issued to members of Yield Hunting on Feb 20th. All data herein is from that date.)
PIMCO released their January date (early this month!), which showed strong coverage levels and UNII trends, especially in the top taxables (NYSE:PDO and PDI).
At this point, PDO looks to be the best deal in the taxable CEF space, not just among PIMCOs, but overall. Additionally, PDI and PTY are also fairly attractive here with over-earning distributions and positive UNII levels. I would also give honorable mention to PFN and PFL which have 100%+ three-month coverage but slightly negative UNIIs. This is not something to worry about at all.
These funds are benefiting from the large amount of gains in their interest rate swaps that are present in nearly all of their taxable funds. Additionally, those gains are being offset by losses in their European bond holdings, and somewhat in their EM bond holdings which is depressing the NAVs a bit.
We believe we are close to where we would want to really load up on these funds, especially PDO and PDI. PDO looks like it is getting hit with some tax loss selling early on here as the price continues to bleed lower, far more than the NAV declines.
NAV Assessment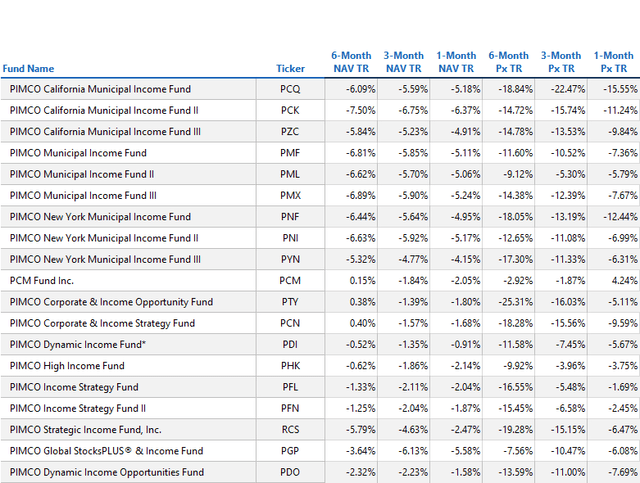 In the above table, we have near-term data on both price and NAV (six month, three month, and one-month).
Over the last month, when most of the pain has been realized, PDI was the clear winner in the taxable funds with only a 91 bps decline. PDO was the second best at -158 bps and PCN third at -168 bps. The worst performer (outside of PGP which is really an equity fund) was RCS followed by PHK and PFL at -214 and -204, respectively.
Over a three month period, the funds show less dispersion with the best performer being PDI, followed by PTY at -1.35% out to -4.60% to RCS.
NAVs are doing "ok" but not great. Many investors in these funds think that they have all the interest rate risk expunged from them. In other words, the NAV wouldn't fall if rates rise. While they do hedge using interest rate derivatives, it is not a complete hedge that would fully offset rate risk.
For example, PDI has a duration (including the leverage) of about 4.4 years. Generally speaking, that means if rates rise 1%, the NAV would fall 4.4%. Of course there's a lot more going on in these funds to make that kind of calculation almost meaningless. Still, it can be a good measure to assess interest rate risks. PTY has a lower duration at 3.4 years.
In addition, some of the NAV decline is due to credit spreads widening. These funds have a significant amount of non-investment grade holdings- both in the US and from holdings outside of the US.
The combination of the interest rates rising and the credit spreads widening- not something that occurs often- hit the funds as a one-two punch.
The NAV performance of the taxables was not bad at all. In fact, it would rank well against most of the senior loan funds which have done so well this year thanks to all the flows into the sector. Meanwhile, most of the high yield and multisector funds outside of PIMCO have NAVs down between 2.5% and 4.5%. So relatively speaking, it could be far worse.
Price, on the other hand, has been painful, especially in PDO. But that is what we call discount risk, which is especially elevated when a CEF trades at a premium. When CEF investors are trying to sell holdings in order to raise cash because they are afraid of the current market environment, they typically liquidate premium funds first.
Leverage Analysis
Leverage changes were mixed depending on the fund and particular strategy. PFL and PFN de-risked some which could be the result of the fund attempting right size NII following the distribution cut. PCM significantly increased leverage in the last three months along with RCS and PGP.
PDIs figure is blank because the fund completed the merging with PKO and PCI during the month which greatly increased the amount of borrowing outstanding.
PDO increased slightly in January but is flat overall.
Leverage numbers in aggregate are running around average for the last two years. They were higher towards the summer of 2021 but were reduced as PIMCO assessed that many of the sectors were now fully valued or overvalued. PIMCO tends to do this but in a small band.
For example, they toggled leverage from the 48-49% on the upper end down to 38-40% on the lower end for the main funds (PDI, PCM, PTY, PDO). PFL, PFN, and PHK tend to run more in the 30s.
Distribution and Adjusted Yields
I augmented the below image to calculate "adjusted yields." The formula for those yields is to take the funds with positive UNII, divide that UNII number by 12, and add that to the monthly distribution to calculate a new current yield. Essentially, we are taking a variation of NII yield by using UNII values and assuming some sort of special distribution.
Of course, just because UNII is positive doesn't necessarily mean they will declare a special this December. It also means that you need to hold until the end of the year to receive that extra yield bonus. Lastly, it also assumes that UNII will stay at this level or increase, not decline, which is a big assumption by itself. Still, funds with large UNII buckets relative to others should, all else being equal, trade at a higher valuation.
Now if we not only give credit to funds with positive UNII but also take away from funds that are producing negative UNII, this next chart is what that looks like. Just note, there is no special distribution that costs the shareholder money. What this shows are the funds that are perhaps under-earning (hence the negative UNII) despite what the coverage ratio is showing.
Remember, UNII is an accounting figure, nothing more. It really has no effect on NAV or coverage though it can affect the distribution eventually.
The coverage ratios are being affected by other things that may not be reflective of the true net investment income earnings power of the fund. For instance, we know for a fact that currency hedges can affect coverage ratios on a month-to-month basis but will not produce or detract from UNII unless sold. In the month of January, the dollar was up slightly against the euro but down against the pound. Nothing very significant either way.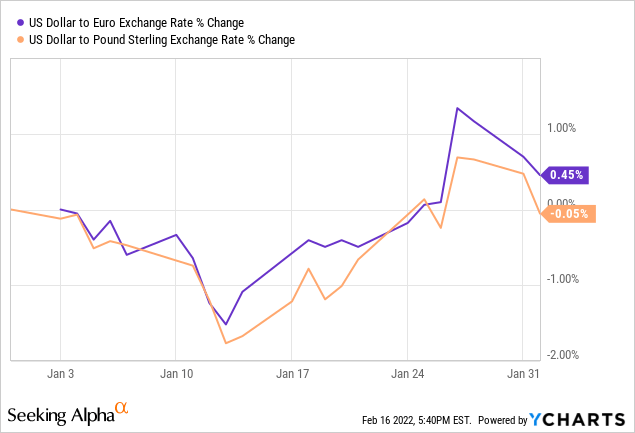 Takeaways and Actionable Analysis
The market is clearly punishing PDO because of the lower yield and higher valuation. Investors likely sold off their shares of the fund since it has a 7-handle for yield (7.9% yield as of this writing) while PDI, RCS and PHK have yields in, or near, the double-digits.
I think many investors are swapping their 7.9% yielder for a near 11% yielder thinking they are creating a yield arbitrage. However, PDO actually earns close to 10% when you factor in their UNII/ special distribution. This year is actually looking better than last year in terms of end-of-year special distributions with already 28c of UNII through the first month of the year.
PDO remains our top pick and I firmly believe that investors who are long (even those that have been long for a few months and are down ~10%) will likely be whole by the end of the year.
I continue to add to this fund as I believe we are nearing a nadir in terms of the weakness for both NAV and discount. In other words, I do think the discount is close to bottoming and that the NAV is likely to stabilize. This could come as soon as mid-March when the Fed announces their rate hike.
Investors need to look out 6 to 12 months, minimum here. I do think the fund going forward will do very well and that investors are being thrown off by the lower yield.
PIMCO Corporate & Income Strategy (PCN) confirms my thinking on PDO. It also has a lower distribution on NAV yield though not nearly as low as PDO. It has seen the second weakest price performance to PDO.
The market is moving to equalize the current yields of the taxable funds. In reality, PDO's price performance is not that far off from PDI (about 250 bps difference) but it is actually better than most of the other funds except PCM.
The STRONG BUY rating on the Google Sheets I think it warranted. We don't get many of these except when there is massive sell-offs. While the current sell off isn't massive, it is enough in some areas of the CEF market to trigger that rating on a few funds. The dispersion in the taxable CEF market is something that should be traded. We continue to think there is a lot of alpha on the table here.
We would recommend rotating from some senior loan CEFs into PDO, PFN, and PFL at this time to take advantage of a large valuation differential. For example senior loans are at the 70th percentile for valuation on a sector level (100% means it is the most expensive or higher premiums going back 11 years). At the same time, multisector, where most PIMCO funds live, are in the 20th percentile.
We would be big buyers of PDO here, along with PFN and PFL (recall that PFN and PFL are essentially the same funds).