McCormick: A Little Rich, But A Great Growing Company
Summary
McCormick reported record revenue and exceeded EPS guidance in FY 21.
Consumer demand remains high, and the use of pricing power is in progress to offset costs.
Shares are trading higher than what I consider a current fair market price, but I think there is interesting potential.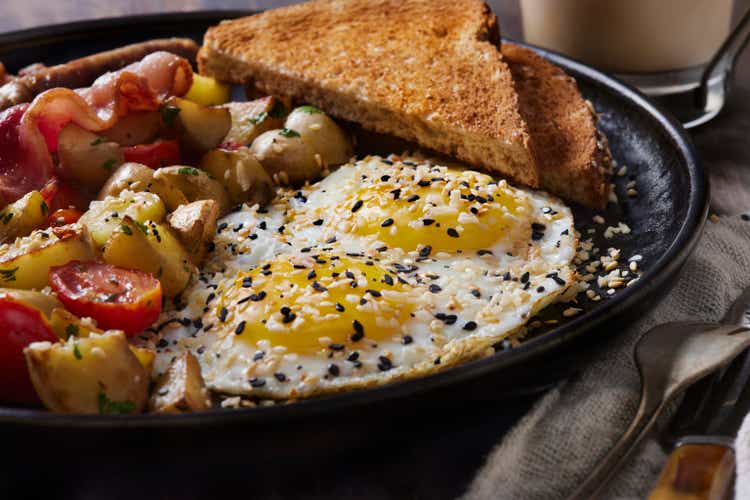 McCormick (NYSE:NYSE:MKC) is a global leader in the flavor industry and easily qualifies as a dividend aristocrat with 36 years of consecutive dividend increases. I covered McCormick here at Seeking Alpha last October and since that time the company has reported its full year FY 21 results. EPS for the year was above the high range of guidance and the company's share price has risen significantly. I targeted a six-month share price of $83.01 and the market has already passed that level with a current price at this writing of about $97.50. I still see McCormick as a great company with potential for future gains, but I think it is a bit ahead of current fair value. I see the stock as a hold with a current fair value of $86.01.
Source for image, data, and information: McCormick
FY 21 Results
McCormick reported record financial results for FY 21 with gains in both its Consumer and Flavor Solutions segments despite the weight of supply issues and pressures from inflation. Sales increased 13% from the prior year, or 11% in constant currency, reflecting gains from the recent acquisitions and strong consumer demand.
McCormick believes that a shift to more consumption at home has been in progress for several years, even prior to the stay-at-home necessity created by the pandemic. They note a 6% increase in organic sales with consumers continuing to use more of their products. In fact, demand was so high that the company again pulled down on customer inventories in Q3 and Q4, which also means that restocking on inventories will be needed.
McCormick notes the importance of capital investments that were made over the last several years to increase overseas manufacturing capacity. They acknowledge that the investments initially were at the expense of U.S. investment which left some capacity concerns early in the pandemic. But they have since increased U.S. manufacturing capacity and lessened co-packing expense. With U.S. and international investments, the company believes the results represent a competitive advantage. Also, shelf conditions are improving sequentially, including during the fourth quarter, which is the typical quarter of highest seasonal demand.
Like many other companies and other industries, McCormick is experiencing margin compression from increased costs in packaging and freight. For those reasons the company has implemented cost saving management initiatives and identified ways to reduce discretionary spending where it is wise to do so. They point to their long history of compounded growth thorough periods of short-term pressures and see the current period as another one of those times. As evidence, they note a decrease of 70 basis points in administrative expenses fueled by sales growth and less need for brand marketing.
As mentioned, the recent acquisitions are already providing benefits. The addition of Cholula and FONA, are said to be creating value and bringing synergies that are reducing costs and positively affecting earnings per share. They found that transaction and integration costs were lower than planned, and they are on schedule with the Cholula synergy target of $10 million by 2022 and the $7 million FONA target for 2023.
Inflation is certainly a factor in most all goods currently, and that is affecting McCormick in cost of goods and processing. The company states that it is not yet known if 2022 will prove to be a year of recession, but they note that their company usually tends to do well both in better economic times, and in times of a downturn. They use an example that some shoppers may buy a less expensive cut of meat due to higher inflation and then buy more spices to season.
But as is the nature of inflation, the way companies cover costs eventually may lead to higher prices charged to customers. Likewise, McCormick began to pass on its costs with prices increases during 2021. The company appears to be taking a slow and measured approach as they see future increases to occur to at least until mid-2022. The company is taking elasticity in consideration, and they are spreading out the increases to lessen the impact. That could imply some temporary absorption of costs that are negatively affecting margins but may also imply better margins to come later in 2022 as costs are presumably better covered.
Valuation
In my prior article, I considered the then company FY 21 guidance of adjusted EPS of $2.97 - $3.02 to use for my target. I used a mid-range factor of $3.00 with a then 5-year average P/E from YCharts of 27.67 to use a guess projection for a six-month target share price of $83.01. As I stated, my target was since already met and exceeded.
When the FY 2021 adjusted results were released it showed that the company performed over the guidance, with an adjusted EPS of $3.05. Also, the current average 5-year P/E from YCharts is now 28.20.
Using the updated data, we could assume a current fair market value of $86.01 and that is significantly lower than the current share price.
I think there is considerable question of how much higher inflation may rise, and the company does not plan to increase prices too quickly, which could limit margins. Also, as prices rise there can be some question of elasticity of demand. For those reasons, I'm not inclined to expect a P/E that is above the 5-year average, so I think the current fair market value I state is reasonable. Although I do acknowledge that the current P/E in the market today is above average.
As another check, the current company guidance for the full-year 2022 is for $3.17 - $3.22 adjusted EPS. If you take the high end at $3.22 and apply the current 5-year average P/E, you might expect a share price of around $90.80 which is also above today's current share price.
That's not to say that today's share price is not justifiable. Once prices are raised and/or once and if costs return to more normal levels, then you may assume that McCormick could see higher EPS levels. Also, McCormick outperformed 2021 guidance and you could assume that could happen again. In fact, it is very early into 2022 so there is always potential for guidance to be upgraded. Or, of course, guidance can be downgraded, but typically companies give guidance that they believe they can reach.
Risks
The company provides a full list of risks in its annual filing. I recommend reading that in its entirety. Also, I listed several risks in my previous article that I believe are still relevant and should be considered. I'll add a few more thoughts below, and I note that any risks, including market or world events, can lead to share values that do not reflect the thesis of the article.
Supply and freight costs appear to be among the largest margin limiting risk factors currently. I think it is reasonable to expect the situation to improve over time, and as we hope the pandemic gets further behind us. But inflation is high compared to historic levels, and these conditions should continue to be considered.
Final Thoughts
McCormick is a great American company with a long history and a steady record of revenue growth. The revenue chart from Macrotrends below illustrates the point.
While there are some headwinds, the company is making the necessary adjustments including taking advantage of long-term financing opportunities at low interest rates with their establishing of $1 billion in notes. And the timing may prove to be prudent as it was done before interest rates may soon begin to rise.
As stated, McCormick is a dividend aristocrat, and true to form they recently announced a 9% increase for the dividend, thus marking their 36 consecutive year of dividend increases. For many, a dependable growing dividend can make a good reason alone to hold onto the company stock.
Also, I think it may be wise for McCormick to not be too quick in raising prices. It may cost a little in the short-term, if some costs are not fully passed on to consumers, but it also allows time for consumers to adjust. Or possibly, it even allows time to see if inflationary pressures and freight costs pull back sooner than expected. And if higher prices are absorbed well and other costs decline that implies the opportunity to increase margins.
With all considerations, and with all company actions to mitigate headwinds, it may help explain why the market is currently awarding a P/E higher than the 5-year average. I can see that as reasonable, but if I were buying shares, I would try to acquire them nearer to, or possibly below my fair market price of $86.01, if such an opportunity does become available. Still, McCormick is a great company, and I believe there are ample justifications to hold the stock at the current price.
In any case, it's a good chance McCormick has something you like.
This article was written by
I am an individual investor with over 30 years experience trading stocks and ETF's. I have researched stocks in a wide range of areas such as telecoms, REIT's, manufacturing, and energy to name a few. I expect to supplement my retirement with income derived from stock trading and dividends. My current focus is steady dividend income balanced with high growth opportunities. Anything I write may be considered a first step toward due diligence but it is my personal opinion only. I strongly recommend consulting an experienced, registered and qualified investment advisor before making all investment decisions.
Analyst's Disclosure: I/we have no stock, option or similar derivative position in any of the companies mentioned, and no plans to initiate any such positions within the next 72 hours. I wrote this article myself, and it expresses my own opinions. I am not receiving compensation for it (other than from Seeking Alpha). I have no business relationship with any company whose stock is mentioned in this article.

Please note that I am not a financial advisor. The article should not be considered as a suggestion to buy or sell this or any other stocks. Consider this one source of a full range of due diligence you should undertake but is entirely my personal opinions. It is strongly recommended that you consult an experienced, qualified, and registered investment advisor before trading.
Seeking Alpha's Disclosure: Past performance is no guarantee of future results. No recommendation or advice is being given as to whether any investment is suitable for a particular investor. Any views or opinions expressed above may not reflect those of Seeking Alpha as a whole. Seeking Alpha is not a licensed securities dealer, broker or US investment adviser or investment bank. Our analysts are third party authors that include both professional investors and individual investors who may not be licensed or certified by any institute or regulatory body.