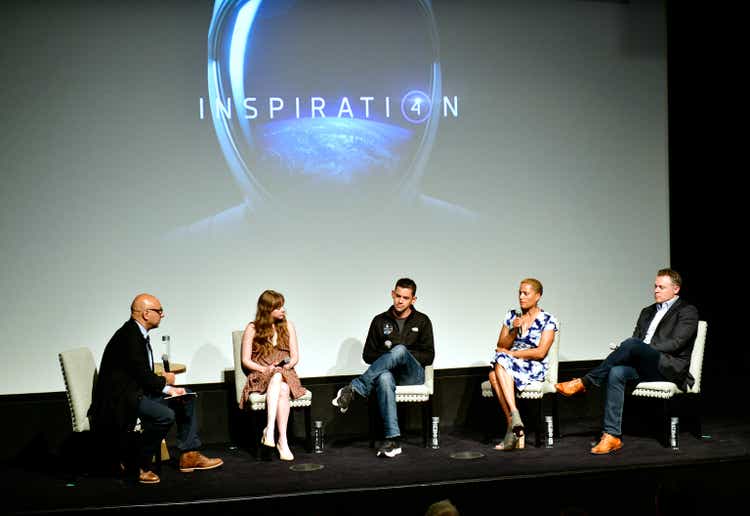 Introduction
Shift4 (NYSE:FOUR) reported its 4th quarter results Tuesday, March 1st, and its earnings call was led by Jared Isaacman, Shift4's largest shareholder and CEO. 2021 was a strong year for Shift4 as it processed $46.7B in end-to-end payment volume, 92% growth.
Shift4 reported a strong Q4 while the acquisitions it announced will prove crucial for its global expansion, especially as it looks to embrace cryptocurrencies and blockchain settlement capabilities. In this note, we'll highlight how Shift4's acquisitions The Giving Block and Finaro will enable to company to thrive in new verticals it enters, whether for its non-profit vertical or for international expansion.
Before we dig into the Q4 2021 earnings report, I invite you to revisit our original investment thesis for Shift4.
One of the four components of our investment thesis for Shift4 is that we are huge believers in Jared Isaacman. BTM's Shift4 Peter Lynch Notecard can be found in the link above, as well as more on Jared Isaacman.
Shift4 is led by Jared Isaacman, a visionary founder CEO, who is now fully committed to running the company and will take Shift4 to the next level as he continues to pursue his passion of simplifying the complex nature of processing payments." - Shift4: A Juggernaut Payments Platform
This quarter Isaacman continued to demonstrate his commitment to Shift4 as he announced on the earnings call that the company put in place an RSU (restricted stock unit) program that includes the entire Shift4 workforce, regardless of grade. Isaacman also pointed out that he will personally fund 50% of the stock that's allocated for this program and that this is just one of the organizational transformations that are taking place at Shift4.
In addition, Isaacman also announced that Shift4 will host a campaign through its recent acquisition in The Giving Block to engage the crypto community to raise money for a charity of their choice and that he will match dollar-for-dollar each donation. Isaacman's commitment to Shift4 speaks for itself between these two examples and it indicates that Isaacman is determined to pursue his passion for simplifying complex payments across the globe and willing to help fund the company with his own equity to achieve Shift4's lofty goals.
Now, let's dive into the results for last year.
2021 Results
Q4 2021:
FY 2021: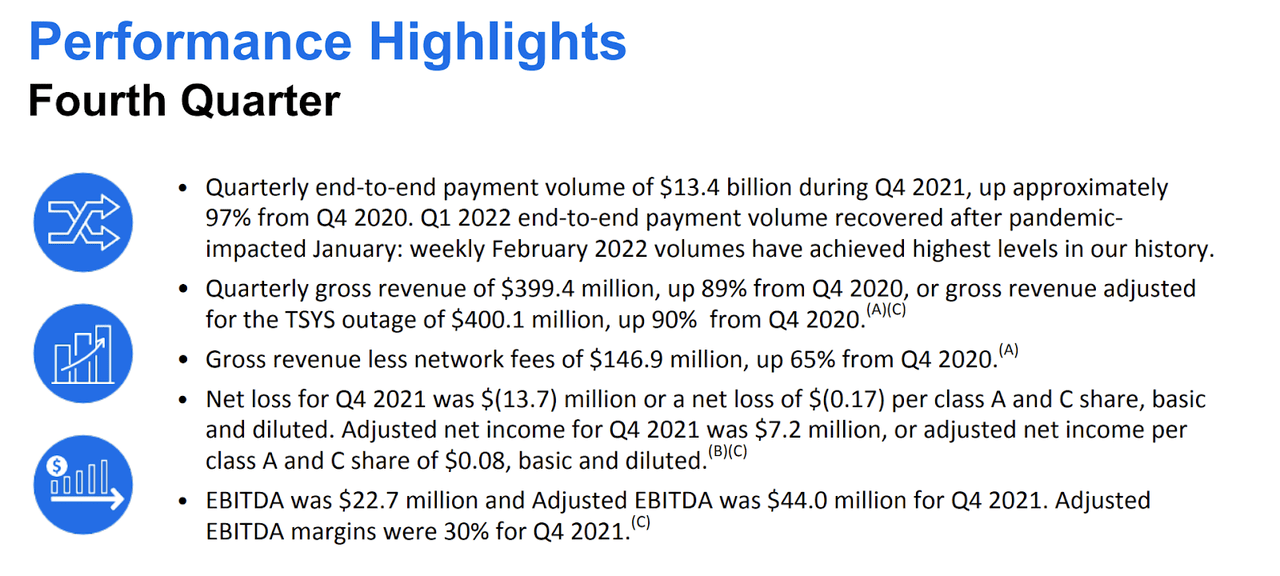 $1.368B in total revenue for 2021

$529M in gross revenues less network fees, grew 64%

$46.7B in end-to-end payments volume

Adjusted EBITDA of $167.2M, exceeding management's target range due to increased investments in new verticals, specifically two acquisitions
In Shift4's past November Investor day, management guided for four metrics, including total revenue, end-to-end payment volume, gross revenue less network fees, and adjusted EBITDA. Shift4 met or exceeded three of these metrics except for adjusted EBITDA.
Isaacman on lower than expected adjusted EBITDA:
Quite a bit of this was attributable to Omicron and the lack of business and international travel, previously contemplated in our plan for the full year. But there were some continued growth investments we are making in the business as we enter new markets and prepare to go global. This should be consistent with our Investor Day where we emphasized our desire to expand margins in our high growth core, while also investing in our new verticals which are performing well and largely the reason for our performance on gross -- our outperformance on gross revenue less net fees, but still early in the development of their margin profile. We will continue to balance profitability and growth and our guidance calls for mid-30s margins for the full year in 2022." - Jared Isaacman, Q4 Earnings Call
While Shift4 missed its guide for adjusted EBITDA, it still met all of its top line projections and continues to demonstrate strong growth as gross revenue less network fees grew by 64% while total revenues grew by 78% in 2021. Shift4 experienced challenges in the second half of December, which was shaping up to be a record month had it not been for the impact of Omicron, while it is also investing in new verticals that the company's recently entered (more on customer wins below). Shift4's focused on growth and there are significant opportunities for higher-margin revenues as it brings another important piece of the tech stack its tech stack in-house, specifically its international component, with its acquisitions of Finaro.
Due to increased investments in new verticals and some one-time expenses, we did come up slightly short in adjusted EBITDA for the quarter. We remain highly confident in our ability to deliver over 300 bps of margin expansion in 2022, all of which is reflected in our 2022 guidance. We are pleased to provide 2022 guidance that is consistent with the medium-term outlook we provided back in November and also expect the two acquisitions announced today to contribute meaningfully to our 2023 adjusted EBITDA, before any potential revenue synergies." - Jared Isaacman, Shareholder Letter
Higher Margin Opportunities
Shift4's in-house acquiring solution, Everest was rolled out in 2022 and this enables Shift4 to remove third-party acquirers from their transactions when gateway customers also use Shift4's end-to-end acquiring solution. As a result, Shift4 sees substantial gross profit margin expansion when its gateway customers convert to the end-to-end acquiring solution.
Our success in signing larger merchants continued during the quarter, with the signing of several new hotels, including the Palms Casino, Overby Resorts, and Halekulani in Hawaii, as well as the country's largest self-storage operator StorageMart, and one of the largest airline concessionaires, Concessions International. All of these were gateway conversions, which means we received a 3x to 4x gross profit lift from these merchants converting from gateway-only to our full end-to-end acquiring solution." - Jared Isaacman
Shift4 recognizes that its end-to-end customers are more valuable because bringing the acquiring part of the transaction removes Shift4's dependence on third parties. By converting gateway customers to its full end-to-end solution, Shift4 will look to add more value-added services to its platform.
It's worth noting that the few of the fast-growing FinTech providers -- that few fast-growing FinTech providers still offer an acquirer optionality through a gateway and instead, they all endeavor to deliver a better and lower cost experience through an end-to-end offering.

We believe there are additional measures, incentives, and capabilities we can offer our very large population of gateway-only customers that will accelerate the migration to our end-to-end platform faster, and free up organizational resources to focus on our many other strategic priorities." - Jared Isaacman
As Shift4 removes the cost of third parties, it will generate more insights from its acquiring solution to offer more value-added services for its customers. For example, Shift4 will look to take advantage of its SaaS opportunity, specifically within the restaurant vertical as its current restaurant base is significantly under-monetized in this regard. There are ~3,000 restaurants using its SkyTab POS solution, while locations were up 162% in 2021. SkyTab POS is still in beta while it should be released for a broader launch in Q2 of this year.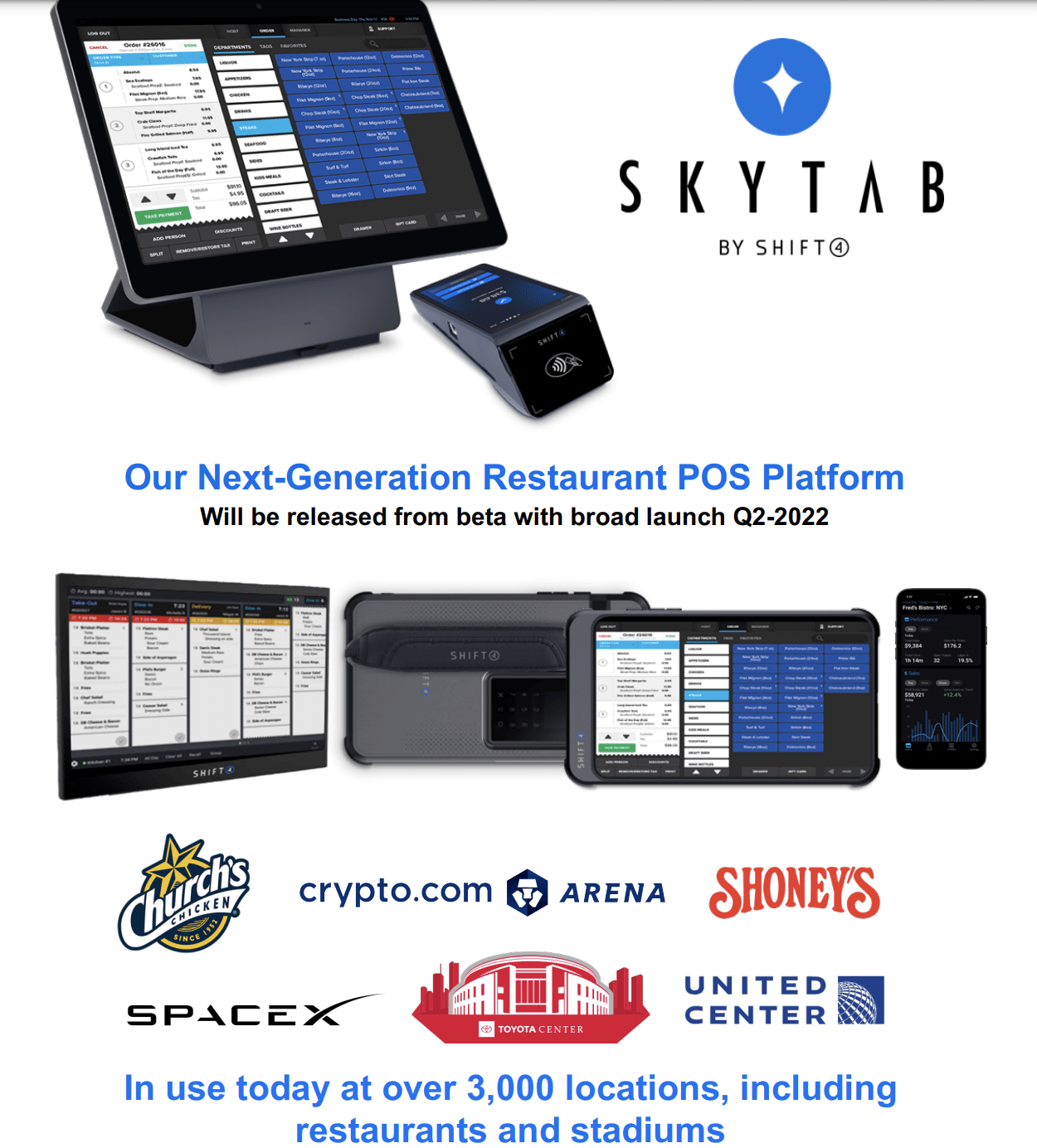 Shift4 will release its payroll offering, which is also in beta and expected to be released this summer, to go along with SkyTab POS. This will help Shift4 capitalize on its ability to process the flow of funds within its customers' operations and across various platforms. This will be a good boost for Shift4 this summer, while it will also look to release this solution in new international markets once its Finaro acquisition closes.
So let me clear, like just existing within the company today, there is such a huge opportunity to help all of our existing customers migrate to the next generation of restaurant point-of-sale technology. So, if you just think about the size of the base and the volume contribution we get from that base today, it's pretty sizable.

Going forward, I think, we have 1,000s of distribution partners that are very educated on the restaurant space, and specifically the power of an integrated payments opportunity. They've really been dying for this kind of next-generation Cloud POS solution." - Jared Isaacman
Shift4 has significant opportunities within multiple verticals, while the restaurant opportunity is just one example. Shift4 continues to invest in the fundamental infrastructure that will enable it to expand internationally, while still taking advantage of higher-margin opportunities by removing third-party legacy acquirers.
Acquisitions
Shift4's two most recent acquisitions indicate the company's commitment to fulfilling its mission to simplify payments across the globe while embracing new verticals.
Finaro
Shift4 entered into an agreement to acquire Finaro for $525M in up-front consideration, 62% equity and 38% cash consideration, with up to a $50M earnout in equity.
Finaro is an Israeli tech company that specializes in "smart acquiring".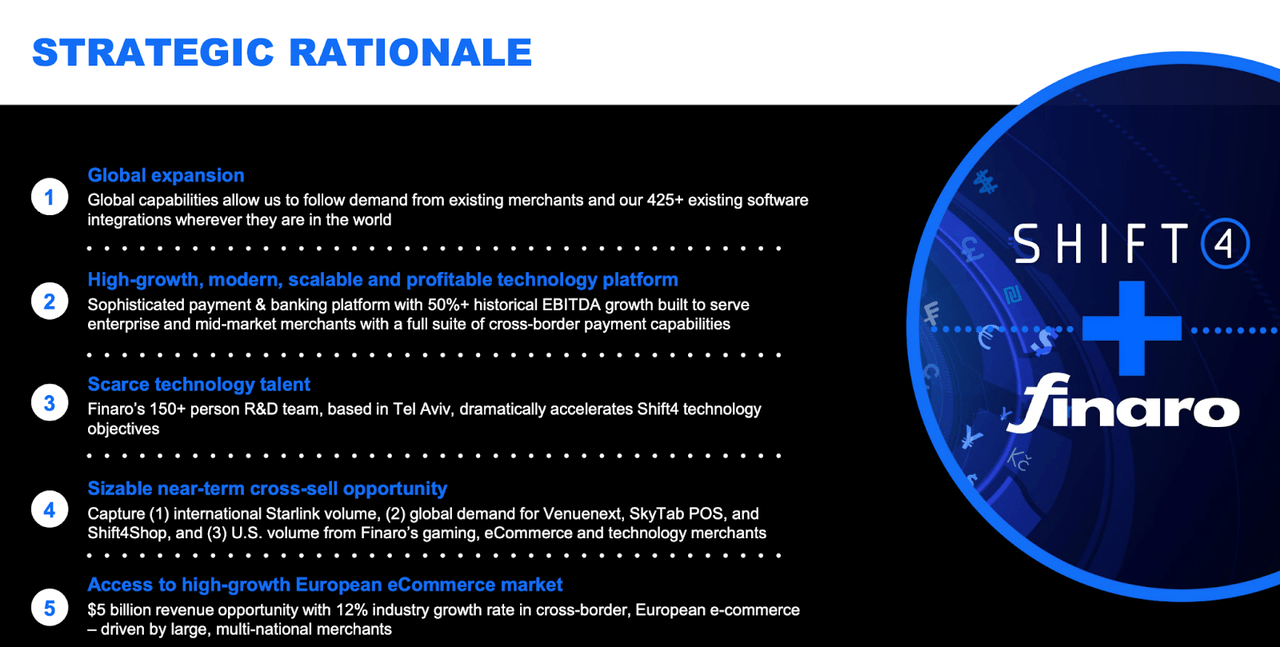 Finaro, originally founded in 2007 as Credorax, is a member of the Visa and MasterCard networks which gives it capabilities to accept card payments internationally. It also has a banking license and is a full eCommerce provider with licenses to support the U.K., Europe, Hong Kong, and Japan.
We are acquiring Finaro for two reasons. First, it provides the foundational technology capabilities needed to support SpaceX Starlink and their global base of subscribers.

Second, Finaro's card not present international capabilities will meaningfully expand the reach of our existing products and software integrations. After extensive due diligence, Finaro's technology platform is best-in-class, particularly its AI-powered risk and fraud management capabilities, 170-plus alternative payment methods, multi-currency support, and the ability to maximize authorization rates through intelligent routing. This will serve well as the technology foundation for our global expansion strategy." - Jared Isaacman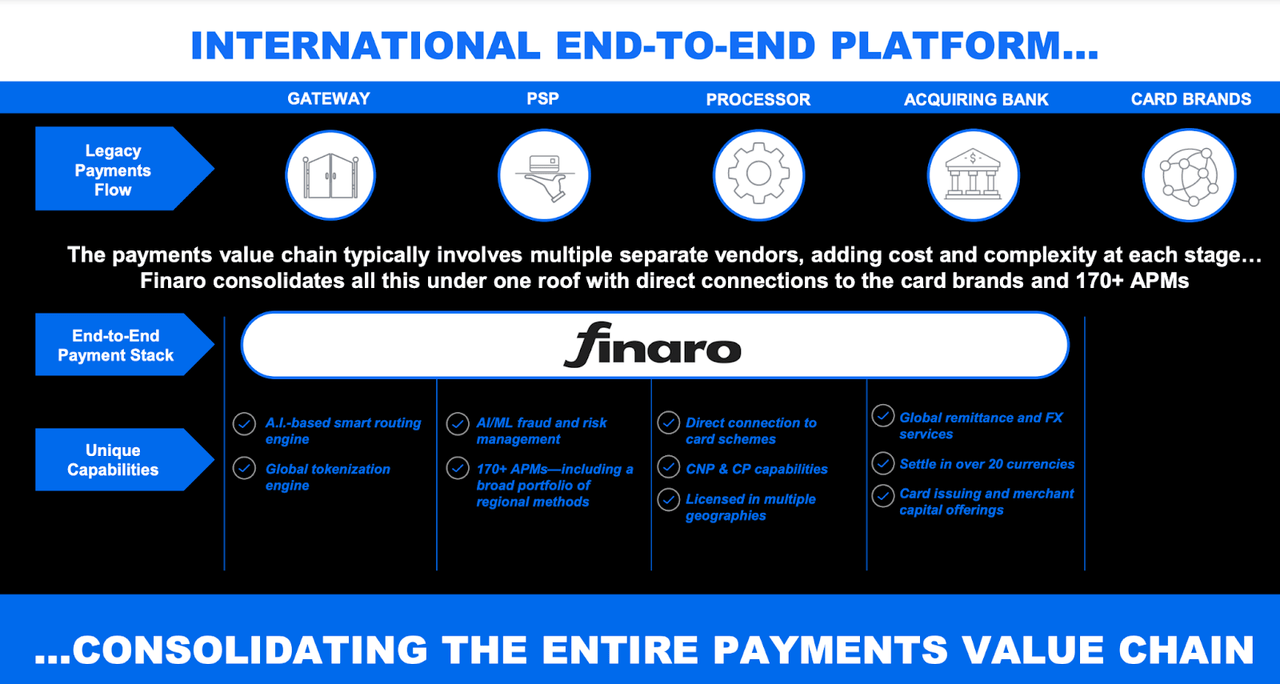 The acquisition provides Shift4 with a best-in-class tech platform that will serve as its technology layer internationally. Finaro specifically brings strong AI-powered fraud and risk management components to Shft4's acquiring solution, while this will prove beneficial for Shift4 as looks to implement the data it generates from each merchant into the services it provides. Finaro will be pivotal as Shift4 rolls out its SkyTab POS solution in Europe once the acquisition closes after regulatory approval (expected towards the end of 2022). The acquisition will also prove beneficial for Shift4 customers looking to use an omnichannel distribution approach to reach international markets.
The Giving Block
Shift4 also announced it acquired The Giving Block, which is a company that specializes in cryptocurrency fundraising for charities and other non-profits. This will enable Shift4 to expand its crypto acceptance and settlement capabilities, while Shift4 will benefit from the talent and experience of The Giving Block's blockchain team.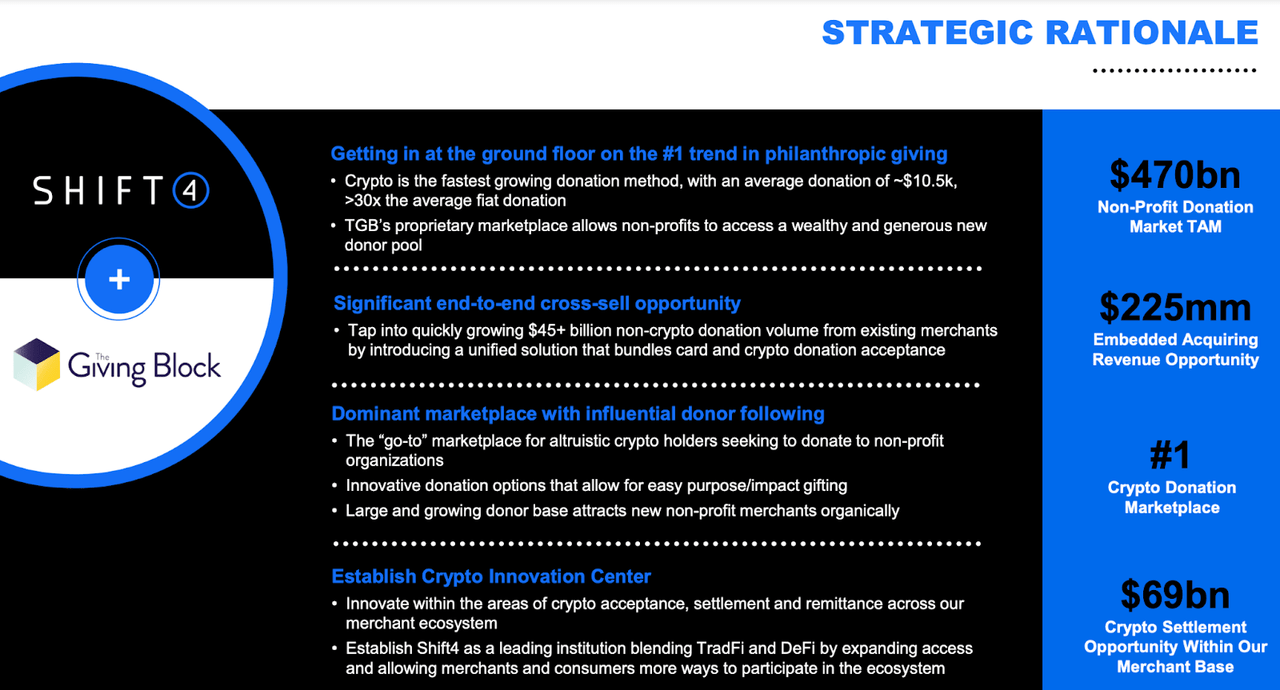 The Giving Block's average donation is ~$10.5k, while Shift4 is building on its partnership with St. Jude, as they were already considered a Giving Block customer prior to the acquisition. The non-profit donation market represents a $470B addressable market for Shift4, while The Giving Block acquisition provides Shift4 with a unique opportunity to land non-profit volume as ~10% of the addressable market comes from crypto donations.
We were already excited about targeting the non-profit vertical with the marquee win of St. Jude Children's Research Hospital, and now are supercharging our right to win with the addition of crypto donations. There's also an interesting consumer play to this transaction given that The Giving Block's relationship with crypto donors -- providing interesting conversations across all of our merchants who could benefit from this access to crypto holders." - Jared Isaacman
The Giving Block acquisition enables Shift4 to create a two-sided network of crypto-donors and non-profits while removing the pain points from non-profits by making it easy to accept crypto donations.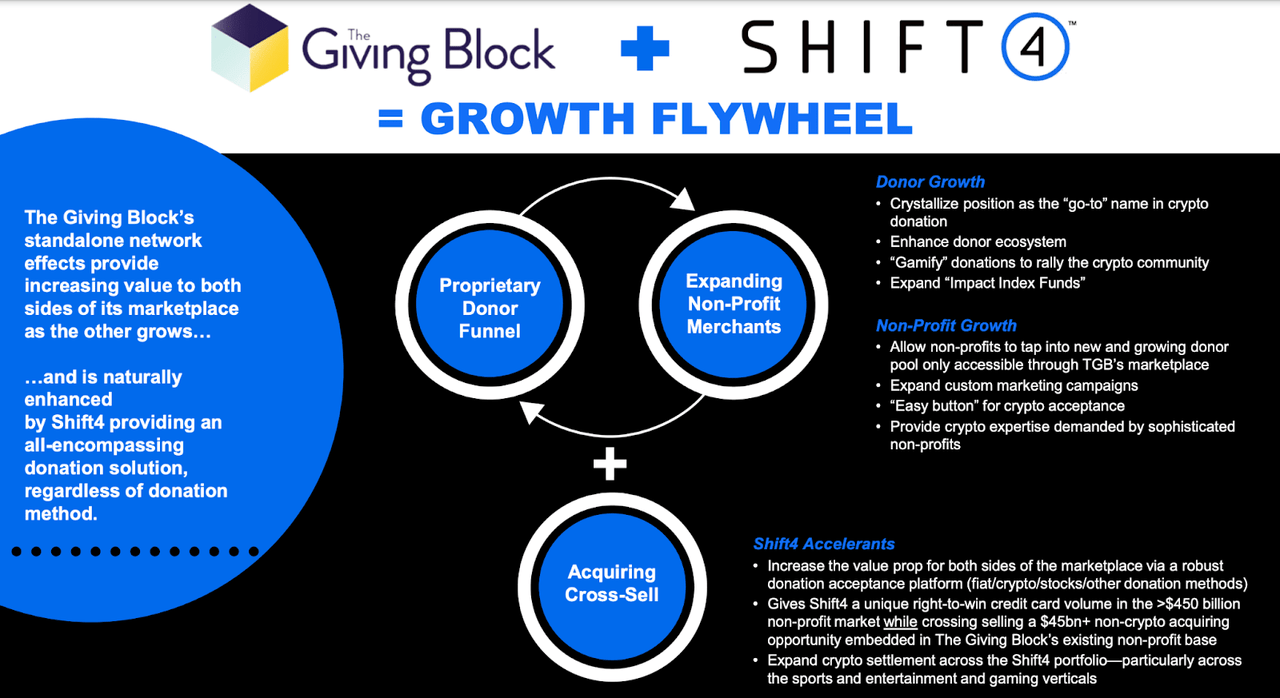 Customer Wins
Shift4 extended its fan-first experience to offer a mobile ticketing solution via Seat Geek.

Shift4 is now powering payments in over 100 sporting venues across the U.S.

Shift4 reported 10 total gaming licenses with BetMGM and will start to roll out the first phase of transaction processing for BetMGM and with additional volume expected to start from Sightline towards the end of March. More on Shift4's strategic partnership with Sightline can be found below.

St. Jude Children's Research Hospital started processing end-to-end payments volume on the Shift4 platform in January of this year.

Allegiant Airlines will start processing airline transactions on Shift4 in June of this year.

Shift4 has already started to process volume for SpaceX Starlink and expects the first phase of this volume to "cutover" later this month.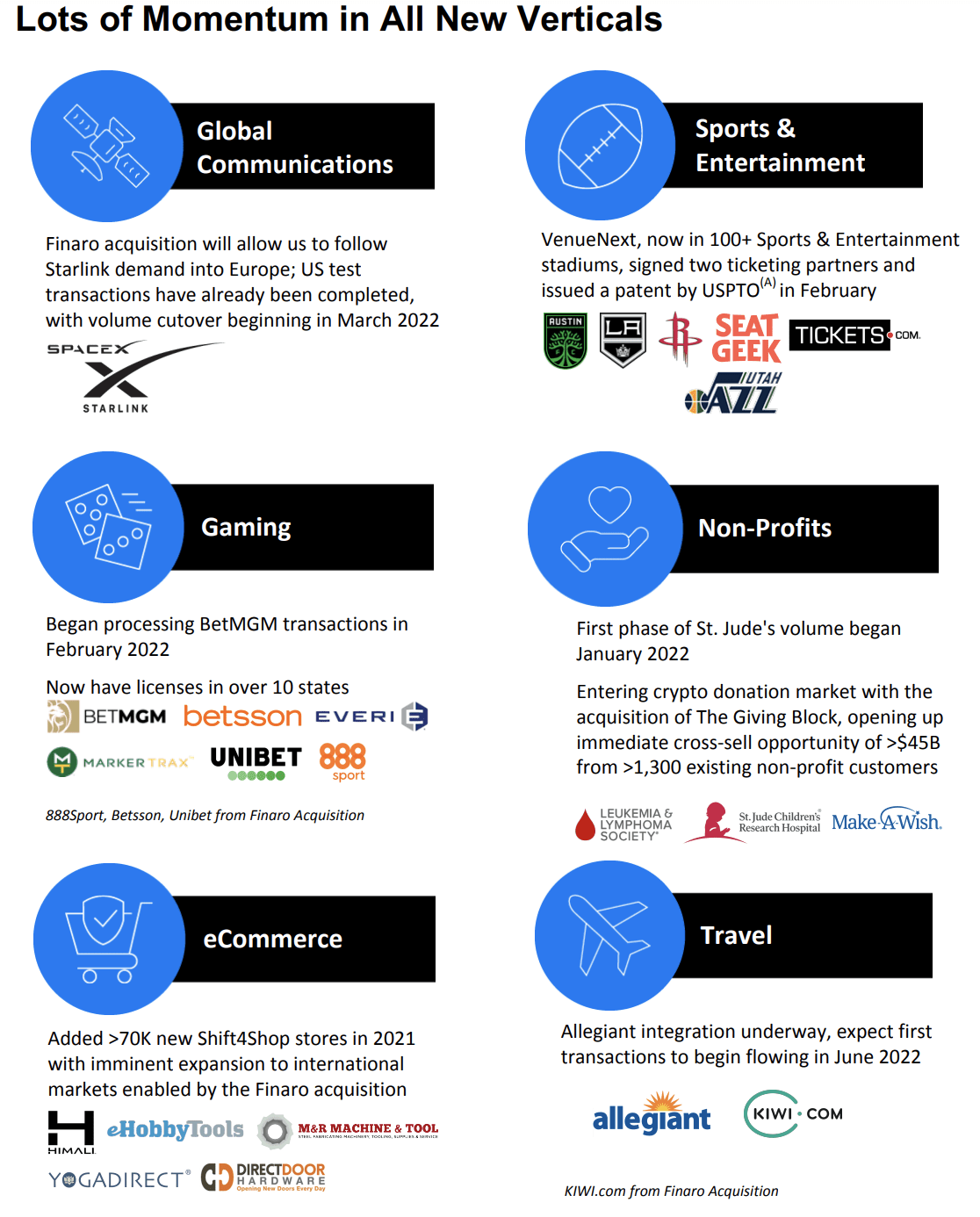 This quarter Shift4 continues to demonstrate that Shift4 is winning big partnerships while Shift4 also saw stability in its average spreads, despite its volume mix shifting to larger merchants.
Updated Guidance and Valuation
Below is the outlook provided by Shift4 in its shareholder letter. While its 2022 outlook doesn't include contributions from the two new acquisitions, Shift4's guide came in conservative as Shift4 was cautious when accounting for marquee merchants that were activated this year (i.e., Starlink, St. Jude, and Allegiant Airlines). Management also noted that Shift4 was conservative in estimating vole attributed to customer growth and travel recovery from the pandemic.
So, I think we all have areas, where we think we're probably being conservative. Mine, in particular, is that contribution of new markets you see that $3 billion number. If you think about some of the marquee wins that we announced. It doesn't take a lot from anyone of those single names to get you most of the way there." - Jared Isaacman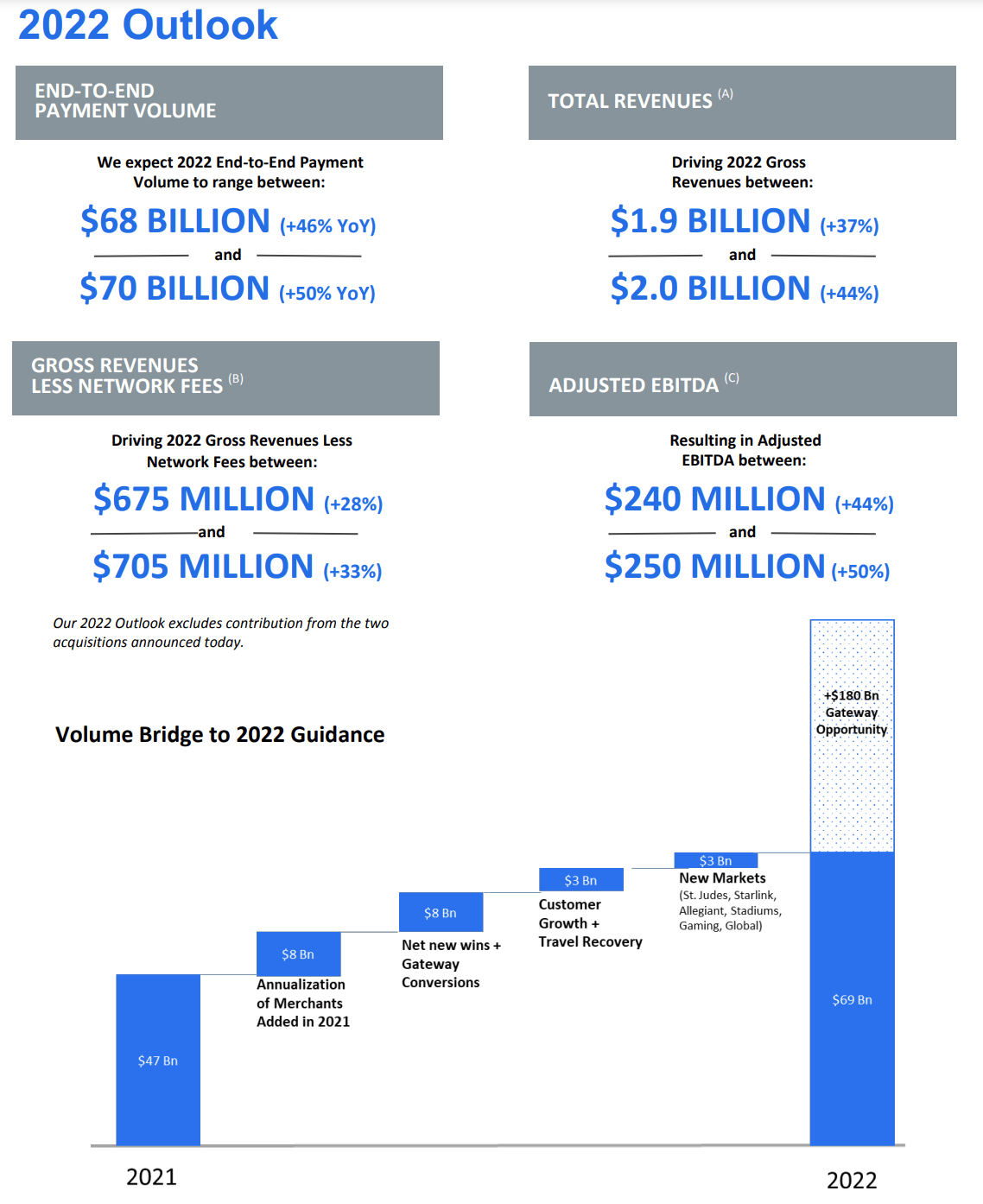 For our 2022 estimates, we will use a forward 12-month gross revenue less network fees of $735M, which would represent ~37% growth in 2022. This should prove conservative as Shift4 just grew this segment of its revenue by 64% annually while in 2021 it raised its initial guidance for this segment in November to account for the strong growth in this segment.
Now, let's use the L.A. Stevens Valuation Model to project a fair value and expected return for Shift4.
Assumptions:
| | |
| --- | --- |
| Forward 12-Month gross revenue less network fees [A] (conservative estimate) | $730 Million |
| Potential Free Cash Flow Margin [B] | 27.5% |
| Average fully-diluted shares outstanding [C] | ~85.5 million |
| Free cash flow per share [ D = (A * B) / C ] | $2.35 |
| Free cash flow per share growth rate (conservative estimate) | 17.5% |
| Terminal growth rate | 3% |
| Years of elevated growth | 10 |
| Total years to stimulate | 100 |
| Discount Rate (Our "Next Best Alternative") | 9.8% |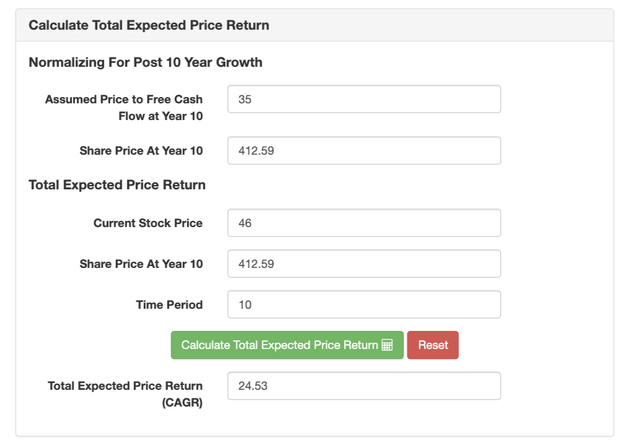 At $46 per share, Shift4 is trading at a 56% discount, with an intrinsic value of ~104$. It's expected to generate better than a 24% annualized return over the next 10 years, therefore it is a buy as it's expected to significantly beat our 15% hurdle rate.
Conclusion
Shift4 has $956M in cash and $1.05B in total cash and short-term receivables. This company just would've just generated $300M in gross profit had it not been for the TSYS outage which resulted in ~$23M in contra revenue in the second half of 2021. Shift4 will easily generate between $400-$430M in gross profits next year, with an EV of ~$4.75B. It's trading at 6.5x EV to this year's gross revenue less network fees and ~11.5X EV to this year's gross profits. For a company that just grew its revenues by 78% and is led by a visionary founder with a global business that has no signs of slowing as it continues to enter new verticals, Shift4 is attractive and a strong buy under $50. Shift4 is trading at ~15.8x EV/GP on a TTM basis. Hence, now is an ideal time to be building out a position in Shift4.
Shift4 also believes its stock is undervalued as well as the company announced a $100M share repurchase program in December of 2021 and the company bought back ~$20.7M of shares during Q4.
Thanks for reading and happy investing!