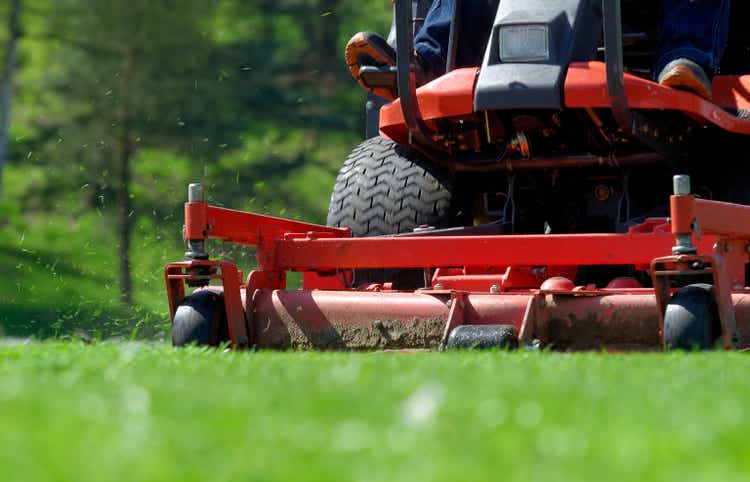 Margins Lower Than Last Year But Better Sequentially
The Toro Company (NYSE:TTC) reported fiscal 1Q 2022 results with EPS coming in slightly better than expected although revenues were a bit light. The positive spin on this is that although margins were down from 1Q 2021, they have improved sequentially from 4Q 2021. On that basis, gross margin improved from 30.1% to 32.2% and net income margin improved from 6.3% to 7.5%. Market reaction has been negative, with the stock down 3.8% on the day of the earnings release.
The disappointment appears to be that the company did not raise its FY 2022 earnings guidance, which remains in the range of $3.90-$4.10 EPS. This is despite the fact that Toro did increase its 2022 sales growth forecast by 4 percentage points due to the acquisition of Intimidator Group, the maker of Spartan brand professional zero-turn mowers.
While the new brand is profitable, Toro held the EPS guidance constant "in light of the current geopolitical environment". Despite this conservatism, Toro sees strong demand for its products. Sales have been constrained from larger growth by supply chain issues, and now the war in Ukraine is impacting global commodity prices which could raise input costs for the company. The strong demand should continue to give Toro pricing power, however, and the company is seeing some supply chain relief which can lead to increased unit sales.
Even with these conservative assumptions, Toro should now be able to deliver earnings at the top end of guidance, rather than the middle which I estimated in my last article. At $4.10 EPS, Toro is valued at a P/E of 22.7 which would be near the bottom of its 5-year range.
Updating 2022 Estimates
Toro paid $400 million for Intimidator Group, which had $200 million of sales in 2021. This 2x sales multiple was a good price compared to the 2.4x P/S figure for Toro overall. The $200 million in sales represents about 5% sales growth for the overall company. This means that the new sales growth range of 12%-14% compared to the previous 8%-10% is driven entirely by Intimidator, with no additional organic growth from the base business. Toro has no manufacturing and negligible sales in Ukraine and Russia, so the unchanged EPS range is due more to the impact of the war on commodity prices such as oil which factor into Toro's raw material and transportation costs. Offsetting this, the company noted declining impacts from COVID-19 on materials and labor availability. After these impacts, I see gross margin for the year in line with the 32.2% achieved in 1Q, which is still below the 33.0% used last quarter.
SG&A dollar costs remain constant, so with the higher sales, the operating margin is unchanged from last quarter's model at 13%. Interest expense is higher due to the $400 million of debt added for the Intimidator deal. Total debt is now about $1.1 billion, up from $700 million. The tax rate is also higher than last year at 21% as deductions were higher than normal last year. Finally, buybacks of $75 million in the quarter have lowered share count.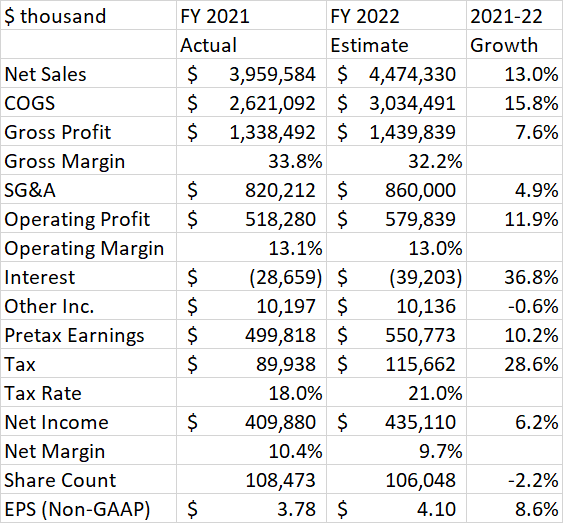 With the new assumptions, the added sales from Intimidator get Toro's EPS up to the top end of the previously stated range at $4.10, despite higher cost of goods and interest expense.
Demand Drivers Still Strong
All the key growth markets noted in the last article are still strong. Golf rounds played continued to increase in 2021, setting new records after a strong 2020. Underground construction equipment is also in demand for infrastructure projects, especially the Ditch Witch line of trenchers. Also, a snowier winter has driven demand for snow throwers and plowing equipment.
The sequential improvement in gross margins suggests that the company is maintaining pricing power in the inflationary environment. As the supply chain picture improves, Toro should be able to see the added unit sales flow to the bottom line. The "geopolitical issues" noted on the call don't sound like they impact product demand or raw material supply quantities but will impact costs. There is a risk at some point that rising oil prices will impact demand, because of both price/cost effect and cost of operation for the customer. On the latter point, Toro has been increasing its offerings of electrically powered equipment which could see a demand surge to replace gas powered products.
Capital Management
Toro had negative free cash flow in 1Q 2022 due to working capital build in the inflationary environment. On top of that, 1Q is a seasonally low FCF quarter for Toro as the snow sales season is over and the spring sales have not yet come through. The company's cash balance declined in the quarter from $406 million to $193 million after -$102 million of FCF and $106 million of dividends and buybacks. As mentioned above, the $400 million paid for Intimidator Group matches the increase in debt.
For FY 2022, I now see free cash flow conversion at around 80% of net income, below the 90%-100% guided at the start of the fiscal year. This would now give Toro about $348 million FCF in 2022. This covers the dividend of $129 million, the completed buybacks of $75 million, and $100 million of debt from the Intimidator deal which is due within 1 year. With the future inflation environment still uncertain, I expect the company to hang on to the remaining $44 million of cash. Debt of $1.1 billion is now around 1.6 times my latest EBITDA estimate of $680 million. Leverage has increased from 1.0 times last quarter due to the Intimidator acquisition but remains within the company's target range of 1-2 times.
Conclusion
Toro is still seeing margin compression compared to one year ago, although margins have improved sequentially quarter to quarter. Demand is strong and supply chain constraints appear to be improving but raw material costs remain a risk due to oil price spikes. Toro did not increase their EPS estimate for 2022 due to uncertainty over these costs, but the added sales from the Intimidator Group acquisition should at least enable the company to hit the top end of the range. At $4.10 EPS, Toro is now trading at 22.7 times earnings which is at the low end of the range it has traded in since 2016.
Unless oil goes even higher and is expected to stay there for an extended period, Toro should be able to continue raising prices without seriously impacting demand. At $98, the stock is now trading at 22.7 times FY 2022 earnings. Longer term, Toro expects to grow earnings growing at 13% per year through 2024 as part of their Drive For 5 initiative. While the risks have increased, the share price now more than reflects them. TTC is still a buy.