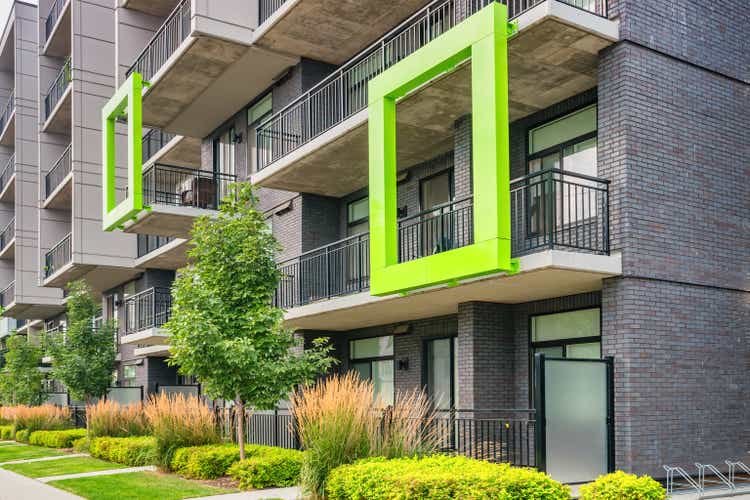 All values are in CAD unless noted otherwise.
We have covered Boardwalk REIT ( (OTCPK:BOWFF) (TSX: BEI.UN) plenty of times, most of them as a bull. The last time we wrote about this residential REIT, we were neutral about its prospects. It had delivered strong results and raised guidance. We reviewed the results and raised our fair value for it from $52.50 to $55. Despite nothing overtly negative, we chose to sit on the sidelines as we thought the market was valuing this REIT about as fairly as it could. We concluded with:
The quarter did deliver in spades and Boardwalk may not be done yet. The valuation is not compelling though and we are forced by our discipline to remain neutral. We are raising our fair value to $55.00 though and continue to follow this comeback story with great interest.
Source: Boardwalk Makes Sure Bears Have Nowhere to Hide
It has been a nausea inducing ride since that piece, but the bulls have been compensated, at least for the Pepto Bismol.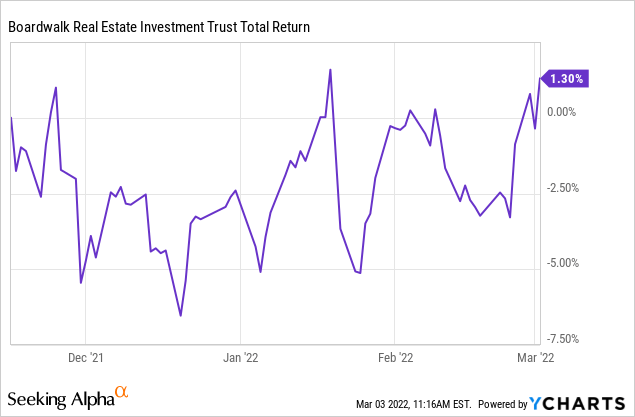 Lets take a fresh look today and see what caused this roller coaster of a ride and are we impressed enough with the resilience of this REIT to take a bite.
Q4-2021
Boardwalk delivered their familiar story with Q4-2021 results. A small increase in the top line coupled with tight expense control that created a big increase in funds from operations (FFO).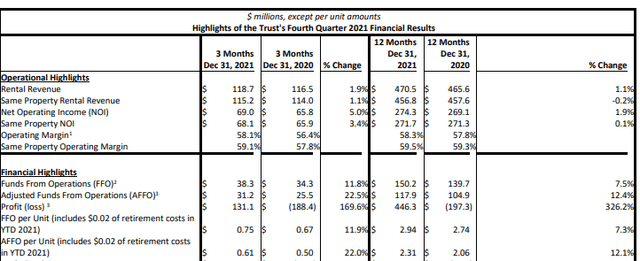 The leverage from that 2% rent revenue growth to the 22.5% adjusted FFO (AFFO) growth was just astounding to see. With the level of inflationary headwinds we have seen in the last 18 months, this deserves some respect. Yes, the rental market is tight but so is the labor market and costs are rising rapidly.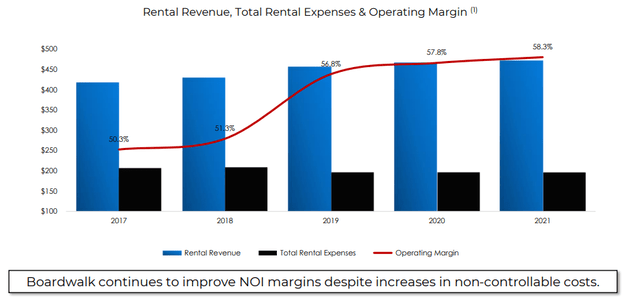 Boardwalk has not taken its eye off the ball here and this bodes well for future success. The cherry on top was the 8% increase in the distribution rate. This takes the annual rate to $1.08. That's obviously still not anything yield chasers will get excited about, but we like the disciplined capital return.
Outlook
Outside of Quebec City, Boardwalk reported strong occupancies across the board. That specific city has some extensive repositioning underway and occupancies should start improving by end of 2022.

The good part here, is that there is still room for perhaps 2% points of gains in the portfolio. Boardwalk is guiding for a 5% net operating income (NOI) increase and that looks feasible just on the 2021 momentum.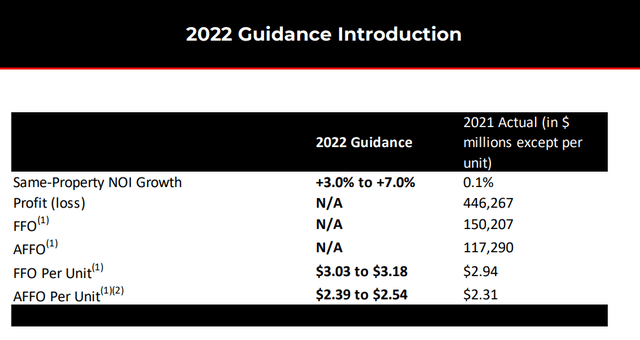 2022 will be a bit different than 2021 though. The rather brisk leverage from NOI to FFO will be absent for one. If you observe, at the low end the FFO increase is just 1% over Q4-2021 (75 cents X 4) annualized rate. So this is actually dropping below the NOI growth rate and by a significant amount. The second aspect is that as maintenance costs rise, AFFO will be impacted even more. At the low end AFFO is under the Q4-2021 (61 cents X 4) annualized rate. This is a normal part of the cycle as things tighten up. Investors should not expect that leverage to keep playing out.
One of the most important aspects of the investment case for Boardwalk is the interest rate exposure. As a heavily leveraged REIT, the risks are always there for runaway interest rates to rapidly stomp the bull party. On that front as well, Boardwalk has used the time well and interest coverage has now approached 3.0X.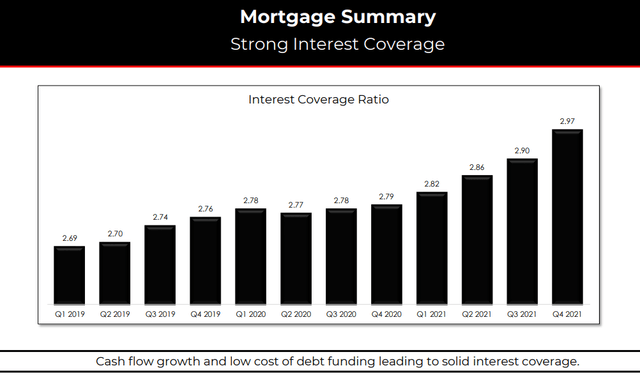 That said, the interest rate party is definitely coming to an end. Boardwalk will now face a whole new ballgame compared to what it got previously.
The Trust utilized the low interest rate environment in 2021 to renew and refinance its mortgage maturities at interest rates well below the maturing rates. In 2021, Boardwalk renewed its maturing mortgages at a weighted average interest rate of 1.75%, 77 basis points below the maturing rate average of 2.52%

In 2022, the Trust anticipates $445.2 million of mortgages payable maturing with an average in-place interest rate of 2.67%. Current market 5 and 10-year CMHC financing rates are estimated to be 2.50% and 2.80%, respectively, providing a positive interest cost savings opportunity with medium duration mortgages. To date, the Trust has forward-locked or renewed the interest rate on $41.6 million or 9% of its maturing mortgages in 2022 at an average interest rate of 2.44%.
Source: Q4-2021 Press Release
The REIT should still be perfectly fine for 2022, but as we move further out, it will come into some mortgage rates that will get a rude bump up.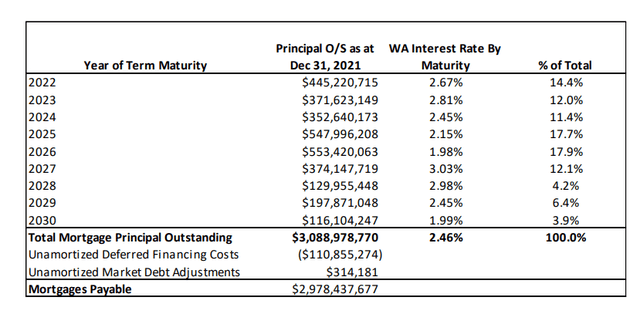 Valuation & Verdict
The stock is trading at under 19X FFO and that is attractive for a residential REIT. The Western Canada focus is generally attractive in this high inflation environment as that is the place where you typically see the most wage gains. There is the longer term threat from conversion of vast swaths of empty office space, but that likely won't impact the market in the next two years. The risk from an interest rate spike remains, but rents are still way cheaper than the costs to purchase a home. We think a good modicum of pricing power remains with landlords and outside of interest rates going really vertical, Boardwalk should be fine.
The REIT is currently trading at slightly under its tangible NAV.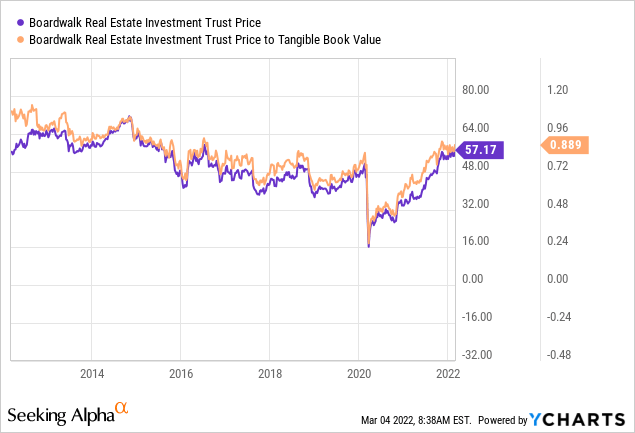 This is an area where we have disagreed with the company's numbers in the past. The jump in replacement cost values and the rising rents though have allowed actual values to catch up with Boardwalk's marking. Our own calculation of NAV now aligns more closely with Boardwalk's.
Overall, we like the prospects of the company and think there can be some more upside to be had. We are maintaining a neutral or hold rating as we think there are better prospects in REIT land.
Please note that this is not financial advice. It may seem like it, sound like it, but surprisingly, it is not. Investors are expected to do their own due diligence and consult with a professional who knows their objectives and constraints.