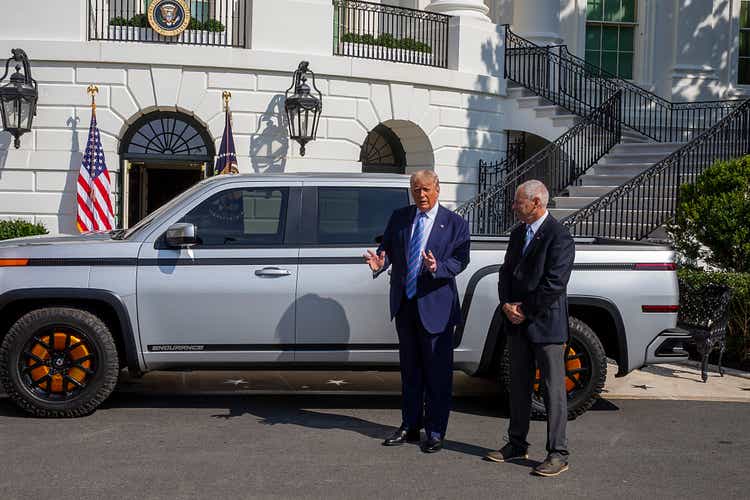 On Monday, shares of embattled electric vehicle ("EV") start-up Lordstown Motors (NASDAQ:RIDE) sold off after the company stumbled to close a proposed strategic partnership with Hon Hai Technology Group, better known as "Foxconn".
While the company has allegedly made good progress on the contract manufacturing agreement for its "Endurance" pickup truck, Foxconn appears to be reluctant to consent to the proposed terms of a joint product development agreement using its so-called Mobility-in-Harmony ("MIH") platform likely because Lordstown Motors wants Foxconn to provide additional capital:
We believe that any joint product development agreement with Foxconn would also need to incorporate an appropriate funding structure that enables us to raise the additional capital necessary to bring the Endurance into production as well as fund new vehicle development. We continue to explore all financing alternatives as we will need substantial funding to execute our operating plan that is anticipated to use significant capital for the foreseeable future.
Quite frankly, there's no real incentive for Foxconn to enter into a joint product development agreement as Lordstown Motors doesn't appear to bring much if anything to the table other than the technology behind its unproven Endurance pickup truck.
Foxconn's apparent main focus is to acquire a large-scale U.S. production facility as the company has agreed to manufacture the Fisker Pear starting in 2024.
Foxconn has already made aggregate down payments of $150 million against the stated $230 million purchase price for the Lordstown facility with another $50 million being due on April 15 at the latest point. In October, Foxconn also acquired 7.2 million newly issued shares of Lordstown Motors for net proceeds of $50 million.
On the Q4 conference call, management revealed $250 million in additional funding needs to execute on its operating plan for this year.
As disclosed in the company's annual report on Form 10-K, Lordstown Motors has struggled to raise capital due to number of issues:
However, thus far, our access to additional capital has been limited. Numerous factors, including the significant amount of capital required, the fact that our bill of materials is currently, and expected to continue to be, substantially higher than our anticipated selling price, uncertainty surrounding regulatory approval and the performance of the vehicle, along with meaningful exposure to material losses related to ongoing litigation and the SEC investigation, among other factors are impeding our ability to raise capital.
At the end of December, Lordstown Motors had cash and cash equivalents of $244 million subject to a minimum liquidity requirement of $30 million under the Foxconn asset purchase agreement.
If the asset purchase agreement is terminated or if the transaction does not close prior to the later of (i) April 30, 2022 and (ii) 10 days after the transaction is cleared by CFIUS, Lordstown Motors is obligated to repay all down payments to Foxconn plus accrued interest.
Please keep in mind that Foxconn holds a first priority security interest in substantially all of the company's assets:
We have granted Foxconn a first priority security interest in substantially all of our assets to secure the repayment and other obligations under the APA. Should we default on our obligations or the APA does not close, we are unlikely to have sufficient available cash to repay Foxconn's down payments. As a result, Foxconn may exercise its rights under the APA, including, but not limited to foreclosing on its liens on some or substantially all of the Company's assets. Under such circumstances, we would not likely be able to continue as a going concern or realize any value from our assets.
The severe drop in the company's share price over the past couple of months has also resulted in substantially reduced funding availability under its $400 million equity purchase agreement with YA II due to an exchange cap prohibiting the company issuing more than 19.9% of its outstanding common shares as of the date of the agreement. At current share prices, maximum remaining proceeds would calculate to below $60 million.
Moreover, Lordstown Motors currently isn't eligible for an Advanced Technology Vehicles Manufacturing ("ATVM") loan given the requirement to demonstrate its viability as a company.
In FY2022, the company will only produce approximately 500 Endurance trucks to limit losses with an expected increase to 2,500 units in 2023 after substantial investments in hard tooling this year.
Lordstown Motors has also raised pricing for the Endurance pickup truck by 20% to $63,500 for the standard version which doesn't exactly make the vehicle more appealing to customers.
Bottom Line
At least in my opinion, we are already approaching the end of the Lordstown Motors story.
There's no real incentive for Foxconn to agree to a joint product development agreement with Lordstown Motors and provide additional funding to the ailing company as its primary target remains the Lordstown facility.
Given Lordstown Motors' stated inability to repay the down payments, Foxconn could simply walk away from the negotiations and subsequently foreclose on the plant and all of the company's remaining assets.
At this point, I would expect the negotiations with Foxconn to collapse and the company to file for bankruptcy subsequent to the April 30 closure deadline.
Even with the share price at all-time lows, the company's market capitalization of well above $400 million still leaves plenty of flesh on the bone for a short sale, particularly given current negligible borrowing rates.
That said, should Foxconn indeed agree to a joint product development and related funding agreement, shares are likely to rally.
Given this risk, only the most speculative investors should consider taking a short position in Lordstown Motors at this point.
My firm expectation is for the shares to end up being worthless in the not too distant future.