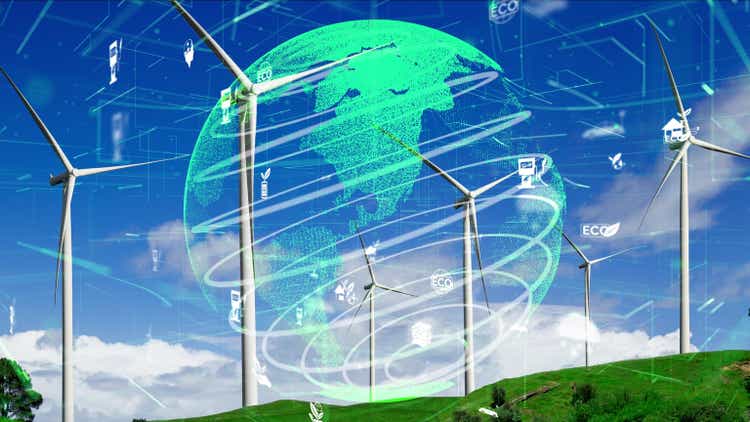 The Canada based Algonquin Power & Utilities Corp (NYSE:AQN) runs a regulated business comprising natural gas, electric, wastewater collection and water utility systems and operations. It also runs a renewable business that generates and sells power produced by its wind, hydroelectric, thermal and solar facilities. A 44% ownership in the impressive Atlantica Sustainable Infrastructure PLC (AY) is part of its roster. While it operates primarily in Canada and the US, it has a presence in Chile and Bermuda too.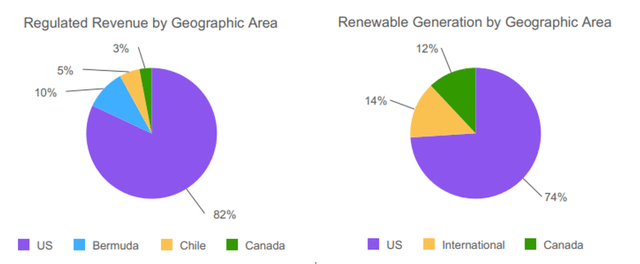 The first time we covered this company back in July 2021, we held it via covered calls. Our thinking was laid out in the conclusion:
We do own AQN which we bought on the TSX after the swoon associated with the large secondary offering. We did buy it but immediately sold the October covered calls on it. That fits with our thinking that AQN is at the investment threshold and we are happy to own it around this price and make income off the dividends and covered calls
Source: Algonquin Power & Utilities: A Renewable Growth Story
Those shares were called away, but we got back in when AQN acquired regulated assets in Kentucky and it dived into our buy zone. Although bullish on the stock in November, we cautiously concluded:
This deal actually removes some upside potential as a result and based on the stretched credit metrics, AQN is in dangerous territory. What this will most likely result in is that AQN will have to issue more equity at bad prices or sell assets at unattractive prices to keep credit metrics stable. We think it can still be part of a renewables portfolio and it is probable that you can get 7-8% total annual returns from here. We see that probability moving up significantly if one were to use covered calls to enhance those returns and that is precisely what we are doing.
Source: Algonquin Power & Utilities: Acquisition Indigestion
AQN has outperformed its renewable counterparts since then.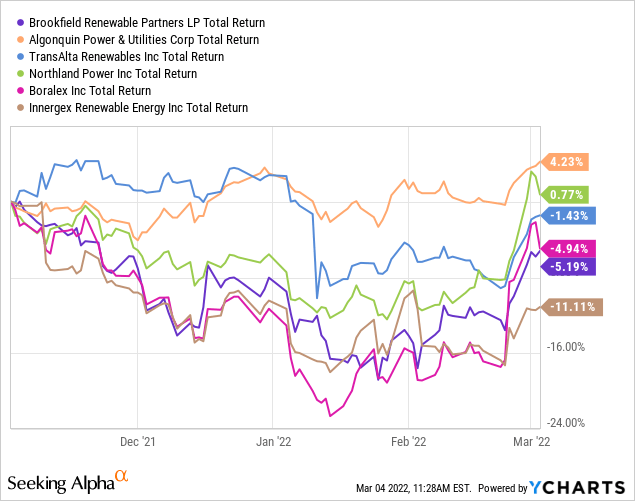 While lagging the comparable regulated plays.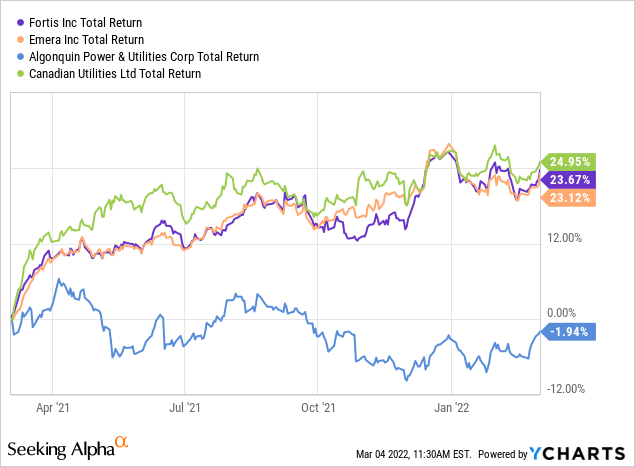 We talk about the now next and conclude with where we stand.
Q4-2021
AQN delivered results in line with expectations. Investors have got starry eyed in the past with the revenue growth and AQN did not disappoint there with a 36% annual gain.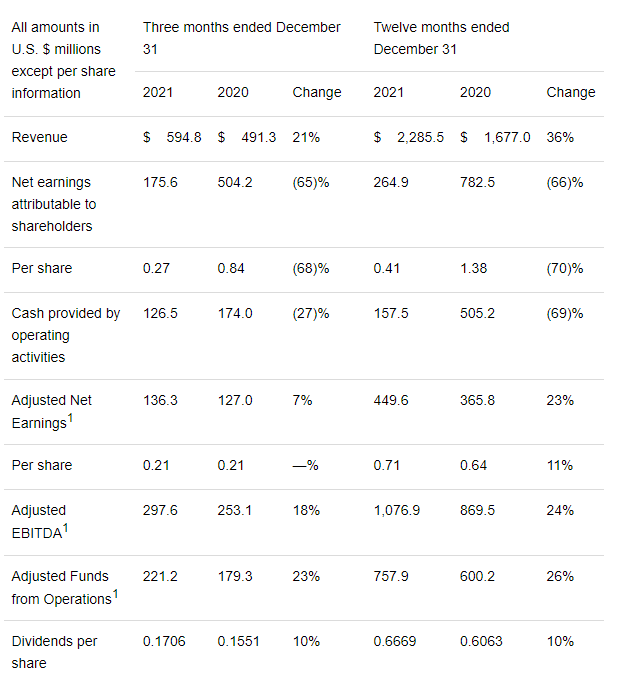 The entire alphabet soup of adjusted metrics was less impressive. As it often happens, revenue growth is never the same as earnings growth. Nonetheless, the jump in adjusted EBITDA and the adjusted funds from operations (AFFO) was close enough to the revenue trend. From a shareholders perspective, the most important thing is the AFFO or adjusted earnings per share and those unfortunately were nowhere as impressive. Nonetheless, a 10% growth in AFFO per share would keep most people happy and we got that.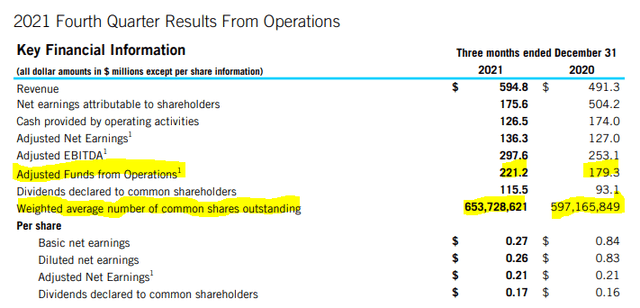 The AFFO per share also comfortably covered the dividends.
Guidance
AQN's guidance took into account the completion of the New York American Water acquisition that closed on January 1, 2022. The Kentucky Power purchase is still moving through its regulatory hurdles and a mid-2022 timeline is anticipated to bring this into the fold. AQN has raised all the funds it needs for this though.

Over the next five years AQN plans on a huge capital deployment split in favor of regulated energy assets vs the renewable energy assets.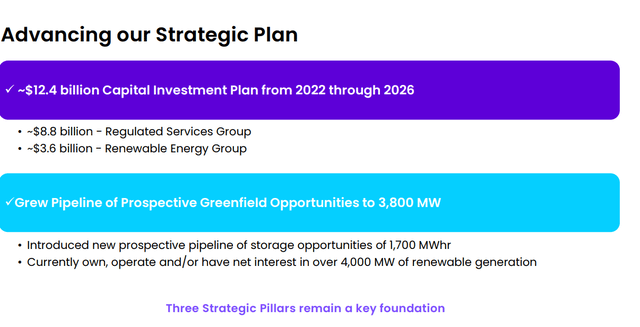 These numbers though are including the amount to be spent for Kentucky Power. That is still more than half of the current enterprise value.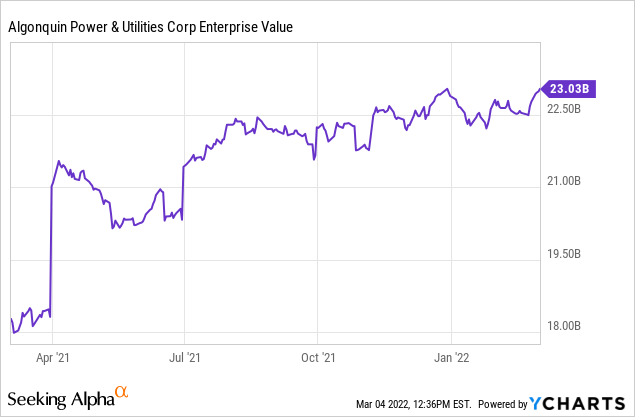 AQN has very little internal funding as a good deal of their cash flow goes towards dividends. So AQN will be coming back repeatedly to the market to raise cash and that is generally the only big risk we see with this name. As long as the funding markets are open and AQN does a modestly good job of balancing the equity and debt raises, things should be fine. The key mistake that can be made here is management emphasizing debt over equity and that often craters the whole house.
Valuation & Verdict
AQN due to its blended nature is hard to value versus either peer group of renewable energy or regulated utilities. Using 2:1 split ratios on the EBITDA though, and running comparatives, shows that AQN is slightly undervalued versus its weighted peer groups. AQN's dividend yield is also competitive, but investors are likely to be extremely disappointed with growth rates of this dividend.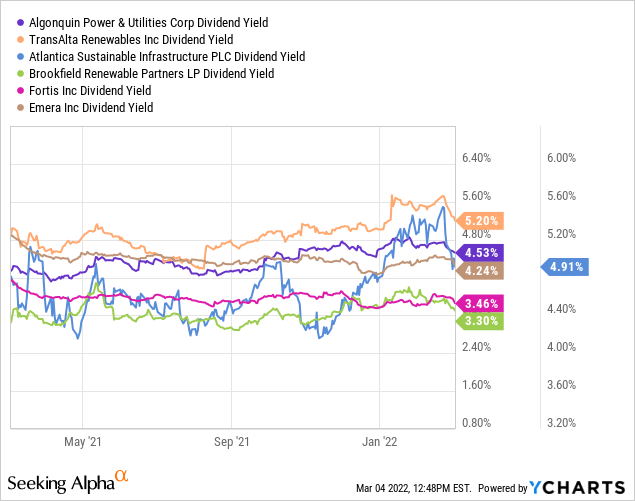 Yes, AQN did achieve spectacular dividend growth in the past, but at this point with interest rates moving up and an aggressive growth plan ahead, we think AQN will retain a lot more of its hard earned capital. Net Debt to EBITDA which includes a lot of project specific and non-recourse debt is still near the 7.5X mark. Expect an emphasis to bring this down over time and that will likely require less growth in dividends. Our fair value here comes to about $15.50/share on the US exchange and that works out to around $20 on TSX. We currently own the shares and the latest round of calls we have sold should also expire worthless, barring a good spike in the stock. For fresh money, we think that TransAlta Corporation (TAC) is a better prospect at these levels and that is the one we are keeping an eye on.
Please note that this is not financial advice. It may seem like it, sound like it, but surprisingly, it is not. Investors are expected to do their own due diligence and consult with a professional who knows their objectives and constraints.