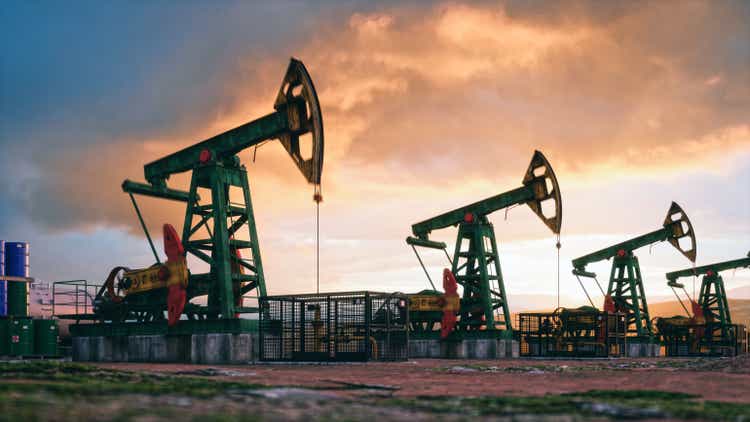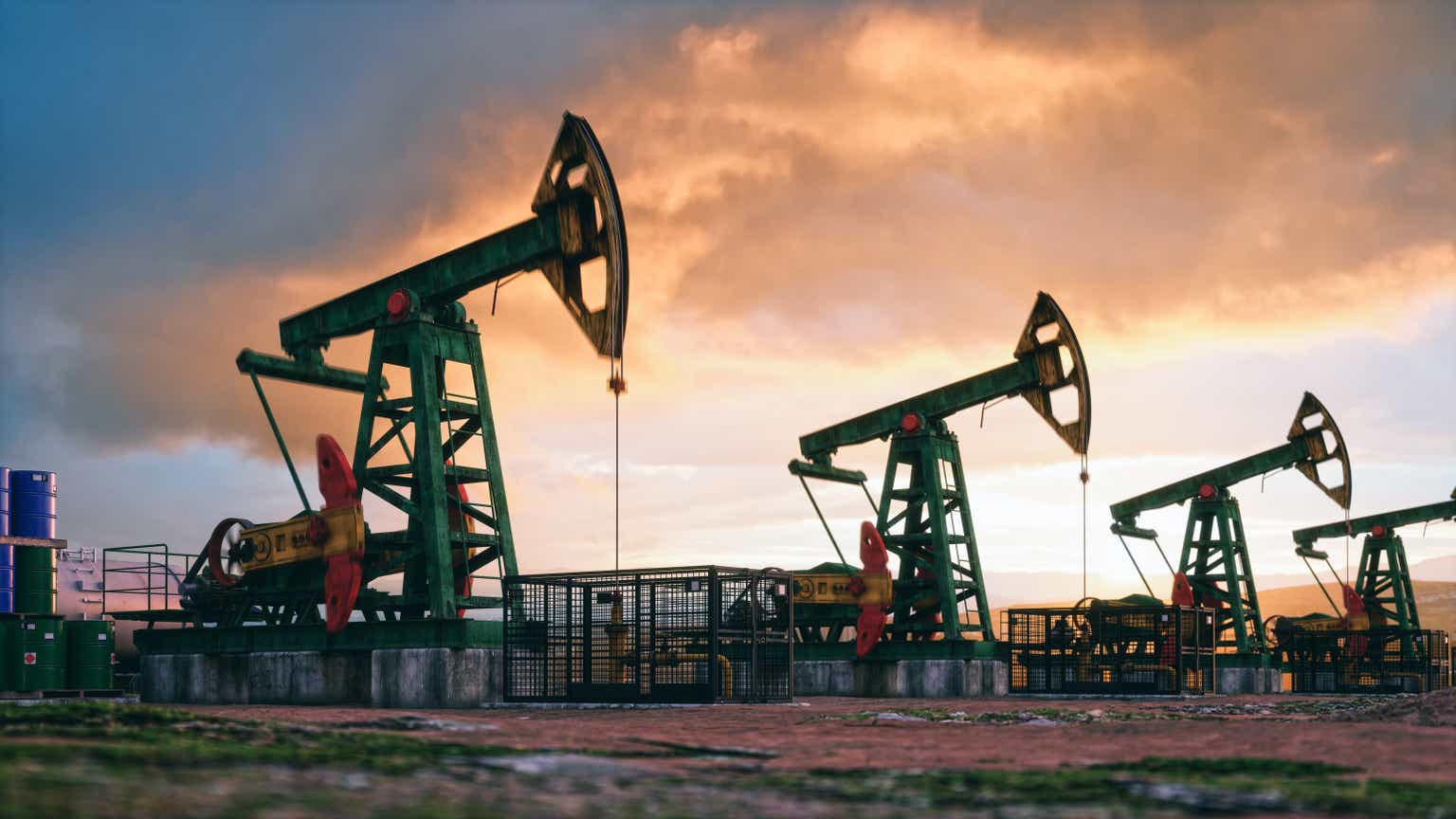 Introduction
Houston-based APA Corp. (NASDAQ: NASDAQ:APA) released its fourth-quarter and full-year 2021 results on February 21, 2022.
1 - 4Q21 and full-year 2021 results snapshot
During the fourth quarter of 2021, APA reported a net income attributable to common stock of $382 million, or $1.05 per share on a fully diluted basis. When adjusted for certain items that impact the comparability of results, APA's fourth-quarter earnings totaled $468 million or $1.29 on a diluted share.
Net cash provided by operating activities was $1,085 million, and adjusted EBITDAX was $1,267 million this quarter.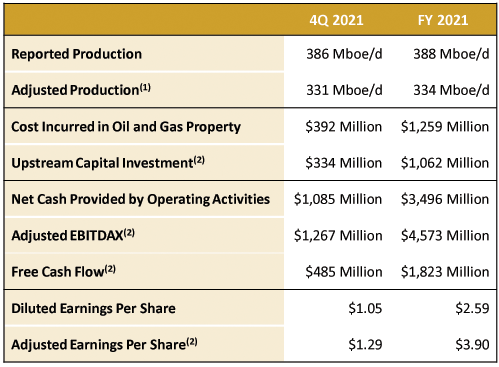 It was a solid quarter supported by healthy oil prices, reaching $78.52 per barrel this quarter compared to $43.21 a year ago.
CEO John Christmann said in the conference call:
we demonstrated the robust cash flow capacity of our base business. We entered 2021 with a plan to generate around $350 million of free cash flow assuming $45 WTI. By being mostly unhedged and with the benefit of a $68 average WTI price tailwind, free cash flow exceeded our plan by nearly $1.5 billion and came in at $1.8 billion for the year. This represents the highest annual free cash flow in more than a decade and is one of the highest in the company's 67-year history.
For the full-year 2021, APA reported a net income of $973 million, or $2.59 per diluted common share. On an adjusted basis, APA's 2021 earnings totaled $1.46 billion or $3.90 per diluted common share.
APA continues to streamline its portfolio in 2021, selling $256 million of non-core assets in the Permian Basin. The company also recently signed an agreement to sell $805 million of mineral rights in the Delaware Basin, which is expected to close by the end of February
2 - Investment thesis
The investment thesis is more apparent with oil prices over $118 per barrel. APA continues to be an excellent long-term E&P oil and gas producer stock, and it makes sense to keep a medium long-term position. The company pays a quarterly dividend of $0.125 per share or a 1.31% yield.
Russia's illegal invasion of Ukraine is creating an exceptional situation that we could call a grey swan. The White House is now considering a ban on Russian oil imports.
The United States imported 12.5 million barrels-or 405,000 bpd - of Russian crude oil and crude oil products in December, according to the Energy Information Administration's latest monthly data. For straight Russian crude oil, the United States imported 90,000 bpd.

Crude oil production in the United States has stagnated at 11.6 million bpd according to the latest EIA data, down from 13.1 million bpd prior to the pandemic.
However, if you look at the chart, we can see that it is crucial to trade short term 30%-40% of your long position. Oil prices are exploding right now, but we all know that it is temporary, and with high oil prices, the world economy will run out of steam which will lower demand.
3 - Stock performance
Let's compare APA to the SPDR S&P Oil & Gas Exploration & Production ETF (NYSEARCA: XOP) and a few other E&P oil and gas companies (e.g., Murphy Oil (NYSE: MUR) or Marathon Oil (NYSE: MRO)).
We can see that APA has followed the group and is up only 96% on a one-year basis.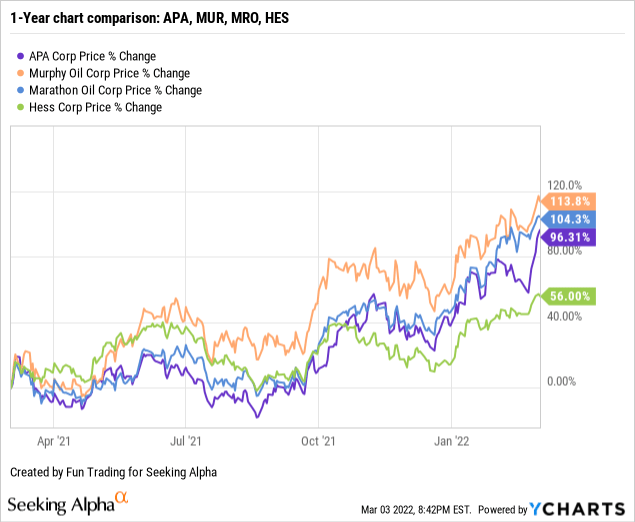 Balance sheet and production history for 4Q21: The raw numbers
| | | | | | |
| --- | --- | --- | --- | --- | --- |
| APA | 4Q20 | 1Q21 | 2Q21 | 3Q21 | 4Q21 |
| Total Revenues and others in $ Billion | 1.289 | 2.092 | 1.782 | 1.651 | 2.403 |
| Net Income in $ Billion | 0.03 | 0.41 | 0.34 | -0.08 | 0.38 |
| EBITDA $ Billion | 0.57 | 1.07 | 0.95 | 0.56 | 1.08 |
| EPS diluted in $/share | 0.03 | 1.02 | 0.82 | -0.30 | 1.05 |
| Cash from Operating activities in $ Million | 498 | 671 | 969 | 771 | 1,085 |
| CapEx in $ Million | 197 | 256 | 306 | 236 | 315 |
| Free Cash Flow in $ Million | 301 | 415 | 663 | 535 | 770 |
| Total cash $ Billion | 0.26 | 0.54 | 1.25 | 0.38 | 0.30 |
| Total LT Debt in $ Billion | 8.77 | 8.72 | 8.64 | 7.41 | 7.51 |
| Dividend per share in $ | 0.025 | 0.025 | 0.025 | 0.025 | 0.025 |
| Shares outstanding (diluted) in Million | 378 | 379 | 379 | 379 | 363 |
| Oil Production | 4Q20 | 1Q21 | 2Q21 | 3Q21 | 4Q21 |
| Total Oil Equivalent in K Boepd | 410.8 | 382.4 | 395.2 | 389.0 | 385.6 |
| International | 177.8 | 172.3 | 153.7 | 151.5 | 187.6 |
| USA | 233.0 | 210.1 | 241.5 | 237.5 | 228.0 |
| Global liquid price ($/Boe) | 43.21 | 59.62 | 66.40 | 71.72 | 78.52 |
| Global Natural gas price ($/MMBtu) | 2.27 | 4.14 | 2.99 | 3.87 | 4.95 |
Source: Company filing
Note: historical data since 2015 are only available to the Gold and Oil Corner subscribers.
Analysis: Revenues, Earnings Details, Free Cash Flow, And Oil Production
1 - Revenues and others were $2,403 million in 4Q21
APA reported a net income attributable to common stock of $382 million or $1.05 per diluted share during the fourth quarter of 2021.
4Q21 total revenues and others were $2.403 billion (with oil revenues of $2.299 billion), up from $1.289 billion the same quarter a year ago.
One crucial positive element is that the global liquid price jumped to $78.32 per barrel in 4Q21 compared to $71.72 in 3Q21, as shown in the chart below. The global liquid price will probably be above $90 a barrel in 1Q22.
2 - Free cash flow was a gain of $770 million in 4Q21
Note: The generic free cash flow is the cash from operating activities minus CapEx. The company has a different way of calculating the free cash flow.
Trailing twelve-month free cash flow is now $2,383 million, with a free cash flow of $770 million for the fourth quarter.
The company is increasing the dividend payout and implementing a stock buyback program.
In the fourth quarter, we returned well in excess of 100% of our free cash flow to shareholders, mostly through stock buybacks. We had to fund a portion of this on our revolver and had the confidence to do so given the robust price environment coupled with our expectation of significant near-term divestment proceeds.
3 - Net debt is now $7.208 billion in 4Q21 (Including Altus)
As of December 31, 2021, net debt was $7.510 billion on a consolidated basis. The debt includes Altus debt. APA's standalone long-term debt is $6.853 billion.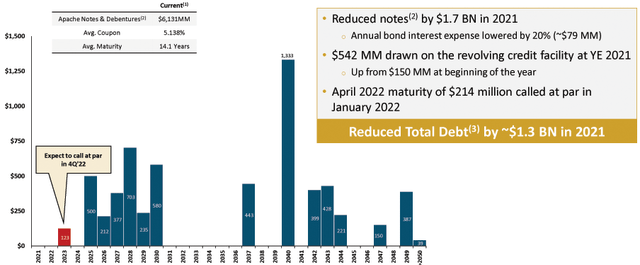 The company is focusing on cutting the debt, which I support. As we can see in the graph above, the net debt is going down and will be even better in the next quarter.
Stephen Riney said about Altus Midstream's balance sheet in the conference call:
As a result, fourth quarter 2021 should be the final quarter for APA to consolidate Altus Midstream's balance sheet. This will eliminate the consolidation of approximately $1.4 billion of Altus' debt and redeemable preferred equity. Depending on how you model them, this could have a significant impact on APA debt metrics and multiples related to enterprise value.
4 - Oil-equivalent production was 385.63K Boepd in 4Q21 which comprises 64% liquids.
As we can see, the oil equivalent production has been declining for the past few years. APA exceeded U.S. production guidance with solid well performance in the Permian. The DUC program completed mainly in the first half of 2021 provided a significant production boost that will not be replicated in 2022.
A few production highlights this quarter:

4.1 - Block 58 in Suriname continues to be very promising.
The company is planning to spud in March the first well in Block 53, as shown in the map below:

The project will take about five to seven years to produce the first oil.
4. 2 - Production details per segment
Production in the USA is the most important one for the company, with 228K Boepd in 4Q21 or 59.1% of the total output.
In the North Sea, production dropped 30.6% to 42,696 Boepd, and Egypt production was 114,943 Boepd, up 3.7% year over year.
5 - Guidance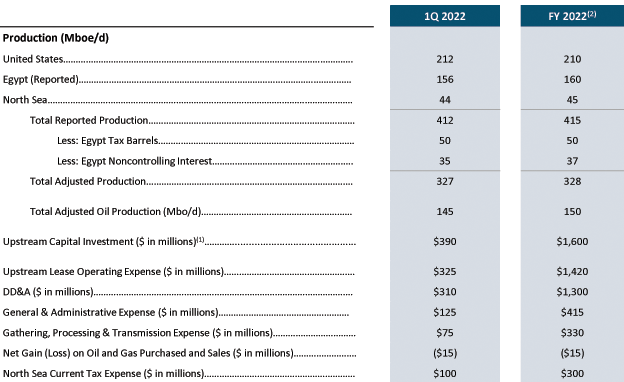 CEO John Christmann said in the conference call:
Our capital program for 2022 will be approximately $1.6 billion, a slight increase from our prior view. This includes some small changes to the timing of the rig count increases in Egypt and in the U.S. as well as an updated view of inflation. This amount also includes $200 million for exploration and appraisal activities, mostly in Suriname. In 2023 and 2024, capital increases a little further despite a mostly unchanged activity set as we expect continued inflationary pressures. Over the 3-year period, we're planning on an aggregate capital investment of around $5 billion.
Commentary and Technical Analysis
Note: The chart has been adjusted for the dividend.
APA forms an ascending channel pattern with resistance at $40 and support at $33.1.
The short-term trading strategy is to regularly trade LIFO about 30%-35% of your position. I suggest selling between $40 and $40.5 and waiting for a retracement below $33.4.
However, this simple strategy will have to be adjusted depending on the situation in Ukraine. A cease-fire could affect oil prices, and conversely, if Russia starts to bomb Ukraine indiscriminately, it could push the US and its allies to get more active in Ukraine, pushing the oil prices above $125 or more.
This situation is temporary, and it is paramount to use this turmoil as an excellent opportunity to take profit and build a cash cushion if the world economy falls back into recession due to an energy bottleneck.
Watch oil prices like a hawk.
Warning: The TA chart must be updated regularly to be relevant. The TA chart is updated regularly for my subscribers, who access it through my stock tracker.
Author's note: If you find value in this article and would like to encourage such continued efforts, please click the "Like" button below as a vote of support. Thanks!