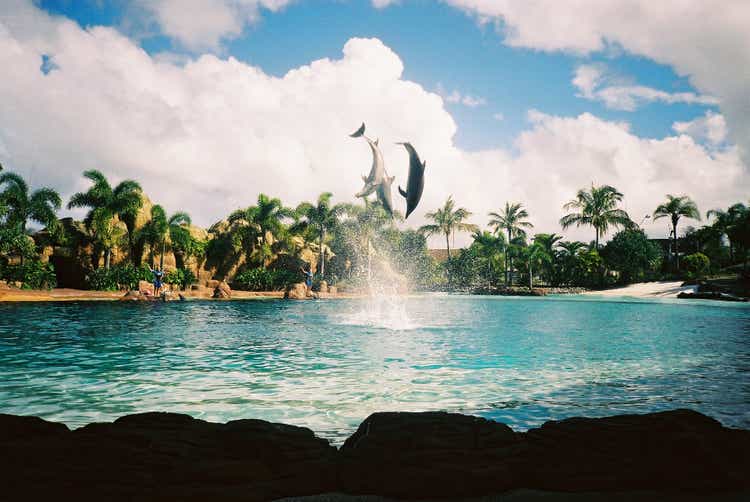 One of the most iconic theme park operators in the world has got to be SeaWorld Entertainment (NYSE:SEAS). Just like many of the other players in the space, this particular entity was hit hard by the COVID-19 pandemic. Fortunately for investors, the worst for the company has since passed and management has done well to steer the company through the crisis. Based on the data provided, the company has made not just a full recovery but has also managed to surpass results achieved in prior years due in large part to the incredible pricing power the company has exhibited when it comes to what it charges for admission to its theme parks and for the products and services it sells through them. Although shares of the company might look rather pricey from an earnings perspective, they are currently priced at a level, from a cash flow perspective, that makes them rather appealing.
Recent developments are great
The last time I wrote about SeaWorld Entertainment was in an article published in early December of 2021. In that article, I called the company an appealing turnaround prospect based on financial performance the company had achieved as the 2021 fiscal year was coming to an end. As a result of this, I rated the company a 'buy', indicating that future upside should handily surpass what would be achieved by the broader market. Since the publication of that article, my call has been accurate. While the S&P 500 has declined by 7.2%, investors in SeaWorld Entertainment have experienced upside of 3.6%.
This increase in value was not without cause. In fact, what data was provided for the company's final quarter of its 2021 fiscal year, the only quarter for which data is now available that was not available at the time of my prior article's publication, was highly encouraging. For instance, revenue for the company came in at $370.8 million. That was more than double the $154.1 million generated in the final quarter of the company's 2020 fiscal year. A big contributor to this increase with a surge in the company's admissions, with attendance rising from 2.1 million to 5 million. As a result of that strong quarter, revenue for the full 2021 fiscal year was $1.50 billion. That's more than triple the $431.78 million achieved in 2020 and it represents an increase of 7.4% compared to the $1.40 billion that revenue peaked at in 2019.
During the pandemic, SeaWorld Entertainment suffered significantly, with attendance at its theme parks plunging to just 6.37 million for the company's 2020 fiscal year. That compares to the 22.62 million the company experienced in 2019. Although the early part of 2021 was still rather challenging for the enterprise, total attendance for the full fiscal year was 20.2 million. That suggests an almost complete turnaround compared to the pre-pandemic years. However, the company has also benefited from one other improvement. And this was on the revenue per capita that it generated. For the full 2021 fiscal year, this number came in at $74.43. That was driven by an increase in both in-park per capita spending and by admissions revenue per capita. By comparison, spending in the company's 2020 fiscal year was $67.75, while the spending in 2019 was $61.80. Although these differences may not seem significant, if the company were to achieve the attendance level received in 2019 with the revenue per capita achieved in 2021, sales would be $295.70 million higher than what the company achieved in 2019. And because the company was already profitable, much of that would have been in the form of excess cash flow.
Revenue is not the only thing that has fared well recently. Net profits in the final quarter of 2021 came in at $71.5 million. That compares to the $45.5 million loss achieved one year earlier. This brought total net profits up to $256.5 million. By comparison, in 2020, the company lost $312.3 million, while in 2019 its profits were $89.48 million, which represented the best year for the business in at least five years. Operating cash flow of $86.6 million in the final quarter of 2021 crushed the negative $13.1 million generated in the final quarter of 2020 and brought full-year operating cash flow up to $503 million. By comparison, in 2020, cash flow was negative $120.7 million, while in 2019 it was positive to the tune of $348.4 million. And the last profitability metric we should pay attention to is EBITDA. In 2021, it came in at $662 million, up from the negative $73.2 million generated in 2020 and compared to the $456.9 million achieved in 2019. This was due in large part to the $152.8 million in EBITDA the company achieved in the final quarter of 2021, up from the $22.7 million achieved one year earlier.
Factoring in recent financial performance for the company, shares of the business look rather cheap in two out of three ways. On a price-to-earnings basis, the company is a bit lofty with a multiple of 20. However, the price to operating cash flow multiple comes in at 10.2, while the EV to EBITDA multiple is 10.3. To put the pricing of the company into perspective, I decided to compare it to five similar firms. Three of these five companies actually had positive results. On a price to operating cash flow basis, these companies ranged from a low of 10.8 to a high of 36.1. And on an EV to EBITDA basis, the range was 12.3 to 42.7. In both cases, SeaWorld Entertainment was the cheapest of the group.
One final note I should make is that it is always possible that SeaWorld Entertainment will undergo a significant transformation. In the near term, however, this appears unlikely. This is because management recently made a bid to acquire Cedar Fair (FUN) in a transaction valued at $63 per share or $3.58 billion. This follows a prior bid for the company of $60 per share. Unfortunately, Cedar Fair turned down the offers, indicating that their shares might be worth more, at least in their eyes, than what SeaWorld Entertainment was willing to pay. Of course, for investors in Cedar Fair, this should come as no surprise. Because, after all, in 2019, the company turned down an offer to be acquired by Six Flags Entertainment (SIX) in a transaction valued at $70 per share or $4 billion. Most recently, SeaWorld Entertainment said that they see a transaction taking place at this time as unlikely. Having said that, the company is working to create shareholder value in other ways. In the final quarter of 2021, the company purchased 2.2 million shares of its own stock on the market, valued at $133 million. This brought total purchases for the 2021 fiscal year at 3.73 million shares, totaling $215.7 million. Continued buybacks of stock could help to boost shares further.
| | | |
| --- | --- | --- |
| Company | Price / Operating Cash Flow | EV / EBITDA |
| SeaWorld Entertainment | 10.2 | 10.3 |
| Planet Fitness (PLNT) | 36.1 | 42.7 |
| Allied Esports Entertainment (AESE) | N/A | N/A |
| Cedar Fair (FUN) | 15.9 | 18.7 |
| Hall of Fame Resort & Entertainment Company (HOFV) | N/A | N/A |
| Six Flags Entertainment (SIX) | 10.8 | 12.3 |
Takeaway
Based on the data provided, I remain confident that SeaWorld Entertainment represents an attractive opportunity for long-term, value-oriented investors. The company has staged a remarkable turnaround and the pricing achieved by the business is impressive. So long as current trends persist, shares of the business look cheap enough to warrant additional upside in the foreseeable future.