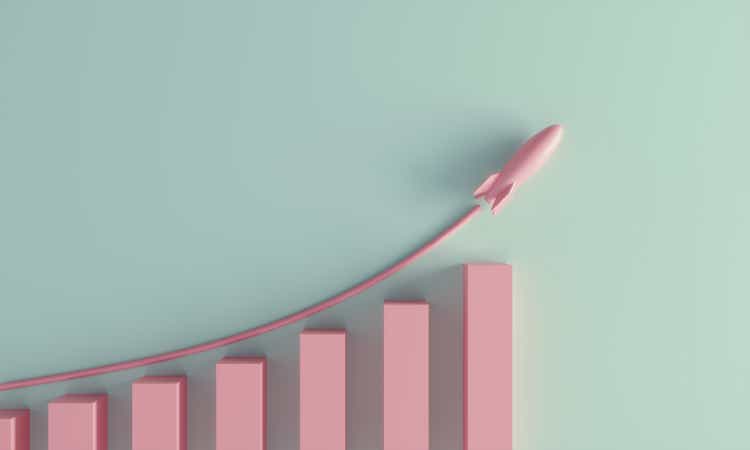 Aside from a steadily increasing stream of passive income, the major benefit to investing in dividend growth stocks is that they tend to hold up better in periods of market volatility.
Hershey (NYSE:HSY) is an example to support this argument. While the S&P 500 index has dropped 10% year-to-date for various reasons, Hershey's stock has increased 10% during that time.
Unfortunately, Hershey's impressive performance year-to-date appears to have stretched the valuation. I'll dig into Hershey's fundamentals, valuation, and risks to flesh out why I am downgrading the stock from a buy to a hold.
Hershey's Dividend Payout Ratio Is Flawless
Hershey boasts a 10-year annual dividend growth rate of 9.5%, which undoubtedly makes it a strong dividend growth stock. But how safe is Hershey's payout and can high-single-digit annual dividend growth continue?
Hershey's 1.70% dividend yield is moderately lower than the confectioners industry average yield of 2.01%. This points us toward the conclusion that Hershey's dividend is unlikely to be cut. But what about its payout ratio?
Hershey recorded $7.19 in adjusted diluted EPS in 2021 (according to page 2 of Hershey's Q4 2021 earnings press release) against $3.41 in dividends per share that were paid out during the year. This equates to an adjusted diluted EPS payout ratio of 47.4%. Since Hershey retains over 50% of its earnings, the company should have no difficulty in driving earnings even higher by completing bolt-on acquisitions, repaying debt, and executing share repurchases.
Hershey is forecasting $7.91 in midpoint diluted EPS guidance for 2022 and I expect that $3.78 in dividends per share will be paid this year (assuming a 10% increase in the quarterly dividend to $0.991 per share in July). This is equivalent to a 47.8% adjusted diluted EPS payout ratio, which is unchanged from last year.
Since analysts are forecasting 9% annual earnings growth over the next five years for Hershey, the stock should be able to maintain robust dividend growth going forward. That's why I'm reiterating my prediction of 8% annual dividend growth over the long haul.
2022 Will Be An Encore To A Masterful 2021
Hershey's financial results that it delivered for shareholders in 2021 were exemplary.
Hershey reported $8.97 billion in net sales during 2021, which was a 10.1% increase over the year-ago period (data sourced from page 17 of Hershey's Q4 2021 earnings press release). How was the company able to generate healthy revenue growth last year?
Hershey's portfolio of iconic brands like Hershey chocolate, Almond Joy, and Twizzlers continued to be preferred by consumers in 2021. This was supported by the fact that Hershey's organic constant currency sales grew by 8.7% over 2020 (details according to page 2 of Hershey's Q4 2021 earnings press release).
And Hershey's acquisitions of companies like Pretzels and Dot's last year contributed to another 1% of this net sales growth. The remaining 0.4% of year-over-year net sales growth originated from favorable foreign currency translation (all figures per page 2 of Hershey's Q4 2021 earnings press release).
Hershey's adjusted diluted EPS increased 14.3% to $7.19 in 2021. The company's larger revenue base and a 40-basis point increase in non-GAAP operating profit margin to 22.9% accounted for this solid growth (data points sourced from pages 12 and 11 of Hershey's Q4 2021 earnings press release).
Hershey had a great 2021. But with the company anticipating midpoint 9% net sales growth and 10% adjusted diluted EPS growth, 2022 will be even better. The company's guidance seems reasonable considering that 2022 will be the first full year of Hershey owning Pretzels and Dot's. This is expected to be a 3% to 4% boost to its net sales growth for the year, with the remainder of growth coming organically (all details according to page 2 of Hershey's Q4 2021 earnings press release).
Hershey also possesses a sturdy balance sheet, which is backed up by a net debt to EBITDA ratio of 1.98 in 2021. For context, this is much better than the competitor Mondelez's (MDLZ) net debt to EBITDA ratio of 2.71 last year.
Taking these factors into consideration, I believe that Hershey could be a lucrative long-term investment at or below the fair value of its shares.
Risks To Consider:
Hershey may have a promising growth outlook. But that doesn't mean the company is risk-free. That's why I'll be going over several major risks facing the company as outlined in its recently released 10-K.
The first risk facing Hershey is that its manufacturing capacity is highly concentrated, with around 70% located in the United States (page 10 of Hershey's recent 10-K).
If any natural disasters, labor strikes, or other events were to disrupt Hershey's manufacturing facilities, the company's financial results could be hurt in the near term. The only exception would be if its precautions for such events were to work entirely as planned.
The second risk to Hershey faces the entire industry, which is that the company's success depends on its ability to meet shifting consumer preferences (page 12 of Hershey's recent 10-K).
While Hershey has proven itself to be skillful in this regard throughout its corporate history, there are no guarantees that this will continue indefinitely. An inability to continue adapting to its changing industry has the potential to break the investment thesis and bring growth to a screeching halt.
Another risk to Hershey is that almost 30% of its total net sales in 2021 were dependent on McLane Company, which is a wholesale distributor for Walmart and other large stores (page 13 of Hershey's recent 10-K).
If Hershey isn't able to maintain a mutually beneficial relationship with McLane Company and other significant customers, the company's fundamentals could be damaged.
The final risk to Hershey is from a cyber security perspective, which is that the company relies on its IT systems to conduct its operations ranging from manufacturing to sales and marketing (page 15 of Hershey's recent 10-K).
If Hershey were to be the victim of a major cyber breach, its proprietary information and the information of its vendors could be compromised. This also has the potential to shatter Hershey's investment thesis.
While I have gone over a few key risks facing Hershey, this wasn't a comprehensive discussion of the company's risk profile. I encourage readers to visit pages 9-16 of Hershey's recent 10-K and my previous articles on the stock to receive an exhaustive discussion of the stock's risks.
Even World-Class Businesses Eventually Have A Price You Shouldn't Pay
Hershey is one of the best businesses on the planet. But that doesn't mean its shares can't potentially become overvalued at times. The end-all and be-all of successful long-term investing is to pick excellent businesses and avoid materially overpaying for ownership stakes.
That's why I'll use two valuation models to value Hershey's shares.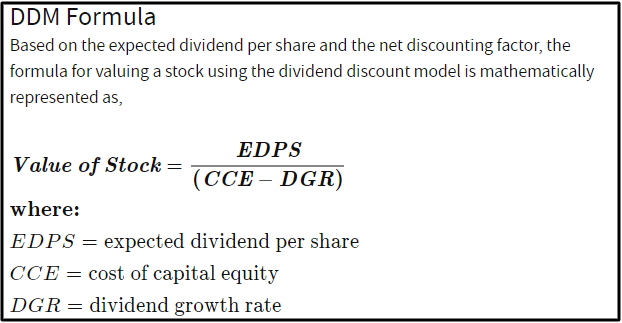 The first valuation model that I will utilize to approximate the fair value of shares of Hershey is the dividend discount model, which involves three inputs.
The first input for the DDM is the expected dividend per share, which is a stock's annualized dividend per share. Since a raise in Hershey's annualized dividend per share is still more than four months away, I'll stick with the current annualized dividend per share of $3.604.
The second input into the DDM is the cost of capital equity, which is the annual total return rate required by an investor. I will use 10% since that's my personal preference.
The third input for the DDM is the annual dividend growth rate or DGR for the long run.
Unlike the first two inputs into the DDM that are easy to determine, accurately projecting the long-term DGR requires an investor to weigh a multitude of variables: These include a stock's payout ratios (and whether those payout ratios will expand, contract, or stay the same in the distant future), annual earnings growth prospects, industry fundamentals, and the strength of a stock's balance sheet.
Given Hershey's sustainable payout ratio and high earnings growth potential, I'll use an 8% annual DGR.
Factoring these inputs into the DDM, I arrive at a fair value of $180.20 a share. This means that Hershey's shares are trading at an 18% premium to fair value and pose a 15.2% downside from the current price of $212.60 a share (as of March 5, 2022).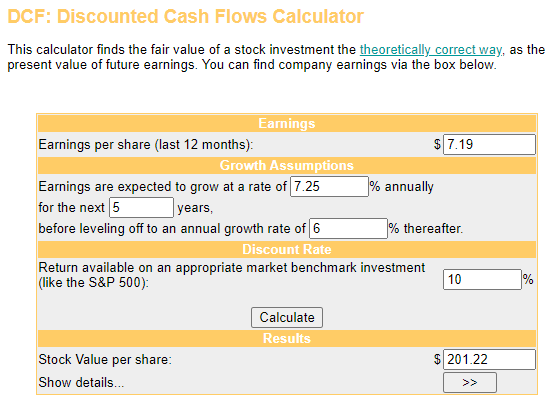 The second valuation model that I'll apply to estimate the fair value of shares of Hershey is the discounted cash flows or DCF model, which is also comprised of three inputs.
The first input into the DCF model is the trailing twelve months' earnings. Hershey's TTM adjusted diluted EPS is $7.19.
The next input for the DCF model is growth assumptions. I lean on the cautious side with this input because being too optimistic could lead an investor to pay far too much for a stock.
Hershey has demonstrated 9% annual earnings growth over the past five years and that looks poised to continue. But I will assume just a 7.25% annual earnings growth rate over that period. And thereafter, I'll model a drop to 6.25% growth each year.
The last input into the DCF model is the discount rate, which is simply the annual total return rate that an investor requires on their investments. As noted above, my required annual total return rate is 10%.
Using these inputs for the DCF model, I come out to a fair value output of $201.22 a share. This suggests that Hershey's shares are priced at a 5.7% premium to fair value and pose 5.4% capital depreciation from the current share price.
Upon averaging these two fair values together, I compute a fair value of $190.71 a share. This implies that shares of Hershey are trading at an 11.5% premium to fair value and pose a 10.3% downside from the current share price.
Summary: The Stock Price Is A Bit Ahead Of The Fundamentals
After freezing its dividend during the Great Recession, Hershey has raised its dividend for 12 years straight. This makes the stock a Dividend Contender. And with its payout ratio set to remain in the high-40% range for this year (and likely well beyond), I believe Hershey will become a Dividend Aristocrat next decade.
Hershey's double-digit revenue and earnings growth last year is indicative that its business model is still a winner. And the company seems capable of keeping its tremendous momentum going, which is evidenced by management's guidance for 2022 of high-single-digit to low-double-digit net sales growth and low-double digit earnings growth.
Hershey's net debt to EBITDA ratio of less than 2 also demonstrates that the business is financially sound.
Unfortunately, Hershey's rally this year was too much, too soon as I believe the stock is trading at an 11% premium to fair value. That's why I will be patiently waiting for either a pullback, earnings to increase over time, or a combination of the two before I add to my stake in the stock.