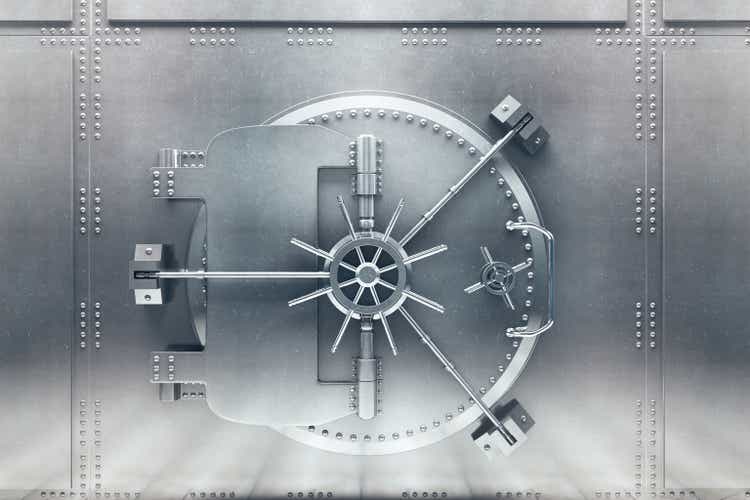 Recently, my wife and I went on a relaxing trip to the beach in Southern California. We turned off the news (mostly) for 4 days and just tried to unwind and breathe the clean ocean air and listen to the waves lap at the shore lulling us into a deep sleep each night. It was heavenly, and it appeared to me that the economy is humming along just fine in SoCal at least. People were out and about everywhere from Newport Beach to San Clemente. Restaurants were busy, the traffic was congested, and people were at the beach and staying in local hotels like it was Spring Break, yet barely March.
Meanwhile, and now back at home as I watch the ongoing war in Ukraine unfold and hear on the news about rising inflation and oil prices going through the roof, I am considering my financial future and wondering what to do. For example, I did observe while we were staying by the beach that gas prices were priced at $5.50 per gallon on average!
Fortunately, there are some relatively safe and defensive options available to increase future income without sacrificing invested capital. I am offering up 3 ideas in this article, two are income-generating CEFs, and one is a US Treasury Bond that currently pays over 7% interest. The three options include:
Guggenheim Strategic Opportunities Fund (GOF)
Calamos Long/Short Equity & Dynamic Income Trust Fund (CPZ)
Series I Savings Bonds from Treasury Direct.
Yes, Mister Bond
While it is not yet "Time to Die" it is time to consider safer investments in your short-term buying horizon for long-term income including a bond fund. GOF is a Fixed Income - Taxable-Multi-Sector CEF offered by Guggenheim. The GOF portfolio consists of 77% fixed income, 13% equity strategy, and holds ~10% cash as of 12/31/21. The fund uses about 30% leverage and pays a monthly dividend of $0.1821, which equates to an approximately 11.5% annual yield at the current price of $18.85 as of market close on 3/4/22.
GOF is the surviving fund after the merger of former funds GGM (Guggenheim Credit Allocation Fund) and GPM (Guggenheim Enhanced Equity Income Fund) into GOF was completed in October 2021. You can read more about the post-merger GOF fund here. Other authors have also recently covered the fund in much more detail than I will here.
If you are interested in further research, consider the articles like this one from Alpha Gen Capital where the premium above NAV was offering an even better buy price back in December at a 12% premium versus the 20% premium today. In another article written in January of this year, SA author Double Dividend Stocks wrote about the lower than historic premium that still offered a good buy price.
One observation that I have taken away from reading the January article by DDS, is that the cash position increased between 10/31/21 and 12/31/21 by 10% and the equity strategy component was reduced by about 10%. This indicates to me that the fund managers recognized that equities were in a downturn, so they raised some cash by selling off some of those equity positions to prepare for the downturn which has occurred since then. The fixed income percentage remained about the same.
Personally, I missed the boat because back 2 to 3 months ago, I believed that the market would offer me a better price on GOF at a lower premium, or even a discount after the merger, however, just the opposite has occurred as you can see in the Pricing chart from CEFConnect. I mean if rising inflation and a war cannot kill "mister bond", then perhaps he won't die yet.
The increasing premium and the relatively steady NAV over the past 12 months, along with the move to cash late in 2021, are all positive indicators to me that this fund is a good buy prospect for a long-term hold in these uncertain times.
Dividend distributions have been consistent and rising over the fund's history. The distribution has never been cut since inception of the fund in 2007 and in fact, has increased several times.
This is a high-quality multi-sector income fund that offers investors long-term income at a reasonable level of safety. Rising rates this year could cause some bond prices to fall, so there is some risk to the stability of the fund's NAV. However, I have confidence that the fund managers will continue to adjust the portfolio holdings to protect the fund's value as they have done very well for the past 14+ years.
A Long-Short Fund to Go Long in the Short Run
One of my fellow SA contributors, Nick Ackerman, writes about a lot of good CEFs for growth and income that I enjoy reading. That is how I learned about Calamos Long/Short Equity & Dynamic Income Trust (CPZ). While doing some reading about a different Calamos fund that I own, Convertible Opportunities and Income Fund (CHI), I stumbled across CPZ when reading one of Nick's articles on CHI. The CPZ fund is relatively new, so it does not have a long track record for investors to review. But it has performed well in the past two years and shows signs of continuing to do well this year, while the overall market is undergoing a correction.
The fund's market price is up over 7% in the past year, even while paying out an 8% monthly dividend.
As Nick points out in his February 27 article, CPZ is "bucking the trend" and handily beating the S&P 500 so far in 2022. When I first learned of the fund back in summer 2021, it was trading at about a -8% discount to NAV. The fund pays out a monthly dividend of $0.14 and has raised the distribution four times since it went public in November 2019, most recently in July 2021 increasing it from $0.13.
I bought some shares of CPZ for my No Guts, No Glory IRA portfolio initially in October 2021 and have been adding some shares during dips in price since then. It now represents the largest position by market value in my portfolio today. It is one of the few funds that I own (of about 15 total CEFs and ETFs) that is in the green for 2022.
The fund utilizes a strategy of 70% Long/Short positions, 15% Preferred shares, and 15% Fixed Income. The price to NAV has been trading at a discount since inception, however, that discount is now closing as shown on the fund's webpage.
Some advantages of the fund are described in the quarterly commentary from 12/31/21.
4Q21 Fund Highlights:

Advantaged Yield, Earned Distributions: CPZ provides monthly distributions that are less dependent on interest rates versus traditional income strategies. As of December 31, 2021, the fund has paid distributions totaling $3.01 since inception, and the Fund is currently paying monthly distributions of $0.14 per share. In fiscal year 2021, the Fund had no estimated return of capital as a component of distributions.

As of December 31, 2021, the fund was paying an annualized distribution rate of 8.62% on the Fund's market price. This aligns with the investment team's prioritization of healthy shareholder distributions, which have increased 27% since inception in November 2019. These increases reflect our continued confidence in the fund's ability to sustain its risk-managed returns across the equity and fixed-income markets, while allowing investors to participate directly in those returns through higher monthly payouts
I like the fund's portfolio diversity and it is well-positioned to take advantage of the current market trends heading into 2022. The fund allocation by region includes 80% North America, 10% Western Europe, 7% UK, and 3% Latin America and other.
The top sectors are diversified and do not include traditional growth sectors like technology or healthcare but are more value-oriented.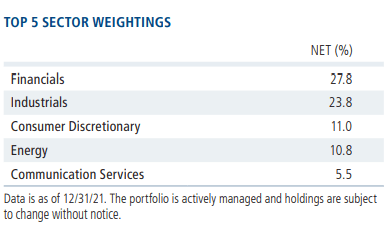 CPZ Dividend History
Did I mention that the fund has increased the dividend payment 4 times since the fund's inception date of November 2019?
In summary, I find this discussion of the CPZ portfolio positioning going forward as very telling indeed. From the Quarterly Commentary:
Positioning Discussion

Given our outlook for an active hiking cycle to begin in coming months, we continue to view bank loans as an attractive way to help manage overall interest rate duration through a barbelled portfolio construction. With overall credit spreads near all-time tight levels, it is a credit picker's market.

The team has been maintaining a stable portfolio credit quality after migrating quality higher over the previous two quarters. We continue to apply our active, bond-by-bond approach to take risk when we believe our shareholders are being well compensated. From an economic sector perspective, the portfolio holds overweight positions in the insurance and consumer non-cyclical sectors. Underweights include energy and consumer cyclicals.
If you feel that the fund managers at Calamos know what they are doing, as I believe they do, you may want to consider looking into this fund while the market still prices it at a discount. Collect the 8% monthly dividend and sleep well knowing that the fund managers are keeping the fund moving in the right direction.
Before I get into the third option, the Series I Savings Bond from the US Treasury, I wanted to digress for a bit and look at a comparison of several high-yield funds. Sometimes I look to use these other tools in my arsenal, like Portfolio Visualizer, to help confirm my understanding and to visualize the data that I am interested in looking at.
Comparison of High-Yield Income Funds
In order to help confirm my belief that the forward expected returns from both CPZ and GOF may be better than other choices for my capital investments, I used Portfolio Visualizer to look at a back-test analysis. In that analysis, I looked at the total returns of 3 high-yield funds: CPZ, GOF, and Eaton Vance Enhanced Equity Income Fund II (EOS), against Schwab U.S. Dividend Equity ETF (SCHD) as a benchmark due to the fund's stable dividend growth and 2.9% yield. I also own shares of EOS and it pays 8% monthly but has been underperforming my other funds so far in 2022.
I looked at the time frame beginning start of 2020 (because CPZ was started in November 2019, no full-year return data is available until 2020) thru March 2022 and specified reinvested dividends and monthly rebalancing. By using SCHD as a benchmark, it gives me a range of safety and growth to compare against without considering the income aspect as much. I would have expected SCHD to provide more of a safety component with less drawdown in the worst period, but that did not turn out the be the case in the past 2 years at least.
The back-test analysis looks at past returns, but it helps me to see the trends so I can try to predict what is going to happen in the future. And although CPZ underperformed the other 3 funds in 2020 and 2021, that CEF is leading the pack so far in 2022 with a 7.45% return as of March. GOF also shows a positive return of 3.5% so far in 2022, while the other 2 funds are showing negative returns with the Schwab fund showing -4.6% return in 2022 and EOS at -15%.
The income generated by GOF was the highest and should be the highest going forward with its 11.5% yield. EOS and CPZ paid out nearly the same in income over the past 2 years, but CPZ may be a better choice going forward, especially if they increase the dividend again like they did twice last year. Keep in mind that this analysis was performed with dividends reinvested, so results would vary if the distributions were taken as cash and not reinvested.
In my case, I am still growing my portfolio and do not need the cash for many years (hopefully), so I typically reinvest dividends, and especially if the fund allows a DRIP (dividend reinvestment plan), which both Calamos and Guggenheim do allow with their funds. This growing income generation aspect of the funds is appealing to me as a long-term (10 years plus) investment objective for my portfolio.
Series I Savings Bonds
One option that US citizens can take advantage of for long-term savings that are protected by the US government is a Series I Savings Bond. The Treasury Department began issuing Series I bonds in 1998 and it is indexed to the CPI (Consumer Price Index). Series I Bonds are issued for a 30-year duration and the interest paid on the bonds is based on a fixed rate, currently = 0%, plus an inflation rate that is currently at 7.12%. The inflation component of the combined rate is reset twice per year and will next reset in April, then again in November. I expect that with CPI still rising when the rate adjusts in April, the inflation component of the interest rate is likely to be adjusted upward.
You can buy the bonds in increments as small as $25 and up to $10,000 per year per individual. The bonds must be purchased electronically using the Treasury Direct website.
You can also purchase up to $5,000 additional each year in paper bonds using your tax refund if you are owed one. I Bonds earn interest for 30 years unless you cash them first. You can cash them after one year. But if you cash them before five years, you lose the previous three months of interest. (For example, if you cash an I Bond after 18 months, you get the first 15 months of interest.)
Interest is earned on the bond every month. The interest is compounded semiannually: twice a year, the interest the bond earned in the previous six months is added to the bond's principal value; then, interest for the next six months is calculated using this adjusted principal. Interest paid on Treasury securities is subject to Federal tax but exempt from State and Local income tax.
The goal of Series I Bonds is to promote future savings that protect against inflation. I believe that anyone who can afford to save the maximum $10,000 (or $15,000 if you have a $5,000 tax refund coming) should do so given the rising inflation that we are now seeing, and that does not appear to be transitory in nature, at least so far in 2022.
Another benefit of I Bonds is that it does not matter what the stock market does over the next 30 years. The interest rate is not impacted by changes to the Federal Reserve rate or other market forces other than consumer price inflation. And the savings are insured by the US Department of Treasury for the life of the bond.
There are other caveats and considerations that you can learn more about from the Treasury Direct website. I was recently informed of the inflation protection aspect of Series I Bonds, and I like the idea of having a separate investment pool that is not impacted by market gyrations or other external factors that cause stocks and other types of fixed income investments to lose value.
Summary and Conclusion
As the conflict rages on in Ukraine and the impact on oil prices caused by the war leads to ongoing and increasing inflationary pressure on consumer prices, there is yet more cause for concern in the stock market. Add to that the likely prospect of the Fed raising rates and taking a less accommodative policy toward bond purchases and we are left with few safe choices for high-yield investments.
In this article, I offer up 3 ideas to consider: CPZ and GOF, two closed-end funds that offer high yields, monthly distributions, and a level of safety based on the portfolio composition that I expect to perform well in 2022, and the Series I Savings Bond from the US Treasury Dept that currently pays 7% interest on an investment up to $10,000 per year, per individual.
And lastly, I leave you with this:
Be kind to one another and help those in need.
May all your sunsets be peaceful and beautiful.
Good luck to all - I wish your investing to prove fruitful.
Aloha.