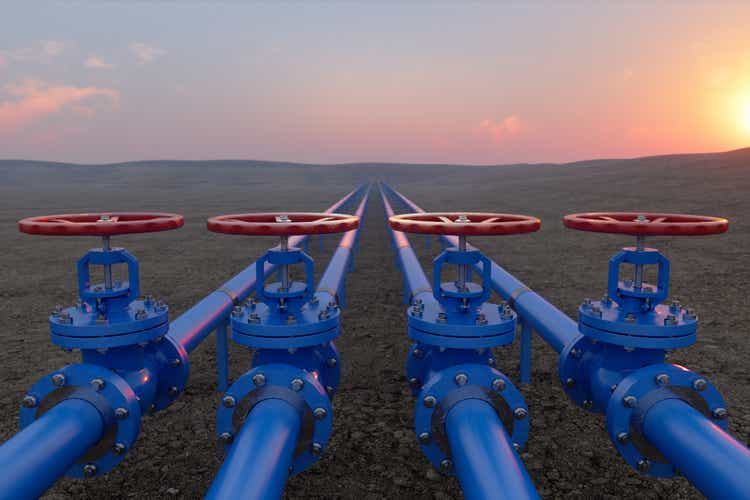 Repsol S.A. ADR (OTCQX:REPYY) is not only investing heavily in the new low-carbon economy. In my view, the company will likely benefit from the recent increase in the crude oil price. I don't believe that most analysts did modify their future FCF estimates after the recent investments made by management. Using conservative expectations of free cash flow, my DCF models implied more upside potential than downside risk. I am a buyer of Repsol shares.
Repsol
Founded in 1987, Repsol is European business operator focused on the exploration, production, and transportation of oil and natural gas as well as renewable energy projects.
The company has a diversified list of activities, and is present in a significant number of countries all over the world, which will most likely make its FCF figures less volatile: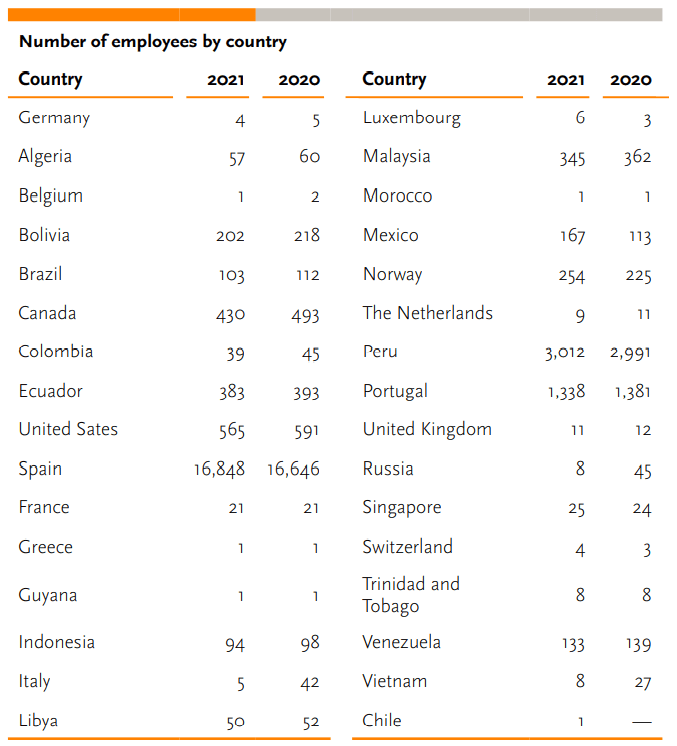 If I can go straight to the point, Repsol is currently delivering results above pre-pandemic levels, which I don't believe the investors have noted. Keep in mind that the stock price is well below the stock price in 2019:

In the last quarterly report, Repsol reported an increased activity in unconventionals, and a lot of progress in portfolio rationalization and diversification. In my view, if management continues to accelerate capital expenditures in growing markets like renewables and the chemical industry, FCF will most likely trend north: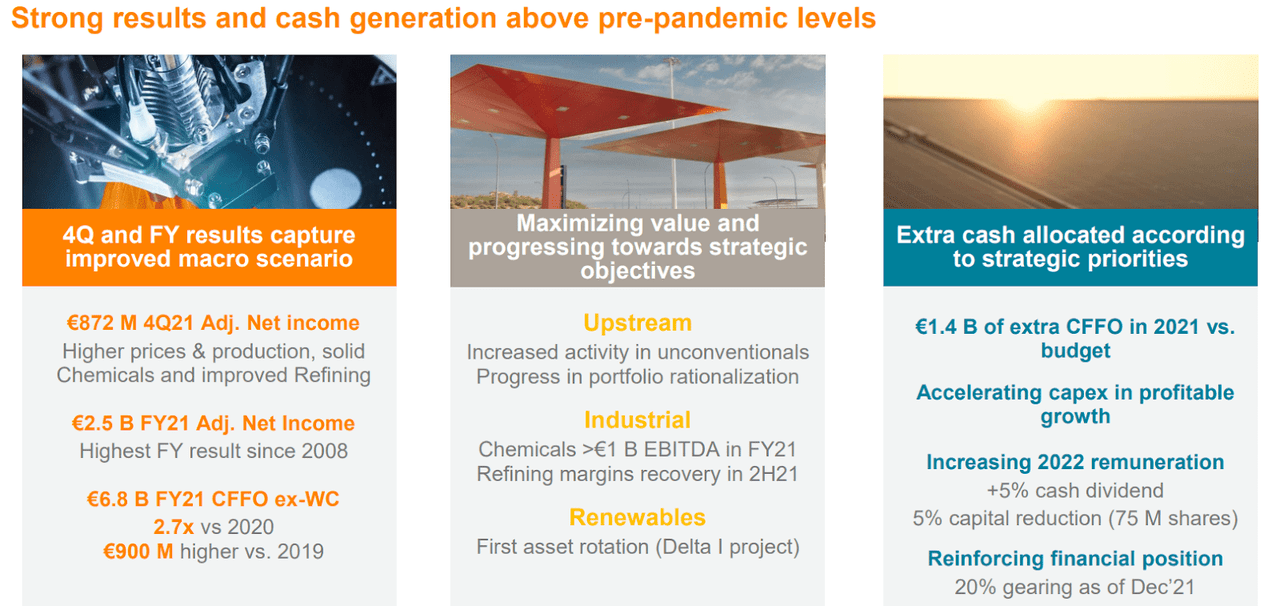 For starters, note that Repsol is currently transforming its industrial sites into decarbonized energy hubs. With many investment funds investing in the low-carbon economy, in my view, demand for the stock could trend higher in the coming years: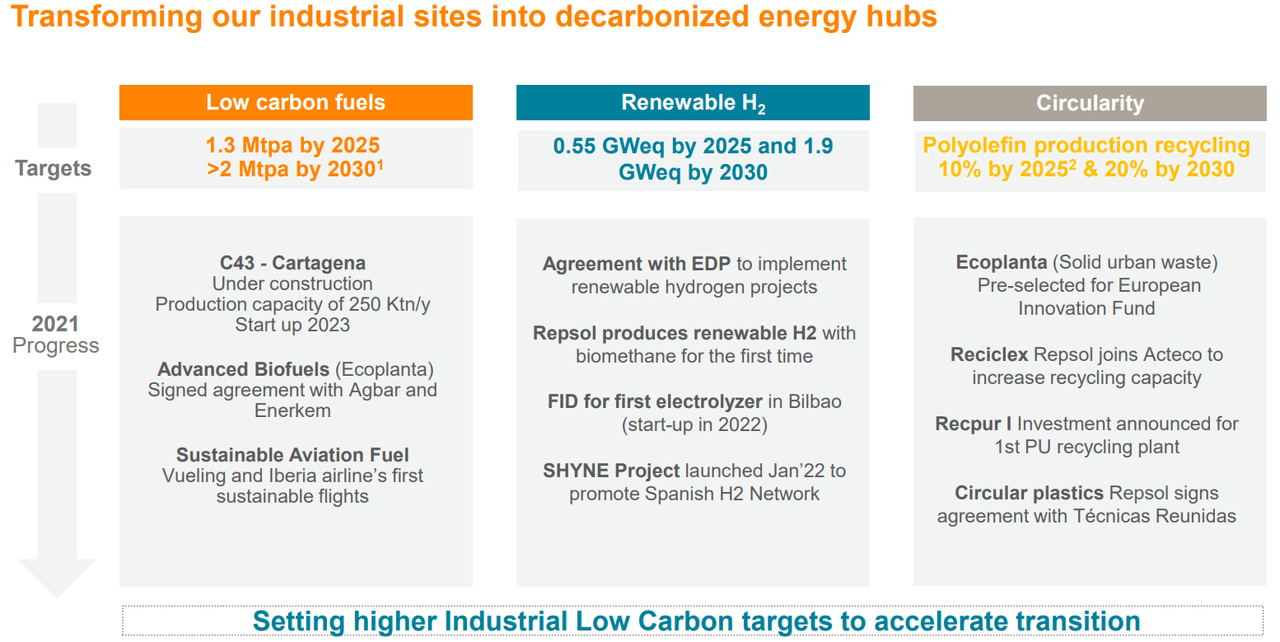 The Outlook For 2022 Included An Environment of $70/bbl, Which Is Lower Than The Current Oil Price Of More Than $100/bbl
In my view, nobody could tell about the invasion of Ukraine, and the recent increase in the price of oil. Repsol's management was not an exception. A few weeks ago, Repsol depicted a scenario with Brent at $70/bbl, which is significantly lower than the current price mark.
Analysts probably prepared their estimates by looking at the estimates of Repsol, which couldn't be more wrong. With this in mind, in my view, once analysts rebuild their scenarios, their net revenue expectations will likely be better.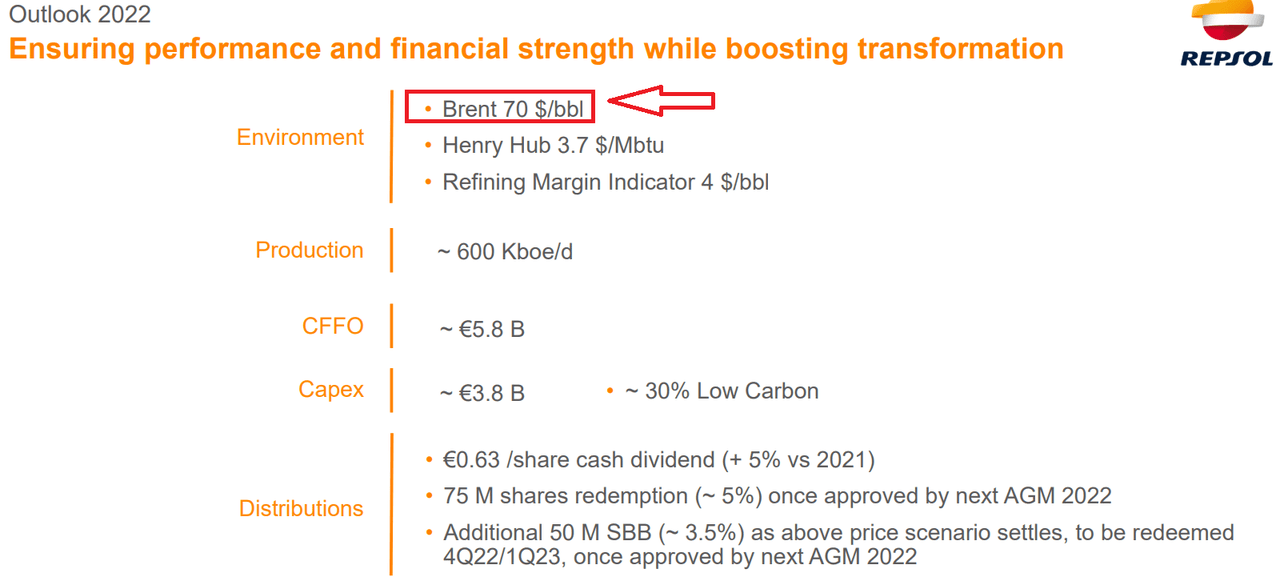 Given the current increase in the crude oil price and the new activities of Repsol, market expectations seem too low. Analysts believe that Repsol may deliver sales growth of -3% and -6% in 2022 and 2023, respectively. For the year 2024, they expect an EBITDA margin of around 14%. Finally, the operating margin should stay close to 4% with 2024 FCF at €1.94 billion.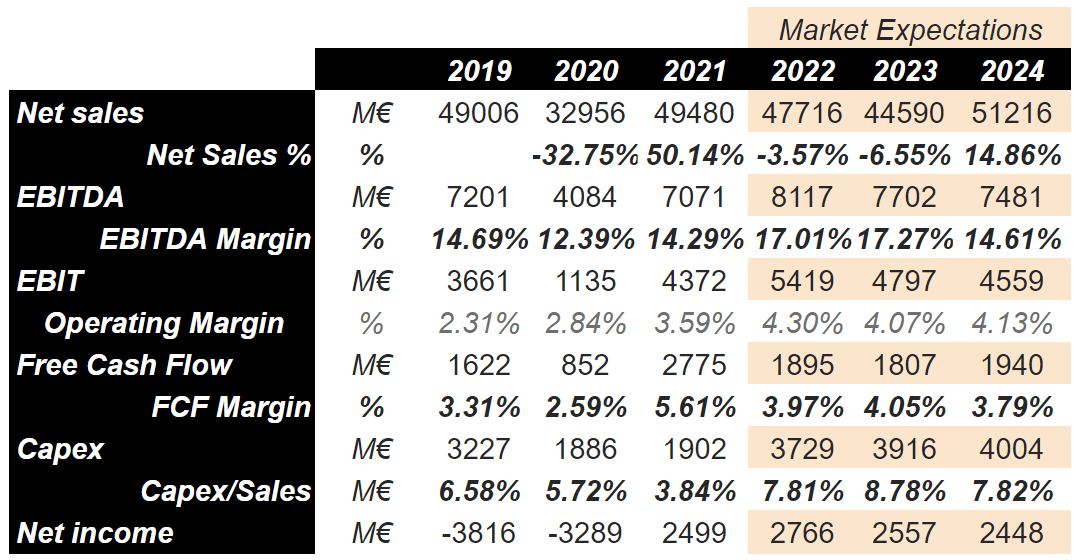 Standard Case Scenario
Following a regulation enacted by the European Union in 2020, Repsol decided to invest significantly in projects, which would target climate change mitigation. In my view, Repsol will most likely receive a lot of funds from the European Union in the coming decades. Hence, I believe that the business strategy was smart:
On June 18, 2020, the European Parliament enacted Regulation 2020/852 on the establishment of a framework to facilitate sustainable investment, as an instrument to achieve the goal of achieving a climate-neutral European Union in 2050. Source: Management Report
Among recent investments, I would highlight the joint venture signed in Chile, and the acquisition of a large stake in the project Hecate in the United States. If management finds more suitable investments outside Europe, the company would likely receive money from money managers in the USA and Asia:
In line with the Strategic Plan, Repsol has also been investing in its international expansion in the renewables business, by acquiring 40% of project developer Hecate (United States) for 182 million euros and investing 101 million euros in joint ventures in Chile. Source: Management Report
The company was very clear about its motivations in the most recent management report. Repsol appears to be looking at sectors that are not only innovative, but also exhibit significant growth. Among the industries targeted, I would highlight the operation of solar facilities, electric mobility, CO2 storage projects, hydrogen production projects, and biofuel production. In my view, if we see meaningful investments in these growing industries, revenue growth will likely increase.
If the oil price stands where it is and increases slowly in the next ten years, I expect 2024 sales of €51 billion, and 2032 sales of €64 billion. I also assumed a conservative EBITDA margin of 14% and an operating margin close to 8.9%. If we also assume changes in working/sales of 2% and capex/sales of 3.8%, the FCF margin would stay close to 8%-5.9%:

My CAPM model included a cost of equity of 10%, cost of debt of 2.59%, and a beta of 1.57. The WACC would therefore be close to 6.2%. If we discount the free cash flow from 2022 to 2032, the sum stands at €27 billion:

I decided to use an exit multiple of 4x, which I believe is extremely conservative, and implied NPV terminal value of €8.4 billion. If we sum the projection of free cash and the terminal value, the equity should be €29 billion, and the fair price would stand at €19-€20:

If we go even more conservative, we can use an exit multiple of 3x EBITDA, which implies an IRR close to 6.3%, and an implied stock price of €19. With the current stock price at €10-€11, I would say that the upside potential is quite significant.
Risks From Regulations, Reputational Damage, And Lack Of Demand
Repsol is very explicit about the regulatory framework that may affect the company's operations in the near future. New taxes targeting energy transition, new employment regulations, and laws involving industrial safety could significantly reduce the group's FCF margins. If management has to increase its capital expenditures to respect new laws, the profitability will decline:
The energy industry and the Group's activity are heavily regulated. The current regulatory framework affects aspects such as the energy transition, environment, competition, taxation, employment, industrial safety and IT security, among others. Source: Management Report
Disasters like that occurred in Peru would also affect not only the company's P&L statement, but also the group's reputation all over the world. Notice, for instance, that after the recent oil spill, the Peruvian government may decide to stop Repsol operations in the La Pampilla refinery. If other governments in Latin America decide to enforce similar actions, I would expect a significant decline in the company's free cash flow:
The Peruvian government is studying rescinding Repsol's contract to operate the La Pampilla refinery if an investigation finds evidence of negligence in a recent oil spill, a senior government official said Jan. 24. Source: S&P
A decline in demand for crude or other refined derivatives of petroleum would be extraordinarily harmful for Repsol. Notice that the company has already suffered declines in demand in the past, so in my view, it is likely that management will suffer a new crisis in the future. In this regard, Repsol gave the following warnings:
Should demand for crude oil, gas, electricity or oil derivatives drop beneath the Group's forecasts, the results of its main businesses would be adversely affected as this would affect business volume. In 2021, the combined effect of the approval and marketing of COVID-19 vaccines, the launch of vaccination plans in most countries of the world and economic and fiscal stimuli led to a gradual recovery in demand, although the question of how the pandemic will pan out as we move forward and the possible emergence of new variants adds a degree of uncertainty as to whether demand will ultimately recover to pre-COVID levels. Source: Management Report
Under this case, I assumed a decline in sales of -5% from 2023 to 2028, and then a decline of -2.5% until 2032. Also, with an EBITDA margin of 15%, conservative capital expenditures, and D&A, the free cash flow would decrease from €2.5 billion in 2022 to less than €500 million in 2032:

If we assume a WACC of 6.29%, the sum of future FCF should stand close to €12.5 billion, which is significantly lower than that in the previous case scenario:

I also assumed an exit multiple of 2.5x, which should imply a NPV terminal value of close to €650 million. Finally, the implied share price should stay close to €5:

Conclusion
Considering the extraordinary efforts made by Repsol to transform its business model into the new low-carbon economy, the stock price does look too cheap. If Repsol continues to invest in renewable businesses and growing sectors like the electric mobility or CO2 storage projects, more investors will have a look at the company. With more fund managers and perhaps the European Union giving cash to Repsol, the cost of equity may decline. As a result, I expect the share price to trend north. In any case, my DCF models implied more upside potential than downside risk.