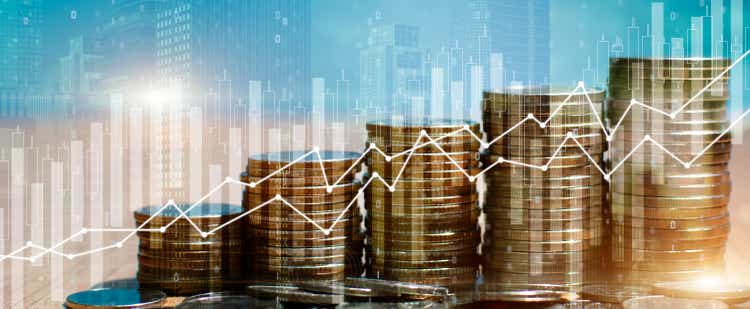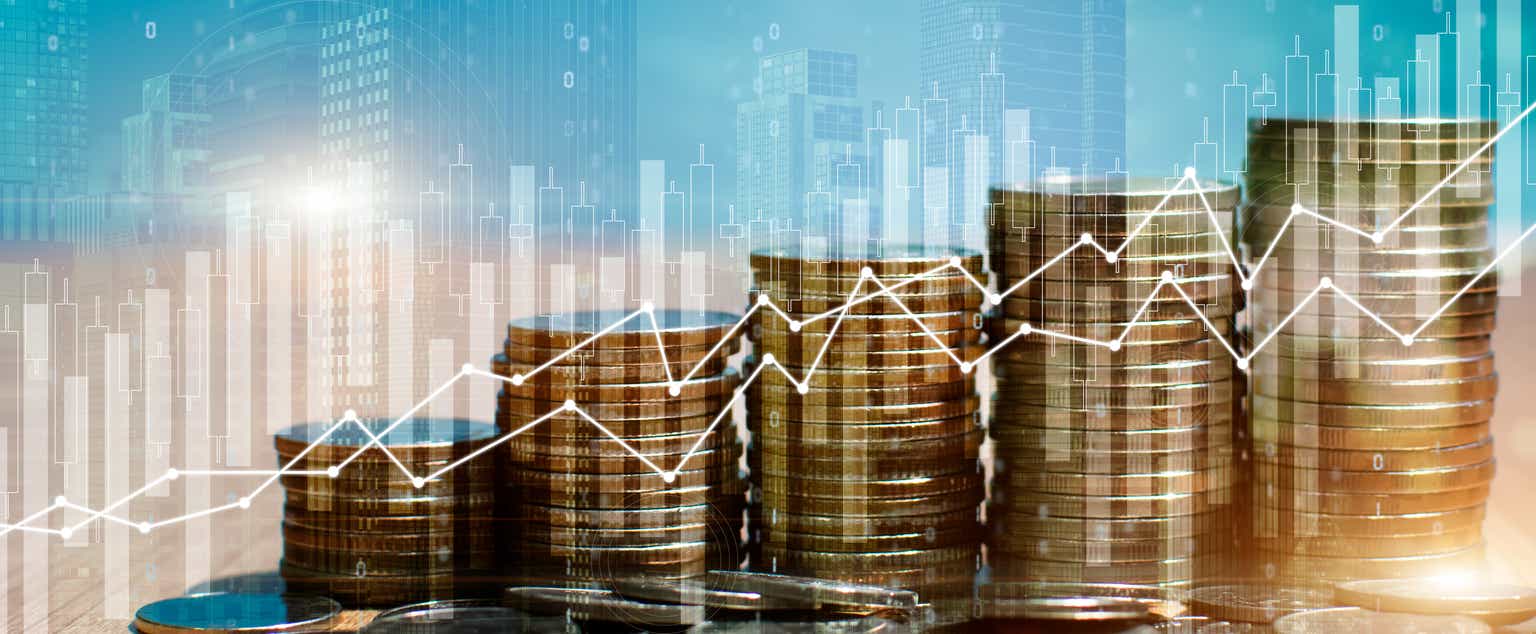 This article was first released to Systematic Income subscribers and free trials on Mar. 1
The income space has kicked off the year in a wobbly fashion with a sharp rise in interest rates, higher credit spreads, lower equity prices and wider CEF discounts. The upside of this weakness is that it creates opportunities for rotations and new capital investment that have been mostly unavailable over the previous year. In this article, we discuss some of the lessons of this short year as well as a number of attractive opportunities across a few different sectors.
Initial Lessons
Although the recent market drawdown is only as old as this year - which is not very long at all - it is already possible to make out a number of initial lessons.
The first lesson is that investors who are all-in all-the-time will have a harder time taking advantage of new opportunities. By all-in we mean having an allocation to few or no lower-beta assets which can be used as a source of dry powder to rotate into securities that have taken a beating and look attractive. In short, if everything you own is down 10% it makes it hard to rotate into something that is also down 10% - the rotation can still make sense from a tax-loss perspective but it won't necessarily generate additional wealth if/once markets recover. This is particularly relevant in income markets which are notoriously mean-reverting. This doesn't mean that investors need to hold a chunk of their portfolio in cash - given negative real rates on cash this is not particularly attractive. However, it does mean that tilting to more resilient securities with decent yields of 3-7% can make a lot of sense rather than trying to hit it out of the park all the time. Term and pinned-to-par securities have held up very well this year as have term CEFs on average.
The second lesson has to do with what we call investment wrapper diversification - something we have discussed for years. Specifically, in 2021 we highlighted some of the dangers of holding an all-CEF portfolio given the 1) typical co-movement between discounts and NAVs during drawdown periods and 2) discounts being particularly rich. This view brings out the usual pushback along the lines of - no no you don't get it; CEFs are just a different kind of wrapper and there is nothing special about them.
However, it's no surprise that apart from a handful of funds, discounts added to losses generated by CEF NAVs. This dynamic can make it much more difficult to take advantage of attractive opportunities. The Limited Duration CEF sector is a case in point - investors who held these funds in expectation of being broadly unaffected by the rise in interest rates were probably disappointed since discounts widened substantially in the sector as well, making it difficult for these funds to play the role of dry powder assets. The sector is down more than 10% so far this year.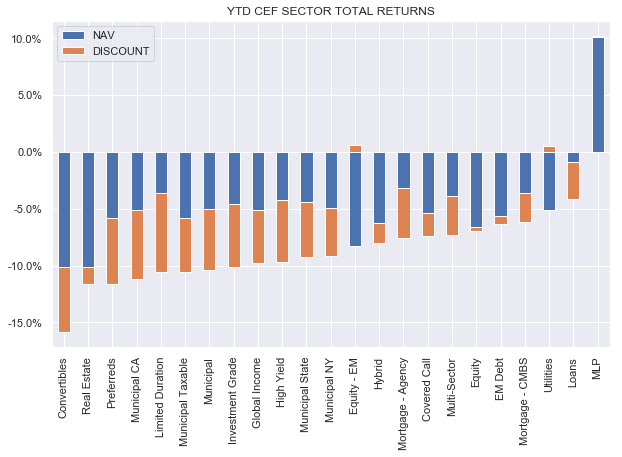 Thirdly, it goes without saying that diversification can do wonders for both short-term and long-term results, however diversification is not trivial to achieve. Most income investors approach portfolio allocation in a bottom-up manner - by selecting securities that catch their eye or that they see recommended. However, because investors also have a certain tilt or bias i.e., to higher-yielding securities or to securities of a given quality or to securities in a certain sector or closely aligned set of sectors, it can make it very difficult to achieve real diversification. This is why approaching allocation from a top-down perspective as well can help. This involves thinking of the portfolio along different risk factors such as credit risk, duration risk, leverage and others. For instance many investors were overweight higher-quality / low-coupon preferreds in the belief they were bulletproof from any market drop, however it is these securities that have borne the brunt of the sell-off, falling in many cases by double-digits due to their longer-duration profile.
Some Ideas
In this section, we highlight some of the sectors and securities that look appealing in this market drawdown.
We now have a more upbeat view of the tax-exempt CEF sector. The sector's trailing-twelve month yield is back to where it was in 2019 on the back of both higher underlying bond yields and discounts that have moved into cheap territory in many cases.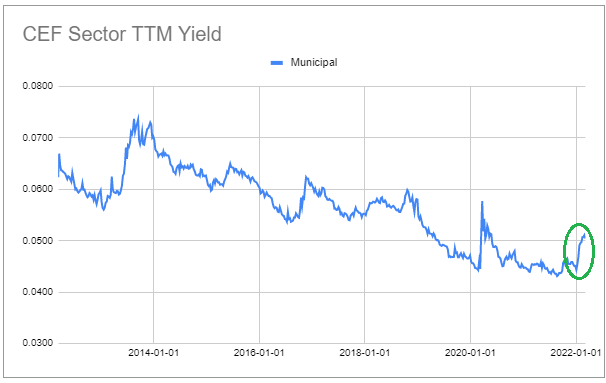 The sector is less exposed to an increase in leverage costs than other fixed-income sectors due to the rise in short-term rates because the leverage base rate SIFMA is also tax-exempt which means it only rises by about 2/3 of the level of Libor. The sector is also on the higher-quality side and is likely to outperform if risky assets continue to slide.
It is a fast-moving market and funds that we have highlighted only a few days ago have popped nicely. At the moment a fund that looks attractive is the Nuveen Enhanced Municipal Value Fund (NEV), trading at a 7.7% discount (vs. 5.3% sector average) and a 4.93% current yield (a touch above the sector average). The fund is similar in quality to the broader sector with 80% in investment-grade bonds with top allocations to IL, CA and NY. The fund's duration is slightly above the sector average at 11.9.
The fund's coverage based on the last 6 months (up to October-21) was 97%, however there was an unusual drop in 3-month rolling coverage for January along with a large boost to UNII into positive territory. This could be due to the large recent special dividend as well as a small cut in borrowings. The big picture is that investors ought to be prepared for some falls in distributions in the sector over the rest of the year and NEV will likely have to make a cut as well.
The fund has outperformed the broader sector across various time horizons.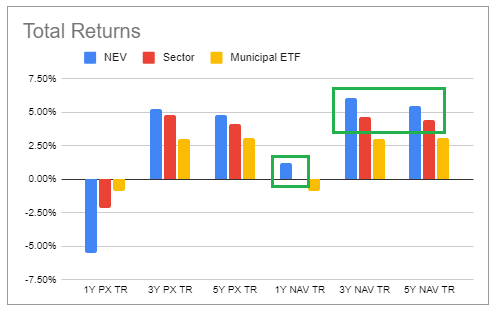 It is also trading at a relatively cheap level vs. the broader sector which may be due to its recent distribution rightsizing. However, this also means that any future cut will be that much smaller.
We also continue to like the mREIT preferreds sector - both agency and hybrid issuers as they provide exposure to different kinds of risks. On the agency side we like the Dynex Capital 6.9% Series C (DX.PC), trading at a 7.10% yield-to-worst to its first call date in 2025 with a reset yield of 7.57% (based on Libor forwards - its floating rate coupon is 3m Libor + 5.461%). Its portfolio leverage is 5.8x - only slightly higher than the lowest leverage agency mREIT) and it has strong equity / preferred coverage of 6.9x. This combination of 4 key metrics along with its strong risk management track record, particularly in 2020, makes it an attractive hold.
Investors focused on shortening up duration should have a look at the Arlington Asset Investment Corp 6.75% 2025 Notes (AIC), trading at a 6.42% yield-to-maturity and can occasionally be picked up closer to a 6.7% YTM. The bonds have delivered a 2% total return year-to-date. The combination of the short maturity and being currently callable makes them much more resilient than the average income security.
We also continue to like the BDC sector. Although the sector is traditionally high-beta, it has delivered a flat total return year-to-date - in our view, due to the eventual expected income boost from rising short-term rates. Among other securities, we continue to like the TCG BDC (CGBD) with a 11.3% dividend yield and the Oaktree Specialty Lending Corp (OCSL) with a 8.6% dividend yield. Both companies have just raised dividends and we expect further hikes down the road, along with NAV raises.
Takeaways
Today's market environment is a much more attractive one for income investors than they have seen for around a year. Interest rates have backed up, CEF discounts have widened back out, credit spreads moved higher and equity prices have come off.
As usual, it's worth keeping in mind the different risk factors of both existing and new allocations. We highlight the key ones in the table below of the securities discussed above. These securities are also attractive as a group as they offer different "loadings" of the relevant risk factors, creating diversification in the portfolio.