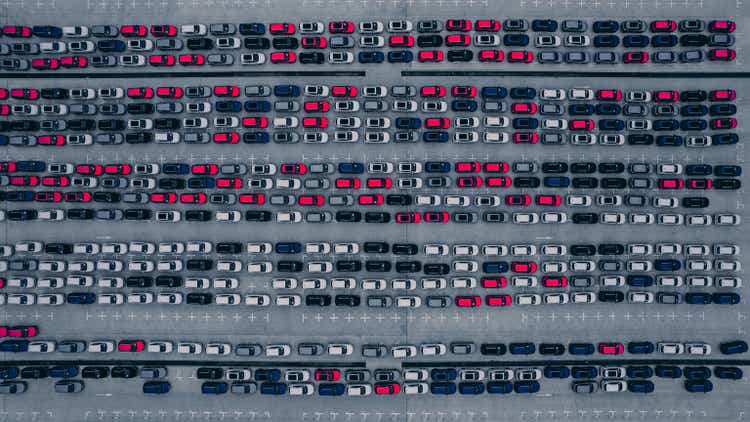 Elevator Pitch
My Hold investment rating for China Yuchai International Limited (NYSE:CYD) remains unchanged. I previously wrote about CYD's 1H 2021 financial results in an article published on October 29, 2021.
In this latest article, I review China Yuchai's 2H 2021 earnings and provide my thoughts on the company's 2022 business outlook. I have a mixed view of the company's recent financial results and near-term growth prospects after considering both its revenue growth and profitability metrics, which provides justification for my Hold rating assigned to China Yuchai.
Revenue Growth
China Yuchai's top line decreased by -19% YoY from RMB10,622 million in the second half of 2020 to RMB8,637 million in 2H 2021 as per its recent earnings press release. In USD terms, CYD's revenue contracted by -17% YoY to $1,359 million in the most recent interim period. In contrast, China Yuchai's revenue actually grew by +27% YoY and +39% YoY in RMB and USD terms, respectively in 1H 2021 as per S&P Capital IQ data.
In my prior update for CYD written in late-October last year, I noted that its "revenue growth in 1H 2021 was mainly driven by the surge in demand for engines to meet China's new emission standards for heavy-duty vehicles that came into effect on July 1, 2021" which suggests "a normalization of engine sales in 2H 2021" and this was exactly what happened. China Yuchai's engine sales volume declined by -21% YoY from 217,138 in 2H 2020 to 171,449 in 2H 2021. On a HoH (Half-on-Half) basis, the number of engines that CYD sold decreased by -40% in 2H 2021 as compared to its 1H 2021 sales volume of 285,342.
China Yuchai also highlighted at the company's FY 2021 earnings call that China saw "substantially reduced economic growth" in the second half of last year, and this had a negative impact on the company's revenue during the same period.
Moving forward, China Yuchai's 2022 revenue growth outlook continues to be disappointing. As per S&P Capital IQ's consensus financial forecasts, CYD is expected to see a -16% drop in its revenue to $2.8 billion in FY 2022.
The next significant growth driver for China Yuchai's engine sales going forward is likely to be "the more stringent National VIb emission standard which are expected to be mandated in 2023" in China according to the company management's comments at the recent fiscal 2021 results briefing. This is reflected in the sell-side's consensus estimates which point to China Yuchai's revenue rising by +13% YoY to $3.2 billion in FY 2023.
However, China Yuchai's share price could remain depressed in 2022 considering the expected top line contraction for the company this year in the absence of any substantial growth drivers.
Profitability
It is not all doom and gloom for China Yuchai. CYD's gross profit margin actually improved from 12.9% in 1H 2021 to 15.4% in 2H 2021.
China Yuchai stressed at the company's full-year 2021 investor call that its new "National VI engines have not yet realized economy of scale in production", and mentioned that "cost reduction programs have also been initiated to improve the gross margin." In other words, China Yuchai's gross profit margin improvement on a HoH basis in 2H 2021 is attributable to both initiatives to lower expenses, and greater scale economies associated with higher cumulative sales and production volume for National VI engines.
Looking ahead, the sell-side analysts see CYD's gross profit margin widening by +1.8 percentage points from 13.9% in FY 2021 to 15.7% in FY 2022. China Yuchai's operating profit margin is also forecast to increase from 3.1% to 3.7% over the same period.
Apart from the positive effects of operating leverage relating to the National VI engines as explained above, there are two other key factors supporting higher profit margins for China Yuchai in the current fiscal year.
One key factor is relatively lower research & development or R&D expenses going forward. China Yuchai's R&D costs rose by +29% YoY in 2H 2021, and this was due to both a lower proportion of R&D expenses being capitalized, and elevated R&D costs relating to the National VI engine. Moving ahead, R&D expenses linked to the National VI engine should trend down gradually over time with the commencement of commercial sales, which is positive for CYD's future profitability.
Another key factor is warranty expenses. In my earlier August 13, 2021 article for CYD, I mentioned that there were "issues relating to one specific National VI engine model have led to an increase in warranty costs" for the company. China Yuchai guided at its recent 2021 earnings call that warranty expenses "should be much less" in 2022 given that the problem associated with one of its National V engine models is "under control now."
A Lack Of Catalysts In The Near Term
China Yuchai is currently valued by the market at undemanding consensus forward next twelve months' EV/EBITDA and P/E multiples of 1.1 times and 8.8 times, respectively as per S&P Capital IQ data. But there doesn't seem to be a lot of catalysts that could be realized any time soon.
CYD has cash amounting to RMB 5,332 million or $844 million on its books as of end-2021. In comparison, China Yuchai's market capitalization was $447 million as of March 7, 2022. However, there has been no indication that the company has plans to either pay out a special dividend or buy back its shares with the cash pile on its books, based on a review of its earnings calls and company announcements. As such, it is unlikely that the unlocking of the value of its cash via shareholder capital return will be a short-term catalyst for China Yuchai.
Separately, I did highlight in my earlier October 29, 2021 article for the company that "China Yuchai's shares could potentially benefit from a valuation re-rating, as the company's exposure to the alternative energy or new energy space grows over time." But this will be a long-term catalyst that might only materialize in a few years' time. It is noteworthy that China Yuchai noted at its recent results briefing that it "will probably start to develop a few more (hydrogen) engines" which "will be the focus for this year (2022) and next year (2023) rather than commercialization." In other words, China Yuchai's venture into the alternative energy space is not likely to contribute significantly to its earnings or act as a key re-rating catalyst in the very near term.
Closing Thoughts
China Yuchai is a Hold in my opinion. It will be hard for CYD's shares to re-rate significantly in the near term in view of an expected decline in its revenue this year. Also, there aren't any re-rating catalysts that could possibly materialize in the short term. On the other hand, China Yuchai's valuations are already very depressed, and there are positive signs such as expectations of improved profitability in 2022 and a revenue recovery in 2023.