UiPath (NYSE:PATH) has been on my radar since IPO. I remember reading the S-1 filing and thought that this is going to be one of the major SaaS companies in the next decade. But I can't bear buying the stock at $70 a share - a nosebleed valuation that won't let me sleep well at night. Today, the stock has fallen out of favor and the company is worth a closer look at these levels. So here's a deep dive on UiPath. Enjoy!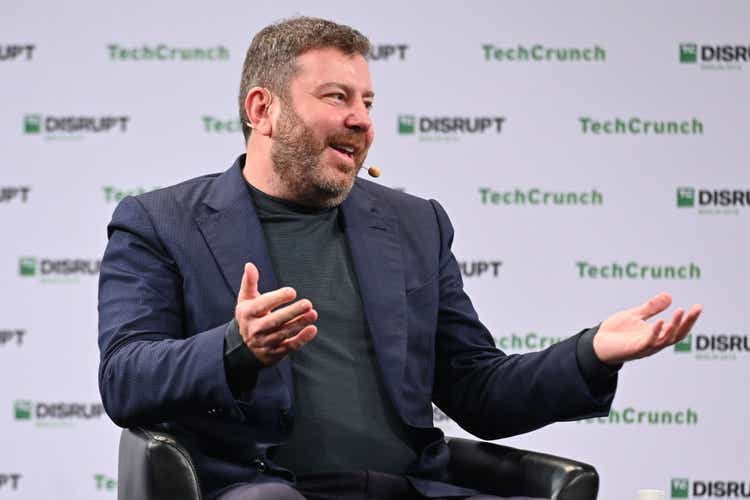 Investment Thesis
UiPath aims to accelerate human achievement by delivering the fully automated enterprise. In essence, UiPath incorporates UI automation, API management, and AI computer vision, to automate repetitive business processes and tasks. Robotic process automation, or RPA, is a nascent SaaS category that is growing rapidly by the day as more businesses apply automation to improve productivity and amplify their tech arsenal. As such, UiPath stands to benefit from the expanding use cases and increasing market adoption on RPA. Despite a challenging competitive environment, UiPath has strong technology, network effects, and switching costs moats that should sustain its position as the leading RPA provider. Given the recent selloff, UiPath is an attractive long-term investment to capitalize on the growing RPA market.
Value Proposition
"Bill Gates used to talk at Microsoft about a computer in every home. I want a robot for every person" - UiPath CEO Daniel Dines
UiPath is the leading robotic process automation, or RPA, software platform that helps businesses of all sizes automate everyday business processes. RPA, in simple words, is a software solution that enables businesses to easily build, deploy, and manage software robots that emulate human actions within digital applications, systems, and software.
Originally named DeskOver, UiPath was founded in 2005 in Romania, by co-founders Daniel Dines and Marius Tirca, both of which still run the company today. DeskOver built automation libraries and software development kits for companies such as IBM (IBM), Google (GOOG), and Microsoft (MSFT). In its early days, DeskOver was bootstrapped and was simultaneously building a startup and providing consulting work, which was not scalable at all. Despite landing big clients, the company saw little traction during the first decade as a newly launched startup.
However, in 2015, the founding team changed their go-to-market strategy and decided to partner with business process outsourcing and consulting companies, as well as pile resources in educational programs, to help bring market awareness for their solution. DeskOver rebranded itself to UiPath and after ten years in the business, the company finally raised money from seed investors in July 2015. As a result, the UiPath team can dedicate itself to building the best RPA software while its business partners help distribute its software to interested enterprises.
What follows was an incredible pace of product innovation, market adoption, and funding rounds. Today, UiPath is the largest pure-play RPA software vendor.
Mission: To accelerate human achievement.
If I have to sum up UiPath's value proposition in one sentence, it would look like this:
Provide a low-code end-to-end automation platform that utilizes UI automation, API management, and AI computer vision to emulate human behavior interacting with digital systems, and subsequently free workers of manual, time-consuming, and repetitive tasks.
By delivering its value proposition, UiPath has the vision to deliver the fully automated enterprise, helping businesses unlock human creativity and full potential.
The diagram below shows how UiPath's software robots transform how humans work in the insurance claims processing department: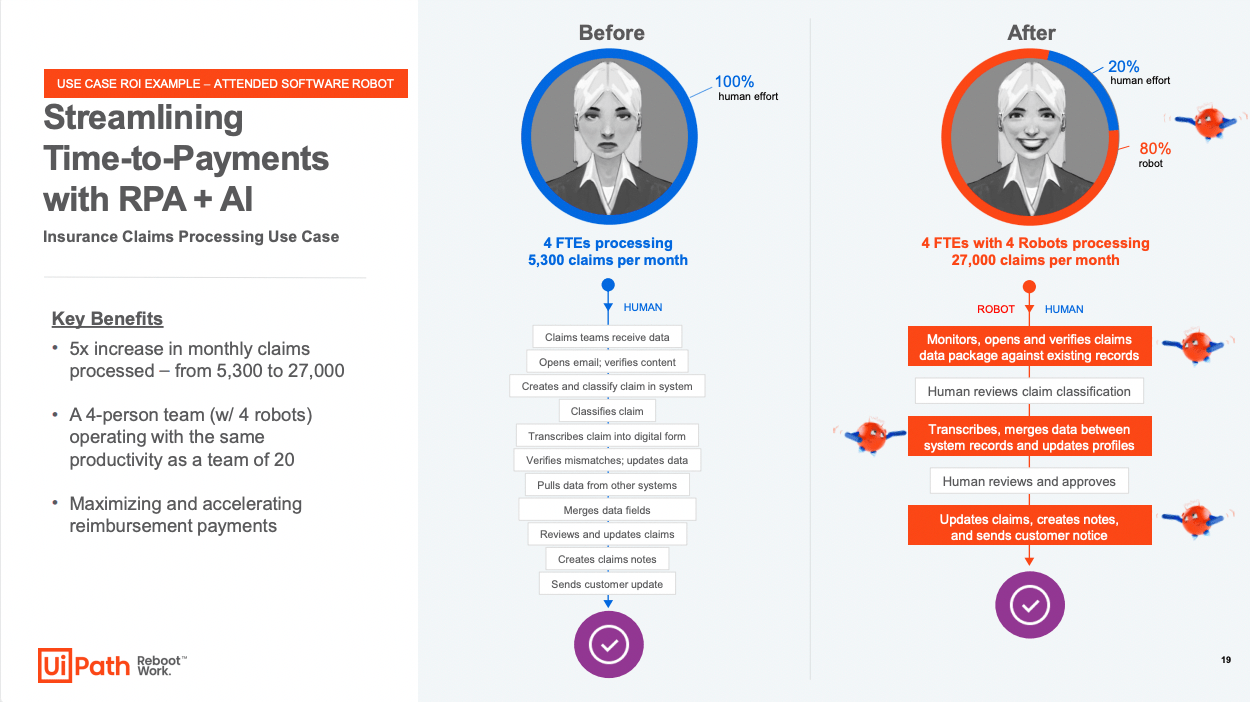 Before going through UiPath's key products and services, here are a few key features to take note of, that separates the company from traditional automation vendors:
Fully AI-enabled platform to intelligently capture tasks, process data, and identify the best opportunities for automation. UiPath robots emulate human behavior and leverage AI to adapt and respond to constantly changing variables.

Proprietary computer vision technology that uses AI to dynamically recognize and interact with on-screen documents, images, and applications. This includes optical character recognition and natural language processing for document understanding.

Easily build and deploy robots with low-code, drag-and-drop development tools, and interfaces, enabling workers of all technical levels to participate in the automation development process.

Open API platform architecture that includes out-of-the-box integrations, connectors, and applications from UiPath as well as its technology partners. This eliminates the need for significant IT investment, invasive implementation, or changes to existing infrastructure.

Flexible deployment across on-premises, private and public cloud, hybrid environments, as well as UiPath-hosted SaaS Automation Cloud.
With that said, let's briefly go over UiPath's main offerings. I won't go into the details; just big picture stuff.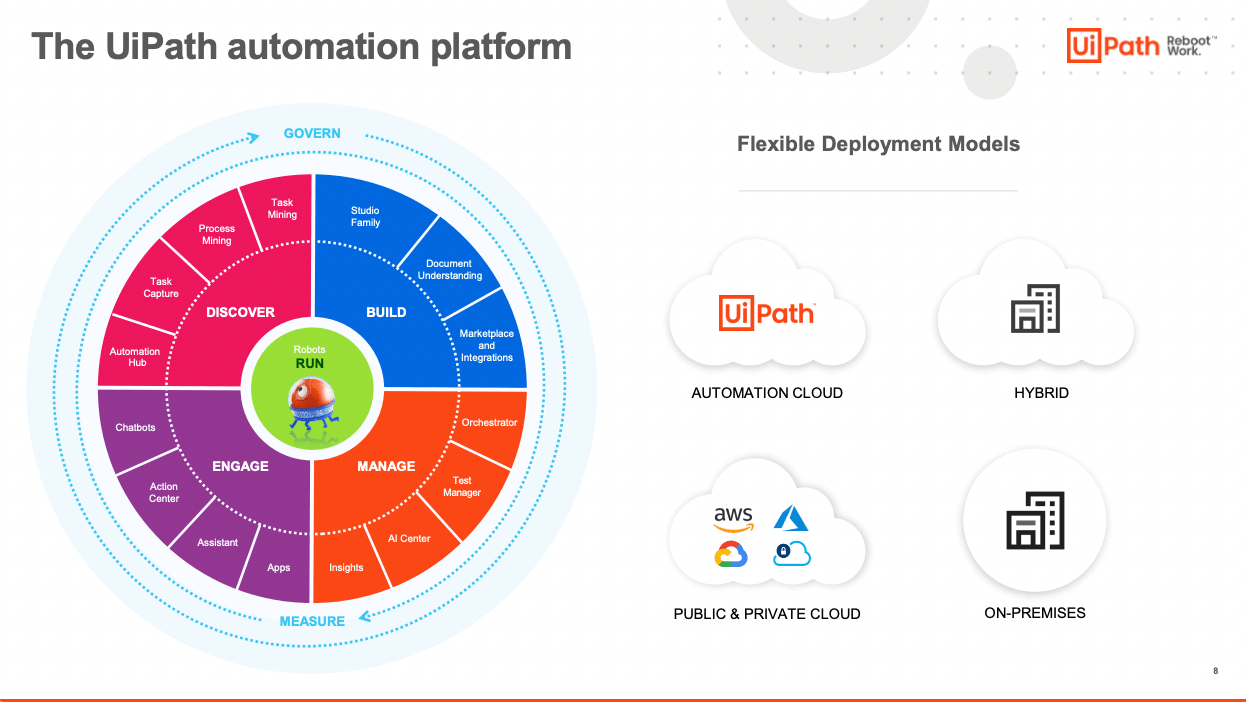 UiPath's platform has seven modules: Discover, Build, Manage, Run, Engage, Measure, and Govern. Let's go through each of them.
Discover
Automation Hub
Automation Hub is a command center that enables an enterprise's center of excellence, or CEO, to source, manage, and control the automation pipeline in one place. Here, users can also collaborate on automation opportunities, manage automation ideas, and review ready-to-go automations.
Task Capture
Task Capture enables employees to document and record processes on their computers. Through its AI functionality, Task Capture will auto-generate process maps complete with each step, step timing, and the total number of applications. Furthermore, users can edit the process maps and share them across the business.
Process Mining
Process Mining analyzes system logs from business applications (like SAP, Oracle, and Salesforce) and provides a detailed map of complex business processes. From here, users can identify bottlenecks, inefficiencies, and find ways to automate the processes.
Task Mining
Task Mining automatically aggregates employee workflows, including steps and execution time, and uses AI and ML to identify repetitive tasks that have the potential to be automated. This is done without interrupting the employee's work. The COE then decides which process or task to automate based on estimated potential savings and ease of automation.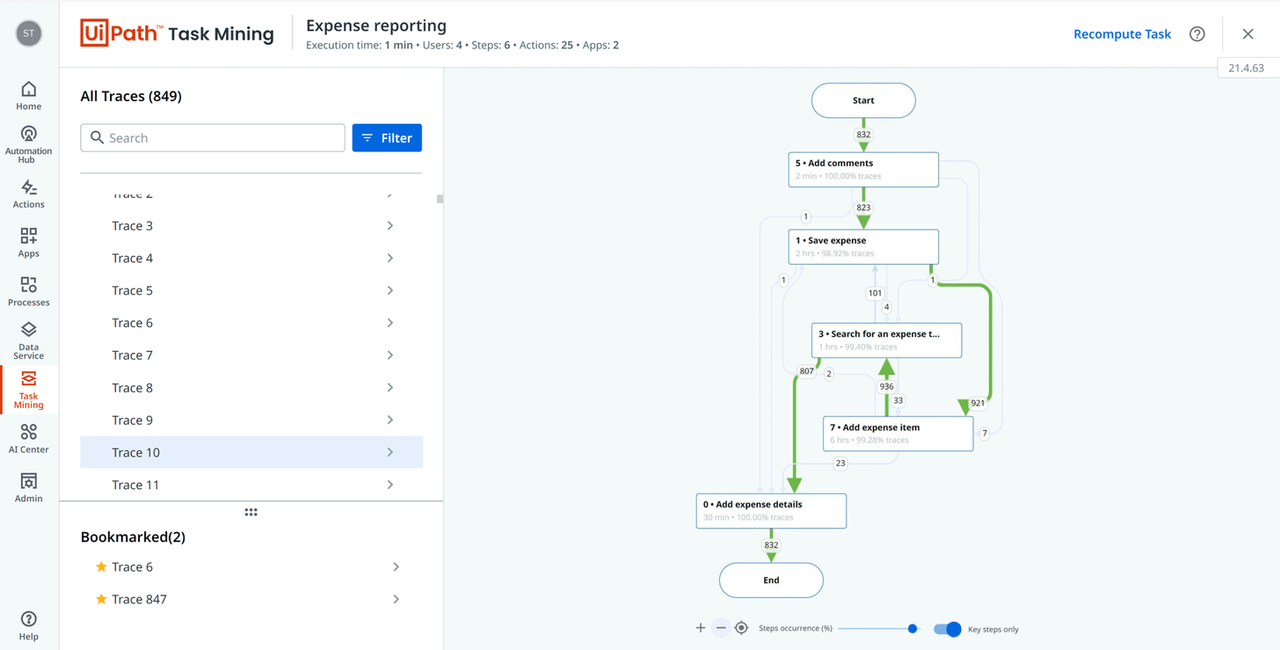 Build
Studio Family
There are three options from the Studio Family. First, StudioX enables business users to build software robots with a low-code, drag-and-drop citizen development platform with pre-designed templates and scenarios. StudioX is the most user-friendly version in the Studio Family.
Second, Studio enables RPA developers to build more complex process automations including features such as debugging tools, API automation, and custom codes.
Last, UiPath offers Studio Pro, which is the most advanced Studio offering designed for specialized developers and testers.
Document Understanding
Document Understanding leverages AI to enable robots to process virtually any type of document, including tables, checkboxes, signatures, and even handwriting. Robots also have embedded ML models which becomes smarter as each document is processed, leading to improved accuracy and efficiency over time.
Integration Service
Integration Service enables developers to combine UI automation with API automation, both from modern and legacy technologies. Integration Service also provides users the option to choose from hundreds of pre-built connectors, provide them with centralized governance of API access, as well as automate workflows across multiple applications such as Salesforce, Microsoft Office, and Google Suite.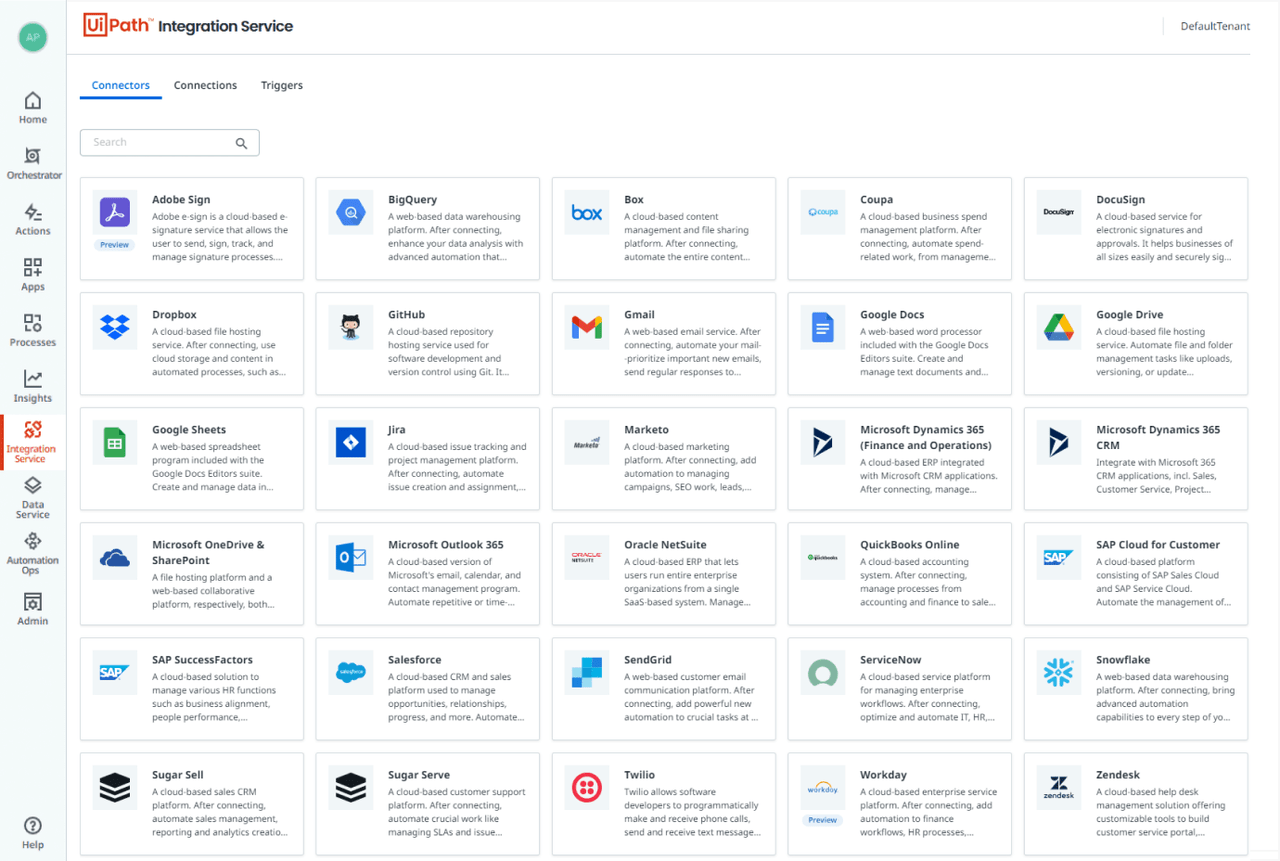 Marketplace
UiPath's Marketplace is the home for hundreds of pre-built RPA and AI templates, user guides, videos, documentation, and other tools, to help developers get inspired or quickly deploy automation solutions. All components are reviewed by the UiPath team. Today, there are over 1,300 RPA components in the Marketplace.
Manage
Orchestrator
Orchestrator gives users the power to provision, deploy, trigger, monitor, measure, and track all attended and unattended robots in the business. Users can monitor the business's robot workforce through any supported device including Android and iOS.
AI Center
The AI Center enables businesses to integrate, manage, and deploy their own ML models, pre-built UiPath models, or custom models from a third-party provider or UiPath technology partner. This enables developers to quickly build automations powered by AI, which consequently creates a smarter and more efficient RPA system.
Test Manager
As the name implies, Test Manager allows users to test RPA workflows and other applications before they go live.
Data Service
Data Service provides cloud-based low-code data modeling as well as data storage for all the automation data collected as a result of using UiPath. At the same time, Data Service integrates easily with any enterprise or legacy system, database, or app. All these are executed with enterprise-grade security.
Insights
Insights is an analytics solution that tracks, measures, and forecasts the performance of all automation processes deployed across an organization. Here, key stakeholders can review and share the business impact of each automation process, including time and money saved.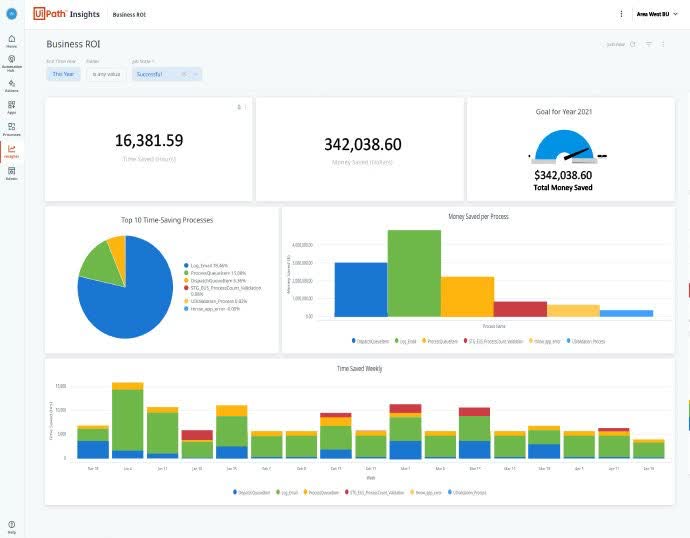 Run
Customers can run automation programs using attended robots, unattended robots, or a hybrid robot workforce.
Attended Robots
Attended robots work side-by-side with employees via UiPath Assistant, automating workflows either on command or based on pre-defined triggers.
Unattended Robots
Unattended robots work in the background, and they typically handle complex, long-running processes. While they are "unattended", people still interact with unattended robots, although at much fewer contact points than attended robots. Unattended robots involve people to verify information, handle exceptions, or notify them when a task has been completed.
Hybrid Robots
This is an all-in-one solution that features both attended and unattended robots.
Engage
Apps
Apps is a low-code automation app builder. Apps is intended to create a user-friendly interface for employees to trigger automation processes through the app, which can be accessed via desktop, tablet, and mobile devices.
Assistant
Assistant is an easy-to-use and easy-to-access desktop launchpad for employees to interact with robots and automations. Employees can quickly schedule, manage, or run automations as needed.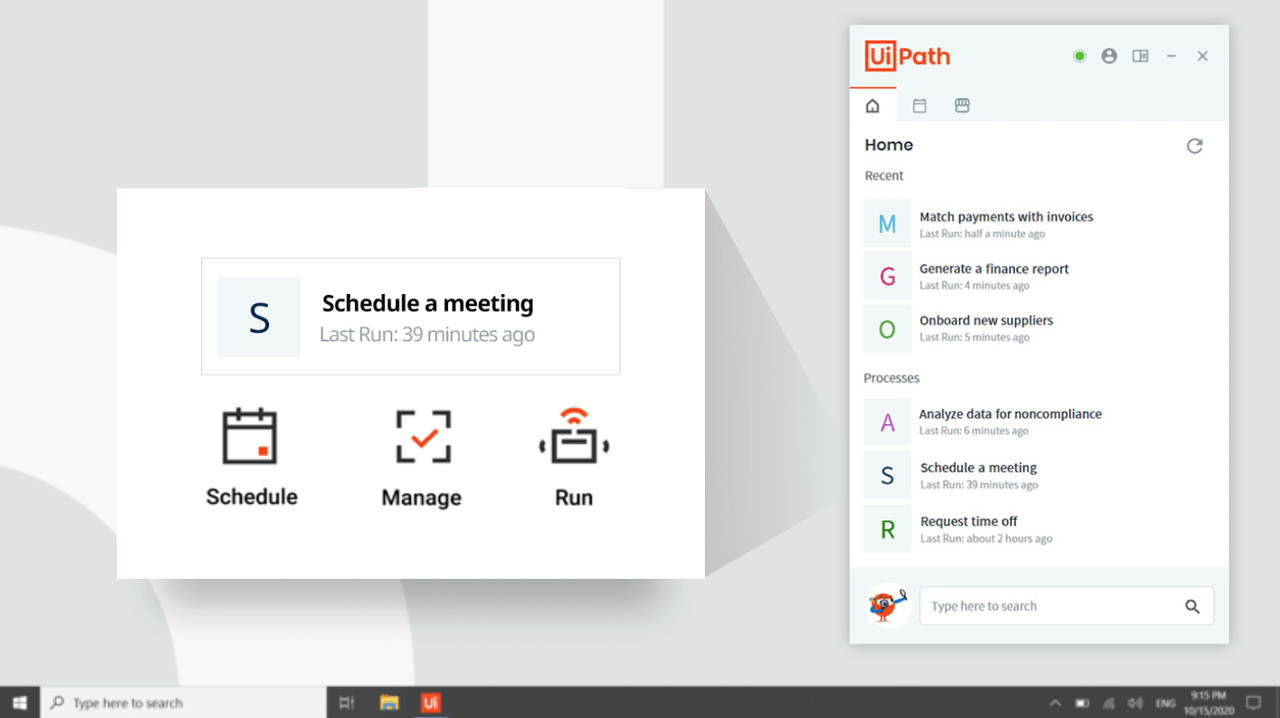 Action Center
The UiPath Action Center enables robots and people to work together. When a robot requires the involvement of a human - such as approvals, escalations, and exceptions - Action Center allows developers to create automations that know when to pause and resume, based on the criteria set by the developers. Once the user takes the necessary actions, they can pass the job back to the robots.
Chatbots
Chatbots are one of the most common products in the automation market. As the name implies, Chatbots are robots that trigger specific automations through conversational interfaces, social messaging apps, and even voice channels. UiPath users can choose an out-of-the-box chatbot solution or from third-party providers.
Measure
Measure products enable stakeholders to track, measure, and forecast the performance of their automation initiatives. UiPath Insights is the primary product.
Govern
The Govern module ensures that businesses remain compliant with business standards. In addition, management can control what can be automated and who can build, publish, and access automations.
Key Benefits For Enterprises And Employees
Through UiPath's suite of RPA products, employees get to eliminate repetitive, lower-value work and let robots handle those tasks. On the other hand, employees can focus on things that are intrinsic to enterprise growth and success: product innovation, team collaboration, and customer interaction.
Here are some of the benefits of using UiPath:
Major cost savings - By streamlining processes through automation, businesses reap the benefits of major cost savings. For example, Uber Freight (UBER) used UiPath's technology to deploy more than 100 robots for invoice processing, chatbots, and other tasks, saving the company over $10 million a year.

Greater business resilience - AI and ML are embedded in UiPath robots, which enables businesses to remain on top of their game under constantly changing conditions.

Higher accuracy - Using robots also eliminates the potential for human error. Omega Healthcare utilizes UiPath to automate three major processes: medical coding, account receivables, and payment processing. The result was a 100% accuracy in the automated processes.

Detect fraud - This is applicable to the banking, financial, and legal industries where fraud is prevalent. RPA is rule-based and can detect fraudulent activities. According to UiPath 75%+ of transactional operations can be automated.

Boosted productivity - Robots can run 24/7 365 days, which helps boost company productivity. For instance, Deloitte partners with ServiceNow (NOW) and UiPath to support government agencies with digital labor program management office tools, which saw an 80% improvement in processing times and a 300% increase in work productivity.

Happier employees - Having more time and energy for more meaningful work resulted in a more fulfilled and motivated workforce.

Organization-wide automation - UiPath's vision is to deliver the fully automated enterprise, providing an end-to-end automation platform across the enterprise, regardless of department, employee level, and process complexity.

Enhanced customer experience - Robots can resolve customer issues faster and more efficiently than humans can, boosting customer satisfaction. For example, chatbots can reduce customer wait times and resolve issues without getting an agent involved. In the insurance industry, quote cycles can be reduced from 40 minutes to just 8 minutes.

Fast time-to-value - UiPath's open architecture and low-code platform enables customers to deploy robots within hours not months. As such, customers can expect immediate ROI, which they can use to reinvest into their businesses.
Value Proposition: Summary
From barely surviving in its first 10 years as a company to being the most well-recognized RPA provider in the world, UiPath has proven to the market that its products have real use cases and product-market fit.
In a few words, UiPath offers software robots that leverage AI, ML, and open API, to seamlessly automate some of the most mundane, repetitive, and soul-sucking tasks. Consequently, employees and managers can focus on more meaningful tasks like innovation, collaboration, and creation. In other words, UiPath is accelerating human achievement, ironically, by introducing robots to daily workflows.
Market Opportunity
The RPA opportunity is still in its early innings and it is scaling very quickly over the last few years. UiPath values the total addressable market for the fully automated enterprise to be over $60 billion.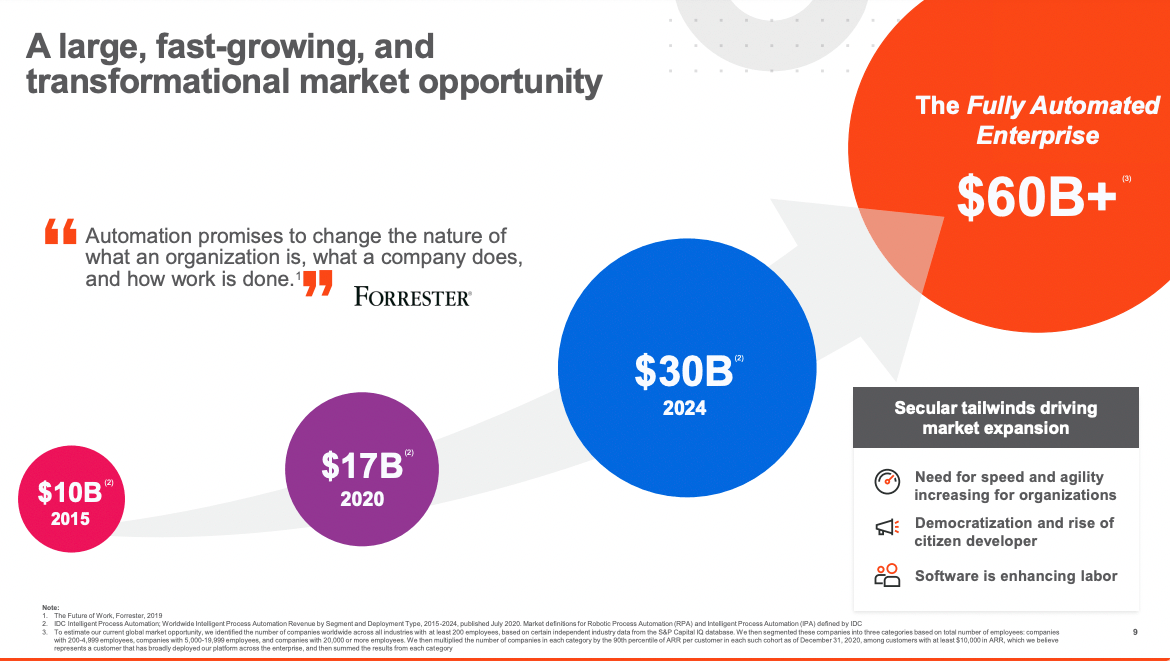 The chart below from ETR shows the market positioning for RPA technology and other SaaS. The vertical axis shows spending momentum while the horizontal axis shows market share. As denoted by the red line, only four categories showed spending velocities of more than 40% - artificial intelligence, cloud computing, containers, and RPA. Despite high spending velocity, RPA is still situated on the left side of the chart, meaning, its market share is relatively low - RPA is still a nascent category. Given the key benefits of using RPA solutions, boosting marketing efforts to bring more awareness to RPA could accelerate market adoption for the foreseeable future.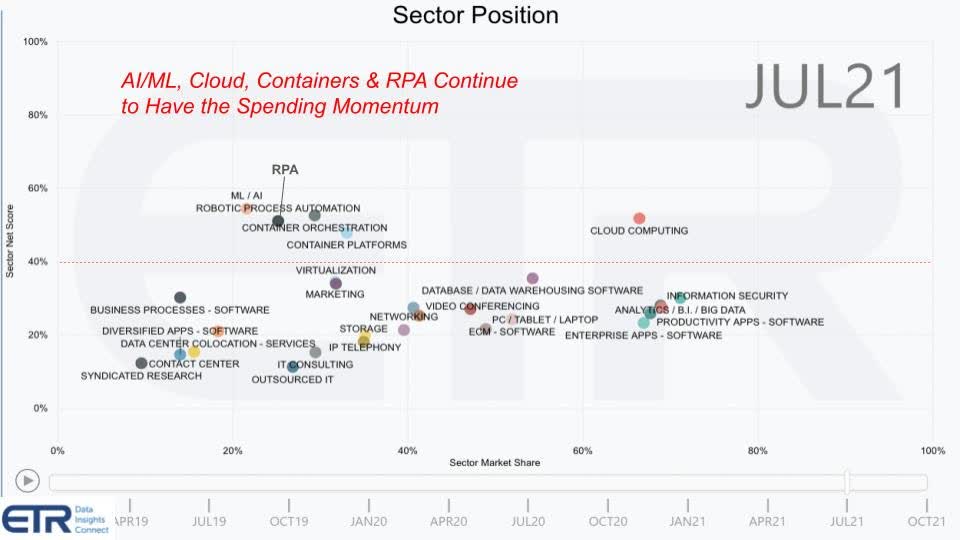 Again, market adoption of RPA is still relatively low. According to Bain's Automation Survey, the gap between companies that use automation today and those that plan to use it within two years is staggering. As shown below, companies are looking for a wide array of automation technologies - UiPath is well-positioned to cater to these needs as the company offers a full-stack, enterprise-wide automation solution.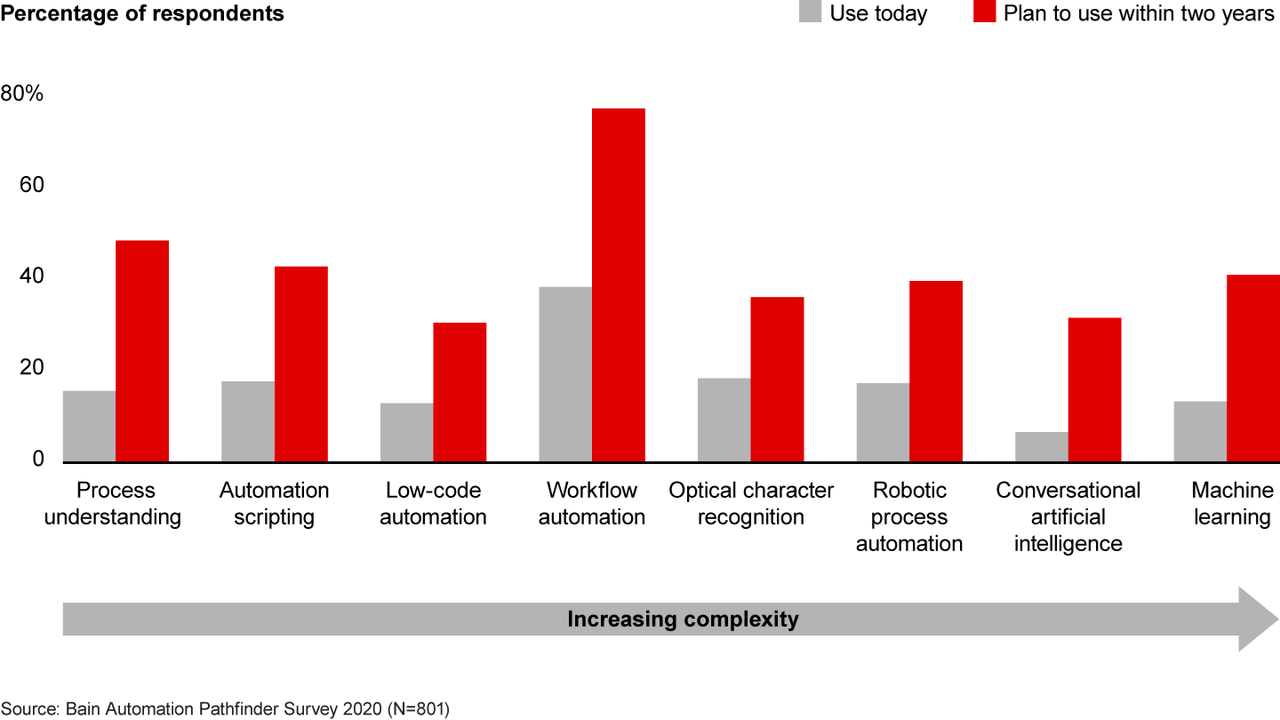 Furthermore, the global population is expected to grow slower each year, which may lead to tight labor markets. The pandemic and the ongoing war have also contributed to a drop in global population. As such, companies everywhere will have a challenging time recruiting the right talents. Robots can be a solution to make up for this labor shortage.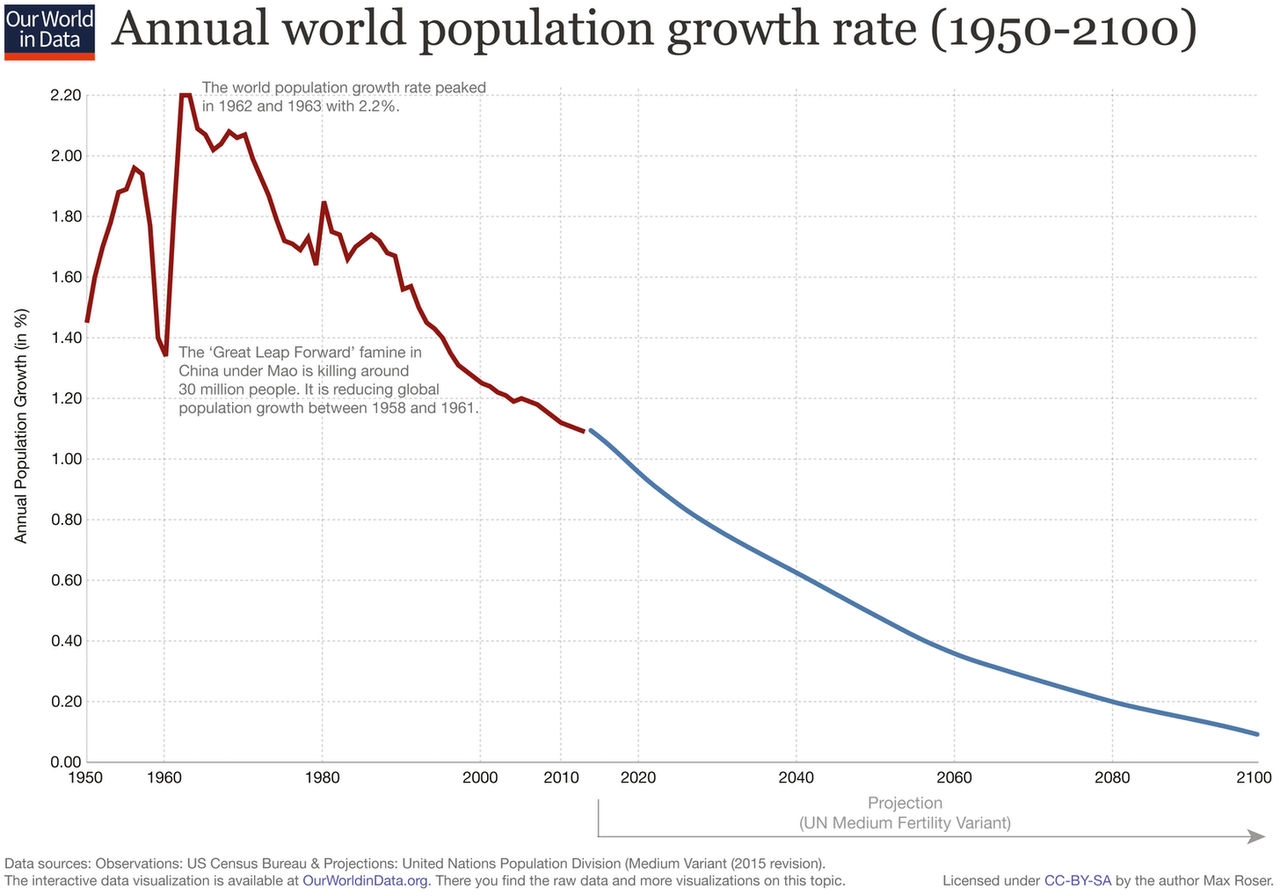 Not to mention, companies all over the world are faced with an ever-changing competitive and technological landscape - companies need to be equipped with the right technology in order to remain competitive or to grow market share. For example, rising inflation rates have increased the costs of doing business (wages, raw materials, and so on). RPA can not only reduce labor costs and increase productivity but also provide businesses with a technological edge through AI and ML.
UiPath's RPA-as-a-service offering is well-positioned to capture these market trends.
Revenue Model
UiPath generates revenue from three major segments: Licenses, Subscription Services, and Professional Services and Other.
Licenses
UiPath earns Licenses Revenue when a customer signs an agreement to use UiPath's software. These fees are based primarily on the number of robots and users on the platform. License agreements are primarily 1-year contracts, with some multi-year deals.
It is important to note that Licenses Revenue is recognized upfront when the software is delivered to the customer or when the customer renews the contract, regardless of the contract duration.
Here is what a typical one-year deal looks like.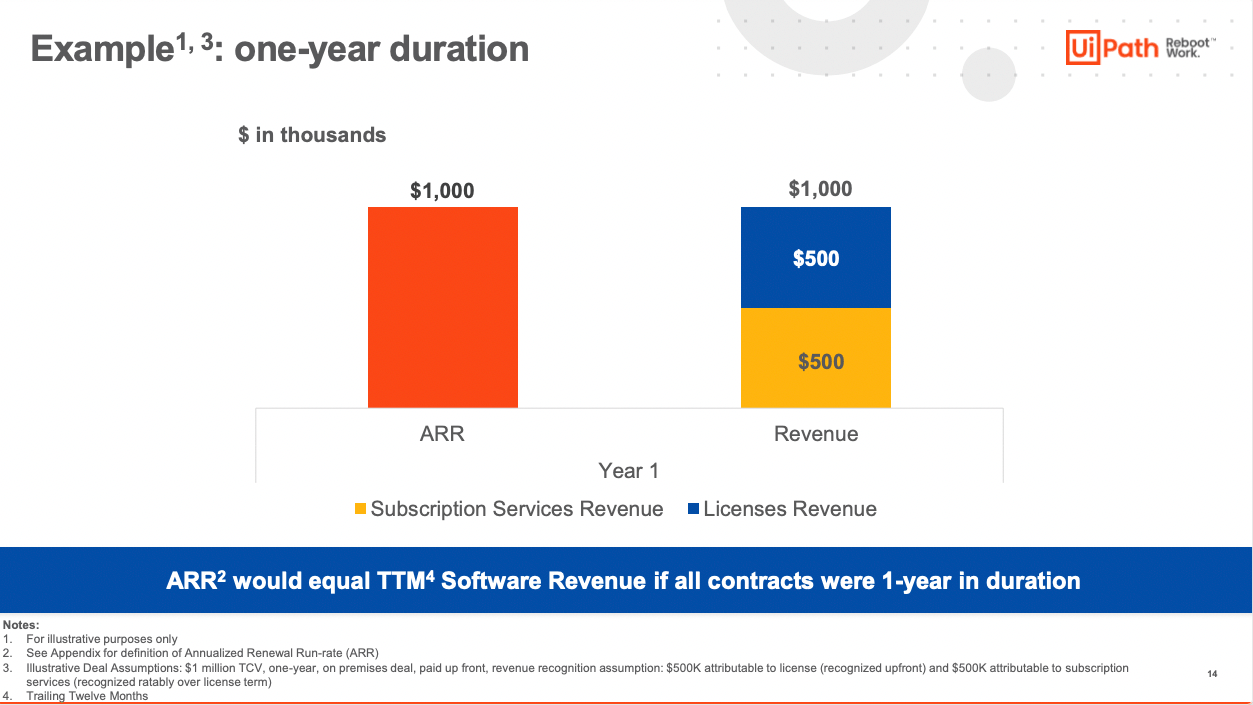 And here's how revenue is recognized if it was a multi-year deal. Notice that Licenses Revenue is recognized upfront in Year 1, but none in Years 2 and 3.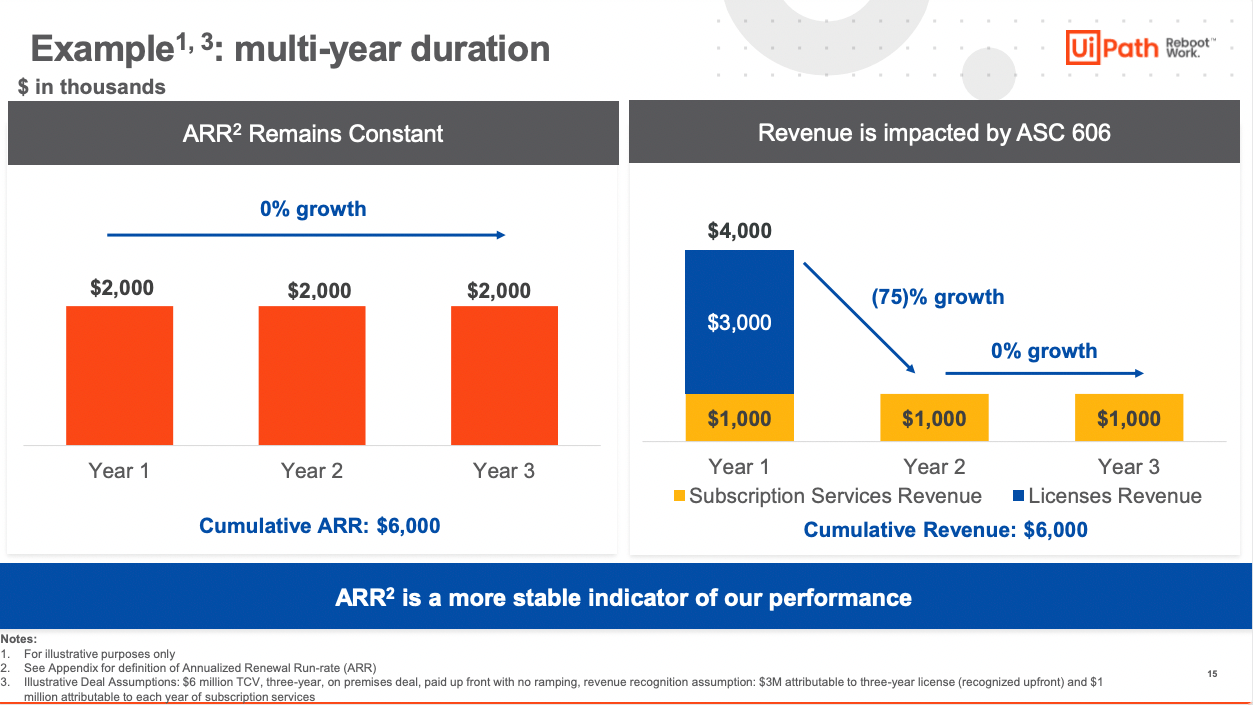 Subscription Services
Subscription Services Revenue consists of revenue related to UiPath's SaaS products, maintenance, and technical support. Subscription Services Revenue represents a stand-ready obligation and revenue is recognized ratably over the contractual period of the agreement, as shown in the previous chart.
Given the volatility of Licenses Revenue and stability of Subscription Services Revenue, Annualized Renewal Runrate, or ARR, is a much more reliable metric to measure the revenue potential and growth of the company.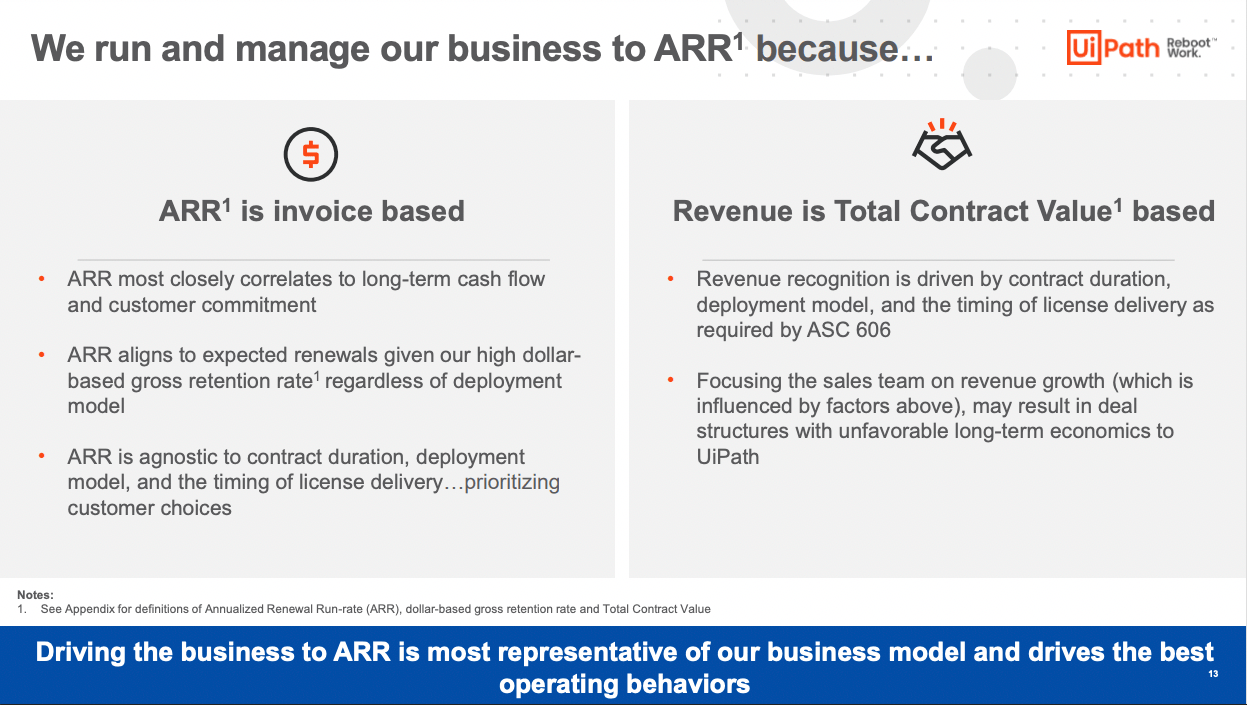 Professional Services and Other
This segment consists of revenue from services such as process automation consulting, deployment, customer education, and training. This segment is non-recurring in nature.
Income Statement
UiPath's ARR has seen robust growth over the last few quarters, growing from $220 million in FY2021 Q1 to $818 million in FY2022 Q3. Due to the law of large numbers, however, ARR YoY growth rates have decelerated. Nonetheless, 50%-60%+ growth rates are still commendable, showing strong demand in the RPA landscape.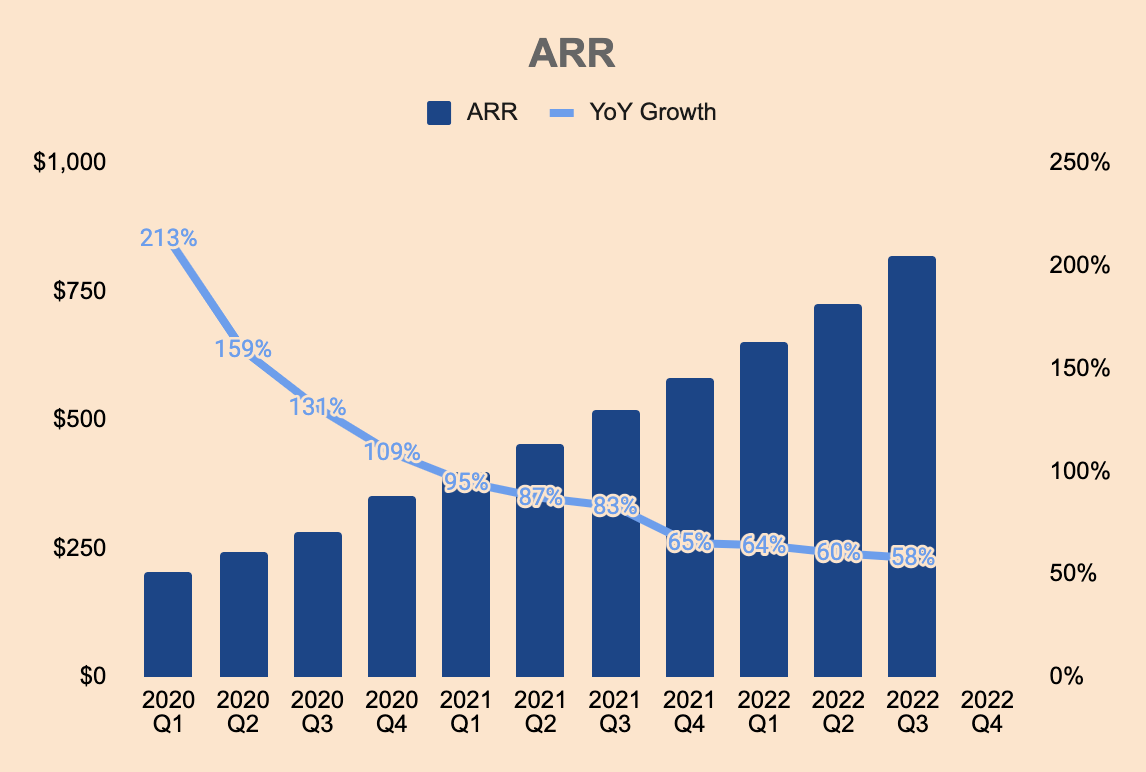 ARR growth was primarily due to new customers added as well as existing customers spending more on UiPath's platform. As you can see below, Total Customers grew 23% YoY to 9,630 as UiPath lands additional customers. On the other hand, Customers with more than $100k ARR and $1 million ARR grew even faster, at 52% and 82%, respectively. This shows strong customer satisfaction as well as the overall quality of UiPath's technology. Such land-and-expand strategy has resulted in UiPath recording Net Retention Rates of 140%+ over the last few quarters.

As a result of growing Customer count and spending, Revenue is also showing strong momentum. Unlike ARR, Revenue YoY growth rates are more volatile given the timing of Revenue recognition as well as variance in contract durations, as discussed in the previous section. FY2022 Q3 Revenue was $221 million, which grew 50% YoY or 13% QoQ. In terms of seasonality, Q4 is often the strongest as UiPath has the most active Net New ARR adds in the quarter.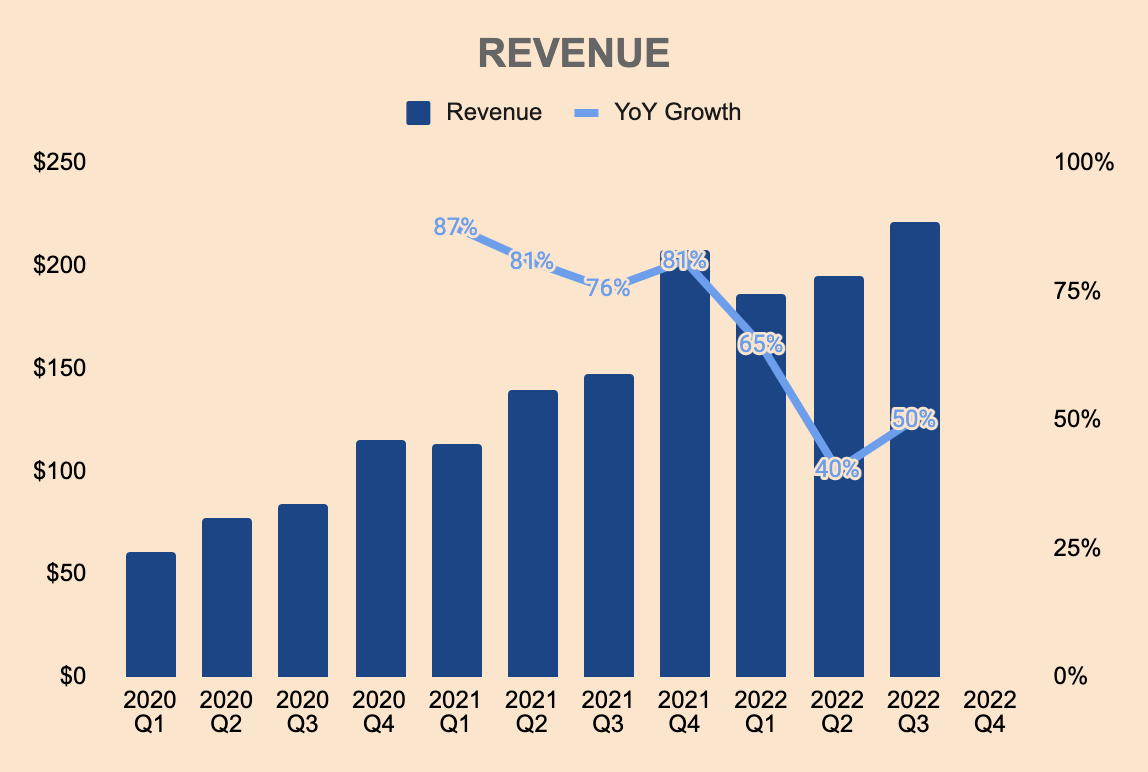 Breaking down the components of Revenue, we can see that Subscription Revenue is growing more steadily than Licenses Revenue. These two segments are considered as the core SaaS Revenue. Professional Services and Other makes up a smaller portion of Total Revenue.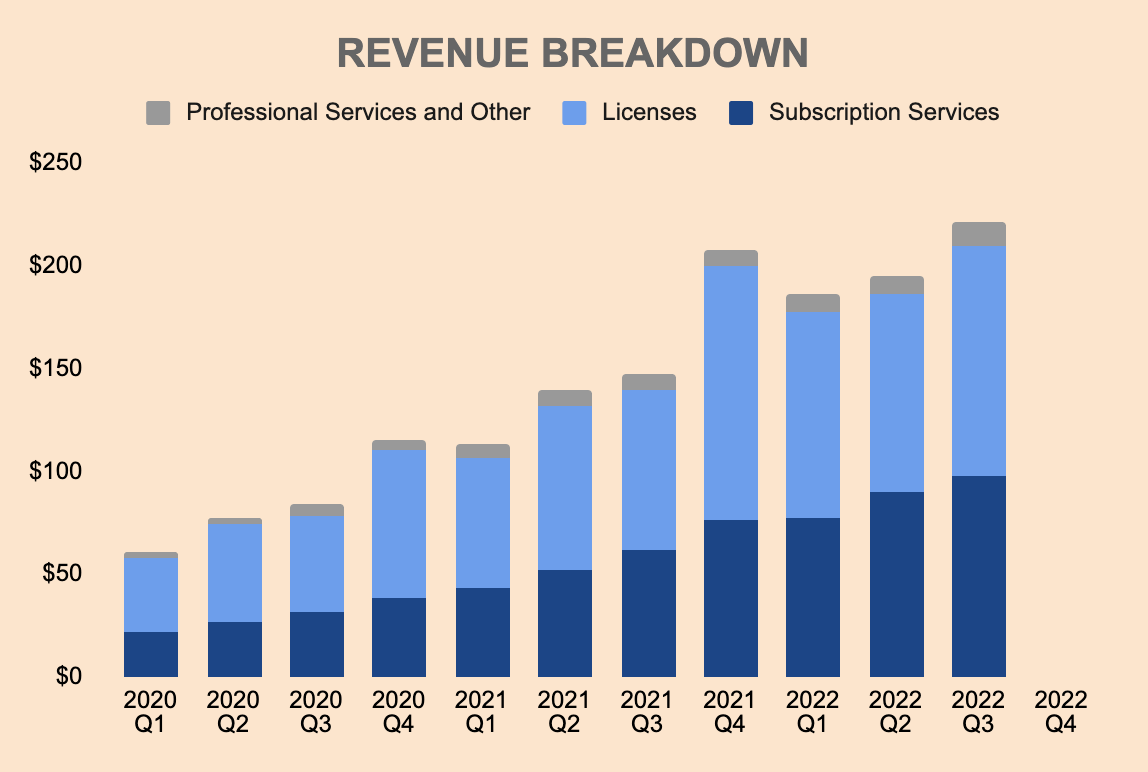 Cost of Revenue grew faster than Revenue, unsurprisingly, due to heavy SBC expenses typical of recently-IPOed companies.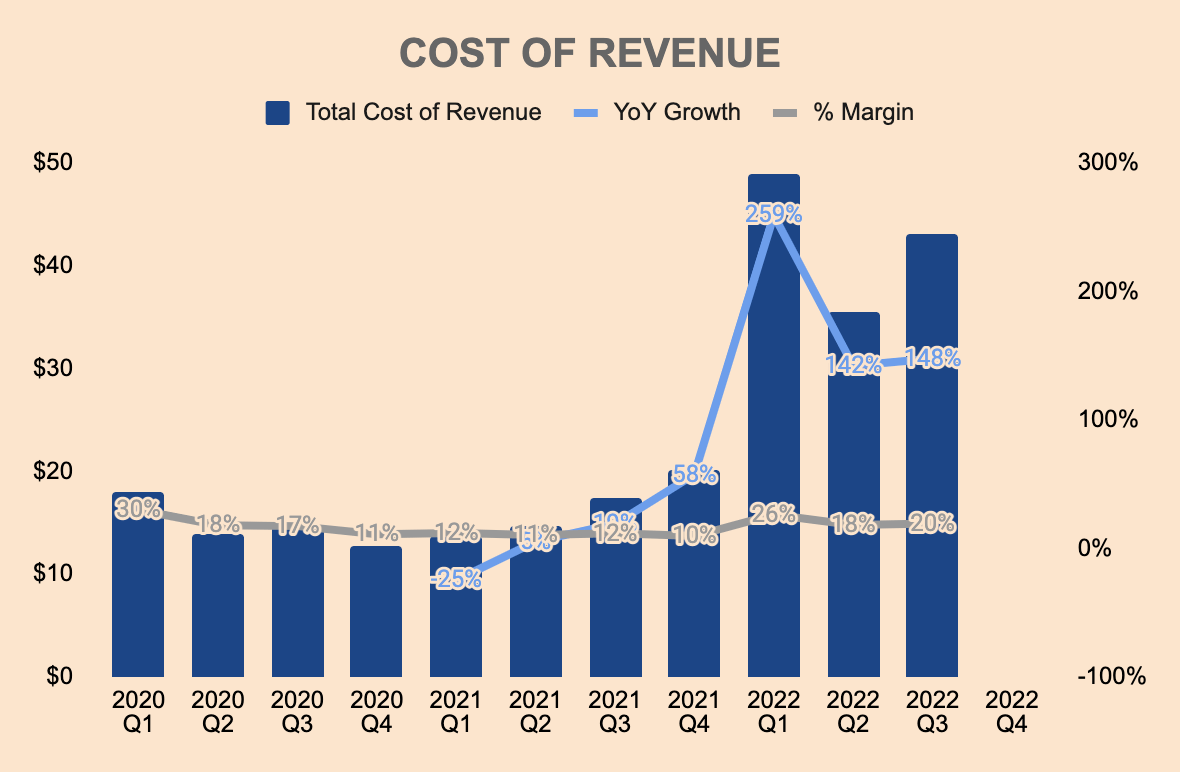 Despite the acceleration in Cost of Revenue, Gross Margin is still high at 80%+. On a Non-GAAP basis, Gross Margin was 85% as of the latest quarter. The slight dip in Gross Margins was also due to a rapid increase in personnel-related expenses as well as cloud hosting costs as UiPath begin ramping up its cloud offerings.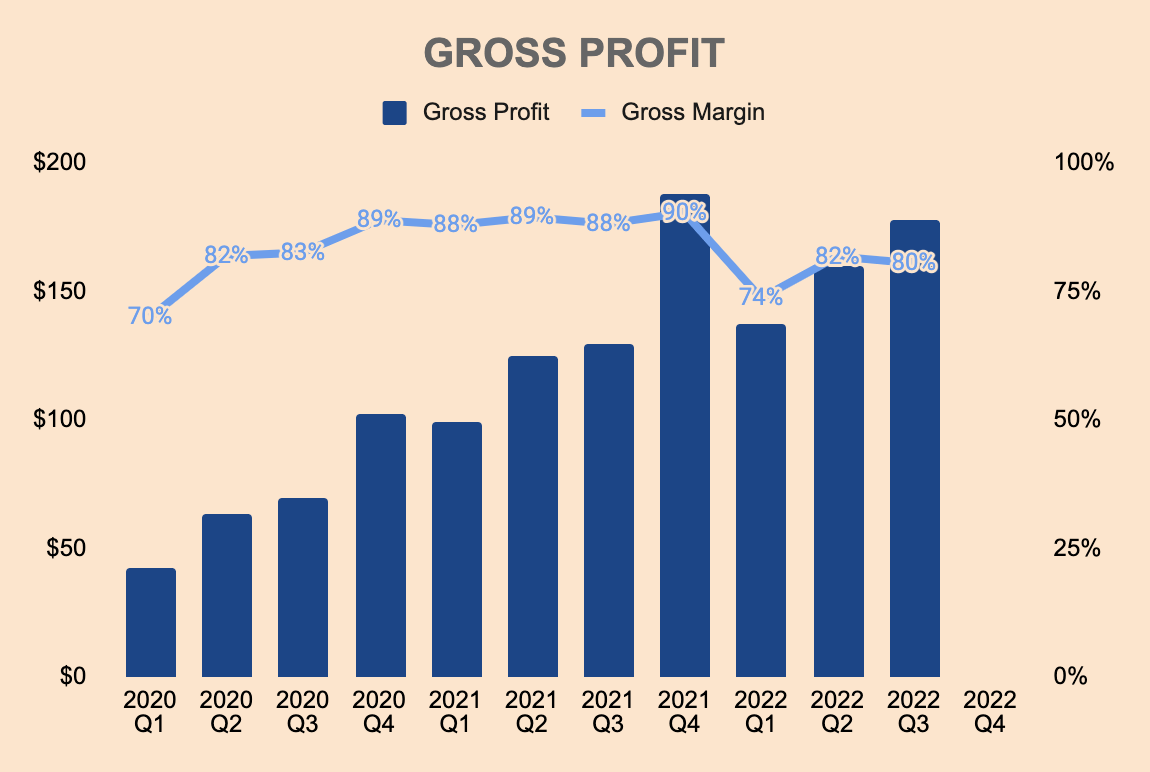 Here, we can see Gross Margin by Revenue Segment. As you can see, the SaaS component is showing high, stable Gross Margins. On the other hand, Professional Services and Other acts as a loss leader as UiPath aims to bring market awareness, educate the masses, as well as give consultations to business owners.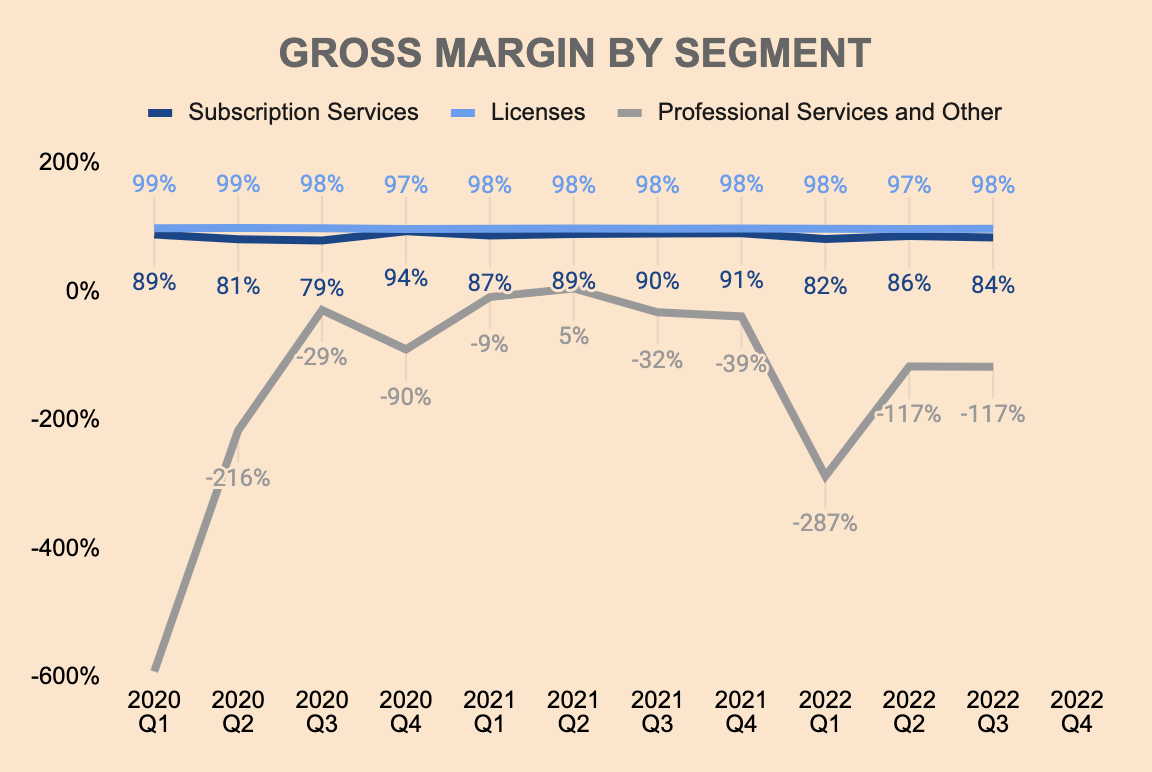 Operating Expenses is extremely high, due to elevated SBC expenses. In the latest quarter, UiPath spent $294 million in Operating Expenses, which is 133% of Revenue. Again, UiPath is spending every dollar possible to capture market share in the nascent RPA category. Given its effective land-and-expand strategy, UiPath's early investments to capture market share should pay off in the long run.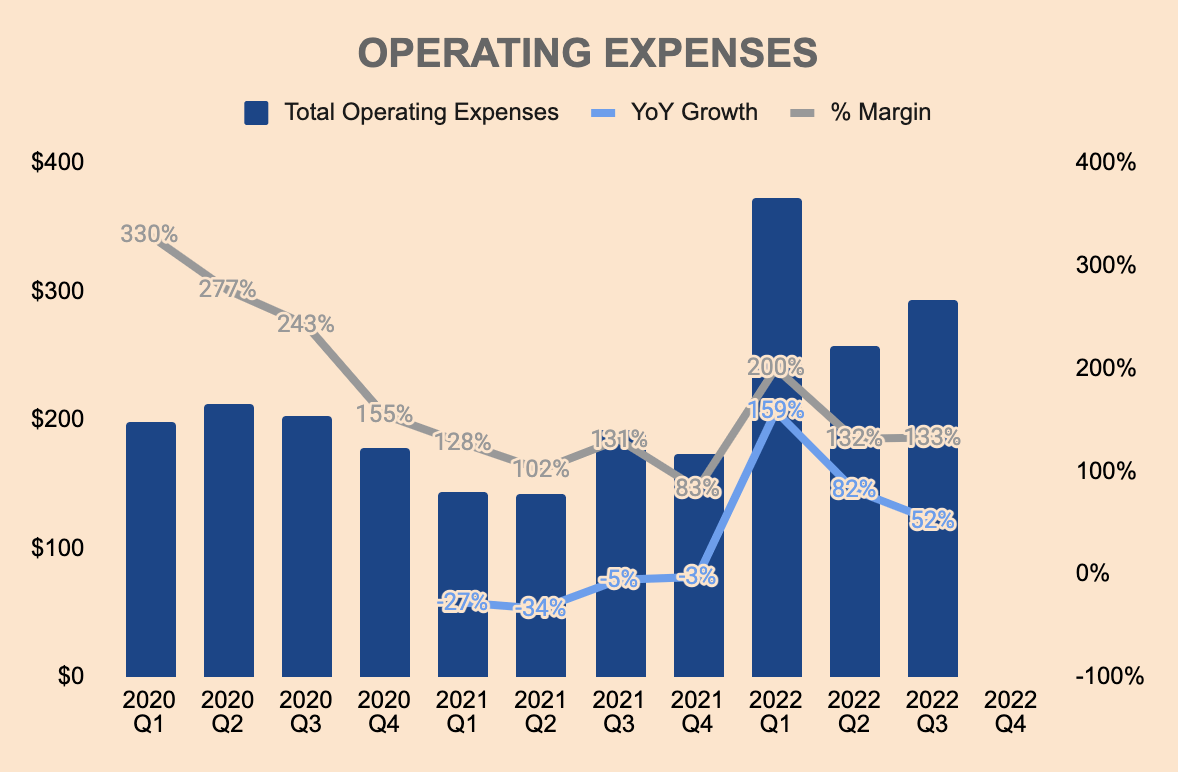 Below, we can see how the different components of Operating Expenses is trending. CEO Daniel Dines even joked about their crazy spending:
I can tell you our strategy for hiring into R&D was higher like there is no tomorrow. We are joking internally saying we don't have a budget for R&D.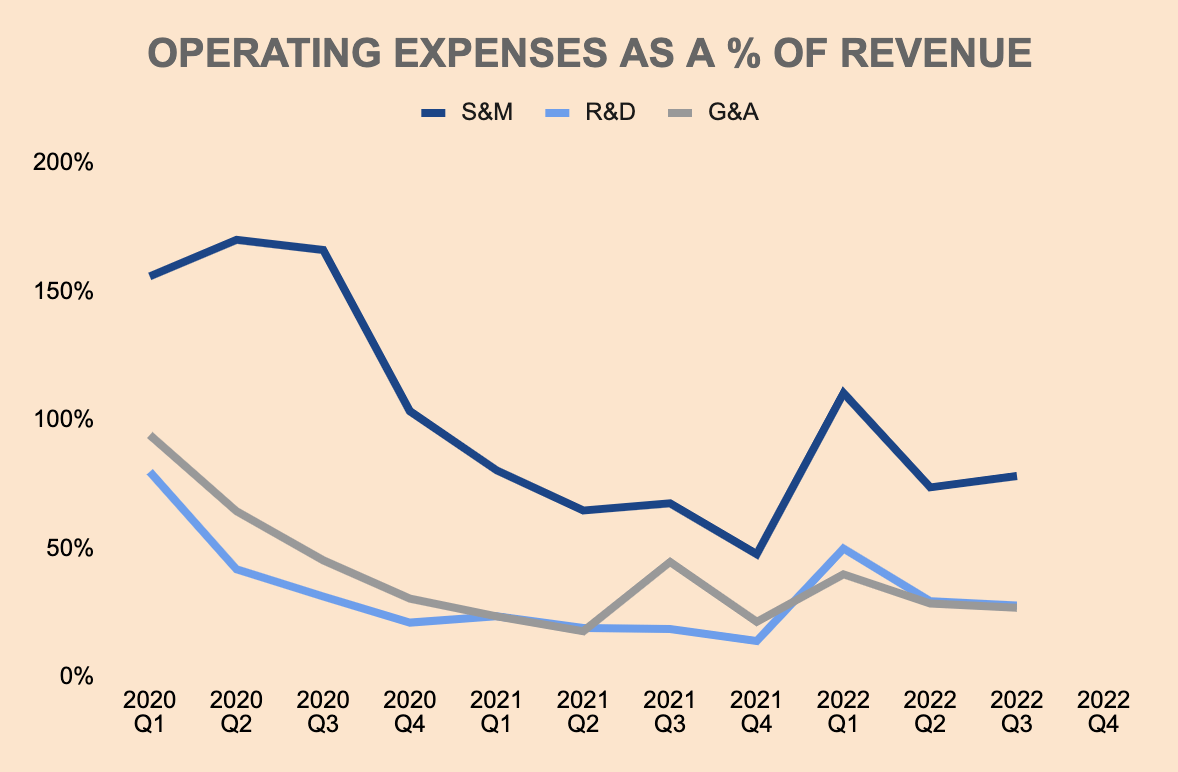 As a result, Operating Profit has yet to turn positive.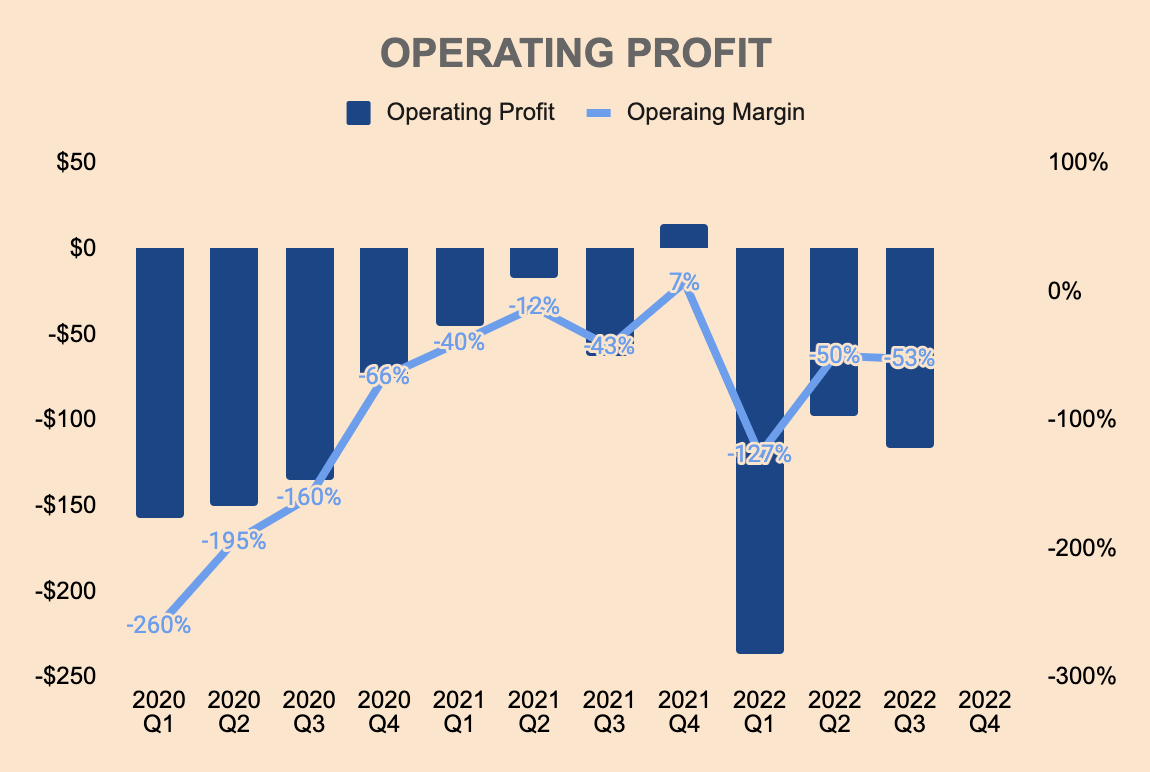 However, on a non-GAAP basis - which adjusts for SBC and other one-time expenses - UiPath is already profitable. While margins are still low, I expect it to improve as UiPath gains economies of scale from its land-and-expand strategy.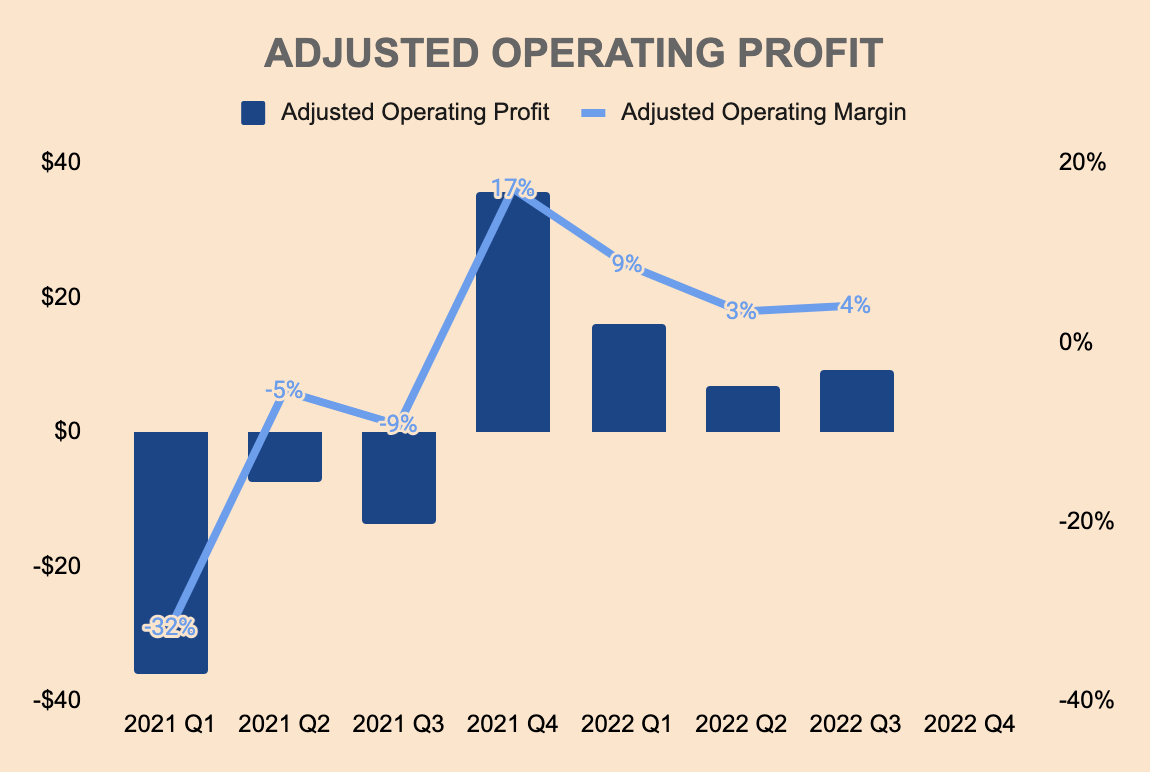 The same goes with Net Profit - it is still in the abyss, but this is expected for a high-growth SaaS company.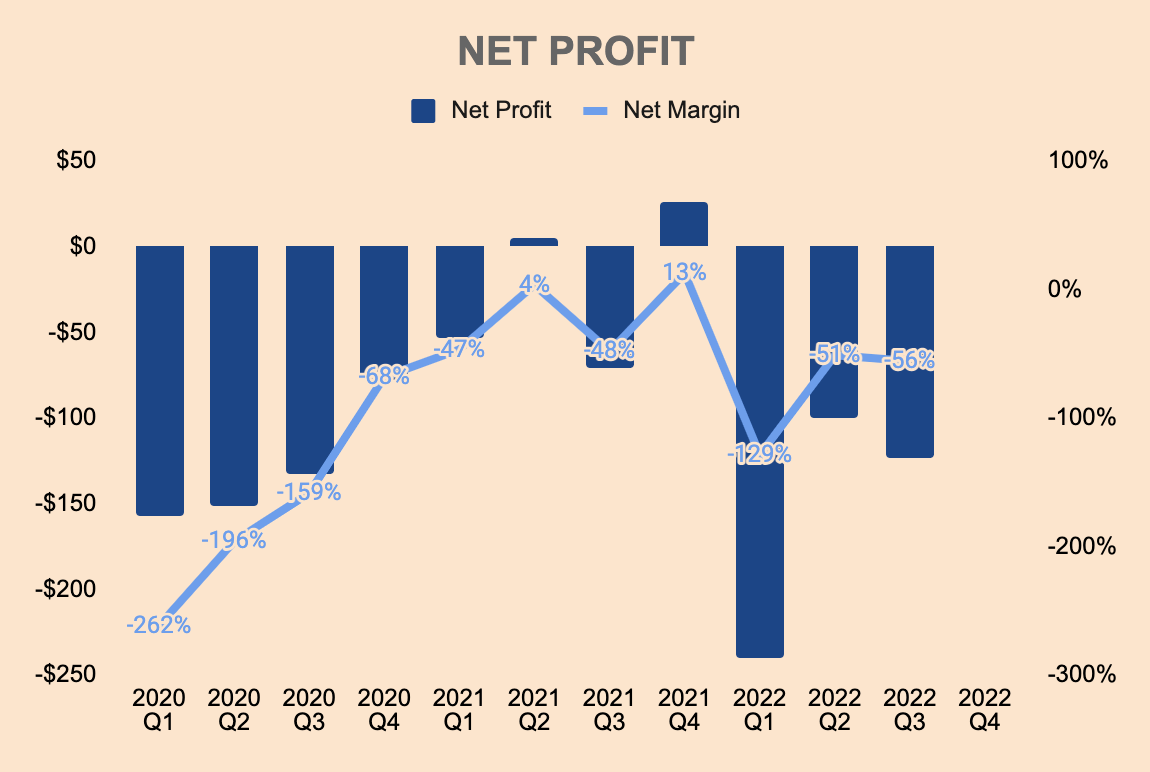 In terms of its outlook, management expects FY2022 Q4 ARR to be about $902 million, representing a 55% YoY growth, which is also a deceleration from 58% in the previous quarter. Revenue, on the other hand, is expected to reach $282 million, only a 36% YoY growth. This deceleration of growth may also be the primary reason why the stock is selling off. Furthermore, all eyes are set on management's outlook for FY2023. Given today's market environment, a soft beat on estimates as well as weak guidance for the next fiscal year could lead to a further selloff in the stock price. Despite the price volatility, I expect Revenue growth to be more than 30%+ through FY2025, given the company's long growth runway and top-of-the-class NRR.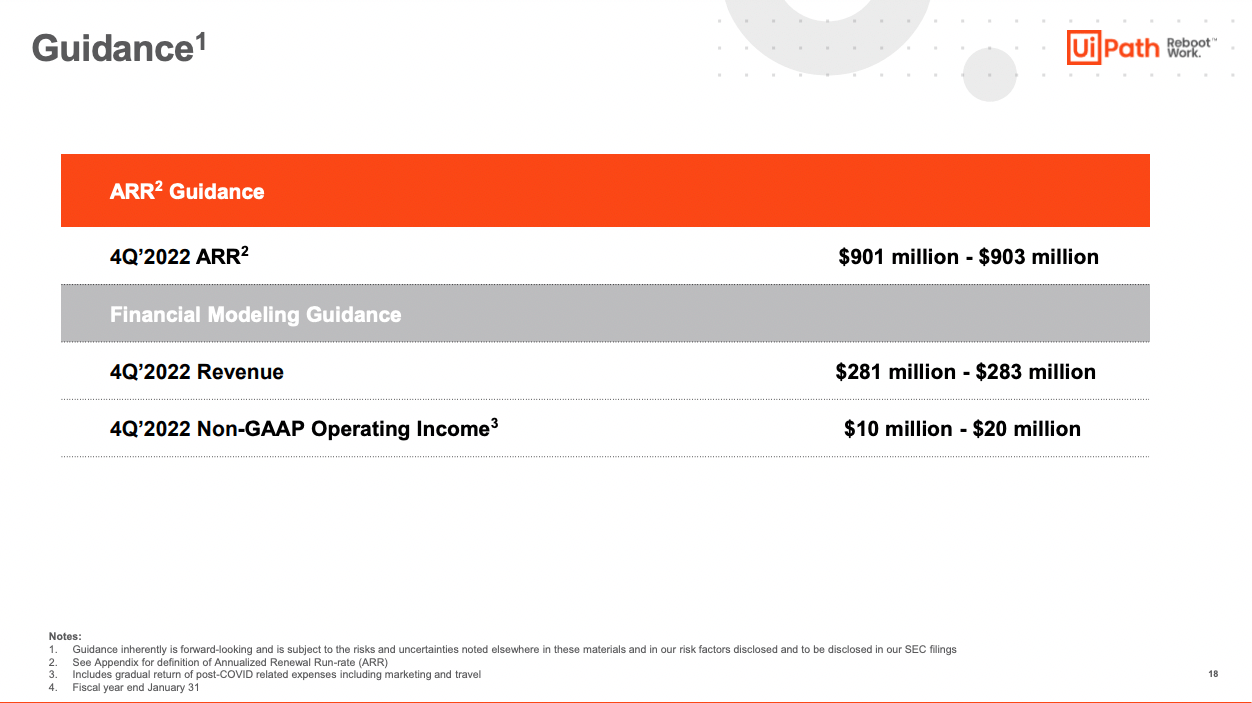 Balance Sheet
UiPath has a strong balance sheet. As of Q3, UiPath has $1.9 billion of Cash & Short-Term Investments. The company also has virtually zero debt, which brings its net debt to around $(1.8) billion. Current Ratio is also high at about 5x which shows UiPath's relatively liquid business model.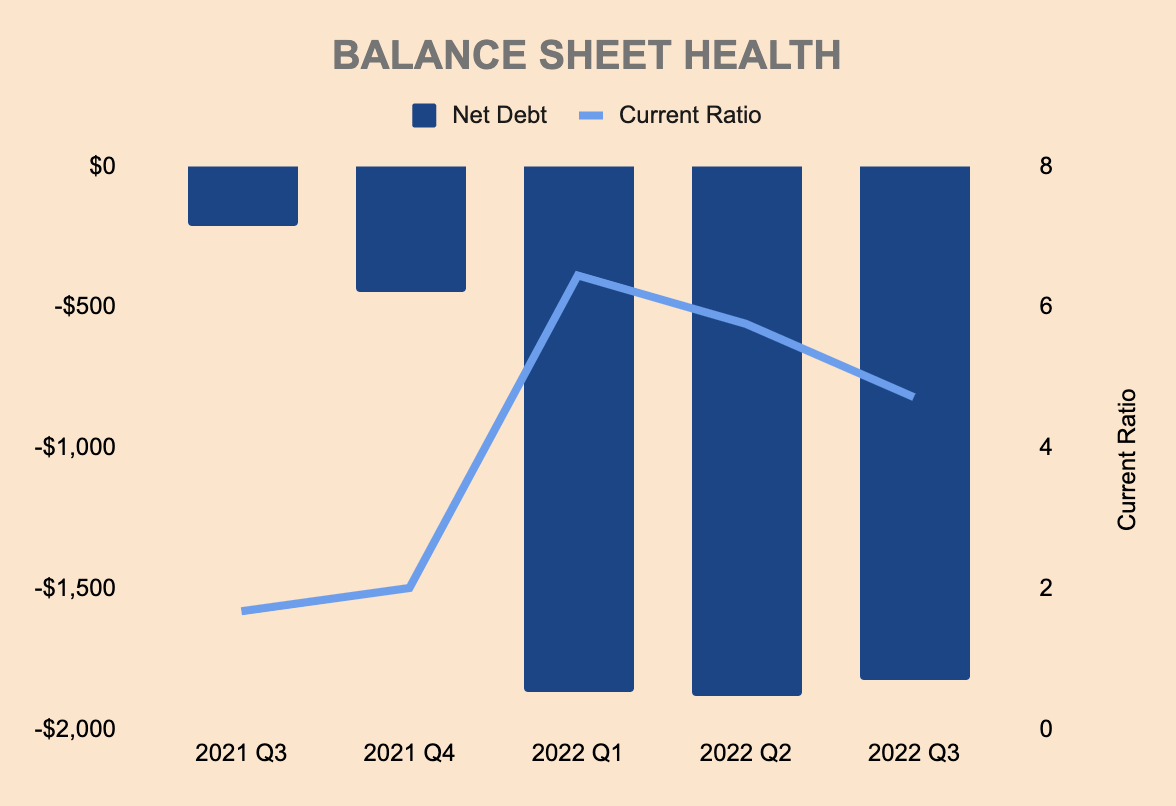 UiPath also has access to $200 million of revolving credit facility which matures on October 2023. As of Q3, there were no amounts outstanding on the credit facility.
Non-cancelable contractual obligations are also very low, at only $34 million.

Given UiPath's strong balance sheet and Non-GAAP Operating Profitability, I do not expect UiPath to raise additional capital, especially at current depressed prices.
Cash Flow Statement
Turning to the cash flow statement, we can see UiPath's cash flow activities in the last few quarters.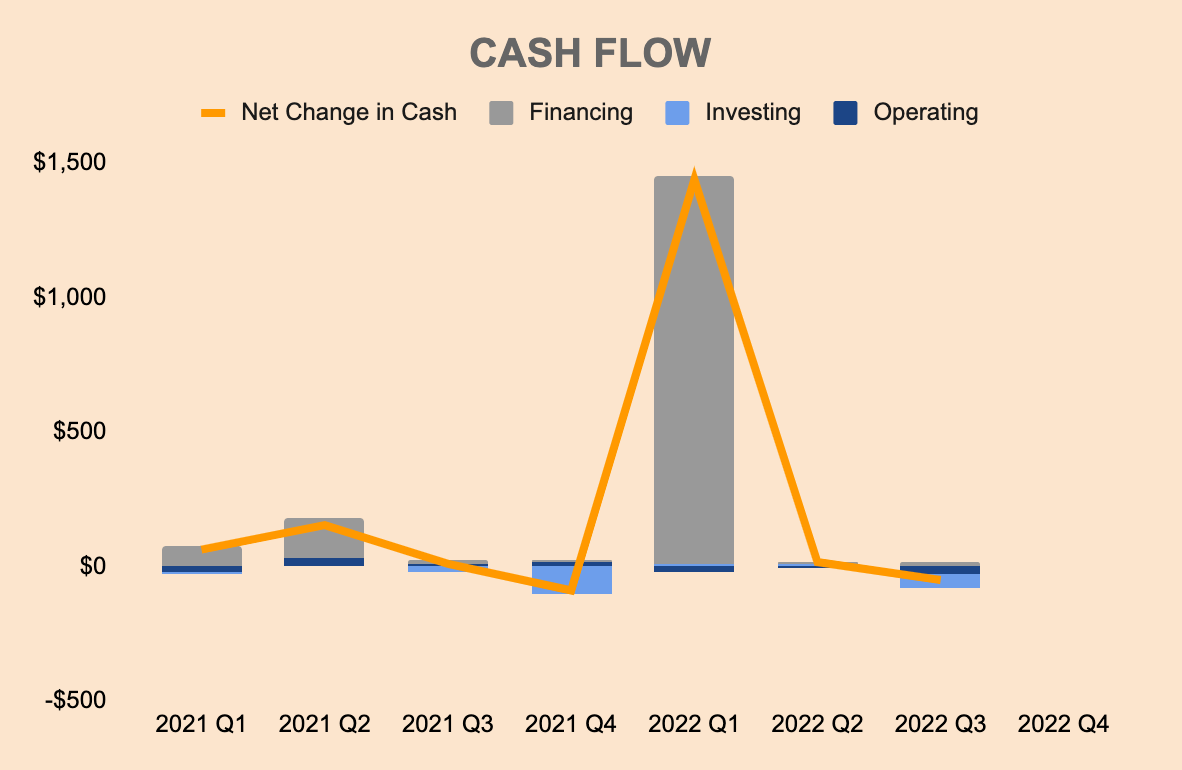 The anomaly came in FY2022 Q1 where cash provided from Financing shot up by $1.4 billion. This was due to two separate funding rounds in Q1, namely UiPath's $750 million net proceeds from its Series F round and $692 million net proceeds from the IPO.
Despite extreme GAAP unprofitability, TTM cash used from Operations was only $(31) million. This was due to high non-cash SBC expenses as shown below. SBC should trail downwards from here.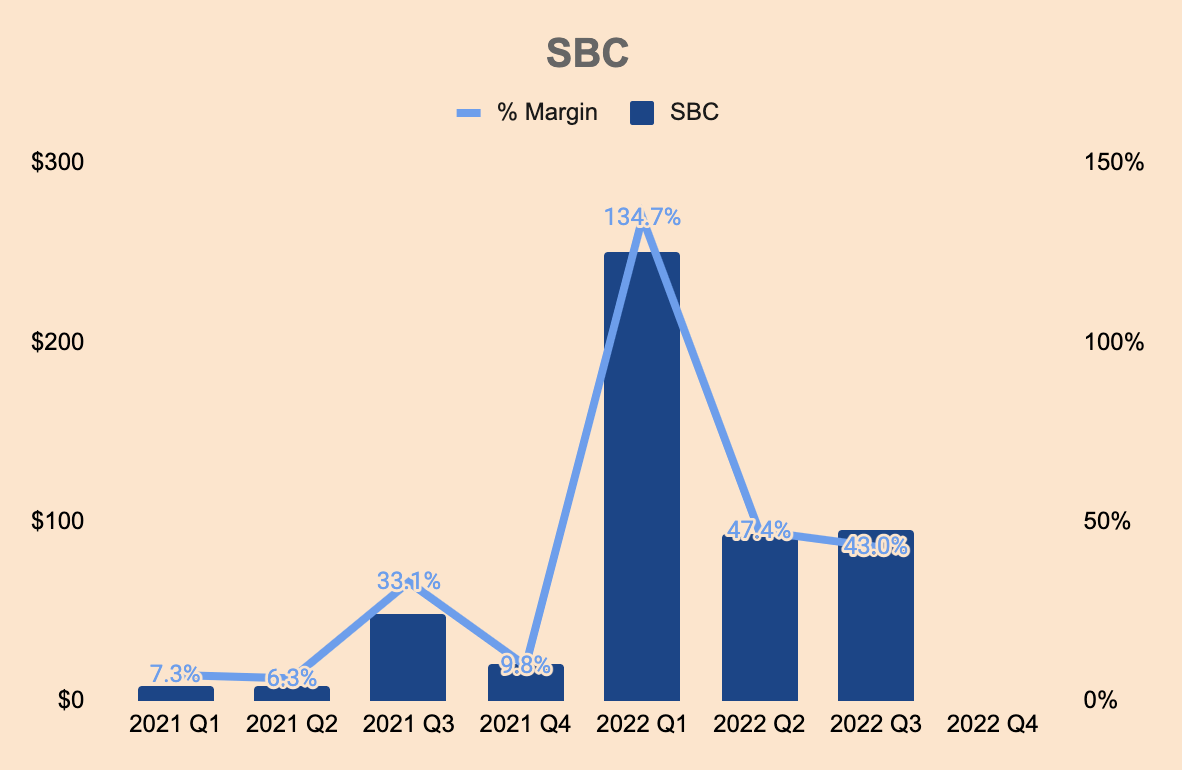 In terms of Free Cash Flow, UiPath is still in the negative as the company is investing heavily in customer acquisition, product innovation, and headcount growth. UiPath is also a capital-light business - Capital Expenditures was only 1% of Revenue.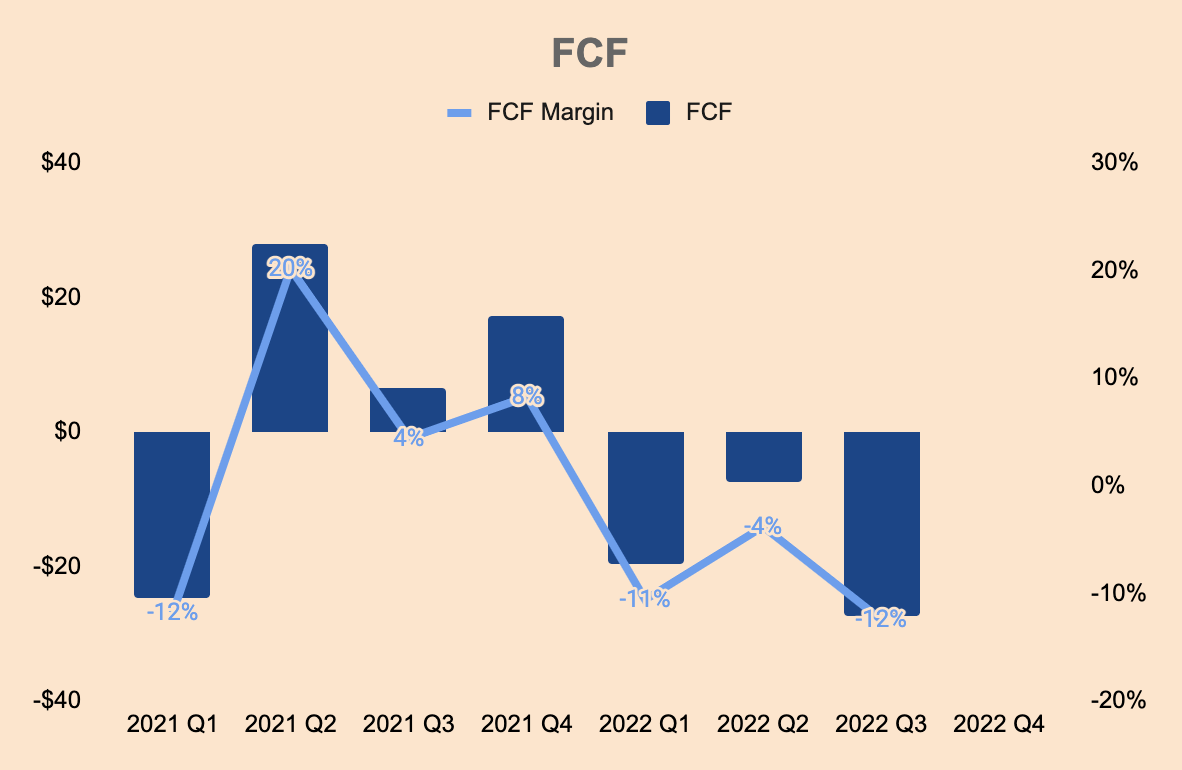 Competitive Moats
Based on my research and analysis, I identified three competitive moats for UiPath: technology, network effects, and switching costs.
Proprietary Technology
UiPath is one of the first-movers in the RPA category. The key differentiating factor between UiPath and traditional automation solutions is that UiPath leverages AI, low-code, and API, which is a modern, scalable solution favored by many companies. Not only that but UiPath is also recognized as a leader in the RPA space, as mentioned by many industry analysts. The following few charts support the thesis that UiPath has a superior technology compared to its peers.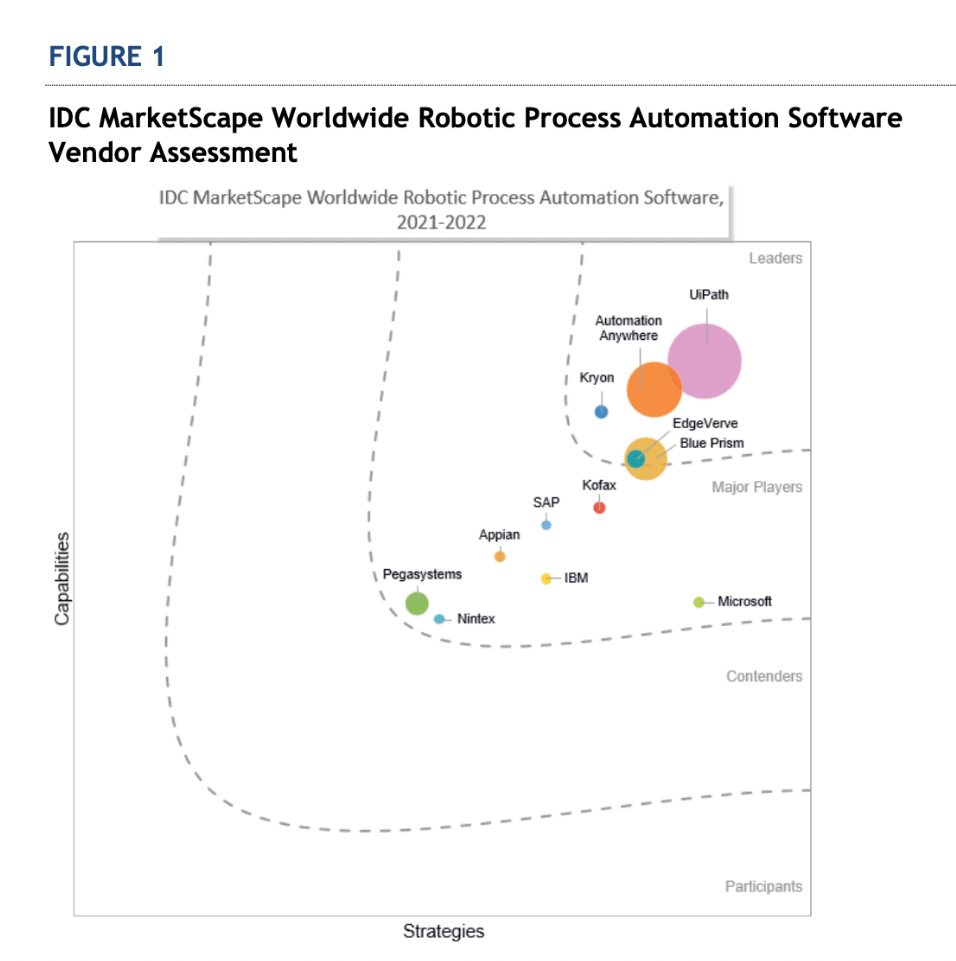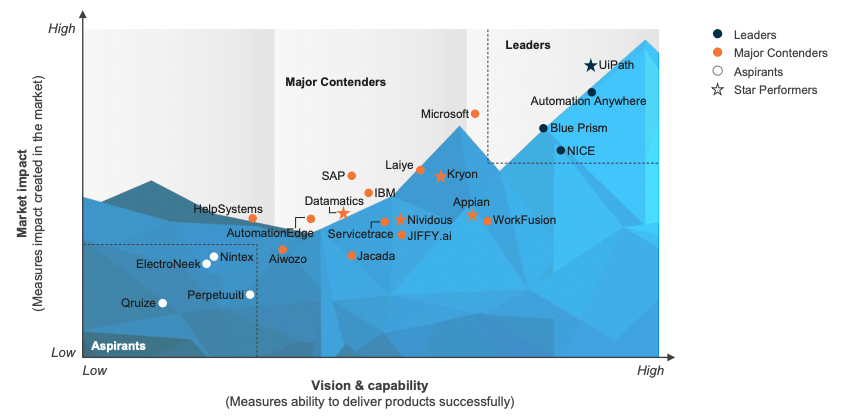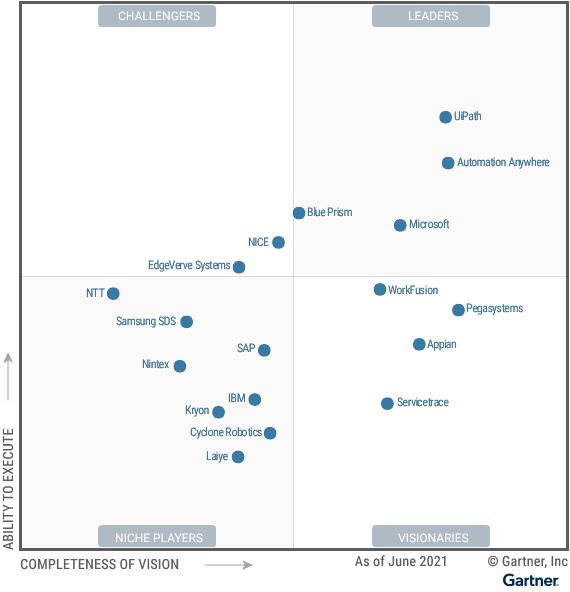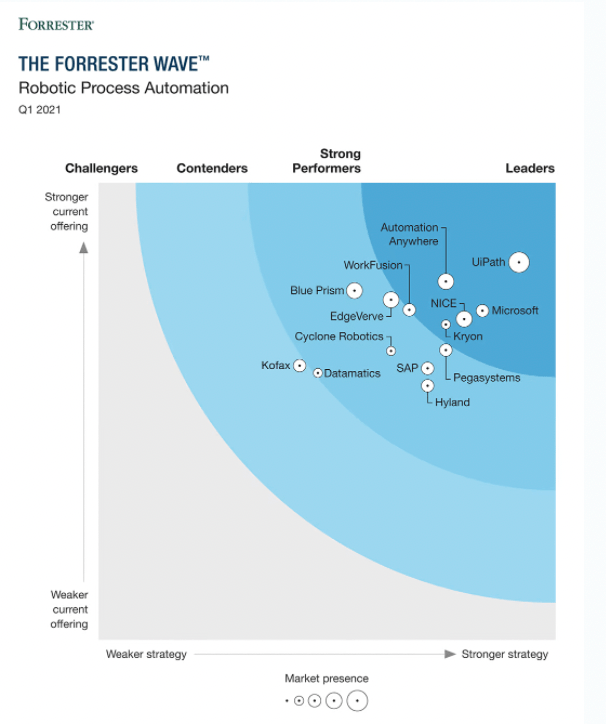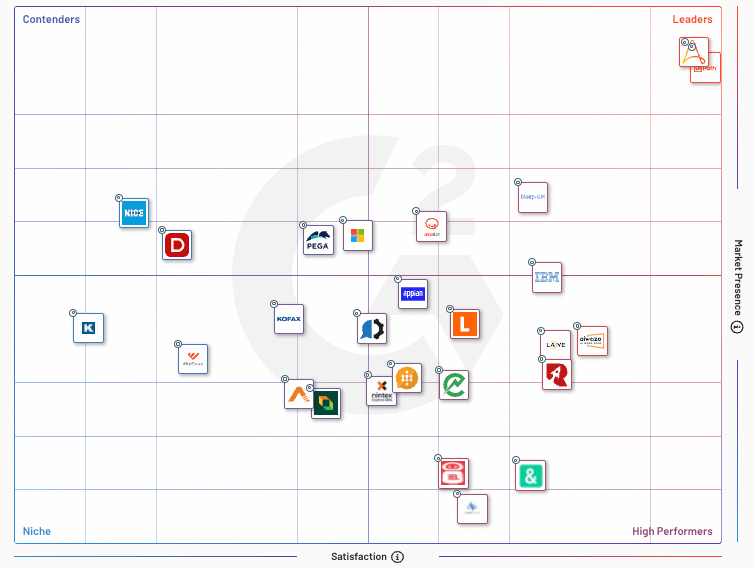 Based on multiple sources, UiPath consistently ranks as a leader in the space, a strong indication that the company has a superior technology offering.
Network Effects
UiPath pioneered RPA technology all the way back in 2005, but during the first decade as a company, UiPath did not have a scalable go-to-market strategy - the company was mainly doing consulting and outsourcing work.
However, in 2015, UiPath began partnering with BPO and consulting companies which accelerated growth beyond management's expectations. As of Q3, UiPath has over 4,900 business partners, including integrators, resellers, and consultants. Some of the more recognized names are Accenture (ACN), Capgemini, Cognizant (CTSH), Deloitte, Ernst & Young, KPMG, and PwC. These partners dramatically increase UiPath's market presence and drive greater sales efficiencies.
As a result, UiPath grew Total Customers to 9,630+, spanning multiple industries, including 80% of the Fortune 10 and 63% of the Fortune Global 500. This momentum is not slowing down either as CFO Ashim Gupta mentioned that the company is on track to add 500 new logos every quarter. Major customers include Chipotle (CMG), Chevron (CVX), Bank of America (BAC), Adobe (ADBE), and GE (GE). UiPath also achieved a Net Promoter Score of 71 with a gross retention rate of 98%, which speaks volumes about the company's strong brand and sticky offerings.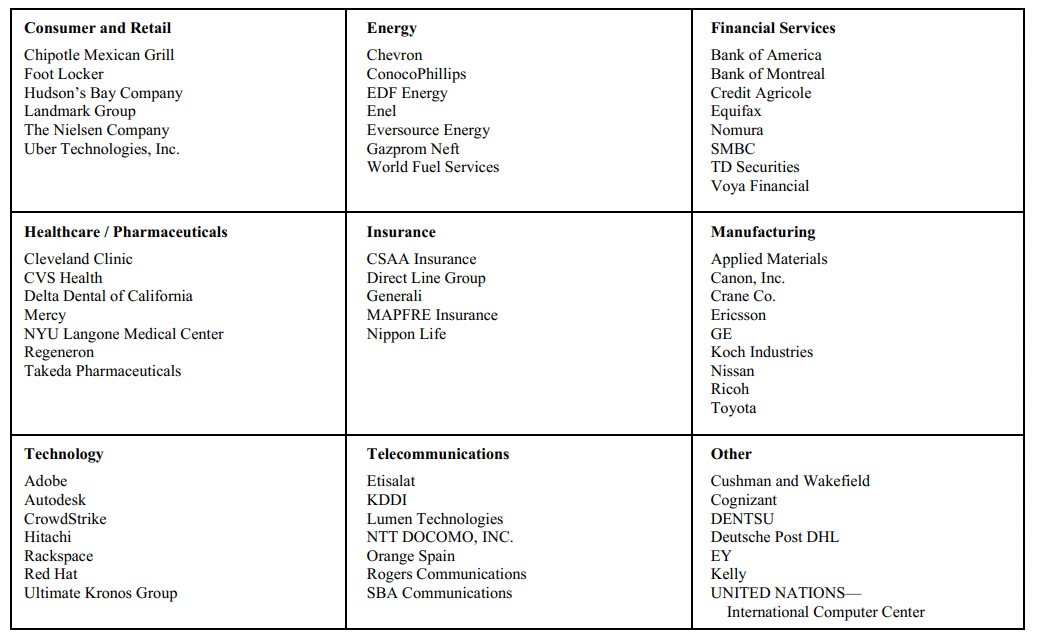 In addition, UiPath partners with more than 400+ technology partners including Amazon Web Services (AMZN), Microsoft, Salesforce (CRM), Oracle (ORCL), ServiceNow, and many others. These partnerships enable customers to easily integrate UiPath into their existing business applications, which means faster time-to-value and flexibility when using UiPath's application-agnostic interface.
The UiPath Community is also strong and growing each day:
Nearly one million automation professionals are on the platform.

100k+ Marketplace users.

800k+ users in UiPath Academy, the company's free online training platform.

1,000+ universities and colleges under the Academic Alliance program, teaching automation skills to 245k+ students across 63 countries in just two years. As a comparison, Automation Anywhere has only 150+ Academic Partners.
As more customers, partners, students, institutions, and users use UiPath, the more data the company collects, which in turn produces stronger AI and smarter robots. As such, use cases will expand exponentially, enabling UiPath to launch more products, and thus attract even more customers, driving strong network effects.
Switching Costs
UiPath's effective land-and-expand strategy and overall stickiness of its software are demonstrated by its high net retention rate of 144%. Customers using UiPath consistently invest more in the product as they find more business processes and tasks to automate. The chart below shows how customers spend more on UiPath over time.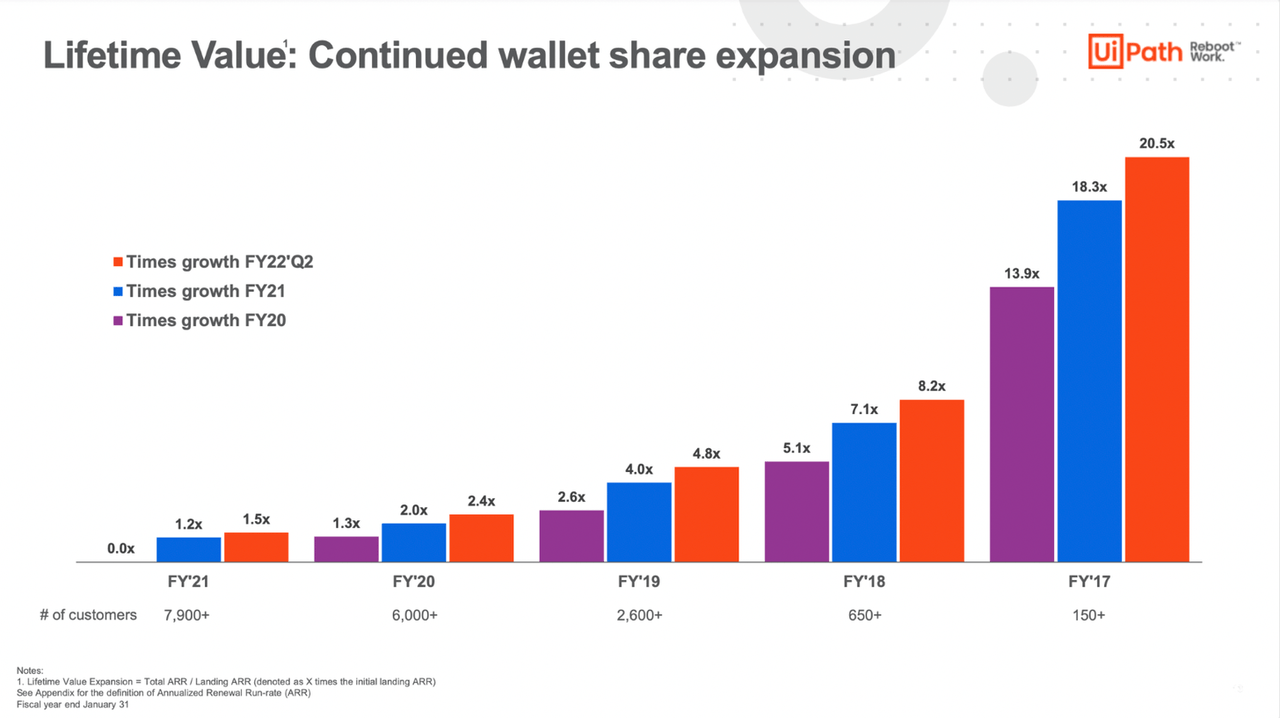 As we have discussed previously, ARR has experienced robust growth over the last few years. Of more important note, customers with more than $100k ARR and $1 million ARR are growing even faster, showing that customers are buying more robots from UiPath, thus reflecting high NRR rates. CFO Ashim Gupta mentioned that use case expansion and interdepartmental buying as two of the key factors that resulted in customers investing more in the platform.
As shown below, ARR to LTV multiples among UiPath's top customers shows breathtaking numbers.
Top 25 customers - 233x

Top 50 customers - 90x

Top 100 customers - 62x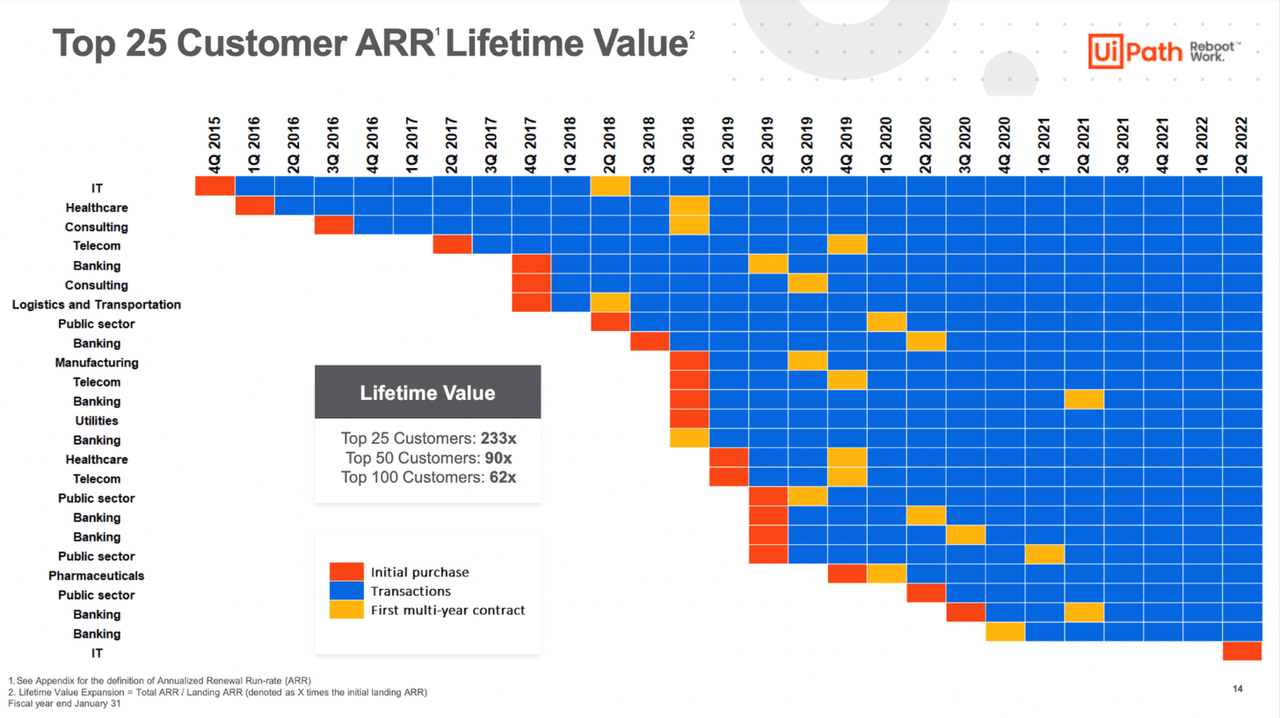 As customers spend more to utilize UiPath across more use cases and departments, the more engrained they are to being a fully automated enterprise, which in turn leads to high switching costs for customers.
Valuation
Valuing companies these days is an impossible challenge, let alone for an unprofitable, recently-IPOed company. The chart below shows EV / Gross Profit multiples for UiPath alongside some of its peers as well as other SaaS companies.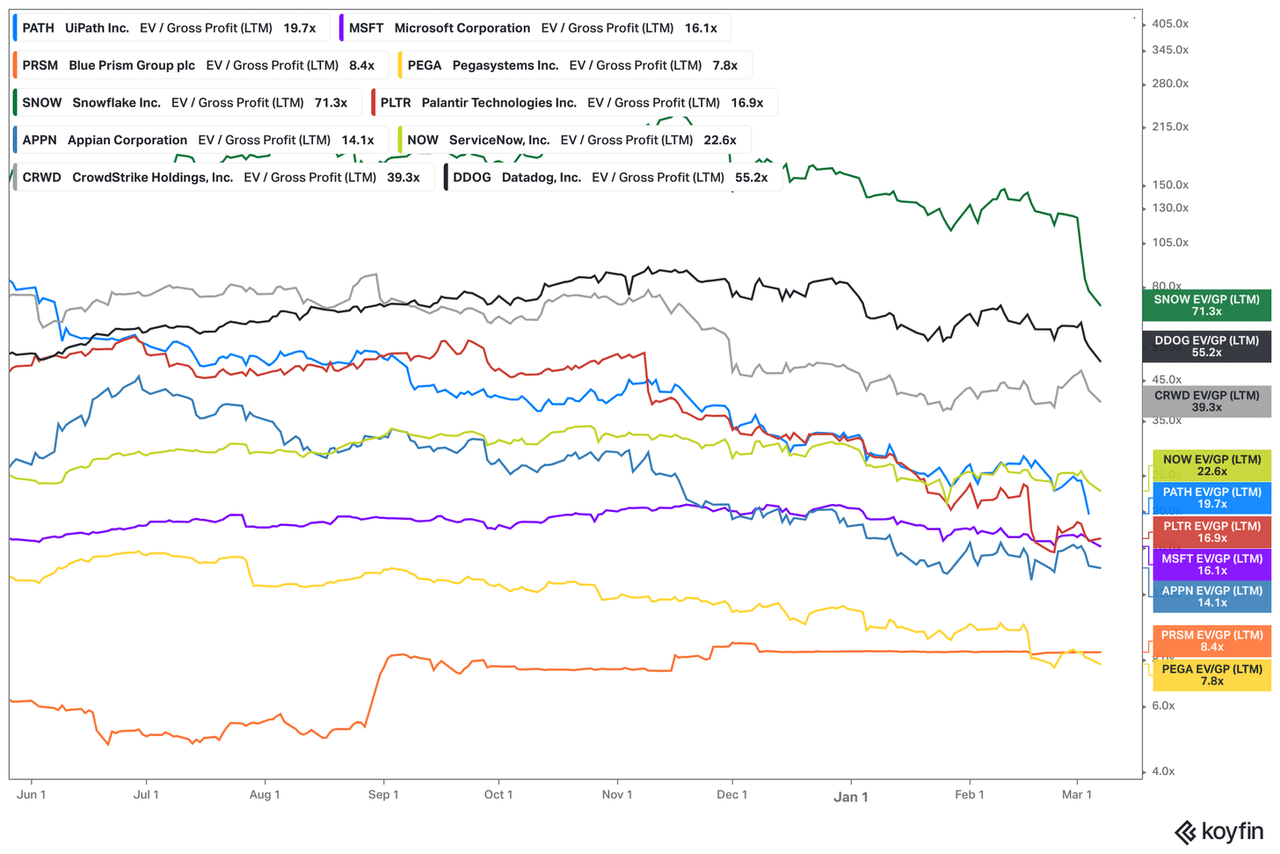 As you can see, UiPath is valued in the same bucket as other SaaS growth stocks like ServiceNow, Palantir (PLTR), and Appian (APPN). It is valued more expensively than legacy peers like Blue Prism and Pegasystems (PEGA) which is reasonable given that they are growing much slower than UiPath. On the other hand, UiPath is valued cheaper than hypergrowth stocks like Snowflake (SNOW) and Datadog (DDOG). UiPath is currently valued at 20x EV / Gross Profit which is quite reasonable for a company growing at 50%+.
On a side note, let's compare UiPath's current valuation with those of its private funding rounds: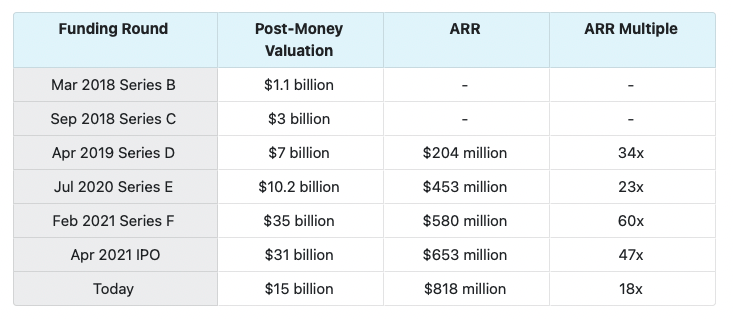 As you can see, UiPath is the cheapest it has ever been on an ARR multiple basis. While the markets as a whole may seem frothy, the risk-to-reward for UiPath seems to be attractive for long-term investors, given UiPath's strong moats and growth rates.
Catalysts
More Partnerships - This includes landing major customers, integrations with top-tier technology partners, as well as increasing traction among educational institutions. Some of the major partnerships that UiPath has landed recently include the IRS, Accenture, and Crowdstrike (CRWD).

Tight Labor Market - According to UiPath, 62% of large US companies are struggling with the current labor shortage, and 78% of them are more likely to boost spending in RPA to counter these challenging labor conditions. High employee turnover rates, growth of the gig economy, work-from-home policies, and wage inflations are some of the challenges that companies face today. RPA solutions such as UiPath can reduce the need for human labor.

Market Share Expansion - RPA, being a nascent industry, still has a lot of room to grow, and UiPath will be at the forefront of the RPA revolution. Management understands the importance of landing as many customers as possible, thus spending heavily on sales and marketing. UiPath also has the best RPA offering in the market so their sales pitches will have meaningful conversion rates. In addition, management mentioned that some companies are migrating to UiPath:
We are engaging in a few replacement deals of both Automation Anywhere and Blue Prism, especially within large financial institution.
New Innovation - expanding use cases, launching new features, and providing UiPath-exclusive products will accelerate the company's land-and-expand strategy. Not only will customers spend more, but they will also embed themselves deeper into UiPath's technology, increasing NRR and decreasing churn rates. Given management's proven track record of innovation, UiPath is inching closer towards delivering the fully automated enterprise.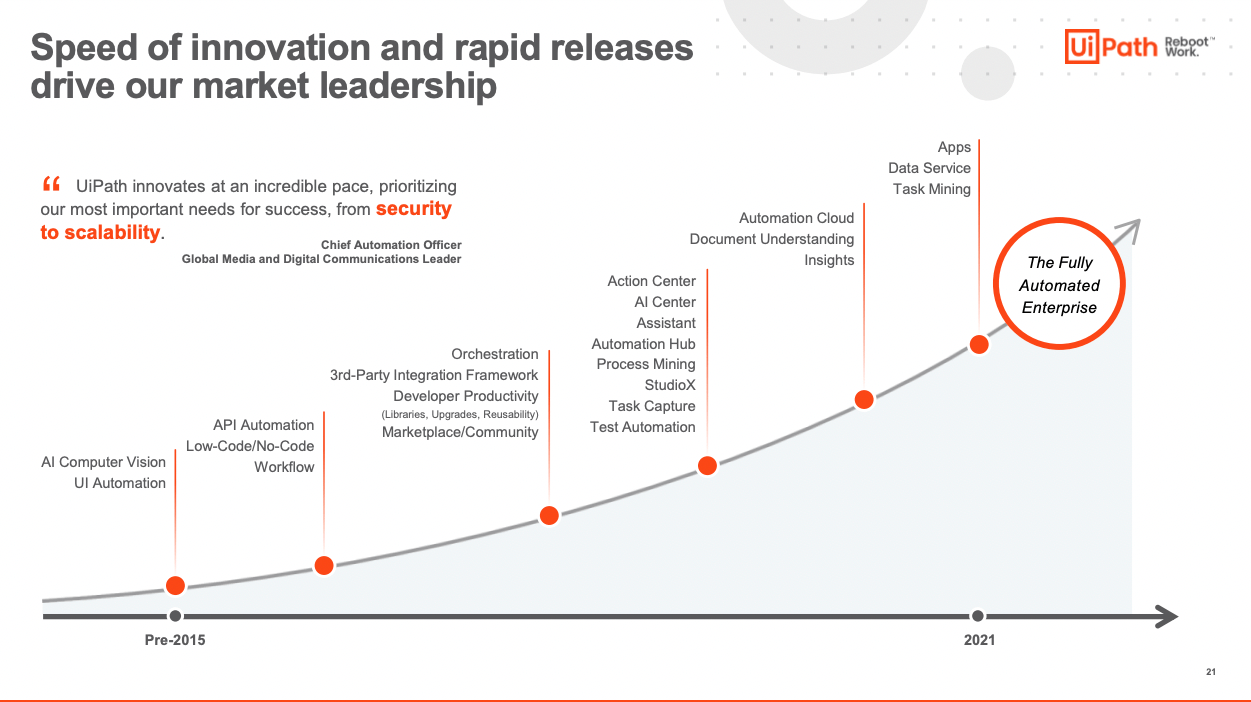 Risks
Competition
The RPA competitive landscape is fierce. UiPath competes with other RPA and automation solutions providers such as Automation Anywhere, Blue Prism, Pegasystems, Microsoft Power Automate, and Appian.
Automation Anywhere also has a 54% market share in the public cloud RPA market, as the importance of cloud solutions increases. This is an area where UiPath is rapidly expanding into.
M&A activities in the space are also ramping up as big tech attempts to expand into the RPA market. For example, Salesforce acquired Servicetrace in 2021, ServiceNow acquired Intellibot in 2021, and Microsoft acquired Softomotive in 2020.
The biggest threat to UiPath is probably Microsoft's Power Automate, which can be bundled with Microsoft's suite of office products, providing convenience for business operators. Niche players like UiPath may be at a disadvantage, similar to what we've seen with Slack (vs. Teams). This is due to Microsoft's unmatched network, which the company can leverage to distribute newer products at a fraction of the cost.
As you can see below, Google Trends is showing an increasing interest in Power Automate, which surpassed UiPath recently.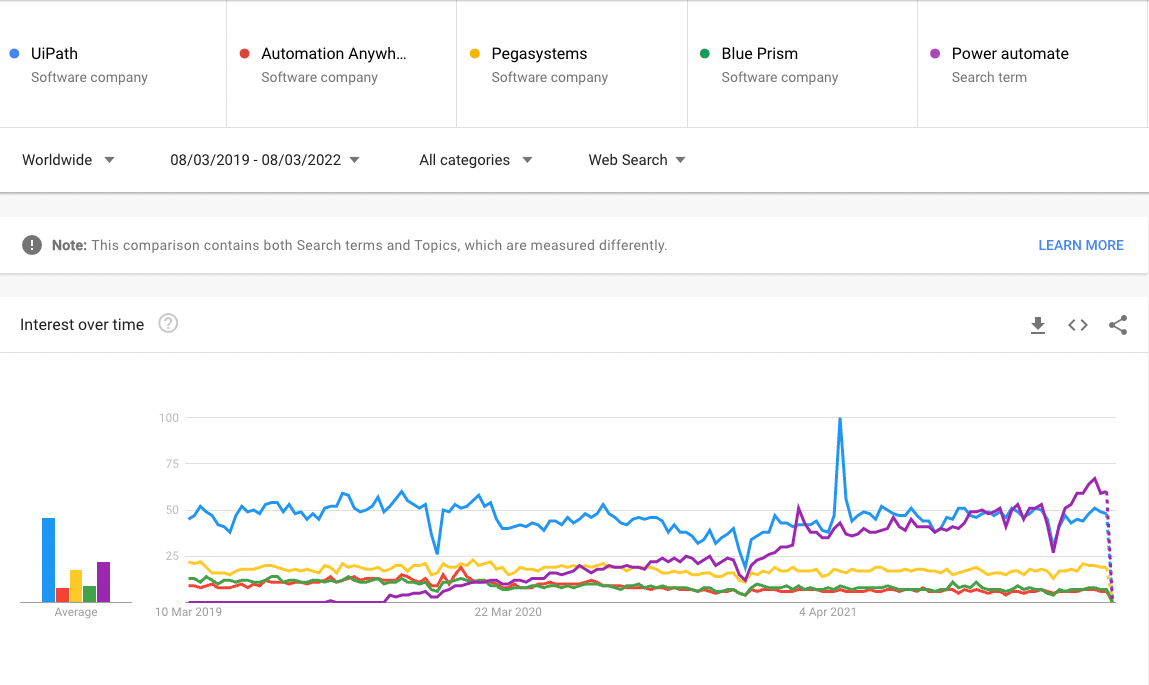 A few days ago, ETR released a chart showing how RPA players have fared over the last two years. Again, the vertical axis shows spending momentum and the horizontal axis shows market share - the higher and to the right the company is, the more dominant its market positioning. The squiggly lines on the chart show the progress of each company from January 2020 until January 2022. As you can see, Microsoft has marched itself all the way to the top-right corner, showing market dominance.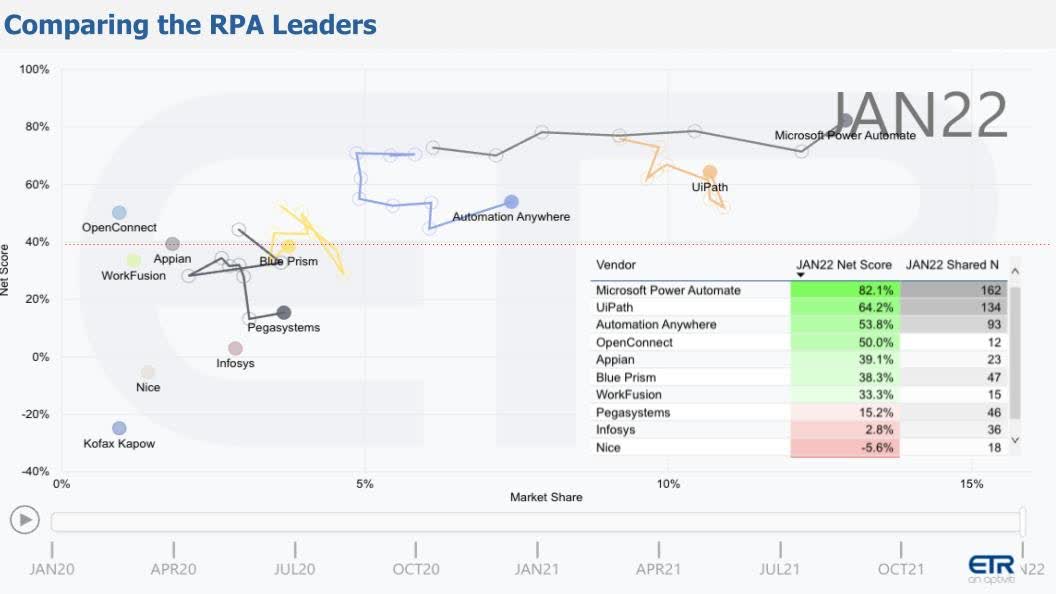 However, there's a significant overlap between the major RPA players. According to SiliconAngel, "of the 162 Microsoft Power Automated customers shown in the ETR survey, 51 are also using UiPath, 34 are using Automation Anywhere and 25 Blue Prism." The reason for this overlap is that the niched RPA players (like UiPath) provide more features and capabilities than Power Automate. This speaks to UiPath's stronger value proposition, which should win customers in the long run.
Questions about the threats of Microsoft were common during UiPath's earnings calls. This is how CEO Daniel Dines responded.
From FY2022 Q1 earnings call:
I would start by saying that we are very differentiated, first of all, in our philosophy towards automation. We have a unique platform that aims to emulate people in their work. Microsoft has built a platform whose main goal is to provide new applications and analytics to the people. They are like comparing apples-to-oranges. Our approach is extremely difficult to replicate. It requires a huge experience curve that we have built over the last 15 years. Our platform is a combination of UI, API and computer vision AI that is again extremely difficult to replicate and it is our secret sauce.
From FY2022 Q3 earnings call:
In terms of real enterprise traction, UiPath is really the only tangible choice for enterprises that want to go from small to complex across different divisions that want a really high level of penetration. Our own data, if we take into account the deals where Microsoft is participating versus the deals where Microsoft is not participating, we are not seeing material changes in our winning rate. So right now currently, I can say Microsoft has-doesn't have a meaningful impact on our ability to win customers. What is going to happen in the next couple of years, first of all, I would like to make a case that Microsoft is focused with their RPA mostly on citizen developer and personal productivity. This is a small part of our overall TAM. So I don't see that in the coming years, Microsoft investment and competing with us will materially derail us from our growth trajectory that we are seeing and we are building right now.
While UiPath has shown consistently that it ranks as the top RPA provider in the world, the threat of Microsoft cannot be completely ignored.
Other Risks
Geopolitical Risks - UiPath's principal operations are in the US, Romania, and Japan. Looking at the world atlas, Romania is located next to Ukraine. If the Ukraine-Russia war escalates further, UiPath's Romania operations may be severely affected.

Lagging Customer Growth - Total Customers grew only 23% in the latest quarter. While not a major concern, the markets may view this lagging growth negatively, thus punishing the stock further.

Valuation - Although UiPath has lost 70% of its value from all-time highs, the stock may still have further room to fall, given the market's sentiment towards growth stocks.
Conclusion
UiPath offers RPA solutions that leverage AI, ML, and open API. Its smart software robots free humans of low-value, repetitive tasks, enabling them to work on more meaningful tasks. For organizations, automation leads to time and cost savings as well as a boost in workforce productivity. The use cases are expanding each day and UiPath is well-poised to deliver the fully automated enterprise.
While UiPath has a long growth runway ahead, competition may slow down the company's growth. This is especially true when Microsoft is breathing behind UiPath's neck. However, given UiPath's early-mover advantage, top-of-the-class technology platform, growing network, and high switching costs, UiPath has a solid advantage to be the dominant RPA provider in the next decade.
Given the recent selloff, it would be wise for investors to join UiPath in accelerating human achievement through robots.
If you enjoyed the article, please let me know in the comment section down below. If you have any suggestions or feedback, don't hesitate to share your thoughts as well.