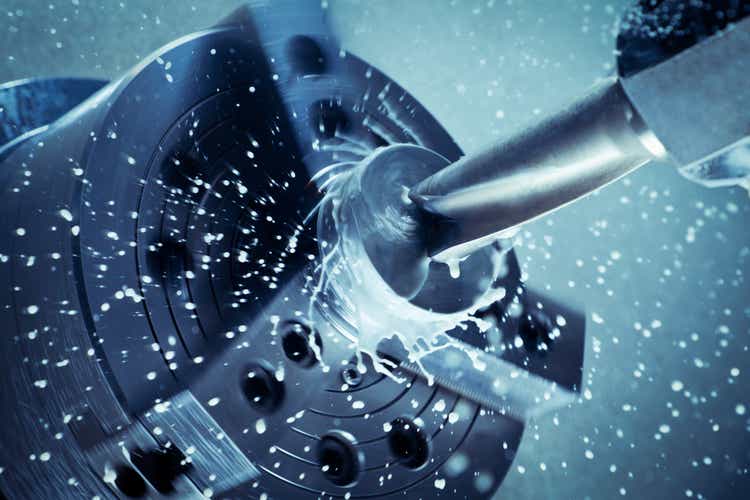 Hurco's (NASDAQ:HURC) fiscal first quarter saw this small machine tool company continue to leverage a broad recovery in global manufacturing, but a sequential drop in orders is worth watching. The market has been growing increasingly concerned about the approaching end of this short-cycle recovery, and weak North American orders for Hurco are concerning. That said, there are a range of issues in the end-market that could explain some temporary weakness, so I'm reluctant to call an end to the cycle.
In the fairly short time since my last update, Hurco shares are up a bit, outperforming the wider industrial space and larger machine tool companies like DMG Mori and Okuma. Relative to that last update, I've pulled my expected cyclical peak and decline in a bit, as I'm increasingly concerned that the disruptions from Russia's invasion of Ukraine, particularly higher energy prices, could bring a swifter end to this up-cycle.
Growth And Impressive Leverage In The First Fiscal Quarter
Hurco reported 26% year-over-year revenue growth in the fiscal first quarter (in constant currency), but a 3% quarter-over-quarter decline. That sequential decline came on a little faster than I expected, and although management did not discuss a backlog or notable issues in production, it wouldn't be out of line with other industrials if there was some impact to revenue from supply chain pressures.
Revenue from North American customers rose just 3% yoy and fell 1% qoq, while revenue from European customers rose 46% cc yoy and fell 5% qoq. Revenue from Asia-Pacific customers rose 33% cc and fell 1% qoq.
Improved volume leverage and mix helped drive gross margin up four points yoy and 80bp qoq to 25.3%, and that level of sequential gross margin leverage was rare across industrials in the comparable quarter, as many saw significantly greater negative impact from rising cost headwinds.
Operating income rose more than 400% from the year-ago level and 68% sequentially, with operating margin improving six points yoy and almost three points qoq (to 7.8%), with an impressive incremental margin of 33%.
A Sequential Decline In North America Orders - A Pot Hole Or Signs Of A Faster Downturn?
One of the challenging aspects to following/analyzing Hurco is that while the company's business is tied to the larger macro cycles in industrial end-markets, the company is different enough that it's not just a cycle play. Traditionally the company has been more focused on high-spec, short-run systems (as opposed to workhorse production line systems), and while that may not be as true as it once was, the reality is still that the company is small enough that eccentricities matter.
That's a long-winded way of saying that Hurco's performance can and does diverge from the larger market from time to time.
Orders rose 27% yoy in constant currency, but fell 6% qoq, with a still-positive book-to-bill of 1.06x. Orders fell 7% yoy and 24% qoq in North America (book-to-bill of 0.92x), while rising 65% yoy and 2.5% qoq in Europe (book-to-bill of 1.19x), and rising 6% yoy in Asia (book-to-bill of 0.92x).
DMG Mori has yet to publish fourth quarter results or guidance (that'll come next Wednesday, March 16). Looking at other sources of information and context, I'd note that Fastenal (FAST) reported almost 26% growth in manufacturing daily sales in February, following nearly 21% growth in January.
U.S. machine tool orders rose 33% year-over-year for December, while the Japanese Machine Tool Builders Association (or JMTBA) reported 61% yoy and almost 3% month-over-month growth in January orders, with orders to the EU up 89% and 17% and orders to North America up 109% and 6%, respectively.
Hurco serves markets like aerospace, autos, medical, and energy that should be holding steady or expanding, and likewise with the die/mold sector. My inclination is to think that the sequential weakness is a "blip", possibly driven by supply chain and labor challenges at customers (why buy a new machine tool if you can't find machinists?), but I'll obviously be paying a lot of attention to the next quarter's order results, as well as DMG Mori's commentary next week and the impact of Russia's war on global economies.
The Outlook
If there's a bright side to my worries about orders signaling a peak, it's that past cycles here have shown ongoing revenue growth for a few quarters even after orders start to weaken. With that, I'm still expecting year-over-year revenue growth in both FY'22 and FY'23, but I've decided to pull in my expectations for the order peak/downcycle by a year. This doesn't do much of anything to the long-term revenue growth rate or margin outlook, but it does bring a year of worse FCF closer in, which reduces the fair value in my DCF model.
The sequential revenue decline was more than I expected at this point, but I've only modestly reduced my full-year estimate at this point (by $4M, or about 1.5%). Gross margin improvement is on track, though I am concerned about the impact of sector-wide cost pressures. Hurco is also tracking better than I expected on SG&A expenses, but I'm not going to change my model too dramatically at this point, as I think spending could accelerate later in the year (increased marketing, mostly).
Longer term, I'm still looking for low single-digit long-term revenue growth of between 2% and 3%, with mid-single-digit FCF growth on FCF margins improving toward the mid-single-digits on a long-term average basis.
The Bottom Line
Between discounted cash flow and EV/EBITDA (using a 9x forward multiple that is about 10% below what a typical industrial would get), I still get a fair value in the high-$30's to low-$40's that is only modestly different (about 3%) at the midpoint relative to prior range. I do think I'm being cautious with my modeling revisions, but time will tell. At this point, the story on Hurco is basically the same as it has been - it's an overlooked and underfollowed industrial capex company that is leveraged to a capex refresh/growth cycle, but also to the eventual an inevitable cyclical downturn in industrial capex spending.