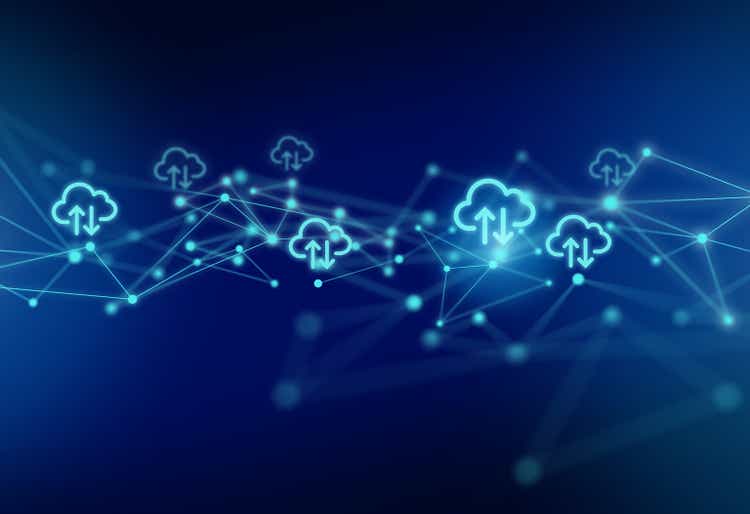 Right now, investors don't really want to talk about growth. As the market continues to be choppy and react to every headline coming out of the Russia/Ukraine conflict, the market has taken a complete risk-off attitude and shunned tech stocks, especially those with deep red ink and lofty valuations.
Pure Storage (NYSE:PSTG), then, is a perfect foil to its tech counterparts. Though it's often thought of as a value stock, Pure Storage has seen accelerating and robust growth recently, topping >40% y/y growth in its most recent quarter. Additionally, thanks to its switch to a subscription and services model, the company's gross margin profile rivals that of most software companies. In other words - Pure Storage is a perfect investment to maintain exposure to growth tech stocks while also avoiding the major correction in valuations that is going on at the moment.
Pure Storage recently reported Q4 results, and its stock is up nearly ~10% as a result - one of the few tech names to have inspired renewed confidence this earnings season. Year to date, Pure Storage's ~9% loss makes it an outright outperformer versus other growth tech stocks.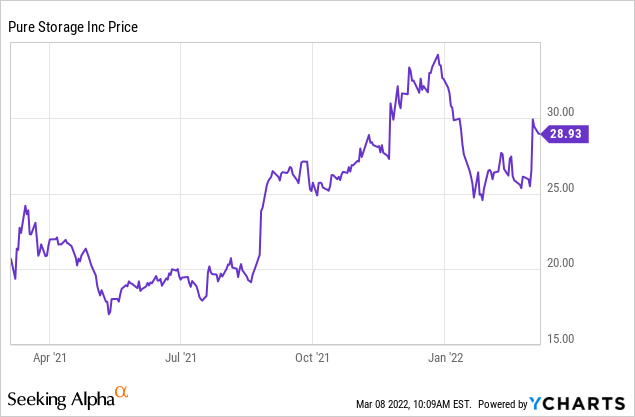 My outlook on Pure Storage remains bullish. The reasoning is simple: the company continues to post tremendously strong fundamental performance, shining across growth, margins, cash flow. The company has continued tailwinds from its subscription transition and its massive TAM to continue outperforming against muted expectations. And, of course, its valuation still remains a function of its "legacy" status as a commodity hardware vendor - though Pure Storage is largely a software business now, its dirt-cheap valuation doesn't fully reflect that reality.
Here's a full rundown of the bullish thesis for Pure Storage:
Shifting into a subscription/services play, which will help drive multiples appreciation for Pure Storage. In Q4, Pure Storage grew subscription services at a 42% y/y pace - accelerating five points versus Q2. This kind of revenue stream is just what Wall Street prizes: a recurring, high-margin stream of revenue from repeat customers. Yet in spite of this, the market's valuation of Pure Storage still treats it like a commodity hardware play, even if its pro forma gross margin now resembles most SaaS stocks in the high 60s/low 70s.
Industry recognition. Pure Storage has been named a leader in storage for eight consecutive years by Gartner, the most influential software industry ranking system. Customers choose Pure Storage for the combination of its broad platform, its modern cloud-first approach, and simplicity for installation, and an un-intimidating pay-as-you-go pricing model.
Huge TAM. Pure Storage estimates its TAM at $60+ billion, which means its current ~$2.5 billion revenue run rate is only ~4% penetrated into this overall market.
Pay-for-consumption is a win-win for both Pure Storage and its customers. Pure-as-a-Service is priced based on usage, generally priced on a GiB/month basis. Outside of relatively low minimum commitments, this is a benefit for new customers because they can start out with Pure Storage for select workloads only, reducing the barriers to entry. For Pure Storage, it's an advantage because, over time, these customers can expand to become major clients.
Enterprise focus is growing. More to the point above, more than 50% of Pure Storage's revenue is now coming from enterprise clients, and the top 10 customers spend more than $100 million annually.
Cash flow. Pure Storage is delivering huge cash flow, but with FCF margins in the mid-single digits versus a low-teens pro forma operating margin, there's still plenty of room for expansion.
In spite of these strengths, as previously mentioned, the market is still valuing Pure Storage like a hardware vendor - even after its post-earnings rally. At current share prices near $27, Pure Storage trades at a market cap of $8.47 billion. After we net off the $1.41 billion of cash and $786.6 million of debt on Pure Storage's most recent balance sheet, the company's resulting enterprise value is $7.84 billion.
Meanwhile, for the upcoming fiscal year, Pure Storage has guided to ~$2.60 billion in revenue, or 19-20% y/y revenue growth.
This guidance puts Pure Storage's current valuation at just 3.0x EV/FY22 revenue - which is quite cheap for a ~20% grower with ~70% pro forma gross margins and positive free cash flow. It's also worth noting that Pure Storage boosted its buyback authorization by $250 million (easily supportable by its cash surplus on the balance sheet), which allows it to buy back an additional ~3% of its market cap at current levels.
The bottom line here: Pure Storage is attractive from both a fundamentals and value perspective, and it's the combination of those two factors that is allowing Pure Storage to not suffer the same correction that the rest of its tech peers are. In my view, as the markets continue to trade in a choppy fashion, Pure Storage will continue to steadily outperform its peers. Stay long here or double down on your position for further upside.
Q4 download
Let's now cover Pure Storage's latest Q4 results in greater detail. The Q4 earnings summary is shown below:
Pure Storage grew its revenue at a 41% y/y pace to $708.6 million, beating Wall Street's expectations of $630.9 million (+26% y/y) by a massive fifteen-point margin. Revenue growth also accelerated quite healthily versus just 37% y/y growth in Q3 - which, in turn, had accelerated over 23% y/y growth in Q2. In the space of two quarters, Pure Storage managed to nearly double its growth rate - so it's a small wonder that investors are rallying around this stock now. Note that there is one caveat here - this Q4 included an extra fiscal week in the quarter versus a 13-week quarter in FY21.
In Q4, Pure Storage added 470 net-new customers, capping a year in which the company added roughly 2k net-new customers. This was the first time that Pure Storage crossed the 10,000 customer mark. Yet with penetration into only 52% of the Fortune 500, I think there's still plenty of enterprise TAM left for Pure Storage to chase.
Here's some additional commentary from CFO, Kevan Krysler, on the quarter's outperformance, made during his prepared remarks on the Q4 earnings call:
We saw outstanding execution and performance across our entire company, achieving record revenue, operating income and cash flows. Demand continued to be very strong across our portfolio of solutions, services and geographies, especially in the U.S. and Canada. Although supply chain challenges continue to persist, we executed for our customers, delivering our solutions and minimizing delays.

Growth of our subscription business is robust as we continue to create value-based outcomes for our customers. Subscription annual recurring revenue, or ARR, grew 31% to nearly $850 million. Also, our subscription net dollar retention or NDR at the end of the year exceeded 120% compared to our long-term target of 115% as a result of expansion growth from existing customers. Remaining performance obligations, or RPO, which includes our committed and noncancelable future revenue, was over $1.4 billion, growing at 29%. We acquired 470 new customers, reflecting increasing strength. New customer acquisitions were balanced across geographies, market segments and our solutions portfolio. Our total customer count now exceeds 10,000 customers, which also includes over 50% of the U.S. Fortune 500 companies."
Note as well that the company is planning on releasing two new services in Q1, called Pure Fusion (a "storage as code" autonomous storage solution) and Portworx Data Services (a managed data service for Kubernetes).
Pure Storage also outperformed on margins as well as growth in Q4. The company saw its pro forma operating margins jump to 16.8%, which is 950 bps stronger than 7.3% in the year-ago quarter.
In addition, Pure Storage's full-year FCF hit $307.8 million (more than tripling y/y), hitting a 14.1% FCF margin - more fuel for Pure Storage's recent slew of buybacks.
Key takeaways
Growth, value, free cash flow, and a big market opportunity ahead - there's a lot of "bang for your buck" in Pure Storage. Yet, in my view, this stock continues to be under-appreciated among tech investors, and there's plenty of upside left given recent fundamental wins, an aggressive buyback plan, and a modest valuation multiple. Stay long here.