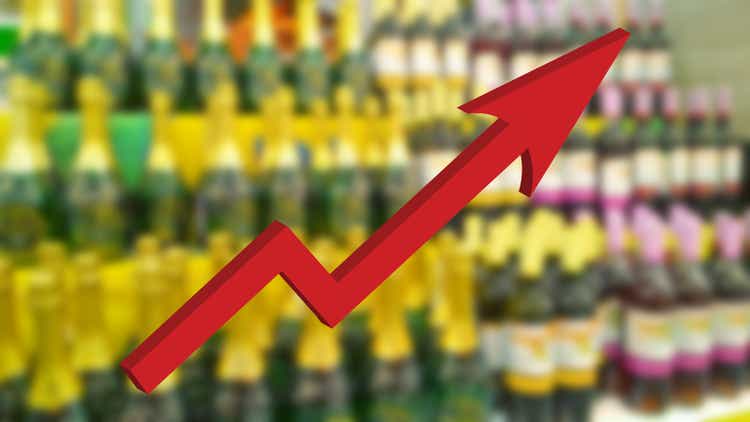 If we pull up a long-term chart of PCTEL, Inc. (NASDAQ:PCTI), we can see that shares have dropped to steep oversold conditions. In fact, both the RSI momentum indicator as well as the slow stochastics have not been this oversold for many years. The play though here (for long entries) would be to wait for the 10-month moving average to be taken out to the upside before initiating any type of long position. The reason being is that this present down move may last for quite some time to come before a concrete bottom is printed in earnest. In fact, as the chart depicts below, long-term resistance in PCTEL is found very close to the $4 level. Shares at present are trading at approximately $4.70 so investors need to be patient here if indeed more downside is ahead of us.
Suffice it to say, the multi-year opportunity here for us in PCTEL would be to wait for a monthly swing low (Hopefully at the long-term support level of approximately $4 per share) in the underlying followed by a breakout above the stock´s 10-month moving average. Once these conditions are confirmed, we would remain long the stock ( and sell adjoining covered calls - liquidity allowing) until the opposing conditions (monthly swing high followed by a breach of the 10-month moving average) are confirmed at the stock´s multi-year resistance level (Approximately $8 a share).
Although PCTEL shares have been stuck in a trading range, (and will most likely continue to do so given the wall of long-term overhead resistance above the share price), this does not mean this play is without opportunity. For example, PCTEL pays a 4.6%+ dividend yield which means compounding (due to an above-average payout being continuously reinvested) can take place much faster than normal.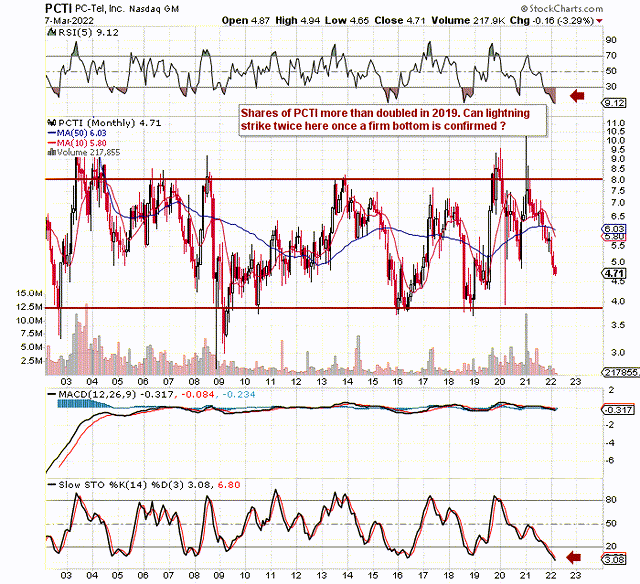 The most important factor between now and when shares eventually confirm a bottom is that the company remains profitable. To this respect, the company hit its numbers in the recent fourth quarter when the stated $0.12 in earnings per share was a convincing $0.04 per share beat over consensus on sales of just over $26 million. Both top-line sales and earnings for the quarter were higher than the third quarter and came in above guidance. From a fundamental standpoint, it was good to see organic growth in the antenna segment as well as a solid performance from the Smarteq purchase last year. The new antenna platforms which have been launched as a result of this acquisition are already delivering value in the marketplace and securing design wins in a host of areas. Moreover, the Test & Measurement segment brought in $7.2 million in sales for the quarter which also was an impressive feat.
The momentum though which PCTEL is garnering at present is coming from growth in its order book and backlog. Management believes most of the present backlog will be fulfilled in the initial part of fiscal 2022. With respect to the test & measurement segment, management is expecting that the Gflex scanning receiver will continue to gain traction in upcoming quarters. This product should continue to witness strong demand from the likes of the hot 5G market whereas other products and services such as IBflex and the company´s recently launched cloud-based SeeHawk service are expected to go from strength to strength.
The above trends are expected to drive sales to close to $98 million in fiscal 2022 which in turn are expected to generate a bottom-line annual profit of roughly $0.26 per share. Although some may bemoan the bottom-line growth rate, the most important trend is that the company remains profitable (which it is expected to do). Why? Because presently shares are trading with an ultralow book multiple of 1.3x and a sales multiple of 1.0x. By remaining profitable (which will lead to positive cash-flow generation in the long run), the company will continue to have the wherewithal to keep investing in the business through new products and services as well as strategic acquisitions. This increases the probabilities significantly that shares at worst will bottom at the multi-year support level alluded to earlier.
Therefore to sum up, although shares of PCTEL have disappointed significantly over the past 12 months, we are beginning to see green shoots internally with respect to the firm´s order book and backlog. Furthermore, the company remains profitable and remains very attractive from a valuation standpoint with respect to the company´s assets, sales, and cash flow. The long play here is to wait for shares to bottom before putting capital to work. Sooner or later, the market will begin to price in forward-looking growth. We look forward to continued coverage.