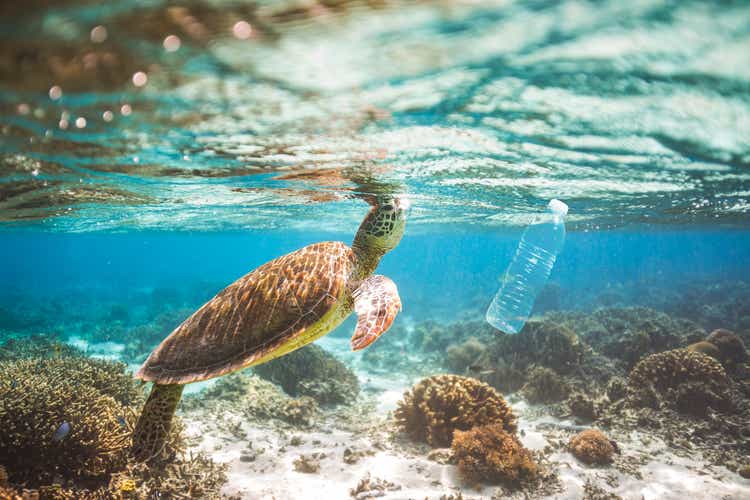 Zai Lab (NASDAQ:ZLAB) is a major Chinese developer of drugs in-licensed from the US and other countries. The stock trades on NASDAQ, Hong Kong, etc. ZLAB is depressed recently, and it may look like an opportunity. However, certain qualities of the business model, the nature of China's doing business in pharmaceuticals, and the FDA's recent push against imported medicines are points of concern. A good discussion of the Chinese business model needs to include a comparison, such as I have done below, with an emerging market democracy like India.
A comparison between the emerging Chinese and Indian biopharma industries shows what a more-or-less enlightened autocratic form of government can achieve once it develops the will to do good, whereas a chaotic democracy finds it difficult to form a will. India is a free-for-all democracy where there's a 5000-year old history of healthcare innovation, which was once mired in red tape, but has improved recently in the so-called ease of doing business index. The American biopharma industry is packed with top-notch scientists and entrepreneurs that are Indian; unfortunately for India, few of them return home to innovate biopharma R&D because of the chaotic regulatory environment here.
In the last two decades in China, however, they have the so-called "Haigui," or sea turtles that return home to lay their eggs after having traveled foreign oceans for succor. These returnees were educated in the best schools in the West, and worked in some of the best companies over here. They returned out of patriotism, doubtless, but they also returned because, under Xi Jinping, the Chinese healthcare regulatory system opened up and made it easy for innovation to take place. Just like in India, China had a historically generic drug market, with low-quality drugs from small companies. Regulators made efforts to curb these, and they enabled the easy in-licensing of promising foreign drugs, and quicker approvals. As a result, China has emerged as the second-largest healthcare market, a hub of innovation that, while still dependent on American R&D, is quickly coming of age. India, on the other hand, is still a generics-only market, with not a single new drug being discovered here, despite having a long tradition of indigenous drug discovery.
Some developments in Chinese regulation that have helped the drug industry: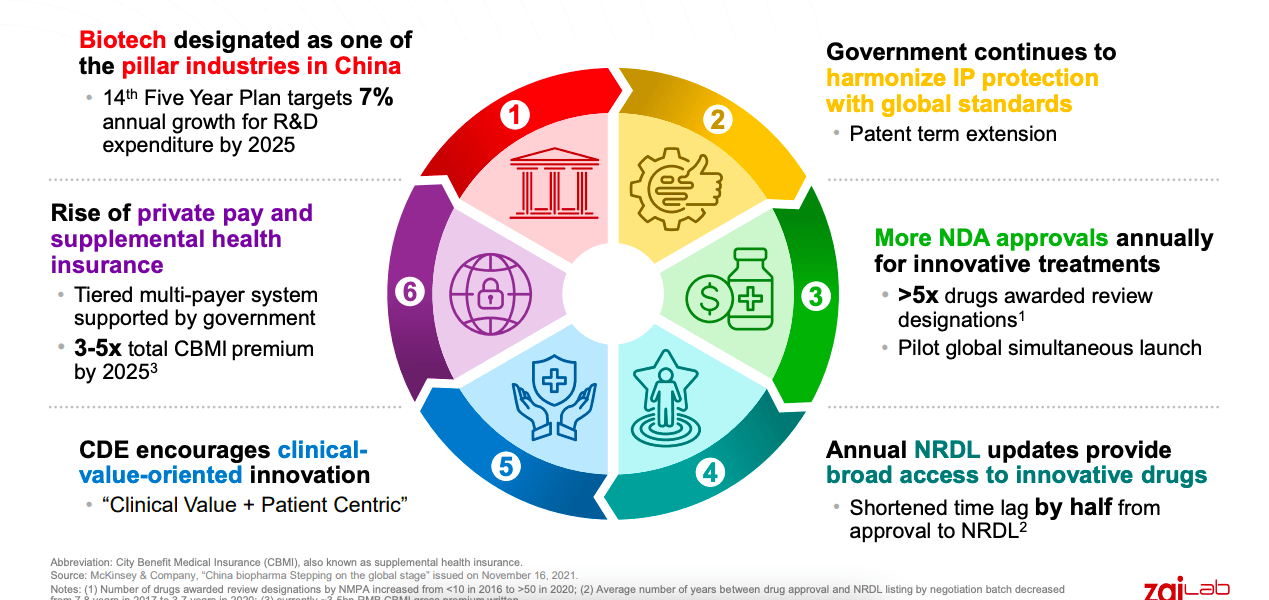 Samantha Du, the founder of Zai Lab, which I will discuss today, is widely regarded as the godmother of China's biopharma industry. After a PhD at the University of Cincinnati, she did a 7-year stint at Pfizer before returning to China to join Hutchison Med as an investment strategist. However, Dr. Du quickly began focusing on R&D, and helped usher in a new age in China's healthcare industry:
But after closing three joint venture deals, Du decided to build an in-house drug R&D unit, Hutchison MediPharma, one of China's first biotech companies focused on developing innovative drugs.
Under her watch, Chi-Med built an innovative pipeline, including Eli Lilly (LLY)-partnered Elunate (fruquintinib), which was the first homegrown drug approved in a major cancer type in China.
In 2014, she founded Zai Lab with a focus on in-licensing innovative, proven western drugs for development and commercialization in China.
"Around 70% of innovative drugs have not yet been brought to China, even though they've been approved elsewhere," Du said in a Nature Review Drug Discovery interview in 2018. "So we started with thinking about picking this low-hanging fruit, by in-licensing post-approval projects or compounds that have made it past phase 3."
Zai Lab's "pipeline" is impressive.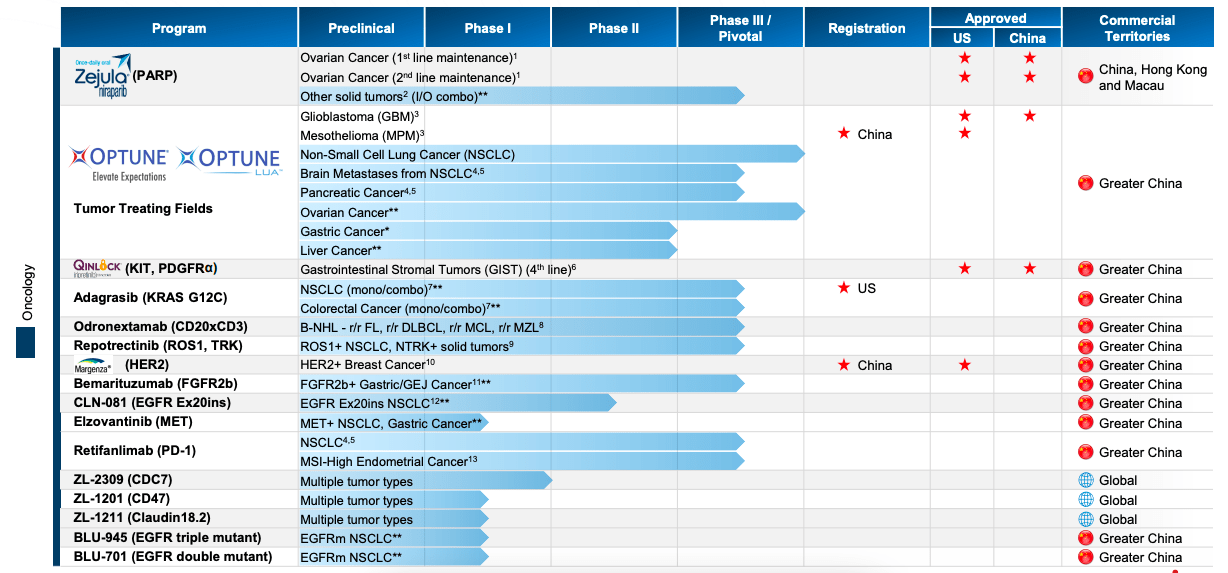 I put the word "pipeline" in quotes here because I wanted to emphasize that very few drugs here are actually discovered in China. Zai Lab's focus is on drug development, not discovery. It identifies promising new American-made molecules, buys rights to them, and runs trials in China; once it gets Chinese approvals, it commercializes them. Discovery, the core of biotech R&D, is almost completely absent here. However, that is a strength, not weakness, because Zai Lab, and China as a whole, has moved up from generics to drug development, with many companies now doing world-class discovery work as well. The process is gradual, with no sudden effort to jump to discovery, but a building of strengths and capabilities by using American innovation.
Du's plan was to first license clinically advanced drugs for late-stage cancer treatment and bring them to market quickly in China, then use those profits to fund her first love, drug discovery.
Starting in 2014, the company today has 28 FIC/BIC molecules (FIC = first in class; BIC = best in class); 11 internally developed assets with global rights; 4 products commercialized in China; and 4 products with global rights in clinical development. In just the last 1 year, they have developed 8 new partnerships, 13 positive trial results, 6 of which are pivotal/registrational. All of this has led to a 194% y-o-y revenue growth. As we see from the pipeline here, the company's principal focus is in oncology. This is true of most major Chinese pharmas, who focus on oncology more than some of the other diseases prevalent in China - like lung diseases, for example.
China seems to possess an excellent perception of what is happening in the US pharma industry. Two years before GSK acquired Tesaro for $5.1bn, the company acquired China rights to their PARP inhibitor Zejula. That was in 2016, and by 2019, Zejula was authorized as a maintenance therapy in Chinese patients with recurrent ovarian cancer responsive to platinum-based chemotherapy. This was their first commercial product in China.
Besides Zejula, Zai Lab also markets Optune Tumor Treating Fields developed by Novocure for glioblastoma; QINLOCK (ripretinib) developed by Deciphera for advanced 3rd-line GIST; and NUZYRA (omadacycline) from Paratek for ABSSI and CABP.
In pipeline assets, in GI cancer, Zai Lab is developing Bemarituzumab, Elzovantinib (TPX-0022), Adagrasib, etc., covering more than 1 million Chinese patients. In lung cancer, they are developing Adagrasib, Repotrectinib, CLN-081, Elzovantinib, Retifanlimab, BLU-945, and BLU-701, covering over 650,000 Chinese patients. They have Repotrectinib and Retifanlimab in women's cancer, Odronextamab in hematology, and a number of non-oncology assets. Zai Lab also has a small number of discovery programs. They plan to have 15+ marketed products in 30+ indications by 2025.
Here's a list of 2022 catalysts: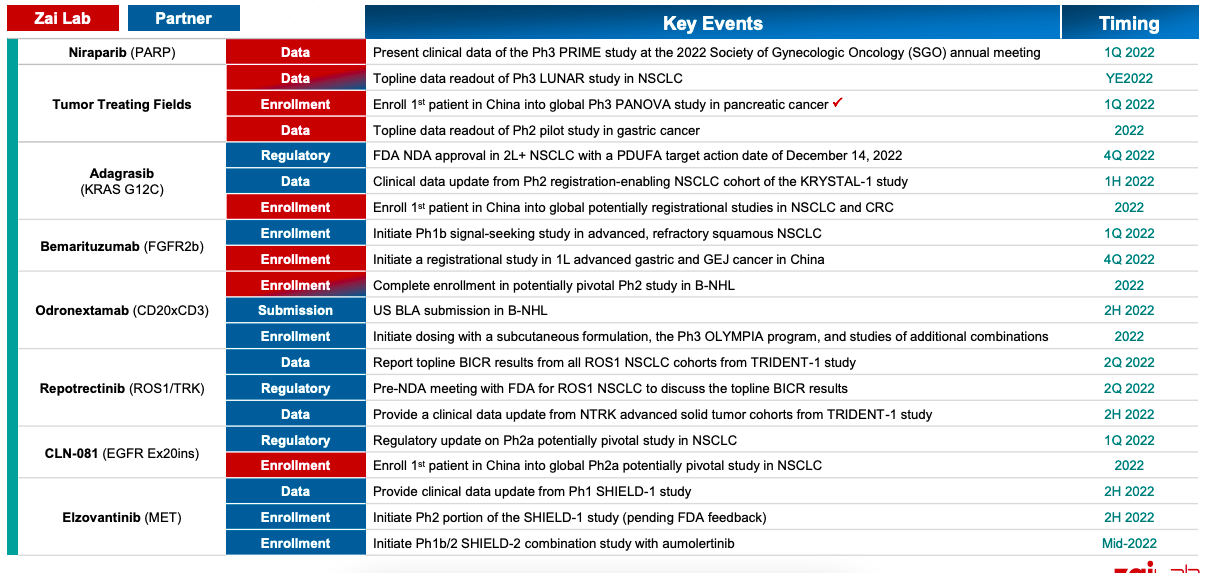 Financials
In the US, ZLAB has a market cap of $4bn, and they have a cash balance of $1.4bn. It is difficult to provide cash runway information because things don't exactly work the same way in China. The government is all over the industry, and if a company has a connection to the government - without which no company can survive, anyway - then cash is not going to be a problem. On top of that, ZLAB also has a large presence in the Hong Kong market.
Net product revenues for the full year of 2021 were $144.1mn, with $93.6mn coming in for Zejula; $38.9mn from Optune; and $11.6mn from QINLOCK. These figures are significantly higher than last year's, which earned $49mn for the whole year.
Research and Development (R&D) expenses were $573.3mn for 2021, while G&A was $218mn. At that rate, and taking product revenue into consideration, I would say they have a cash runway well into 2024.
Risks and Bottom line
We don't always get transparency and data integrity in the US, but there are rules, and there are consequences. In China, information is strictly controlled by the state, so we don't know what happens if there's lack of data integrity, or whether connections to the party trumps everything.
Moreover, I am personally quite confused by ZLAB's business model. It is obvious they are making money, however, the lack of adequate healthcare insurance, the huge list of in-licensed drugs, some of which aren't really blockbuster drugs in their home market, the tendency to include regulatory progress of licensing partners in the US as the company's "achievements" (read their latest earnings press release, referenced above), all these things make me wonder.
If I was investing in Chinese markets from China, I would love to invest in these companies. But there are a number of macro factors that will impact how these companies fare in the US. For example, recently, there's a push from the FDA against Chinese medicines making it to the US market. Here's a WSJ article that describes what's happening. Concerns are being raised about trial data integrity, among other things:
Dr. Pazdur said he was concerned the Chinese studies used outdated study designs, which don't directly establish whether the China-developed drug works as well as similar drugs approved in the U.S. in recent years.

He also expressed concern about the integrity of data generated by drug studies in China.

An analysis by Chinese regulators in 2016 found that about 80% of domestic drug applications reviewed at that time contained fabricated, flawed or insufficient data from studies, the British Medical Journal has reported.

In some cases, there were discrepancies between original study data and what was submitted to regulators.
This gives me pause; it may not be that drugs discovered in China will sell well in the US. If that is so, what are we investing in here? American-discovered drugs licensed to Chinese companies that are being sold across China? I am quite unsure how that works out. ZLAB did extremely well even 2 years ago, rising from $30s to $150+ in its NASDAQ lifecycle. It is now back to the $40s zone, and I am unsure whether this is an opportunity or a sign of things to come. I will, therefore, stay on the sidelines on the entire Chinese biopharmaceutical industry for now.