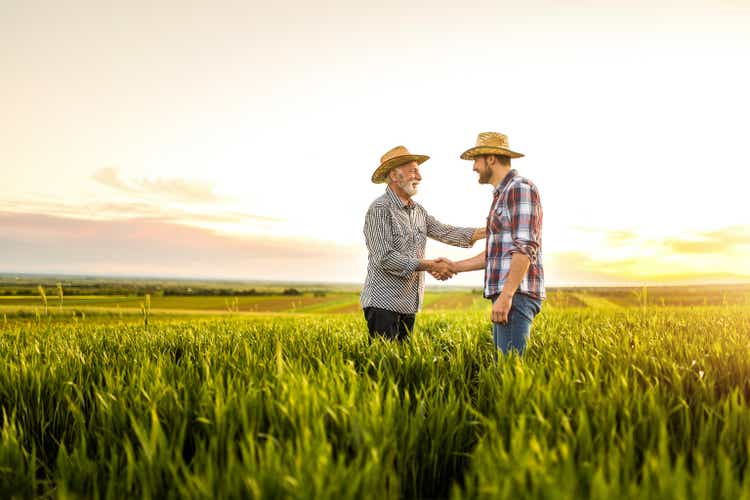 It pays to invest in safe and economically essential companies during times of crisis. These firms offer stability and predictability and are a great way to balance out the risk in your portfolio, even while the rest of the market is struggling. This can go a long way in helping an investor to sleep well at night.
This brings me to Deere & Co. (NYSE:DE), whose stock has been rather resilient since the start of the year, returning 7.6% since January 1st, faring much better than the 11.7% decline of the S&P 500 (SPY) over the same timeframe. In this article, I highlight what makes DE stock worth owning, so let's get started.
Deere: Don't Cut Your Flowers To Water The Weeds
Deere & Co. is the world's largest manufacturer of farm tractors and combines, and a leading producer of construction equipment. It's divided into 4 business segments, product agriculture, small agriculture & turf, construction & forestry, and John Deere Capital, its retail and wholesale financing arm for customers and dealers.
Deere also benefits from its hard to replicate wide distribution network, consisting of 1.9K dealer locations across North America, and 3.7K locations globally.
Deere's approach is to provide a thorough solution for farmers. Deere's cutting-edge solutions cover every stage of the farming process, starting with field preparation and ending with harvesting. The firm also uses technology in its products, including guidance systems, seed placement and spacing, as well as tailored spraying techniques.
Deere is dedicated to increasing consumer choice and providing value-added services. We also think that the management team will seek to decrease the company's cost structure as some geographic areas have matured, creating a chance to reconsider its presence and establish a more streamlined business.
Over the last decade, Deere has developed several new products and enhanced existing product types in order to increase machine efficiency. Customers also count on Deere's services, such as equipment maintenance and access to its proprietary aftermarket components. Furthermore, customers can use the firm's digital applications to communicate with dealers, manage their fleet, and monitor engine performance.
The farm equipment industry is experiencing a renaissance of sorts, as overall farm equipment industry is experiencing a 20-year high in average fleet age, suggesting demand for new equipment will grow. This should be beneficial to the entire farm equipment industry, including Deere and even for rivals such as CNH Industrial (CNHI).
Deere has provided additional reasons for investors to be optimistic. Management stated that it expects fiscal year 2022 net income of $6.5 billion to $7 billion in comparison to $6 billion last year.
In January, Deere revealed an autonomous tractor at the Consumer Electronics Show in Las Vegas, a rare occurrence when farming was one of the main attractions. Because it doesn't require a driver in the cab to function, the new tractor might save both time and labor. Furthermore, because it follows a predetermined route with few obstacles, it may also run at all hours. Analysts expect it to generate a lot of consumer interest when the tractor debuts on the market.
Risks to Deere include global unrest resulting from the Russian-Ukraine war, which could mute demand for its products in certain geographies. In addition, rising labor and input costs could cut into margins.
Meanwhile, Deere maintains strong margins, with an A grade for profitability. Deere posts an industry leading EBITDA margin of 18.6%, and a net income margin of 12.7%, nearly double that of the sector median, as shown below.
Moreover, Deere should be positioned to benefit from inflation, since industrial firms like Deere are frequently able to pass on higher material costs to customers because of their brand reputation and greater efficiency, especially on newer models. Despite the fact that prices have risen, customers may be more eager to buy Deere's technology-enabled products.
Deere also maintains a strong A rated balance sheet. While the 1.1% dividend yield is rather low, it comes with a safe 21.6% payout ratio and a 10% 5-year dividend CAGR. Moreover, Deere should be considered a total return story, as the company has been rather aggressive in repurchasing shares. As shown below, total share count has been reduced by nearly a quarter over the past decade.
I see value in Deere at the current price of $365 with a forward PE of 16.0. While this is slightly above its normal PE of 15.4 over the past decade, it remains attractive considering that analysts expect 18-45% EPS growth over the next 4 quarters. Sell side analysts have a consensus Buy rating with an average price target of $421, implying a potential one-year 16% total return.
Investor Takeaway
Deere is a high-quality company with a premium brand and a moat-worthy dealership footprint across the globe. It should see robust demand for farming equipment in the foreseeable future, and it continues to evolve with its entry into automated farming equipment. Meanwhile, DE maintains strong profitability and has a robust track record of capital returns. We see value in Deere at the current price for potentially strong long-term returns.