Takeaways From Touring Glass House Farms And The Farmacy
Summary
Glass House specializes in greenhouse-grown flower.
Glass House grows in fully-enclosed, Dutch-style greenhouses.
Consistent ideal growing conditions are a key advantage for all of Glass House's greenhouses.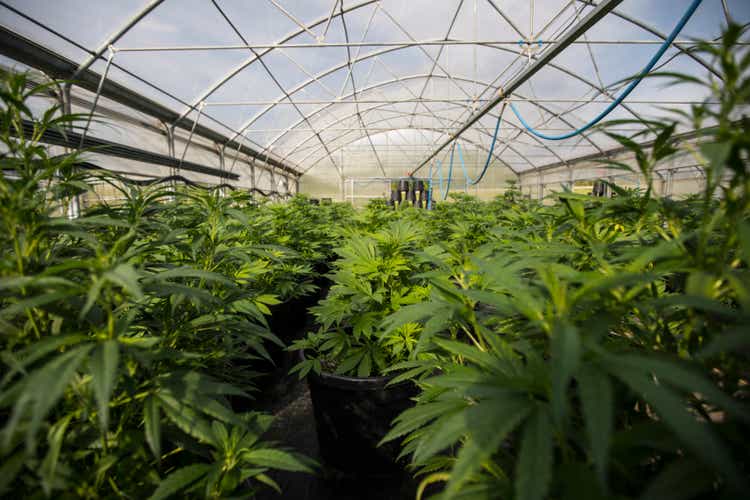 The structures, the people, the plants, and the technology all impressed me. Maybe most importantly, touring the two current greenhouses gave me confidence that Glass House can go bigger.
Welcome to the second installment of the Glass House (OTC:GLASF) series. Here we'll cover touring both operational greenhouses and visiting The Farmacy dispensary in Santa Barbara. In the third and final installment, I'll evaluate the output by reviewing Glass House Farms flower and Plus edibles. Let's begin with some context.
What is a Greenhouse?
Glass House specializes in greenhouse-grown flower. Proponents contend that it offers the affordability and rich terpene profile of sun-grown cannabis, with the greater bag appeal and stronger effects of indoor. But, the word greenhouse has many connotations.
Greenhouses are structures used to protect plants from the elements, regulate temperatures, and manipulate light cycles. The term greenhouse is used to describe everything from open-ended hoop houses to sophisticated, almost-indoor operations. When speaking about "greenhouse flower", there are meaningful differences in the output depending on the type of structure, the climate, and the skill of the grower.
Hoop houses are the most common cannabis-growing structures. They're affordable, non-permanent, and give growers an easy way to improve the quality of their flower (versus outdoor) and accomplish multiple harvests per year. While hoop houses can grow great flower, they shouldn't be confused with glass Dutch-style greenhouses. Below is an example of an open-ended hoop house in Humboldt County. Most greenhouse flower in California is grown under these conditions.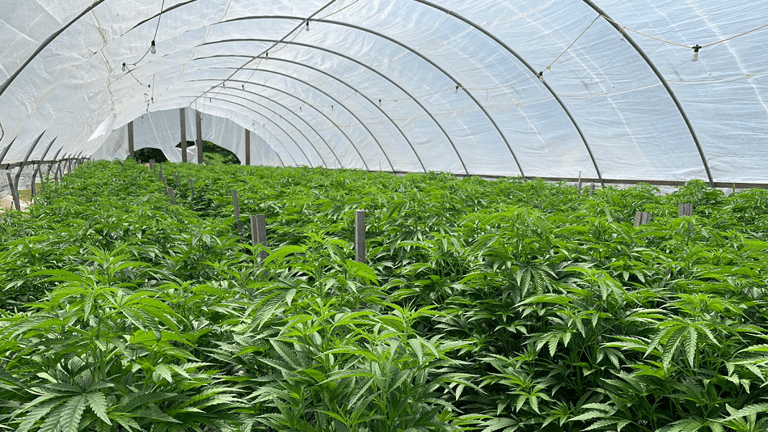 Hoop houses provide some shelter from the elements and protect trichomes from getting degraded by intense sunlight. However, dust, bugs, and wind can easily penetrate and leave unwanted remnants.
Glass House grows in fully-enclosed, Dutch-style greenhouses. These offer greater protection and more sophisticated climate controls. In addition, Glass House is able to add CO2 to the environment and experiment with supplemental lights.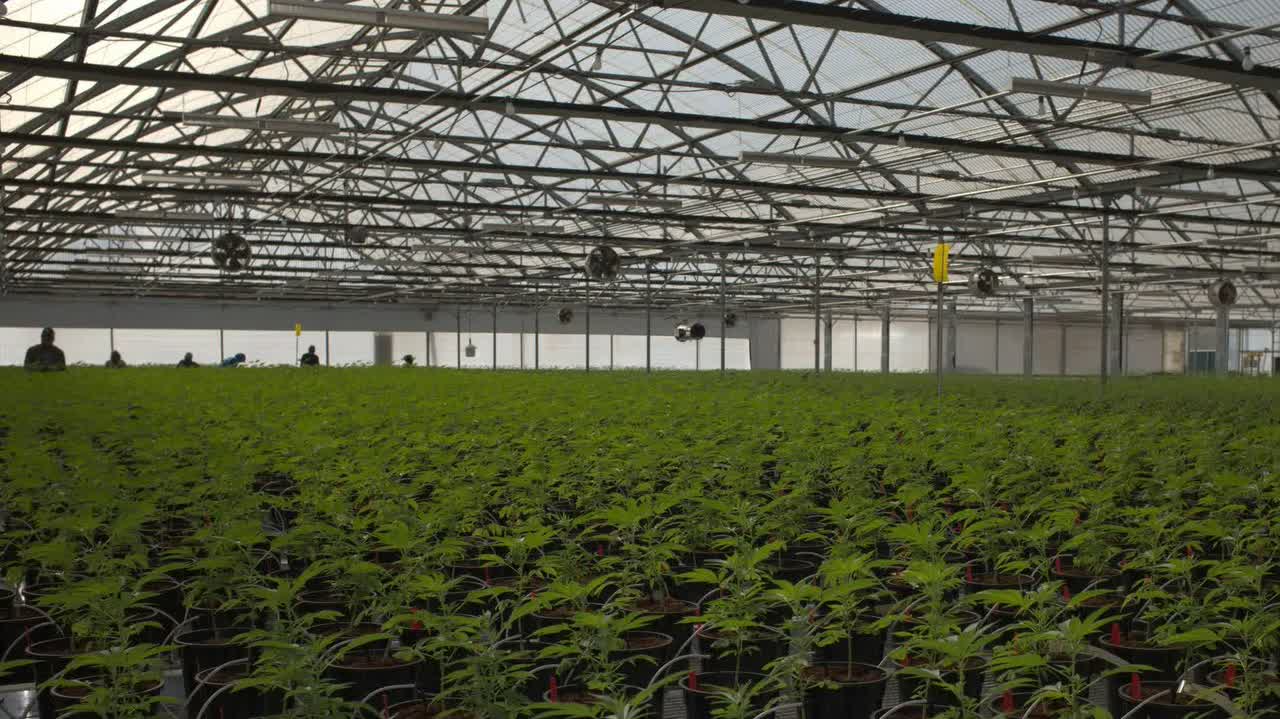 There are levels to the greenhouse game, and Glass House is playing at the highest level.
How to Accomplish Multiple Sungrown Harvests
In traditional sun-grown cannabis, you get one harvest each year in the fall. Farmers plant in the spring, the plants remain in their vegetative growth phase (often called "veg') until about August, and once natural sunlight hits approximately 12 hours/day, the plants begin to flower. Two months later, Croptober hits, and the plants are ready for harvest.
Indoor growers replicate this by manipulating the light cycles. To keep the plants growing in veg, lights are left on for an 18/6 or 20/4 cycle. Once they reach the right size, lights are switched to 12/12, the plants think fall is approaching and flip into flower.
Greenhouses use similar technology as indoor rooms, but use other means to limit the daylight hours. In the shorter winter days, Glass House has photoperiod lights that if kept on after sundown keep the plants in veg. In the summer, it stays light later and the days are too long to naturally trigger flowering. To simulate 12/12 conditions, blackout blinds are drawn along the rooftop and this signals the plants to begin flowering.
This "light dep" technology allows Glass House to remain in perpetual harvest mode. Year-round, bays of plants are ready for harvesting. This increases the probability that the flower you receive in your jar is fresh, and evens out the harvesting and processing work.
The Right Genetics for the Season
Glass House has identified genetics that performs better in different seasons. Due to the lower-light conditions and cooler temperatures, winter harvests are often the most challenging. To combat this, Glass House has found strains (such as Modified Grapes and Wonder Bars) that require less light and thrive in colder temperatures.
On the flip side, summer brings warmer conditions and more intense light. Glass House has strains that excel in these more intense environments. Identifying the right strains for the right environment boosts yields (and therefore margins) and helps ensure quality remains high.
Touring Glass House Farms in Carpinteria
I toured the two currently operational greenhouses in Carpinteria, about 15 minutes south of Santa Barbara. Visiting the functional farms and trying their output is the best way to assess the current state of affairs. The monster SoCal facility is scheduled to start planting later this year, and quality should only improve at the new farm.
It was February 28th, 2022 when I pulled up to Glass House Farms' original greenhouse in Carpinteria. In the middle of winter, it was 78 degrees and not a cloud in the sky. Consistent ideal growing conditions are a key advantage for all of Glass House's greenhouses.
The first greenhouse is known as Casitas. It started off with 50,000 square feet of canopy, and each quarter they added another 50,000 until they utilized the full 150,000 square feet of canopy space. One theme you'll see is that Glass House scales, rather than going all-in initially.
While this is the smallest greenhouse, it still struck me as huge. Below is a bay where they are experimenting with supplemental lighting to complement the sunlight. Next to this (not pictured) is a bay of the same strain using straight sunlight. Through this controlled experiment, they can determine if the yield and quality enhancements are worth the additional expenses.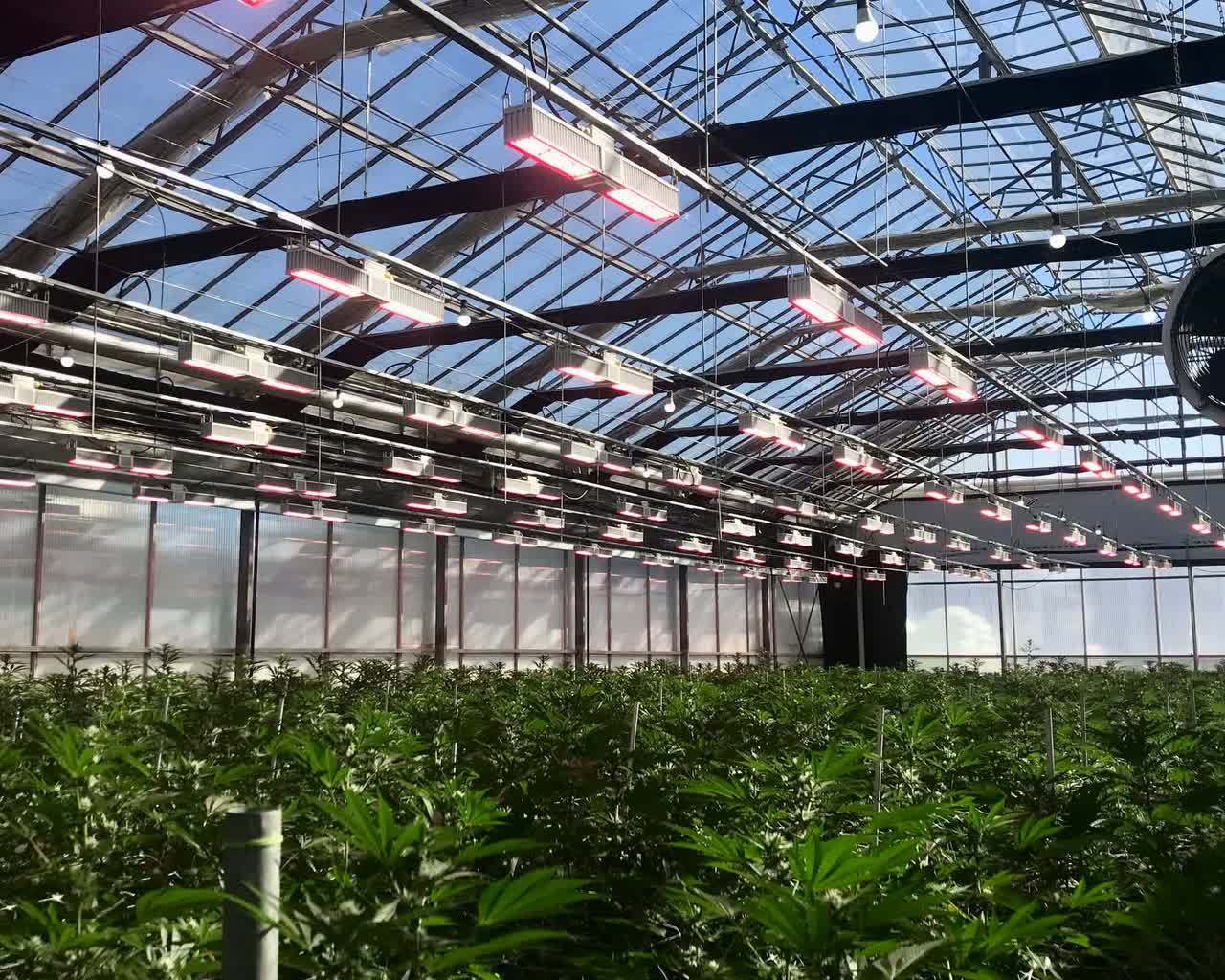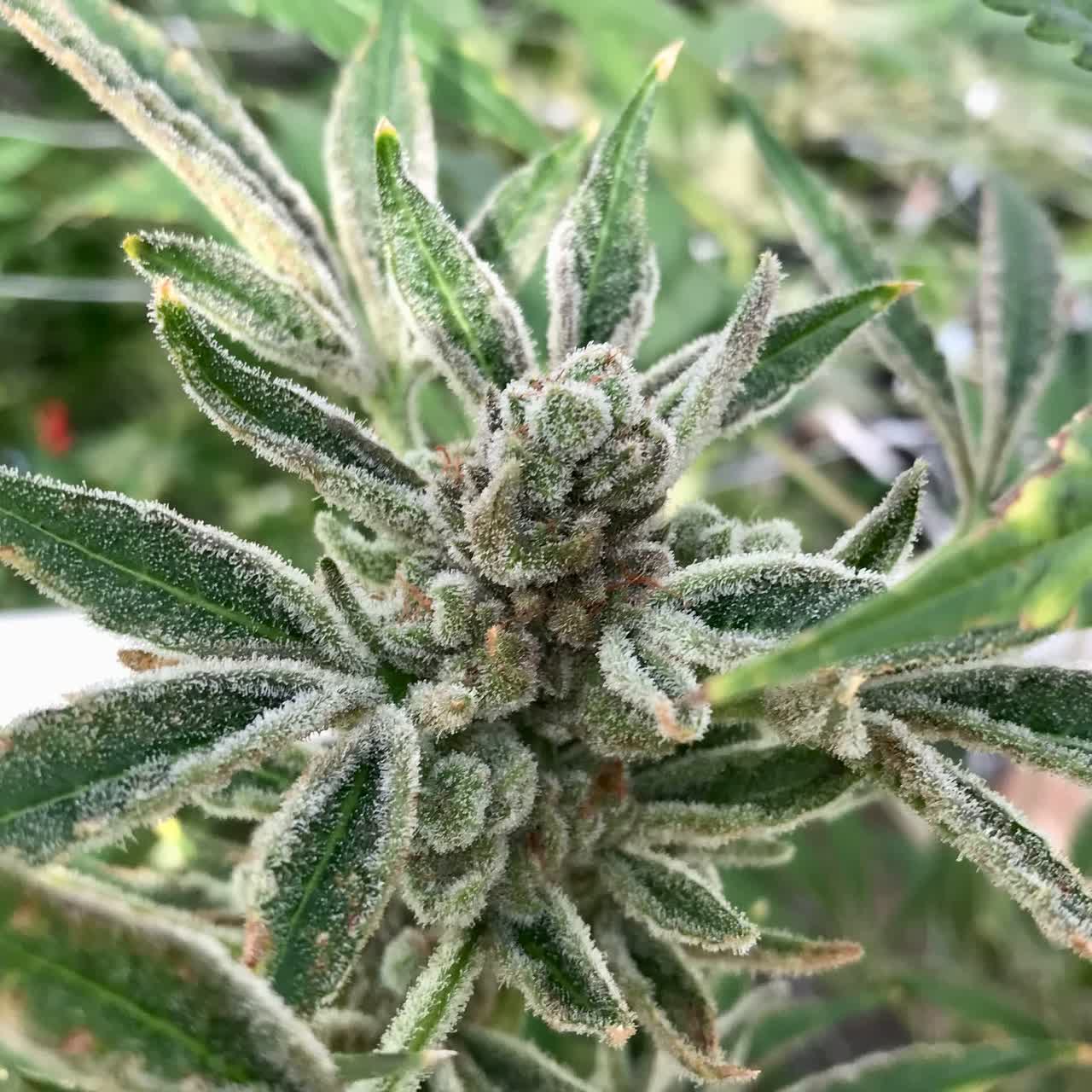 After this, we drove seven minutes to the much-larger Padaro greenhouse. This mammoth is currently 350,000 square feet, but similar to Casitas, it took four quarters of scaling to reach this size. This is the same approach they are taking in rolling out the new 5.5 million-square-foot facility. Had Glass House not scaled up successfully in the past, I would be much more worried about their ability to execute at the unparalleled size.
The photo below shows the depth of the Padaro greenhouse. Also, note the healthy-looking plants and even canopy.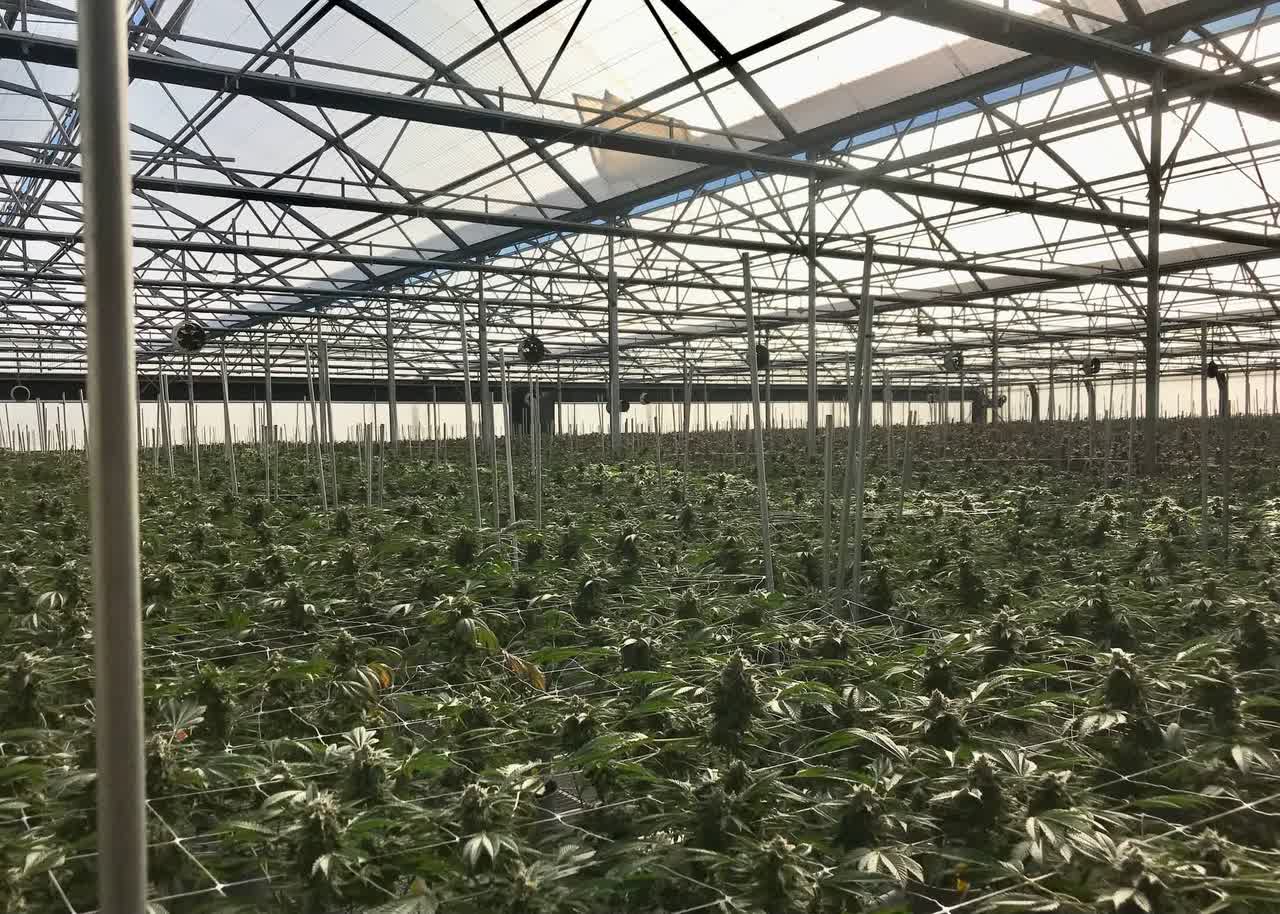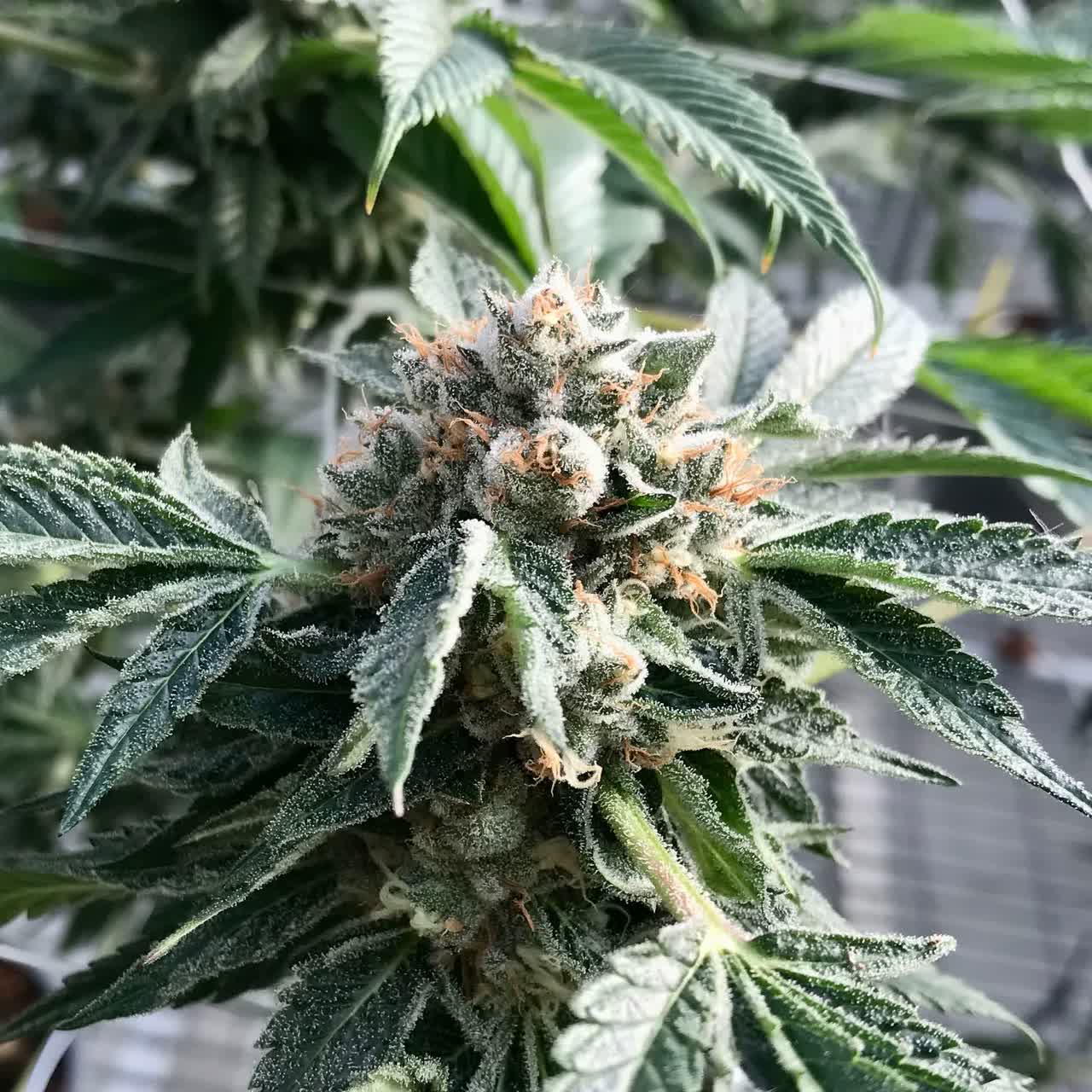 All plants are grown in cocoa coir and fed via drip systems multiple times per day. Depending on where the plants are in the vegetative or flowering phases, they're fed one of six different nutrient blends. In veg, plants need more nitrogen, and when they move to flower phosphorous and potassium are increased. For the final week, plants are flushed with only water.
Both greenhouses use as much automation and technology as possible. LED and photoperiod lights flip on when needed to add lumens, blackout shutters can be drawn to simulate nighttime, and odor-control systems are constantly operating. Glass House also infuses CO2 into the environment. Adding this gas is known to make plants grow more vigorously and enhance yields.
Drying and Curing
A wise man told me that the quality of your flower is determined 1/3 by the genetics, 1/3 by the growing process, and 1/3 by what happens after you harvest. The drying and curing process is critical. Done poorly, it can turn the top-shelf flower into something that is dry, harsh and smells like hay.
Once Glass House harvests, plants move to a drying room for a 7-10 day whole-plant hang at about 62 degrees and 62% humidity. Once dry, the flowers are bucked off the stems and cured. Next, they are hand-trimmed, cured more, and put in jars for packaging.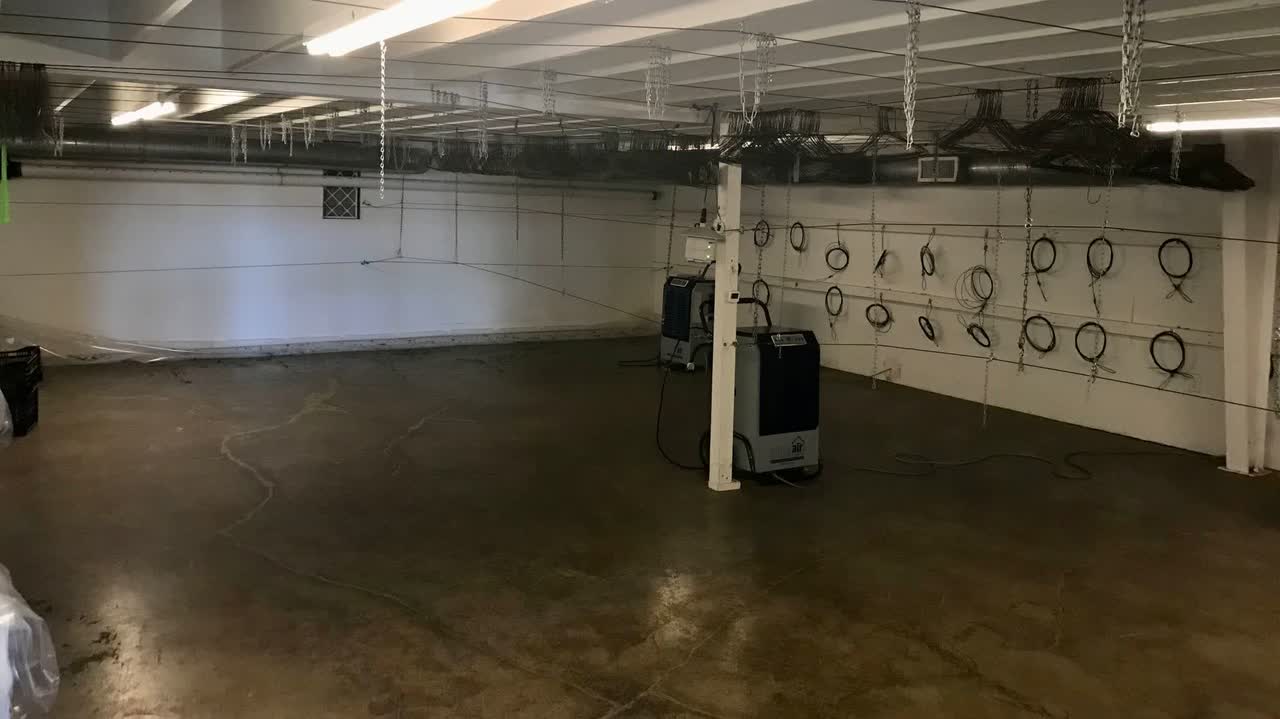 The structures, the people, the plants, and the technology all thoroughly impressed me. Maybe most importantly, touring the two current greenhouses gave me confidence that Glass House can go bigger.
At full output, the SoCal greenhouse is 11x bigger than the two existing ones combined. Initially, this freaked me out—can they execute at this scale, and will the flower be any good? While we won't know for sure until the first harvests, seeing them scale from 50,000 square feet in the first phase of Casitas up to 500,000 between both current greenhouses increases my confidence.
Visiting The Farmacy in Santa Barbara
After touring the greenhouses, we drove 15 minutes to The Farmacy in Santa Barbara. This is one of three dispensaries in town and is located in a busy, central part of the city. The store is tastefully designed with adequate parking. Check-in was easy, just need to show you are 21.

I've visited dozens of dispensaries and James at The Farmacy is among the best budtenders I've encountered. He not only had command of the Glass House line, but was able to break down terpene profiles, understood how every vape cartridge was made, and quickly pointed me to the edibles I was seeking. I asked him to contrast Glass House Farms versus another local greenhouse lineup and he articulated how they are differentiated in an informed, but not sales-heavy manner. I don't know if it is the training or just a fortunate hire, but this guy is great.
The store is well stocked and nicely laid out. Glass House products are featured, which helps explain why Glass House Farms flower outsells other brands by 10-15x in The Farmacy stores. Because they are in Santa Barbara, the clientele tends to be more affluent and most people visiting looked like parents or even grandparents.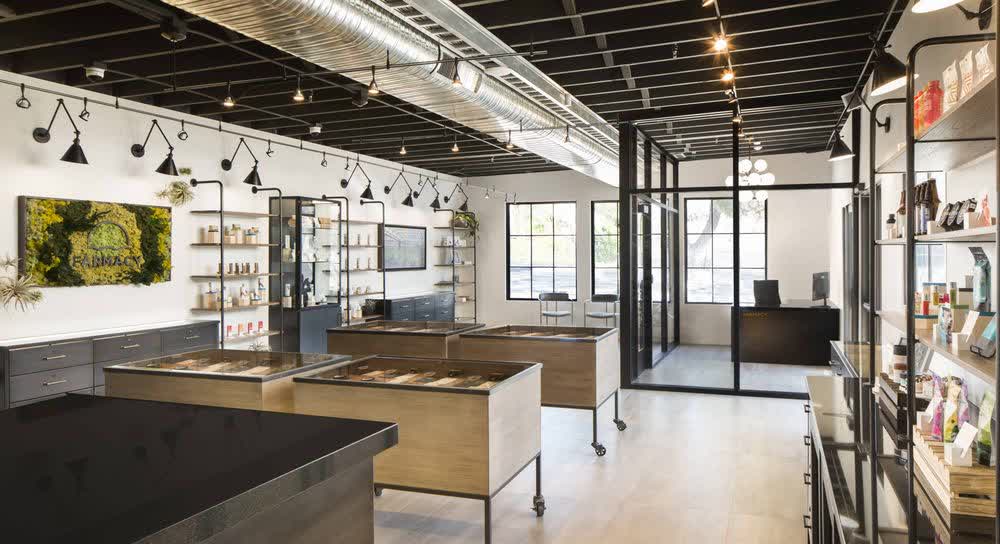 My only quip is that they were light on concentrates. When I dab, I prefer live rosin and it was totally out of stock. Graham pointed out that this location was not a dab-heavy demographic and this is why concentrates were not a big emphasis. Makes sense, but I would like to see more options.
Overall, it was a wonderful retail experience driven by the friendly and competent staff. I walked away with three strains of Glass House Farms flower and PLUS Dual Action Sleep Cloudberry edibles.
Wrapping Up
The whole afternoon of tours was fantastic and I thank Graham and the team for taking the time. I left with a greater appreciation for their growing skills, more confidence in their ability to continue scaling up, and I look forward to returning to The Farmacy and getting more products from James.
Stayed tuned for the final installment of the Glass House series. I have been busy vaporizing flowers, eating edibles, and trying to remember to take notes.
Disclosure: At the time of publication, I did not own Glass House stock and I was not compensated to write this article.
Editor's Note: The summary bullets for this article were chosen by Seeking Alpha editors.
This article was written by
Former hedge-fund manager and dispensary operator now building cannabis portfolios. I write about cannabis stocks on greengiants.net, run an investment-consulting business called Higher Calling, and am the co-host of CEO Interviews on Seeking Alpha.