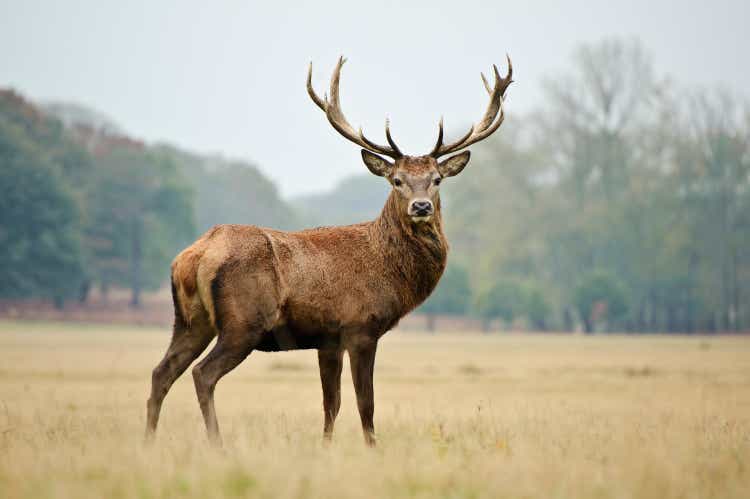 STAG Industrial, Inc. (NYSE:STAG) is an industrial real estate investment trust that has experienced consistent growth in portfolio assets, dividends, and funds from operations. The dividend is well covered by operating funds, and the trust is acquiring new industrial properties across the country. The trust benefits from the expansion of the eCommerce industry, and the recent price consolidation of STAG creates a buying opportunity.
STAG Industrial: A Heavyweight In The Industrial REIT Sector
STAG Industrial is a real estate investment trust that focuses on industrial/eCommerce properties, which it leases to a growing list of tenants. STAG Industrial has a market capitalization of approximately $7.1 billion and a growing real estate portfolio, which serves as the foundation for future funds from operations growth in an industry that is rapidly expanding.
The market for industrial REITs is estimated to be worth $1.0 trillion. STAG Industrial has a long-term opportunity for growth and value generation because it only accounts for about 0.6% of this large market.
The trust's DNA has always been one of expansion. Since its IPO in 2011, STAG Industrial has steadily pursued acquisition deals, and the trust's growth has been truly astounding. STAG Industrial owned 544 properties totaling 108.6 million square feet in 40 states at the end of December, representing a 485% increase (on a property basis) since 2011, amid consistent buying activity with the express purpose of increasing income from an increasingly diverse real estate portfolio.
STAG Industrial is acquiring new industrial properties across the country in order to diversify its real estate portfolio, and acquisitions are critical to STAG Industrial's long-term funds from operations growth.
The trust invests billions of dollars each year to increase its portfolio income, but it also has a strict screening process in place to ensure that only high-quality real estate is acquired. STAG Industrial purchased 74 buildings for $1.34 billion in the last year, with 35 buildings valued at $689.5 million purchased just in the fourth quarter. STAG Industrial's real estate portfolio grew by 12.9 million square feet as a result of all acquisitions completed in 2021. Furthermore, the trust had 188 buildings in its acquisition pipeline, totaling 37.7 million square feet.
The pipeline of the trust includes all buildings that have passed the initial screening criteria and may result in a transaction. The pipeline was worth $4.1 billion as of February 16, 2022. For 2022, the trust anticipates an acquisition volume of $1.0 billion to $1.2 billion.
Portfolio Diversification Implies Predictable FFO
Diversification is critical for REITs. Just as trusts would not want all of their properties in one community, they would also not want all of their buildings leased to a single industry.
STAG Industrial places a high value on portfolio diversification, and the trust's acquisition history demonstrates that the REIT is concerned with spreading its industrial properties across multiple states. Furthermore, STAG Industrial enters into contracts with large corporations that have established brands and are frequently involved in the growing eCommerce industry. More than half of the trust's tenants have annual revenues of more than $1.0 billion, and eCommerce accounts for roughly 40% of STAG Industrial's portfolio.
The acquisitions of STAG Industrial and the increasing diversification of the real estate portfolio imply predictable F. In the fourth quarter, the trust generated $0.51 per share in funds from operations, which is 4.1% higher than in 4Q-20. The funds from operations exceeded the $0.36-per-share dividend.
Because STAG Industrial pays a monthly dividend, the dividend amount in the table below must be divided by three to get the actual monthly dividend pay-out ($0.1208) in 4Q-21. Since then, the monthly dividend has increased to $0.1217 per share. We can deduce from STAG Industrial's low pay-out ratio, which has ranged between 68% and 74%, that the dividend is very safe and will likely grow in the future.
My Conclusion
STAG Industrial is rapidly expanding, and its real estate portfolio is of exceptional quality. The payout ratio is low, around 70%, implying that the dividend has the potential to grow further. The trust's reliance on eCommerce is a strength in its portfolio because this industry has attractive long-term growth prospects.
I see the trust as a stock that allows me to sleep well at night because it generates consistent dividend income even when the market is volatile. Stock dips should be viewed as buying opportunities.