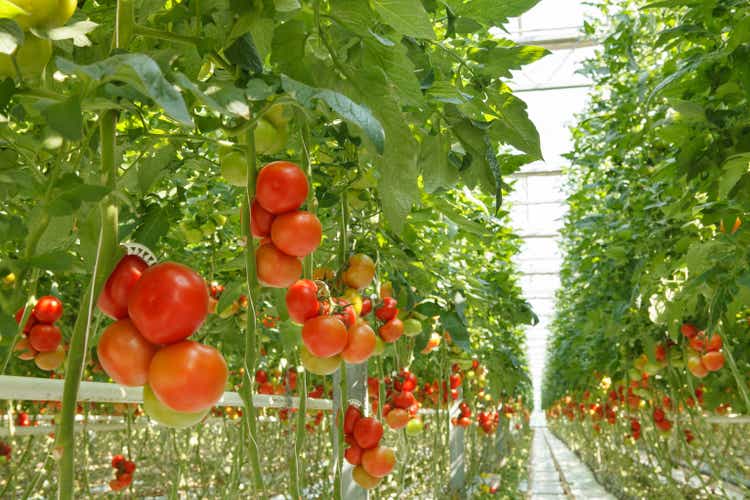 AppHarvest: Investment Thesis
AppHarvest, Inc. (NASDAQ:APPH) is a company that grows 40-foot high tomato plants. For me it brings to mind that fairy tale, "Jack and the Beanstalk". Will they expand into beans as well as berries and leafy greens? This is a "feel good" business that is not difficult to get enthused about. And I truly am enthused about the business and the course it is charting, and I sincerely wish them the very best of success with their endeavors. From a financial and operating perspective, I find performance does not quite match the rhetoric, as explained further below. This does not mean the business operations are not performing well. I could not give the stock a buy rating, even after the large falls in the share price since listing. At the same time, I cannot bring my sentimental self to give a sell rating for a business with such worthy intentions, and quite obvious capability. The SA Premium ratings summary per Fig. 1 below, ranging from Strong Buy to Hold and to Sell, likely reflects the struggle between sentiment and fundamentals for this stock.
Figure 1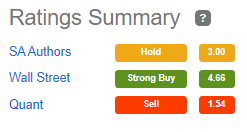 I am sure there will be many existing shareholders who will be willing to hold and go along for the ride. Just be sure to be able to afford to weather possible further falls in the share price.
AppHarvest: Finalist In SXSW Innovation Awards
Readers might not know AppHarvest is a finalist in the New Economy category of the SouthXSouthWest innovation awards, with winners to be announced on March 14. Interestingly, another company promoting closed environment agriculture ("CEA") is among the finalists, listed in Fig. 2 below. The parent of HydroGreen Vertical Pastures is listed company CubicFarm Systems Corp (OTCPK:CUBXF) which produces CEA equipment for indoor vegetable growing. My opinion, despite certain reservations expressed in this article, is AppHarvest is a far superior business to CubicFarm Systems. But I would suggest any reader with an interest in following clean energy developments should subscribe to the newsletter for Star Scientific (unlisted at present), owners of the patented "Hydrogen Energy Release Optimiser, HERO" technology. You probably have not heard of it yet, but in comparison to fuel cells, the catalyst HERO is the equivalent of cold fusion to a standard nuclear reactor.
Figure 2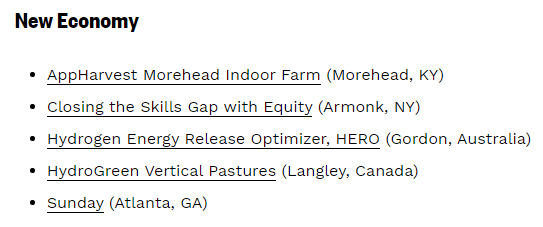 AppHarvest: 'Feel Good' Company
Excerpted from a November 2020 article, "The AgTech Revolution is Underway in Appalachia with AppHarvest" by Jarrett Banks, published on the AppHarvest website,
The good news that may surprise some investors: The stock is still cheap. At the SPAC's closing price of $11.33 Thursday, AppHarvest trades at an implied enterprise value, adjusted for cash, of 2.9 times 2024 sales, according to Sentieo, an AI-enabled research platform. That's roughly half the multiple of Beyond Meat, which trades at 5.7 times and isn't growing as fast. And as one of the few B Corp. companies in the public markets, AppHarvest should get an extra boost. Just look at Lemonade, a fintech B Corp. that trades at 7.4 timers 2024 sales - far above peers. But AppHarvest is more than a feel-good ESG - or even profit - story. The company also embodies the private sector leading the country out of one of the worst crises in American history. Maybe a new JD Vance type author will someday write another bildungsroman about the region. Call it Hillbilly Energy.
AppHarvest: Technology
Crop Growing Technology -
Slide 1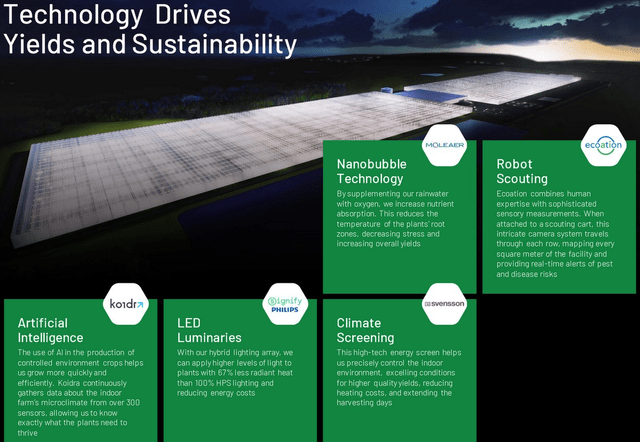 The above slide from presentation per 8-K filing Dec. 15, 2020, lists the technology used to drive yields from AppHarvest Controlled Environment Agriculture facilities.
Robotic Technology -
From company Apr. 8, 2021, announcement of acquisition of Root AI, an artificial intelligence farming startup that creates intelligent robots to help manage high-tech indoor farms.
The acquisition of Root AI and its robotic universal harvester, Virgo, is expected to provide AppHarvest with a baseline of harvesting support working alongside crop care specialists focused on more complex tasks... Virgo is the world's premier universal harvester, which can be configured to identify and harvest multiple crops of varying sizes including tomatoes, peppers, cucumbers and more delicate fruits such as strawberries among others. Though Virgo can work indoors or out, the robot's focus has been on controlled environment agriculture. Over the past three years, it has collected the world's largest data set of tomato images to enable it to identify more than 50 varieties in multiple growing environments and at varying stages of maturity to learn how and when to harvest. Virgo uses a set of cameras combined with an infrared laser to generate a 3D color scan of an area to determine the work it can perform. Once it maps the tomatoes, it assesses their orientation and determines if they are ripe enough to pick. The robot can be programmed to make other quality assessments as well. The scan enables the robot to find the least obstructive and fastest route to pick the crop ahead of the arrival of the robotic arm and gripper. (Note - bolding by author)
Harvesting of crops is very labor intensive. Also, the CEA approach is to have light sources to maximize fruit growth 24 hours per day. A robot that could progress through the crop aisles 24 hours per day scanning, selecting and picking fruit at optimum level of maturity, and alerting to disease or other problems, sounds like the ultimate solution to efficient low cost operation.
Excerpted from Feb 24, 2022, 8-K filing,
In April 2021, AppHarvest acquired Root AI, Inc. (now AppHarvest Technology, Inc. (ATI)), an artificial intelligence and robotics company. ATI's Virgo prototype universal harvesting robot has doubled in its picking capability with the advantage of being deployed in AppHarvest's Morehead facility since the acquisition. ATI also has developed a farm operations software platform with multiple applications. Both the robotics and software are expected to become revenue-generating in 2023. AppHarvest continues to believe in the strength of ATI to deliver robotics and software solutions to optimize its own high-tech farm network and to serve the broader CEA sector globally, and the company believes it will be able to secure the financing needed for investments required for ATI to reach its full commercial potential. However, based on AppHarvest's reduced market value and the need to align the value of these assets, as previously announced on January 31, the company recorded a non-cash charge of approximately $59.9 million in the fourth quarter to impair the carrying value of goodwill and definite lived intangible assets related to the acquisition of Root AI. (Note - bolding by author).
From the comments above, it would appear the universal harvesting robot is still an immature technology requiring considerable further investment. I can find no mention in the FY 2021 10-K or elsewhere of the impact of the Virgo robot on cost reduction.
AppHarvest: The Execution Versus The Promotion
AppHarvest: The promotion -
Excerpted from a September 2020 article, "A Stock That Will Let Investors Reap the Rewards of a New Way to Farm" by Dreamstime, published on the AppHarvest website,
AppHarvest plans to grow about 23,000 tons of tomatoes and other products in a 60-acre modern greenhouse, with no chemicals and using recycled rain water. It is a capital-intensive idea, but Webb said AppHarvest can achieve 30 times the output per unit of land in the company's system. AppHarvest thinks its process will be competitive with crops grown in open fields, but that isn't the only reason Webb thinks now is the right time for his company. Resource scarcity, concerns about chemicals and pesticides, and a growing global population mean the world needs to produce more food from less land in the near future. "It's all of the above," he said when asked about what drives his vision. Investors and U.S. consumers know how much tomatoes cost at the grocery store, but putting 23,000 tons into context isn't easy. According to the Food and Agricultural arm of the United Nations, the U.S. produces about 14 million tons of tomatoes annually on roughly 320,000 acres of land. AppHarvest doesn't need to displace U.S. growers: Most of the country's tomato consumption is imported. With tomatoes wholesaling for $1 to $2 a pound, one AppHarvest tomato facility can generate about $50 million in sales, enough to justify the $100 million-plus capital cost, according to the company.
Excerpted from AppHarvest Q3 2021 8-K filing dated Dec. 15, 2021,
In October 2020, we partially opened our first CEA facility in Morehead, Kentucky (the "Morehead CEA facility"), which we estimate can cultivate approximately 720,000 tomato plants with an approximate yield of 40 million pounds per year.
AppHarvest: The Execution -
AppHarvest have a major issue with execution against what has been indicated would be achieved, as detailed in Table 1 below.
Table 1
Table 1 shows the first shortfall is against claims the company's controlled environment agriculture ("CEA") farms could achieve 30 times farm production levels per acre. That would require production of 78,750 tons of tomatoes per year from the companies 60 acre Morehead CEA facility. In fact, the company has never directly claimed it could produce that much tonnage from the Morehead facility. The actual tonnage capacity stated for the Morehead facility has been in the 20,000 to 23,000 tons range, which is round 7 to 9 times average farm production levels. But that capacity level has not yet been achieved. Based on quarterly earnings releases per 8-K filings, production for FY2021 was 18.3 million pounds (9,150 tons). That is only 3.5 times average US farm production rates per acre for. With FY 2021 net sales of $9.05 million, the average net sales price of a little under $0.50 per pound is also far below the tomato wholesale price of $1 to $2 per pound, per article above on the company's website. The average net sales price in Q4 2021 did improve to $0.69 per pound.
AppHarvest: No Clear Path To Profitability
Excerpted from Q4 2021 8-K earnings release,
"From our first harvest in January 2021, to selling in more than 1,000 top grocery stores and restaurants to the acquisition of a robotics and AI company to expanding our farm network and diversifying into salad greens and berries by year-end, AppHarvest has made significant strides in our first year as a public company laying a solid foundation for scalable and sustainable growth," said AppHarvest Founder & CEO Jonathan Webb. "For year two, we are laser focused on the core business, adjusting our strategy to better control costs and further optimize operational performance as we work to quadruple our number of farms and more than double net sales this year to build a resilient business that creates long-term shareholder value."
and
Names Julie Nelson Chief Operating Officer to optimize operations across the AppHarvest farm network. Cuts non-operations headcount by about 50% to enable positive operating cash flow with four-farm network. Remains on track to add three farms and diversify crops to include salad greens and berries by year-end
and under Operations
The leadership team at Morehead has stabilized operations using a data-driven approach to performance management. This action has been supported with the implementation of a new supply chain planning process and an enhanced training program for frontline associates. These measures have resulted in improved yield and quality versus Q3 2021. The team is now focused on increasing labor efficiency at the farm and on delivering cost savings. Through the first few weeks of Q1 2022, compared to Q4 results, the company is tracking to a saleable yield of more than three million more pounds of tomatoes. Quality levels and gross market prices are in line with the previous quarter, and distribution fee expenses are aligned with internal projections despite significant cost increases for freight.
and under Financial Outlook,
The company's Morehead, Ky., farm is its only facility currently in operation and will be the main driver for the full-year 2022 outlook of net sales of $24 to $32 million, more than double the net sales from last year. The company expects a contribution of mid-single digit millions of dollars from the three new farms given their estimated timing of completion toward the end of the year. The Adjusted EBITDA loss expectation is in the range of $70 to $80 million, modestly higher than the $69.9 million last year despite the expected quadrupling of the farm network and significant inflation.
The 'Financial Outlook" raises more questions than it answers. Net sales for FY2021 were $9.1 million, all from the 60-acre Morehead facility. The indicated $24 to $32 million net sales for 2022 is also expected to come from Morehead. It is not clear if that is expected to come from increased production, higher market prices, or higher average price per pound due to greater proportion of 1st quality, or a combination of all of these factors. There was considerable discussion on this aspect in the Q4 2021 earnings call Q&A, per SA Premium transcript. While the company advised it would not be breaking out the elements, discussion did appear to indicate all of higher market prices, increased premium product, and higher production are assumed in the $24 to $32 million estimated net sales for 2022. The major question is why, despite actions to optimize operations, and a more than doubling of net sales, 2022 adjusted EBITDA is expected to be $70 to $80 million loss, above the $69.9 million adjusted EBITDA loss for 2021.