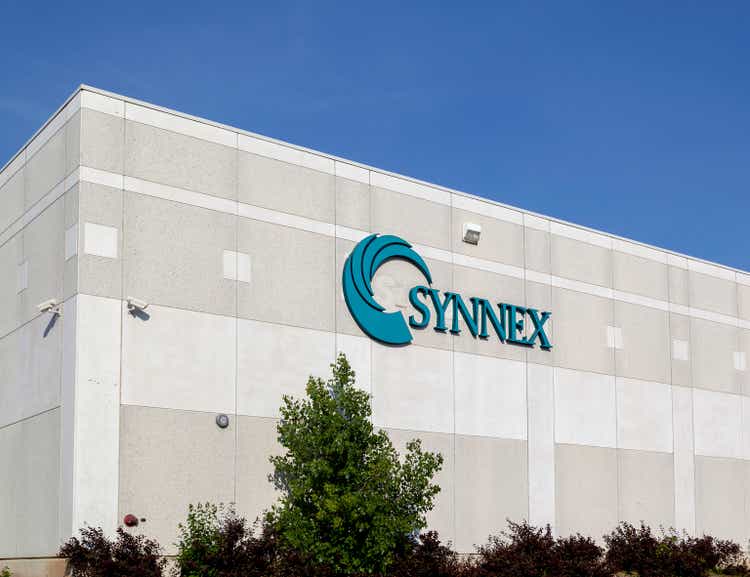 TD SYNNEX Corporation (NYSE:NYSE:SNX) was founded in 1980 and has been in business for over 42 years. It began as a distributor of computer hardware products, but eventually evolved and has grown its portfolio and is strategically positioned to cater mega trends. They made it into the Fortune 200 and was ranked as high as 117 in 2021. After the successful spinoff of its customer experience service business, Concentrix in 2020, the company had a meaningful M&A in 2021 with Tech Data.
SNX has grown to become the world's largest IT distributor, providing integration services for the IT ecosystem. It continues to strengthen its global presence as it currently provides services in over 100 countries, has a 150,000 reseller base, and have increased its full-time employees to 22,000 globally. SNX maintains a positive outlook, citing a strong demand environment across all geographic regions, enhancing its security and data center offerings, and generating outstanding revenue growth outside the US. Additionally, SNX has successfully mitigated customer concentration risk and maintained control over PC cycle dependency, and is currently trading at a trailing P/S of 0.21x and a forward P/S of 17x, making it an attractive buy on a pullback ahead of its Q1 2022 earnings report.
A Strong Portfolio During Uncertain Times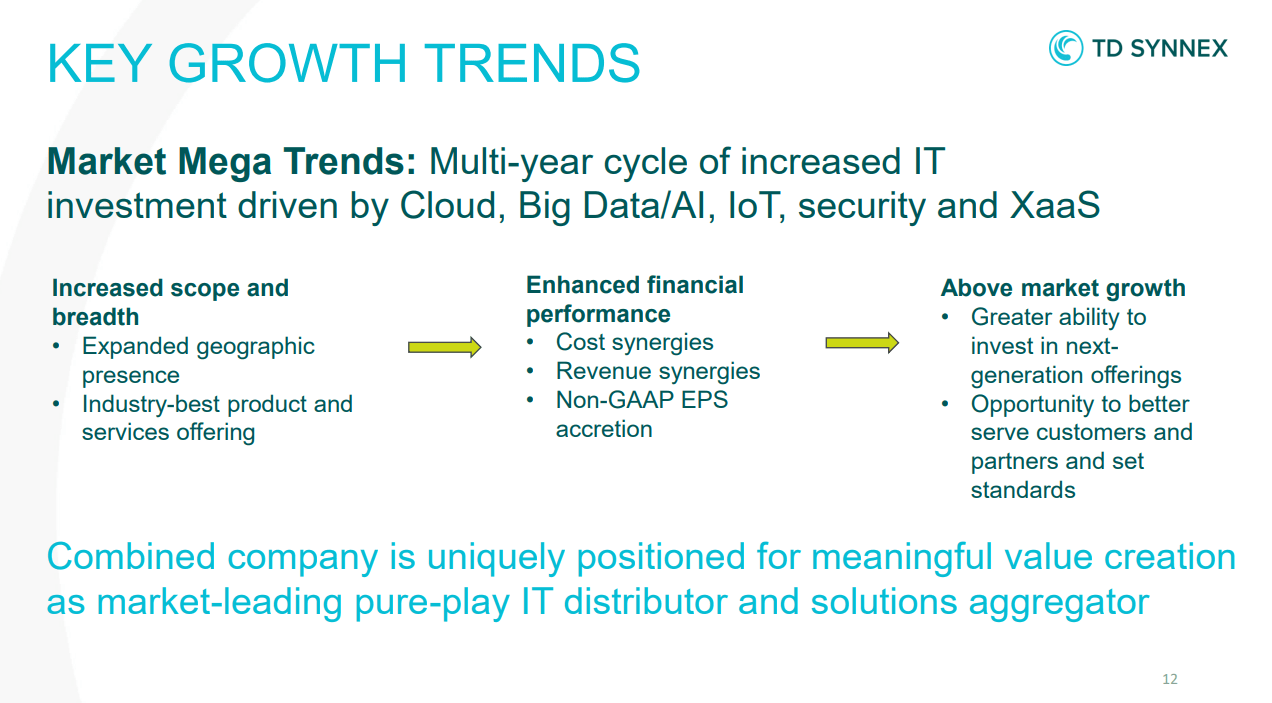 One of the strengths of SNX is its improving skin on IT trends, thanks to its meaningful merger with Tech Data. It outgrew its peer Ingram Micro and is now leading the industry, boasting outstanding international revenue growth in Q4 2021 amounting to $11,690.7 million compared to $4,709.6 million last year before the merger. The management is very confident and provided a strong outlook with its international demand environment as quoted below.
All 3 geographic regions performed well. In the Americas, demand was solid. And the enterprise space did well as corporations prioritize infrastructure and security projects.
The management also reassures its investors that they are noticing a continuation of digital transformation and according to this article, they are seeing an increase in IT spending of 5.1% in 2022. However, given the uncertainties associated with increasing global military budgets, such as what the US is currently doing, President Biden increasing US's defense budget by $17 billion in 2023, this theoretically may imply a slower pace of investment spending in areas such as in Information Technology. On the brighter side, analysts continue to be positive about SNX's future with 7 upward revisions in both top line and earnings per share as shown in the image below.

Reassurance Continues
The management continues to provide a strong outlook on its international revenue with its growing footprint and opportunity to realize in Japan and Asia Pacific region. SNX is boasting a stronger product portfolio, widening global operations to serve its identified mega markets, and its sustainable top line growth is enough to offset PC cycle.
Specific to the PC ecosystem, we remain cautiously optimistic given the opportunities in the commercial space with the Windows 11 refresh cycles and upgrade for advanced security features, offset by some moderation in the consumer segment. Taken together, we believe this results in an opportunity to grow our top line in fiscal 2022. This view considers current industry supply constraints that we expect to continue through the fiscal year.
Strong Q1 2022 Non-GAAP Outlook
The management anticipates a Non-GAAP net income of between $245 million and $275 million in Q1 2022, up from its $98.6 million the same quarter last year and is relatively flat in comparison to its $275.8 million in Q4 2021. Additionally, they also anticipate a strong YoY growth in its Non-GAAP diluted EPS of between $2.55 and $2.85, up from $1.89 in Q1 2021, and is relatively flat compared to its Q4 2021 of $2.86. SNX enjoys an outstanding track record of earnings surprises as shown in the image below.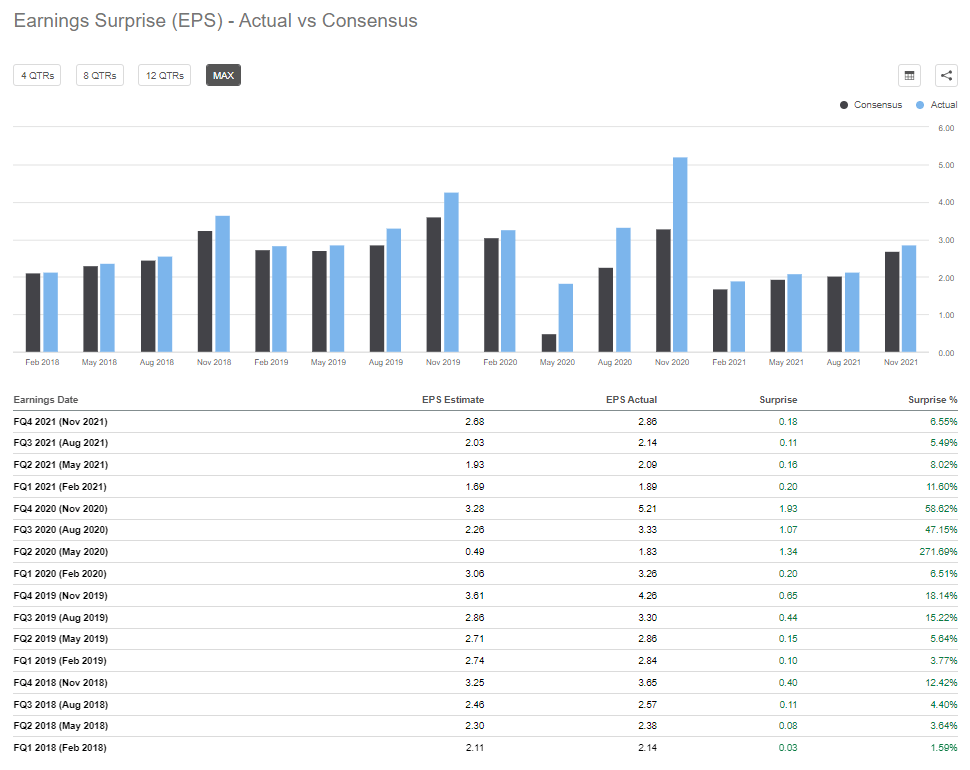 SNX also benefits from a catalyst for enhancing shareholder value, as a result of its proposed long-term capital allocation of 50% payout in the form of share repurchases and dividends. As of today, they have a $400 thousand share repurchase program in place and trailing 10.02% payout ratio.
Fairly Valued at Lower Range of Street's Rating

ScanSource, Inc. (SCSC), PC Connection, Inc. (CNXN), Avnet, Inc. (AVT), Arrow Electronics, Inc. (ARW)
SNX is relatively cheaper than its peers' average. It enjoys a cheaper forward P/E of 8.76x both in peers' average of 10.48x and trailing P/E of 16.64x. Its earnings per share forecast is outstanding, with an 18.20% year-over-year increase to $11.11 in FY 2022, up from $8.27 last year. Additionally, its trailing P/S of 0.21x is relatively cheaper than its forward P/S of 0.17x and peers' average of 0.29x. I believe that using the average target price depicted in the image below is an extremely conservative target price given the stock's 0.17x forward P/S and 9x forward P/E.

Price Below Street's Rating, Potential Continuation Pattern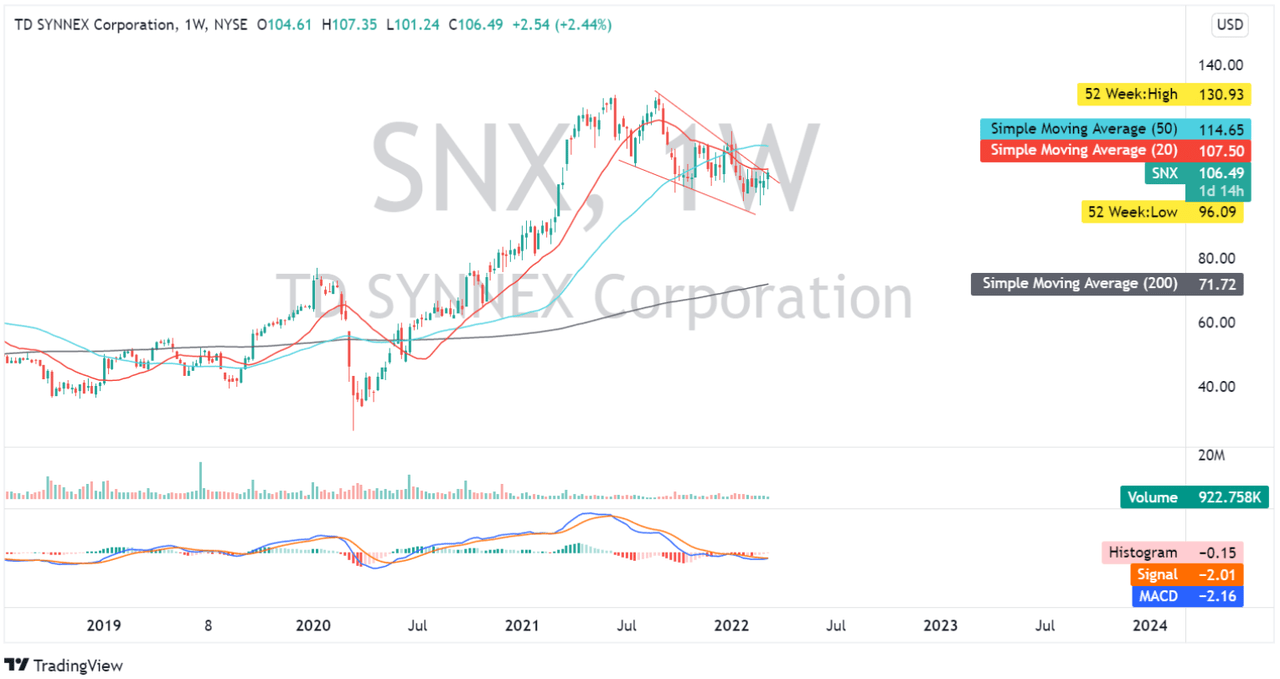 SNX is currently retesting its 20-day simple moving average; a bullish crossover would imply continued bullish price action in confluence with a break of its multi-month flag pattern. Investigating its MACD, it shows a potential bullish crossover in the next trading weeks, supporting the bullish sentiment mentioned above. If there will be a further pullback, I believe its 52-week low and $90 will be important levels to monitor.
Conclusive Thoughts
On top of its pending share buy back catalyst, another value adding catalyst as of today is its recent partnership with SentryBay to provide service in crucial endpoint data security. SNX also has a strong FCF outlook of $1 billion in 2023 that may support multi year dividend growth and share buybacks. The company also reduced customer concentration risk by relying less on a single customer for 17% of its total revenue in 2021, up from 23% in 2020 and 24% in 2019.
Currently, TD SYNNEX has $994 million in its cash and cash equivalents, down $1,412 million last year and up in comparison to $225.5 million in 2019. It maintained a liquid balance sheet with a 1.25x current ratio, and maintained d/e ratio of 0.52x, better than its 0.72x 3 year average. Finally, it has an improving cash conversion cycle of 14 days in Q4 2021, better from 25 days in Q4 2020 and 41 days in Q4 2019.
Overall, despite the uncertainties, SNX has a more secure valuation and improving operations, which is why I am bullish on this stock.
Thank you for reading and good luck!