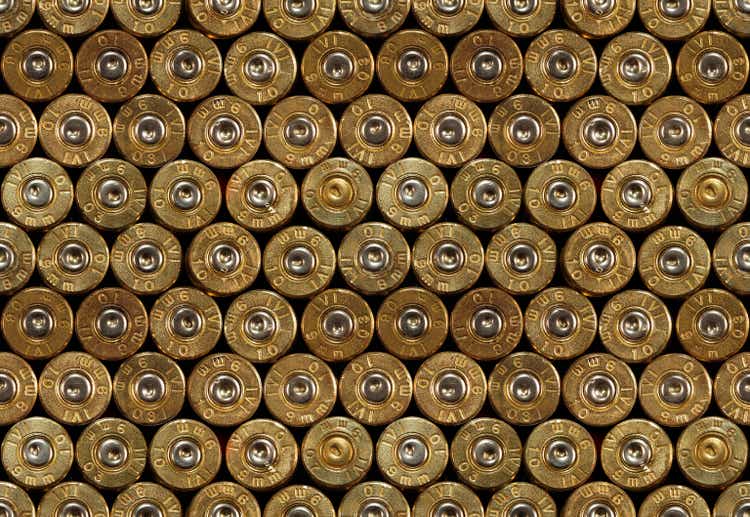 It's time to bring you all up to speed on what's been going on with my Ammo Inc. (NASDAQ:POWW) investment, dear readers. I'm sure you've all been waiting with bated breath to find out the latest. Since my latest bullish missive on the name, the shares are down about 7%, against a loss of about 9.5% for the S&P 500. To refresh your memories, last fall I wrote 25 January puts with a strike of $5 for $0.25 each, and these were put to me at a net price of $4.75. This means that I'm now the proud owner of 2,800 shares (I bought 300 last year). Immediately after they were put to me, I sold 25 July calls with a strike of $7.50. The premium on these out of the money calls added another $1,125 to the whiskey acquisition fund, which I think is very acceptable, though what's left of my liver may disagree. In case the math isn't immediately apparent, the calls generated a 9.5% return on capital over seven months. I'm happy with that return. The primary reason I'm writing all of this is because I want to brag. Secondarily, it's important to remind investors once again that both put and call options are a great tool for simultaneously reducing risk and enhancing returns.
Anyway, the company has published financials since I last wrote about it, and I think those deserve commentary. I want to work out whether or not it makes sense to buy more shares or pare the position. I'll make that determination by looking at the updated financials, obviously, and by looking at the stock as a thing distinct from the underlying business. I'm going to make a comment about insider activity, and, of course, I'm absolutely champing at the bit to write about options.
If this is the first time you're reading one of my articles, I'll warn you now that my writing has been described as "a bit much." For that reason, I put my thoughts into a single, "thesis statement" paragraph at the beginning of the article, so you can get the points I'm going to make without exposing yourself to the bragging, and tiresome attempts at humour that inevitably fall flat. In my view, Ammo Inc. stock represents one of those rare circumstances where a growth business is trading at a bargain price, and I think investors should take advantage of that. Additionally, it's possible to earn very generous premia selling both calls and puts here, so I recommend that path also. My bullish thesis is supported by the combination of enormous profit growth, strong insider ownership, and low valuation. In terms of specifics, I'm selling 10 of the October puts with a strike of $5. There you have the argument in a very succinct nutshell. If you read on, you acknowledge that you're comfortable exposing yourself to my writing style. That means that I don't want to read any moaning about my bad jokes in the comment section.
Financial Snapshot
I've read thousands of financial statements in my time (I'm old), and I think I've come to learn how to identify a growth company. It's a company that grows its revenues at a very high rate. There you have it. That fancy business school education was totally worth it. Anyway, in terms of specifics, between 2016 and 2020, the company grew revenues at a CAGR of 117%. Throughout that period, the losses also grew, but at a much lower CAGR of 6.2%. This should be expected of an early stage, growth business.
When we look at the three quarters ending December 31 of 2021, and compare them to the same period a year prior, we see that the growth story is very much intact. Specifically, revenue was up by just under 345% (!), and the company swung from a loss of $7.3 million to a profit of just under $31 million. That's a dramatic improvement in my view.
It's not all streams of whiskey and animated bluebirds at Ammo Inc., though. Nothing's perfect, and Ammo Inc. is no exception. The dilution I referenced in my previous note on this business has continued apace. Share count increased by just under 4 million during the previous three quarters, and was up by just under 47 million shares a year earlier. If we take the view that the shares are undervalued at the moment, it may not be the best idea in the world to continue to sell them aggressively. Also, the accounts receivables have ballooned to just over $24 million, while cash has dropped from $118 million last year to $27 million this year. These are relatively minor problems for me, though, and I'd be very happy to buy the stock at the right price.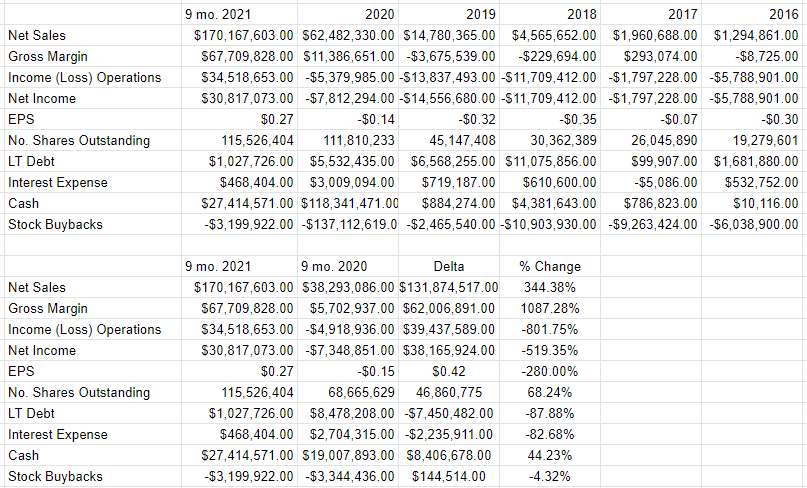 The Stock
In my previous missive on this name, I got excited about the fact that the shares were trading at a ridiculously low valuation, especially in light of the growth on display. In case you don't have your notes about my latest article in front of you for some reason, I'll remind you that I got excited by the fact that price to book was 1.6, price to sales was 3, the market cap for the firm was $569 million, and the Enterprise Value was $541 million. Per the graphics below, the shares are now 7.5% cheaper on a price to sales basis. They're 11% cheaper on a price to book basis. The market cap is about 3.5% lower. The Enterprise value is about 2.4% lower. So, if I was excited about the shares in January, I'm downright giddy today.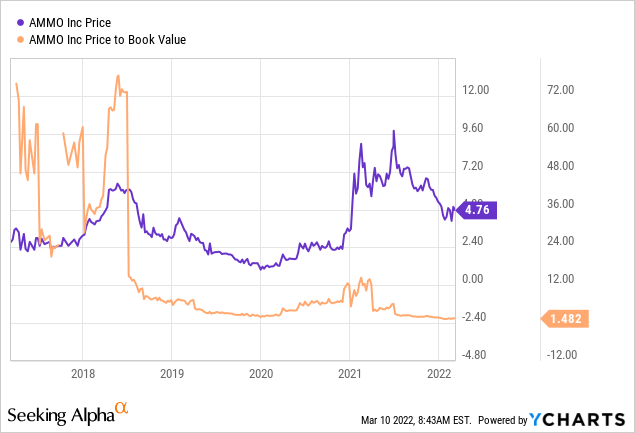 Source: YCharts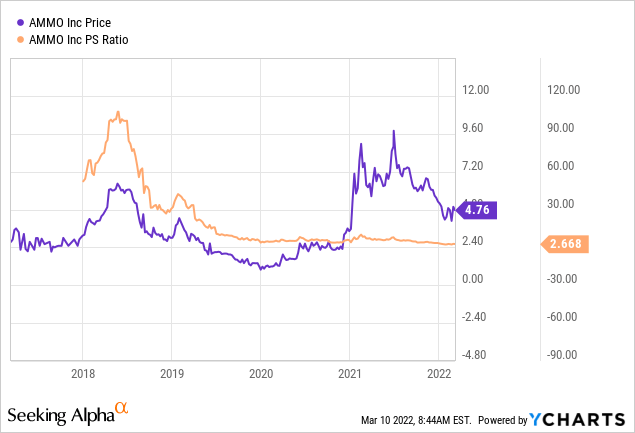 Source: YCharts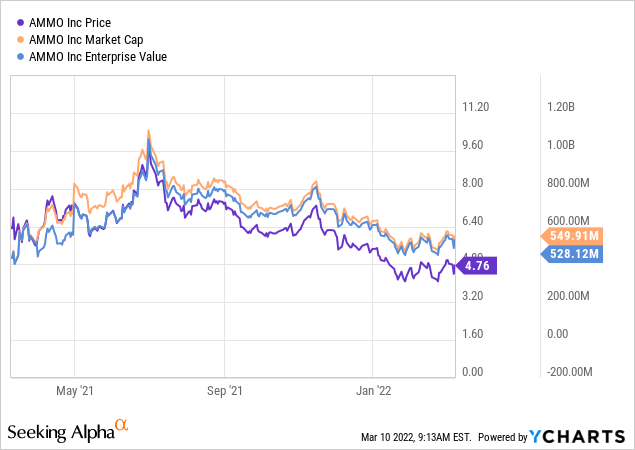 Source: YCharts
So, just so we're all clear on this point, over the past year the company has grown revenues by over threefold, and it has gone from a net loss to profitability. The shares are now the cheapest or very near the cheapest they've ever been, depending upon how you measure it.
With Apologies To Orwell
All investors are created equal, but some are more equal than others. In my experience, there are a few ways you can consistently outperform the overall market. You might hire a team of very talented analysts that will allow them to more accurately forecast future trends. You may grow to understand that most of successful investing comes down to having sufficient emotional fortitude to tolerate the inevitable ups and downs. An easier path to success in the markets is what we used to call "public service." This last one is most wonderful of all in my view, because while you're getting rich, you're also making the world a much better place for the rest of us. Talk about a win-win!
The type of investor I want to write about today is a special subset of these super investors. Insiders will know more about the ins and outs of any business far more than any Wall Street analyst ever will. For that reason, when they buy a given stock, I think it behooves the rest of us to at least be aware of what they've done. With that in mind, I'd point out that in late May of last year, director Jessica Lockett put $25,000 of her own capital into the stock. Admittedly this isn't a king's ransom, but I'm much more convinced by insiders putting their own capital to work than I am by some investor presentation. It adds to my comfort being on the same side of the table as the insiders who own 35% of this business.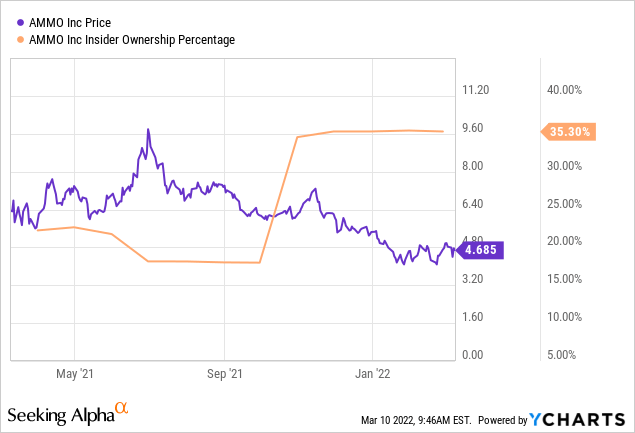 Source: YCharts
Options Update
As I wrote at the beginning of this circuitous mess, the 25 January puts with a strike of $5 were put to me at a net price of $4.75 ($5 strike-$0.25 premium), and I immediately sold the July $7.50 calls for $0.45 each. I consider all of this to be successful, and I like to try to repeat success, so I'm selling some more puts now. As my regulars know, I consider this to be an "actual" win-win (as opposed to the sarcastic "win-win" I described above regarding politicians). If the share price remains above my strike price, I'll simply pocket the premium and move on. If the shares fall in price, I'll be obliged to buy, but will do so at an even more attractive net entry price.
In terms of specifics, my favourite short put trade at the moment is the October puts with a strike of $5. These are currently bid at $1.25. If the shares remain above $5 over the next 7 ½ months, I'll simply pocket this very generous premium. If the shares fall in price, I'll be obliged to buy, but will do so at a net price of $3.75, which would also be very much a win in my view. Hence, "win-win."
Maybe you got simultaneously "amped", "stoked", and "pumped" about the prospect of a win-win trade, dear readers. If so, I'm sorry for what I'm about to do. It's time to bum you out by writing about risk. I characterise them as "win-win", but you might be forgiven for suggesting that's a bit of hyperbole. The fact is that short put options, like everything in life, come with risk. The short puts that I consider to be 'win-win" are actually a very small subset of all short puts. I consider a short put to be a "win-win" when it's written on a company that I would be happy to own at a price at which I'd be happy to buy. So, not all puts are "win-win" trades. If the strike price is a terrible entry price, for instance, that's a very bad trade in my view. So, don't go trading any and all short puts both "willy" and "nilly."
I should also state that I think the risks of put options are very similar to those associated with a long stock position. If the shares drop in price, the stockholder loses money, and the short put writer may be obliged to buy the stock. Thus, both long stock and short put investors typically want to see higher stock prices.
Some put writers don't want to actually buy the stock - they simply want to collect premia. Such investors care more about maximizing their income and will be less discriminating about which stock they sell puts on. To be very clear, I am not such an investor. I like my sleep far too much to sell puts based only on the income I can generate. I'm so much of a coward that I'm only willing to sell puts on companies I'm willing to buy at prices I'm willing to pay. I wasn't always so disciplined, but after painful losses, I decided to only ever sell puts on quality companies at prices I was willing to pay.
I should also write that I think put writers take on risk, but they take on less risk (sometimes significantly less risk) than stock buyers in a critical way. Short put writers generate income simply for taking on the obligation to buy a business that they like at a price that they find attractive. This circumstance is objectively better than simply taking the prevailing market price. This is why I consider the risks of selling out of the money puts on a given day to be far lower than the risks associated with simply buying the stock on that day.
I'll conclude this rather ponderous discussion about risks by thinking again about the specifics of the trade I'm recommending. If Ammo Inc shares remain above $5 over the next several months, I'll simply pocket the premium and move on. If the shares fall in price, I'll be obliged to buy, but will do so at a net price of $3.80. This price would be about 19% below the current, already cheap price. All outcomes are very acceptable in my view, so I consider this trade to be the definition of "risk reducing." You may think I'm weird for describing how puts reduce risk in a section on "risks." If this is the only thing about this article that you consider weird, you're not paying sufficient attention.
Conclusion
For my part, I'm very happy with this investment. I'd like to see the shares rise in price, but not too quickly. Specifically, I'd like to hang on to them after July, so if they remained below $7.50 per share, that wouldn't be the worst outcome ever. I'll admit to being a bit greedy. My regular followers can add that to the long and growing list of my odious personal traits, and one of the consequences of that is that I want to buy as much of a growing business as I possibly can. I obviously demonstrated a willingness to buy the shares at $5, and nothing's happened in the interim to change my mind on that. Rather than buy the shares directly, though, I want to express my ongoing bullishness via short put options once again. If you're just joining us, I would recommend buying shares and selling the July calls with a strike of $7.50, as these are still bid at $0.65. Alternatively, you could do much worse than selling the puts I'm recommending. In my view, this is a wonderful growth business with a huge runway. I think the business proved that it can grow profits rapidly, and in spite of that, the shares trade at a pretty meager valuation. The options market is equally irrational in my view. I think we should take advantage of all of this while we still can.