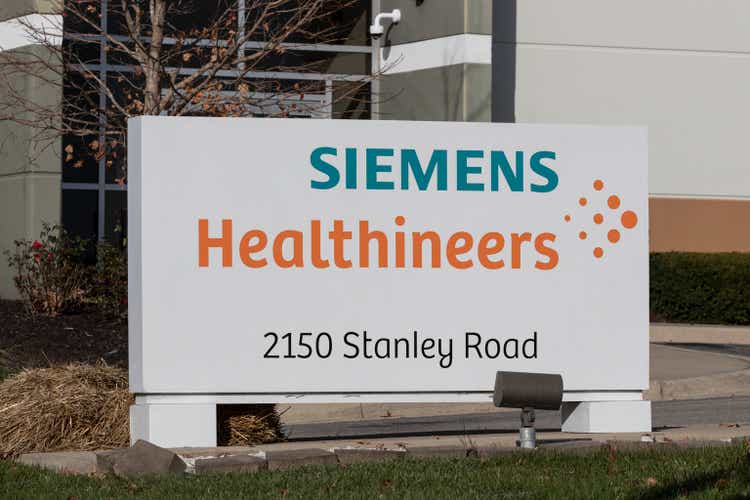 This article was co-produced with Wolf Report.
You've probably heard of Siemens (OTCPK:SIEGY) before, considering what an industrial giant this German company is. But let's start out with the basics anyway since that's a very good place to start.
Years ago, Wolf Report spent time in southern Germany. In those villages, he couldn't help but notice how their entire populations – one way or another – worked at various Siemens' plants or offices.
This company is active in a variety of different fields: An industrial conglomerate that once had a corporate structure similar to General Electric (GE). Today, it's somewhat different looking thanks to some spinoffs, divestments, and rotations.
Wolf Report would know considering how he's owned Siemens for over eight years now. It's the first German stock he ever bought and a position he's added to over time.
It's also one of the few German stocks with a good dividend history. So it's one of the few that can be trusted to remain stable even in a falling market.
Here's why…
Europe's largest industrial manufacturing business, Siemens has a market capitalization of more than €90 billion and 303,000 employees. The company was founded by Werner von Siemens and Johann Georg Halske as a telegraph-like manufacturing business.
That was over 174 years ago.
More of Siemens' Very Accomplished History
In 1848, Siemens became the first business to build Europe's first long-distance telegraph line. That was when it connected Berlin to Frankfurt with a 500 kilometer (310.69 miles) cable.
Over the next 150 years, Siemens would take different shapes and operations, including making:
Bulbs
Planes
Power systems
Trucks
Computers
Railway and railroad cars
Medical technology
As such, it's built high-voltage transformers, CT scanners, wind power generators, steam turbine rotors, and the Bangkok Skytrain. And the list goes on from there.
That kind of intense diversification can create a lot of corporate confusion. But not here. In short, most things of the modern age were at one point built by or partially built by Siemens.
Admittedly, it was also part of the Nazi war machine and used forced labor. Siemens has done much to make reparations for that past however, which is probably why it was one of the earliest companies to distance itself from Russia following the Ukraine crisis.
Speaking of recent history, Siemens has very much shifted its corporate structure over the past decade or so. It's been spinning off its various businesses into their own publicly listed companies, usually maintaining some kind of stake.
These companies include but aren't limited to:
The company left the nuclear sector, where it was building reactors, in 2011… telecommunications in 2013, when Nokia acquired its network division… gas turbines and compressors in 2014 after Rolls-Royce (OTCPK:RYCEF) acquired those ventures… and train operations after that when Alstom merged them into its business.
The Siemens of Today
Overall, Siemens has divested its low-margin businesses to operate independently. Yet it's kept its high-margin businesses, which can now really deliver value.
So while the full set of the "segments" it maintains on its balance sheet is massive, only a few are still under the official conglomerate flag.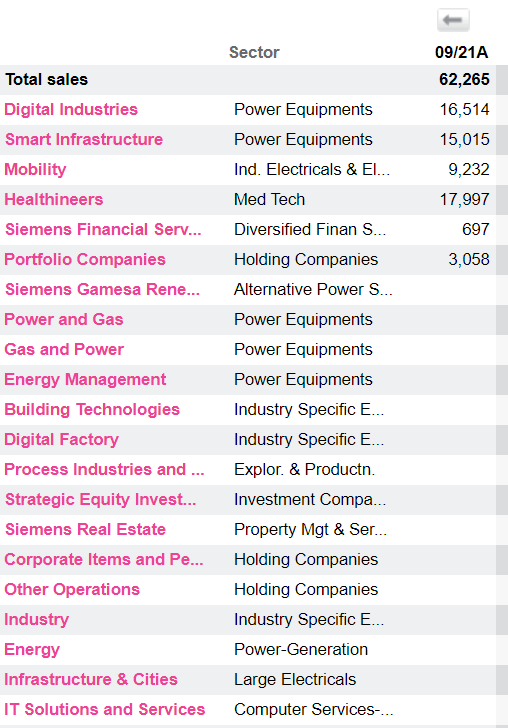 This has streamlined everything, allowing each part and parcel to operate more effectively. Siemens' core focus now is on its legacy industrial businesses…
Although, admittedly, defining that core has become harder over time.
Siemens' current structure is split into the following divisions:
Digital Industries (DI), which focuses on optimizing data utilization through technology integration. It offers end-to-end solutions and services for integrating and digitizing entire company's value chains to improve production. These offerings are deployed in discrete manufacturing, hybrid, and process industries covering the automotive, electronic, semiconductor, healthcare, and food and beverage industries, just to name a few.
Smart Infrastructure (SI), which focuses on combining digital and real-world energy systems. It focuses on sustainability, efficiency and solutions for grid/smart grids, smart building, and smart power distributions. And it's been feeling its way into proptech too.
Mobility, which focuses on rail, road, and intermodal solutions, providing all-in-all mobility upgrades for entire countries. This includes electrification, signal, and control technology; the full range of vehicles for rail traffic; consulting and planning; maintenance; and IT-based mobility.
Healthineers (large stake)
Financial Services.
Digital industries makes around €3.36 billion in earnings before interest, taxes, depreciation, and amortization (EBITDA). Healthineers brings in €2.8 billion. Smart infrastructure accounts for €1.7 billion, and mobility comes in at €800 million.
Looking at the Books
The main differentiator between Siemens and its closest peer is that GE is keeping its industrial activities and exiting software. Siemens is doing the opposite.
Wolf personally prefers Siemens' approach to GE's or other peers such as Schneider (OTCPK:SBGSY) and ABB (ABB). It's now a focused technology company, where everything it does ties back to that theme.
In short, everything Siemens does is heavily aligned with where it sees the world going for the next 25-75 years.
As such, it's a global company. Though it mainly focuses on Europe, the Middle East, and Africa (EMEA) and the U.S. These geographies make up over 54% of revenue – and over 72% if we include Germany, which is handled as its own separate territory.
China is another 13%, the rest of Asia is 11%, and the remaining Americas round out to 4%.
Since we're on the topic of revenue, let's talk more numbers. Like how Siemens' A+ credit rating reflects its stellar resulting structure.
Its well-covered dividend yield is almost 3.6% at last check. And while we did see a slight cut in said payout due to Covid-19, the company quickly right-sized it.
Today, its trajectory is mostly stable.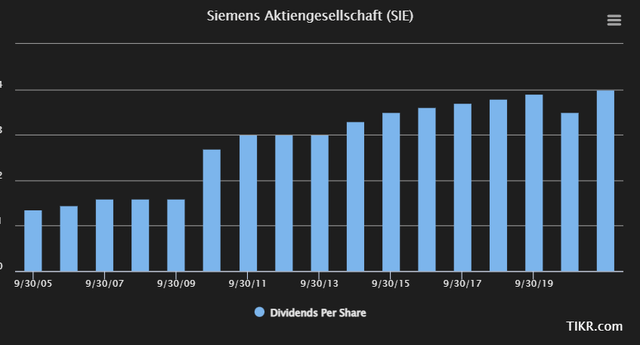 Meanwhile, company debt is under control. At €39.1 billion of debt net of cash, its adjusted net debt/EBITDA is 4.28x.
This should fall to around 2.5x by 2024. And Siemens has over €23 billion of unused credit and over €9 billion worth of cash/equivalents right now.
We're not the only ones who see the value in all that. Its largest institutional shareholder is Blackrock (BLK), which owns 6.17% of the company and float.
After that's, it's a variety of pension funds and asset managers – including Siemens' own trust, which owns 2%-3% of the company.
Siemens'

2022 Looks Good Too
Siemens' recent results show us excellent order stability, backlog growth, and free cash flow.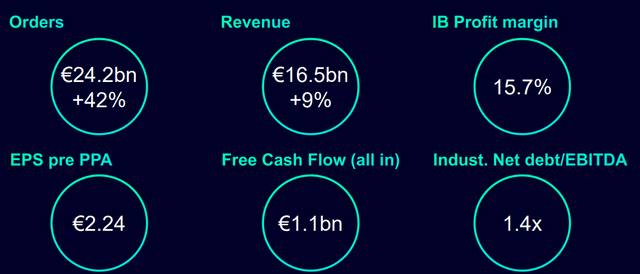 Its book-to-bill is at a record 1.47x, and it's been actively buying and divesting over the past year. Siemens sold Yunex in mobility, Siemens Parcel Logistics, and its stake in Valeo (OTCPK:VLEEY).
In total, these transactions should bring it post-tax gains of over €2 billion – and a more streamlined business.
As is, all of its business segments are reporting excellent trends.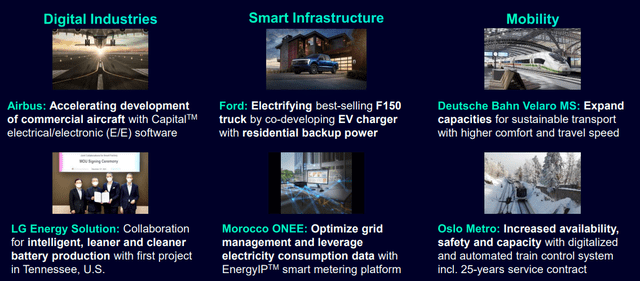 The company expects the positive momentum in its digital industries segment to continue in all areas except aerospace/defense – and that's probably changed by now. There are massive order flows from Italy, Germany, the U.S., and China in both digital industries and smart infrastructure.
As such, it's delivered official FY22 guidance.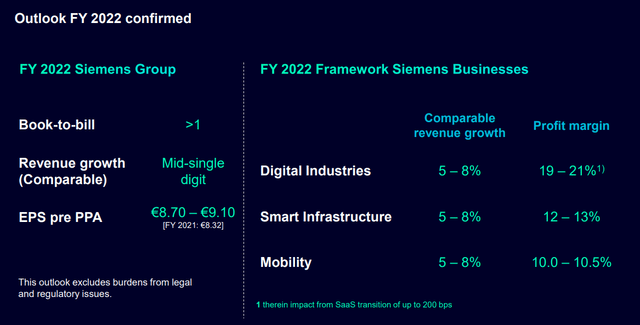 That's one more reason why we believe the company is now ready to meet the challenges of the next 25-50 years head on. That and its increased exposure to the software and software as a servant (SaaS) segment.
Really, its mobility holdings are the remaining odd man out given its relative non-core position. While Siemens hasn't explicitly stated it's looking to divest it entirely…
Wolf Report believes a spinoff could happen from here. If so, it would be a significant asset in its own right – on par with Alstom and other companies.
The Risks of Owning Shares of Siemens
Some analysts do believe that all of Siemens' spinoffs will prove to be a liability, but that's not us. However, there are macro risks to consider.
For one thing, how quickly will orders pick back up in a post-pandemic, post-war environment? Clearly, that question applies to countless other companies and entire industries.
As for "personal" problems, Siemens' corporate structure with its many companies and assets does leave it open for volatility across various segments. Wolf Report expects energy especially – including renewables – to remain volatile and possibly influence valuation and share price.
There's also the fact that some metrics are below where they should be. The company's return metrics have lagged its weighted average cost of capital ('WACC') of 8.2%. At current levels, they're about 2% above that, though they might drop down again.
On a somewhat separate note, Siemens' valuation is complex. So all its various portfolio companies and assets need to be properly accounted for in every single model.
Since listing Healthineers and energy – which were both relatively low-margin businesses – it's obvious that company-wide margins should be able to be improved, while at the same time growing those sales due to the high penetration of software/SaaS.
Evaluating Siemens Appropriately
Now, this does open valuation up to net asset value ('NAV') sensitivity. That's because we need to be careful exactly how we value DI and SI to reflect the potential for large sales growth in the future.
Due to high margins and growth, we're using valuation NAV ranges of 12x-15x EBIT multiples. This also is admitting that DI can be somewhat volatile.
For DCF first, he's assuming 3%-4% EBITDA growth, which falls down to around 3.5% in the out-years to reflect a favorable margin profile with some volatility from DI.
It's important not to underestimate Siemens' potential though from infrastructure spending.
DCF is, admittedly, hampered by the high amount of net debt. So assume such targets, will actually rise over time as the company pays down debt.
Still, expect no more than a 2%-3% average dividend yield ratio over time.
Wolf Report's DCF evaluation – using 3%-4% EBITDA growth, somewhat higher working capital, and a 2% capital expenditure ('CAPEX')/sales growth in accordance with historical numbers – implies an enterprise value (EV)/share value of €135-€145. This is fairly conservative.
As for an industry price-to-earnings ratio, the company has several peers. But none are as large or significant as Siemens. When we do include them, we're looking at an average that's close to 20x.
Yet Siemens trades well below 15X P/E despite its:
Significantly higher yield
Better price-to-book multiple
Same-level EV/EBITDA multiple
That's why, along with superior diversification, size, and structure, Wolf Report applies a 10% premium across the board for Siemens.
More Valuations to Analyze
On a NAV basis, let's go with a 14x-17x EBIT multiple. This considers the straight listed value for Healthineers and Energy, as well as Siemens' 12.5% stake in Atos (OTCPK:AEXAY).
We also see around €130 billion in gross assets and about €90 billion in net assets, excluding debt and commitments. This brings its valuation at 812 million shares net of treasury to €110 per share -perhaps the lowest implied value across all segments.
The reasons for this are clear since DI and SI could be valued at far higher multiples. So can its financial and mobility segments. But, again, he's staying conservative by assigning a 10% NAV premium here as well.
S&P Global targets a valuation range of €120-€215. Though Wolf Report says he doesn't know how anyone could reach that higher figure except by applying over-the-top positive growth assumptions.
Even the average of €173 is massively high in his opinion. By applying a 10% premium to the company, he still gets no more than €139.7.
That seems to be a fair valuation for the business while remaining extremely realistic of the potential for volatility.
In Conclusion…
Siemens is a beyond-solid company with an extremely liquid 0.5x ADR.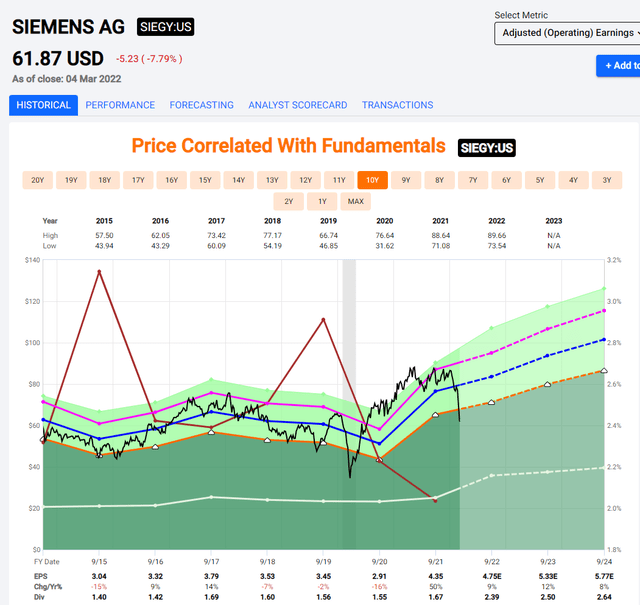 Siemens is most certainly undervalued here despite its very bright future. Wolf Report argues it should trade no lower than a 18x P/E.
As is, this gives it a potential 26.05% forward annual rate of return and an estimated 81.5% 2024 return.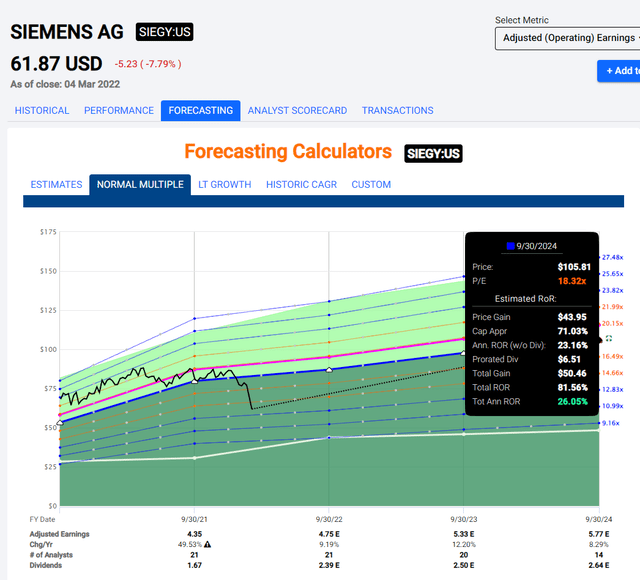 Analyst upsides on the equity side of things target around €148. So, once again, Wolf's price is very conservative indeed.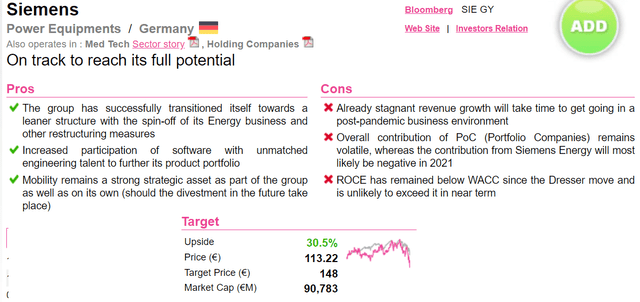 It's hard to call a bottom on the stock at this point all things considered. But when the war is over and things are normalizing?
Siemens will bounce back like a rubber band over time.
That's why Wolf Report considers it a solid "Buy" today. Here are his overall targets...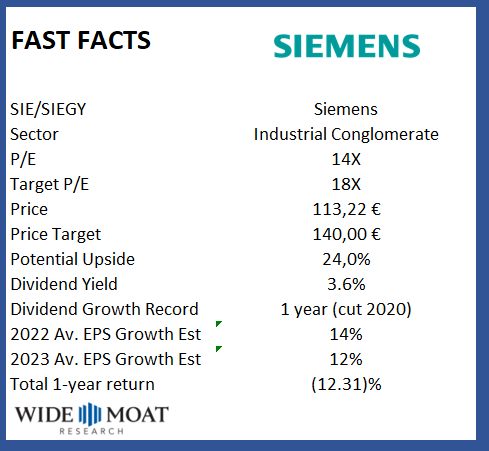 Editor's Note: This article discusses one or more securities that do not trade on a major U.S. exchange. Please be aware of the risks associated with these stocks.