How To Invest In Cannabis Or Marijuana
For investors wanting to invest in cannabis, we provide an overview and history of the cannabis industry, how to invest in weed, and the benefits and risks of investing in cannabis stocks.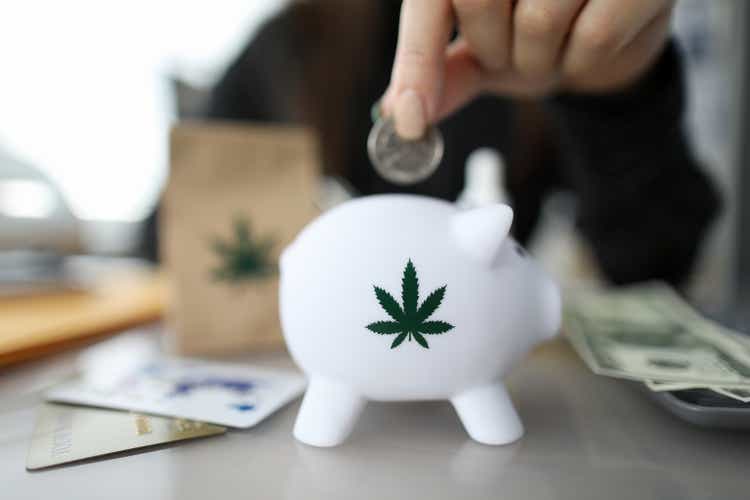 Cannabis Industry: History & Growth
From the earliest industrial uses of hemp, to the spread of legalization of marijuana, to cannabis investments, the history of the cannabis industry in the United States stretches across hundreds of years. Since its recent decriminalization, demand of cannabis has grown exponentially.
Here is a brief history of cannabis, according to the National Cannabis Industry Association:
1765: George Washington notes in a farm journal that he grew industrial hemp, which was used for making rope and sail canvas.
1906: After continued production of industrial hemp in the US in the 1800s, Congress passed the Pure Food and Drug Act, which affected the availability of medicinal cannabis, aiming to revamp poison laws. The first state to label cannabis as a poison, ironically, was California.
1937: The Marijuana Tax Act was passed in the United States, which levied a tax on commercial cannabis, hemp, or marijuana, effectively making all three illegal.
1970: Congress passes the Controlled Substance Act, placing cannabis in Schedule I, which made marijuana illegal for both recreational and medical use.
1996-2022: California legalizes marijuana for medical use in 1996. By February 2022, 37 states, four territories, and the District of Columbia allow marijuana for medical use, while 18 states, two territories, and the District of Columbia allow marijuana for non-medical use, according to NCSL.org.
Note: As of February 2022, there were as many as 28 cannabis stocks of companies that are directly involved in the production, manufacture or distribution of marijuana and related products.
Benefits of Investing in Cannabis and Legal Marijuana
At $25 billion in size, cannabis is among the fastest-growing industries. In 2022, nine states will consider legalizing marijuana. By 2025, adult-use cannabis sales are expected to reach $33 billion worldwide. While this growth may create potential for outsized returns for cannabis investments, legal hurdles remain.
For example, although 37 states have legalized cannabis for medical use and 18 states have legalized non-medical use, marijuana remains illegal at the Federal level with no assurance of future change. Thus, for investors, the potential for growth in cannabis investments comes along with potential for risk.
Risks of Investing in Marijuana
The greatest risk of investing in marijuana is that its future growth relies heavily on its legalization. While the national opinion towards cannabis has shifted significantly in its favor over the past couple of decades, investing in cannabis in the past few years has been marked by excessive price volatility.
For example, from September 2020 to February 2021, an ETF investing in cannabis stocks, the ETFMG Alternative Harvest ETF (MJ) jumped nearly 300% in price, only to fall more than 60% by February of 2022.
How to Invest in Cannabis Stocks
Investors wanting to invest in cannabis by purchasing shares of cannabis stocks or ETFs can follow the same process as buying any stock, which begins with the selection of a brokerage firm. The investor may then open a trading account, such as a standard brokerage account or a retirement account like an IRA.
When deciding how to invest in cannabis stocks, investors may choose among a variety of publicly-traded companies operating in the cannabis industry. Investors may diversify with an ETF holding multiple marijuana stocks or they may narrow down to a particular segment of the market, such as marijuana growers, weed dispensaries, bio-tech firms, REITs, or producers of cannabis-related products.
1. Marijuana Growers
Some publicly traded cannabis companies engage in the manufacture, distribution, and sale of cannabis for medical and adult-use in the United States. Examples of products may include cannabis flower, pre-rolls, vapes, edibles, topicals, and other cannabis-related products.
2. Investing in Weed Dispensaries
Also known as cannabis dispensaries, weed dispensaries are typically local government-operated physical locations, such as a retail store or office building, where a person can purchase cannabis or related products for personal or medical use.
3. Cannabis Bio-Tech and Bio-Pharmaceutical Firms
Some cannabis investments may include stocks of companies involved in agricultural biotechnology, focusing on the enhancement of health and wellness through plant science. Some related pharmaceutical companies may develop hemp/cannabis plants for medical or therapeutic uses.
4. Marijuana Real Estate Investment Trusts
A cannabis-related business can include a real estate investment trust, or REIT, focused on the acquisition, ownership and management of properties used for medical-use cannabis facilities. Such a business may buy property from these facilities and lease the property back to them, helping to solve cash management challenges for marijuana growers.
5. Marijuana-Related Products
Many publicly traded companies are involved in the business of manufacturing or selling cannabis and marijuana-related products. Examples of cannabis products include cannabis oils, gummies, skin care products, beverages, capsules, chocolates and dog treats.
Note: This report is not a recommendation to purchase cannabis investments. For investors who are interested in pursuing a potential investment, the following guidance may be useful.
Investing In Cannabis ETFs
Cannabis exchange-traded funds, or cannabis ETFs, offer investors a means of investing in the cannabis industry through a single security that holds multiple marijuana stocks or cannabis stocks. Cannabis ETFs may be actively-managed or they may passively track the performance of a cannabis-related benchmark index.
There are 9 cannabis ETFs traded on U.S. markets. These marijuana ETFs may hold stocks of companies in the U.S. or they may expand to cover North America or to cannabis stocks of companies around the globe. While cannabis ETFs may provide diversified exposure, these ETFs still focus on a narrow segment of the stock market and still carry similar risks of investing in individual marijuana stocks.
Bottom Line
Investors thinking about investing in the cannabis industry may choose to buy shares of marijuana stocks or they may choose to invest in cannabis ETFs. However, as with any investment security, investors should consider the associated benefits and risks before buying shares.
This article was written by
Kent Thune, CFP®, is a fiduciary investment advisor specializing in tactical asset allocation and portfolio management with a focus on ETFs and sector investing. Mr. Thune has 25 years of wealth management experience and has navigated clients through four bear markets and some of the most challenging economic environments in history. As a writer, Kent's articles have been seen on multiple investing and finance websites, including Seeking Alpha, Kiplinger, MarketWatch, The Motley Fool, Yahoo Finance, and The Balance. Mr. Thune's registered investment advisory firm is headquartered in Hilton Head Island, SC where he serves clients all around the United States. When not writing or advising clients, Kent spends time with his wife and two sons, plays guitar, or works on his philosophy book that he plans to publish in 2024.
Analyst's Disclosure: I/we have no stock, option or similar derivative position in any of the companies mentioned, and no plans to initiate any such positions within the next 72 hours. I wrote this article myself, and it expresses my own opinions. I am not receiving compensation for it. I have no business relationship with any company whose stock is mentioned in this article.
Seeking Alpha's Disclosure: Past performance is no guarantee of future results. No recommendation or advice is being given as to whether any investment is suitable for a particular investor. Any views or opinions expressed above may not reflect those of Seeking Alpha as a whole. Seeking Alpha is not a licensed securities dealer, broker or US investment adviser or investment bank. Our analysts are third party authors that include both professional investors and individual investors who may not be licensed or certified by any institute or regulatory body.