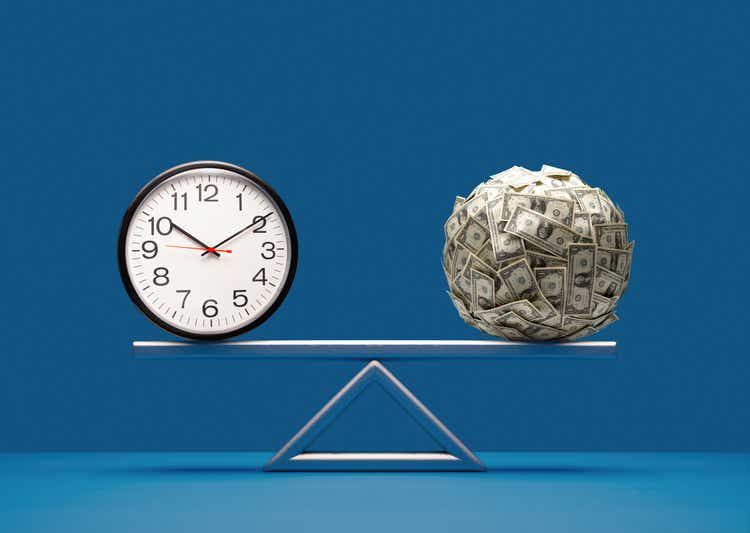 Written by Nick Ackerman, co-produced by Stanford Chemist
Generally, if an investor is looking for a closed-end fund with preferred exposure, they should be considering a Flaherty & Crumrine fund. They have historically been the top-performing in the space. The whole preferred CEF complex has been paring back its loftier valuations as of late as interest rates become the main focus. For a longer-term investor, this could be creating an opportunity. One such fund that could be considered is Flaherty & Crumrine Preferred Income Opportunity Fund (NYSE:PFO).
It has recently sunk to a discount when the fund has historically traded at a premium regularly. This is on top of the actual decline the preferred space is experiencing. At the same time, the fund is sporting a 7.42% distribution yield with a monthly payout. Historically, the fund sponsor has focused more on sustainable distributions. That means relying on the income the fund is taking in rather than utilizing capital gains regularly. With the latest report, coverage was a bit shallow, but even a small trim would leave this fund at an attractive distribution rate.
I believe now is presenting a fair time to be picking up some exposure here for investors. Though the fund was closer to a 5% discount quite recently, a more patient investor could utilize a dollar-cost average approach. After all, interest rates should remain a shorter-term headwind for the fund until the fixed-to-floating, and higher yield exposure can kick in.
The Basics
1-Year Z-score: -2.17
Discount: -3.05%%
Distribution Yield: 7.42%
Expense Ratio: 1.25%
Leverage: 35.85%
Managed Assets: $225.2 million
Structure: Perpetual
PFO's investment objective is "to provide its common shareholders with high current income consistent with preservation of capital." To achieve this, they will invest "under normal market conditions, at least 80% of its managed assets in a portfolio of preferred and other income-producing securities. Preferred and other income-producing securities may include, among other things, traditional preferred stock, trust preferred securities, hybrid securities that have characteristics of both equity and debt securities, contingent capital securities, subordinated debt and senior debt."
That leaves them fairly flexible to invest anywhere in the fixed-income space. They note that "at least 25% of its total assets in companies principally engaged in the financial services sector." That is easy to achieve as the largest issuer of preferred stock is generally from the financial/insurance industry.
The fund's leverage is quite considerable and should be considered before investing. On the other hand, this is common for preferred funds as they are generally more conservative investments relative to common stocks. In addition to that, there is a large swath of investment-grade holdings in the fund. Despite the higher leverage, the fund's total managed assets still only come to just over $225 million at this time. That can mean liquidity is an issue for larger investors. Limit orders would be strongly encouraged.
The fund's expense ratio comes to 1.25%; it climbs to 1.70% when including leverage expenses. This is one of the other negatives working against the fund when rates rise. Their borrowing costs will also increase going forward. This is based on the one-month LIBOR plus 0.80% interest rate cost that they have for their borrowings. That came to an average annualized interest rate of 0.907% at the end of their last fiscal year, November 30th, 2021.
Performance - Attractive Valuation
As we were touching on, the fund has been experiencing some challenging performance more recently. Historically, the fund has delivered rather promising returns. We aren't beating the equity markets as measured by something like the S&P 500, but we are achieving respectable returns for a preferred fund.
On a YTD basis, the fund has quite materially. We can measure the performance against the iShares Preferred and Income Fund (PFF). One of the more popular passive ETFs in the preferred space. What we see is quite interesting, in my opinion. The fund's total price return has fallen dramatically lower than PFF. However, on an actual total NAV return - what the underlying portfolio performance is actually doing - PFO has held up better.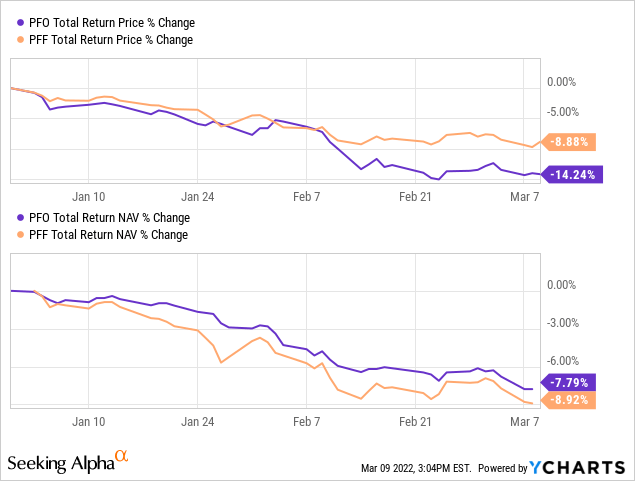 Of course, therein lies the opportunity for CEF investors to get shares at a discount. On that basis, not only do we see that the latest declines mean prices are lower than they were at the start of the year, but a discount has appeared in the first place.
That is a bit more unusual for this fund as it has experienced premiums, on average, for the last 1, 3, 5 and 10 years. Those averages come in at 4.69%, 4.16%and 2.47%, respectively. Below is a chart for the last 10 year period showing the average compared to the current discounted level.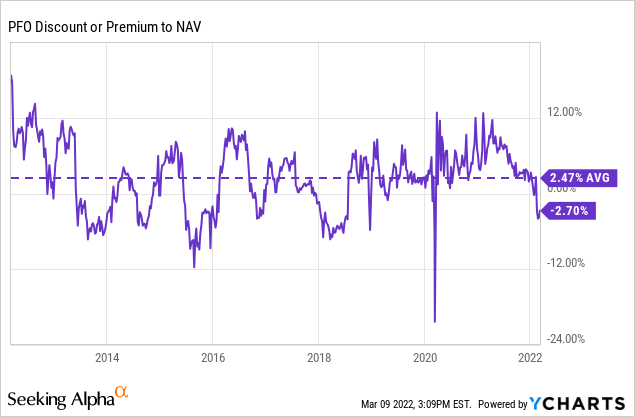 That isn't to guarantee that this time isn't different. However, every time the fund has sunk to discounts previously, it has before too long shot back up. That includes 2015 through 2018, when rates were being increased. One of the differences this time that is noteworthy is that the pace of increases should be more accelerated. This would be due to inflation rates being materially higher at this time. The Fed previously had the luxury of more tepid inflation figures coming in.
Distribution - Sustainability Over The Long Run
An investor might notice one thing about PFO and the rest of the Flaherty & Crumrine line-up of funds is the distribution history. The funds have relatively frequent distribution adjustments - both upside and downside. This is based on the fund sponsor's focus on distributing mostly only income to investors. That leads to the more long-term sustainability of the fund.
The fund reported falling short of this goal based on what they reported last, but net investment income still provided significant coverage. For fiscal 2021, it came in at 97.8%. That was a decline from the 100.87% reported in the previous year.
I would note that they pulled in more NII this year. The offsetting factor was paying out even more in total distributions. That is despite the fund lowering its distribution in 2021. We should also note that they continually issue new shares through the at-the-market offering and the dividend reinvestment plan. More shares mean more chance for adding earnings, but that can get offset by paying more in distributions.
Shares outstanding at the end of November 2021 stood at 13,003,858. If that figure was constant and the monthly $0.067 they are currently paying also continues, it would work out to $10,455,102 going forward. However, that isn't factoring in any additional shares that they could have issued. There are many moving parts with this one to try to provide an estimate.
What it does show us, though, is that NII coverage would be even closer had it not been for the year-end $0.02 that they also had last year. I believe that is why they have held the same distribution steady for PFO compared to their other funds. Flaherty & Crumrine Dynamic Preferred and Income Fund (DFP), which I hold, had trimmed up its distribution again heading into the new year.
That doesn't mean that they still don't trim it at some point through the remainder of this year. They generally announce their distributions quarterly, and the current amount is good through April at least.
For tax purposes, the preferred funds can be an attractive source of income if an investor is holding in a taxable account. The dividends they pay out are generally classified as qualified dividends. In 2021, this once again was evidenced by 83.6% of the distribution being classified as such.
PFO's Portfolio
One boring point about PFO - and really the other Flaherty & Crumrine funds is their lack of changes in composition. Although, perhaps that can be one of its strengths too. Whatever they are investing in is working out rather well, and they report fairly low turnover rates. In the last fiscal year, it was reported at 13%.
The top holdings and sector allocation hardly move. The largest sectors represented by an overwhelming majority are in the bank and insurance sectors. This is because financial institutions have historically issued most of these preferred securities and contingent capital securities that PFO invests in.
In our last quarter update for the fund, banks represented 53.6% of the portfolio; insurance came in at 22.6% of the fund.
We can also see that the credit ratings stay just about as stagnant as the sector weightings. They have a relatively solid sleeve of BBB rated debt that would be considered investment-grade.
However, we also see a fairly large weighting in BB rated debt as well. Then the only other noteworthy allocation is in the "Not Rated" section. The reason for this is because all the institutional preferred that the fund owns. These are positions that are only sold to qualified institutional buyers. The issuer can save the costs and time of getting rated since the institutions buying will be able to have their own internal rating of the debt.
Looking at the most significant holdings in the fund, we see only a few changes from the previous quarter. This is generally the case, as mentioned above, due to that relatively low portfolio turnover.
In looking at PFO, the amount of fixed-to-floating in the fund's portfolio is a crucial factor. Unfortunately, they don't provide the exact figure for PFO. Instead, if we look at Flaherty & Crumrine Total Return Fund's (FLC) latest Fact Sheet, we can see that 82% of that portfolio is fixed-to-floating. For DFP, the exposure comes to 89% of the portfolio.
These funds have significant overlap with each other, and one can look through the Annual Report for PFO to see all the positions listed that are fixed-to-floating. With that, I'd feel confident in assuming that PFO's portfolio is at least ~80% in fixed-to-floating securities.
This is so important because higher rates will be here shortly. Although, it should also be noted that the floating portion of these rates doesn't all kick in right away. Some don't become floating rates until 2028 in several cases, or even 2038 on the really long end. That means there will be a lag before potentially higher income comes in for the fund.
Conclusion
All the discussions of higher rates have beaten down the preferred sector. However, it isn't all bad news for a longer-term investor. Over the next year or two, it could continue to be an area where prices of the funds stay lower or even remain under pressure. I don't expect these funds to snap back higher necessarily, given the current environment. However, it should also mean higher yields and income for the funds at some point down the road. That is on top of the valuations for the funds being rather attractive too. That is where some price appreciation could come from if the fund can once again attain a premium price.