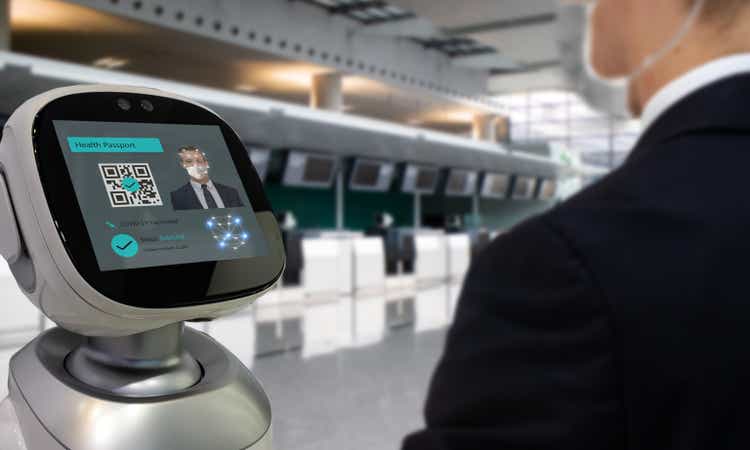 "They who can give up essential liberty to obtain a little temporary safety deserve neither liberty nor safety." - Benjamin Franklin
Today, we take an in-depth look at a company that offers a service I have membership and have used dozens of times. The shares have been hit hard in trading in recent months but have seen some recent buying by a beneficial owner of the stock. A full analysis follows below.
Company Overview:
Clear Secure, Inc. (NYSE:YOU) is a New York City based secure identity platform based on biometrics that allows subscribers to line cut at airports for a $179 annual fee. The company has also initiated a Health Pass service that allows individuals to upload other identifying information such as vaccine cards, which can be used to facilitate quicker entry into venues. Clear was first founded in 2003 as Verified Identity Pass and shuttered in 2009, with its assets subsequently purchased out of bankruptcy for $6 million and relaunched in 2010. It went public in June 2021, raising net proceeds of $445.9 million at $31 per share. After trading to an intraday high of $65.70 in August, shares of YOU have retreated significantly, trade just under $22.00 a share and sports an approximate market cap of $3.3 billion.
The company is capitalized by four classes of stock. The 74.3 million publicly traded Class A shares confer both economic interest and one vote per share. The privately-owned 1.0 million Class B shares also bestow economic rights plus 20 votes per share. Class C shares - 44.6 million in total - are also privately held but confer no economic interest and only one vote per share but are convertible into Class A shares. The 26.7 million privately-owned Class D shares also bestow no economic interest but provide 20 votes per share and are convertible into Class B shares.
Business Model
To enroll in its CLEAR Plus airport line-cutting service for one year, members are required to provide basic personal information, credentialed authentication (driver's license, passport), fingerprints, facial and iris scans, as well as $179 through its app or at an in-person enrollment pod. In return, CLEAR Plus members receive access to the CLEAR lane at airport TSA security checkpoints, where a CLEAR ambassador will escort them to a pod, which will scan the member's boarding pass and identity verify with a fingerprint or iris scan. The member is then escorted to physical screening. The company's service does not allow passengers to forego the taking off of shoes, belts, and light jackets, as well as removing laptops from their travel cases - that is a service provided by TSA PreCheck. To attract customers, Clear offers free trials in-airport or online, promotional pricing to frequent fliers of Delta (DAL) and United Airlines (UAL), which both purchased equity stakes in the company. Furthermore, through its partnership with American Express (AXP), the latter's platinum cardmembers receive a full $179 statement credit each year for enrolling in CLEAR Plus.
In return for setting up this airport concession, Clear pays the airports a concessionaire fee, usually a share of its gross receipts.
The company has also been awarded the opportunity to renew memberships on behalf of its government-backed competitor TSA PreCheck - about two-thirds of CLEAR Plus members are also TSA PreCheck members - and offer a bundled service of CLEAR Plus and TSA PreCheck to new customers. This offering, initially scheduled to launch before YE21, is now expected to roll out sometime in 1H22.
CLEAR Plus is provided at 38 U.S. airports (and nine of the top ten) as of May 31, 2021. The nearly non-existent CLEAR Plus lines are a powerful marketing tool when one is waiting 30 minutes or more to get to physical screening. As such, it is no surprise that 72% of 2020 member signups occurred at the airport, keeping acquisition costs low.
In addition to its airport service, Clear offers Health Pass, which is a free digital health credential service that combines members' biometrics with uploaded health information, such as Covid-19 test results and vaccination status. This service is offered in 26 sporting arenas (including ten NBA teams), as well as casinos, theme parks, and other venues where people gather. The company also envisions using its offering as a way to pay for concessions at these arenas.
Competition
At U.S. airport TSA security checkpoints, there are generally long lines for regular passengers, a shorter line for TSA PreCheck - which cost passengers $85 for five years and is offered at more than 200 airports and 81 airlines - and very short lines for CLEAR Plus passengers. The latter two lines are composed of high net worth individuals and frequent fliers - 35 million Americans travel at least five times a year. Although it is wholly conceivable that Apple (AAPL) or Google (GOOG) could recreate Clear's business model, it does not seem realistic or worth the bother for them as Clear has been operating in many of its airports for a decade, creating somewhat of a moat. As such, TSA PreCheck is its only real competition. From a convenience standpoint at arenas and other venues where people gather, attendees' own smartphones with either pictures of vaccination paperwork or the Apple Pay app (for those who own iPhones) provide significant headwinds for Clear.
Recent Acquisition
CLEAR pods have been located primarily at airports and event venues in the U.S., but the company took its first small step towards geographic and vertical expansion when it acquired virtual queuing concern Whyline, a provider of live wait-times and waiting software, in January 2022. The acquiree can let its software wait on behalf of the user and pre-book appointments, with applications at banks, hospitals, and airports in Mexico, South America, and the U.S. Terms of the deal were not disclosed.
Customer Issues
With a service that has high appeal to frequent fliers and those with excess disposable income, it may not come as a surprise that Clear boasts a net promoter score (NPS) of 75. However, it is uncertain what population is asked the one question ("would you recommend CLEAR to a colleague or friend?"; 1-10 score) to determine NPS. The reason that this is even an issue is that Clear currently receives an 'F' grade from the Better Business Bureau. Anecdotally, it appears that terminating one's free trial is a bit of a nightmare for customers, which is driving people to report the company to the BBB. A 75 NPS and an F from the BBB seem incompatible if its platform users aren't segregated for its survey.
Navigating Through the Pandemic
Despite conflicting customer satisfaction reviews, Clear grew its revenue 20% in 2020 to $230.8 million - impressive on the surface considering the severe downturn in air travel from March through YE20 courtesy of the pandemic. However, with revenue from the annual charge recognized over the course of the year, the effect was delayed. And even though air travel was up by a factor of about eight in 2Q21 vs 2Q20, its revenue was down 13% in 1H21 vs 1H20 as air travel was still below 2019, meaning no long lines at security; thus, no strong incentive to purchase CLEAR Plus. That changed in 3Q21, when with air travel approaching (yet, still ~20% below) 2019 levels combined with labor shortages culminated in longer checkpoint wait times, Clear saw a significant uptick in business.
3Q21 Results & Outlook:
On November 15, 2021, the company reported a 3Q21 net loss of $32.8 million and an Adj. EBITDA of negative $14.5 million on revenue of $67.6 million versus a net gain of $11.1 million and an Adj. EBITDA gain of $14.0 million on revenue of $56.4 million in 3Q20. Owing to the way cash is collected (upfront) and revenue is recognized (over twelve months), the important metric is total bookings, which were up 42% sequentially over 2Q21 to $99.3 million. In addition to longer airport lines, Clear indicated that its program with American Express had a positive ($17 million) impact on "working capital dynamics". As such, free cash flow was impressive at $28.1 million. New enrollments were up over 100% sequentially to 1.8 million - more on this metric below.
Management expects the company to generate revenue of $78 million and total bookings of $100 million in 4Q21 (based on range midpoints), bringing its FY21E topline to $251.3 million, representing 9% year-over-year growth. If anyone traveled over the holidays, he or she might suggest that its bookings forecast is conservative. The investment community will find out soon when Clear announces 4Q21 results. With that said, despite the sharp uptick in bookings, shares of YOU have fallen by half since the release of its 3Q21 report.
Balance Sheet & Analyst Commentary:
The issue is not Clear's balance sheet, which holds cash and marketable securities of $673.2 million and no debt as of September 30, 2021. The company also has access to an additional $100 million on an untapped revolving credit facility.
Street analysts lean unconvinced on Clear's future, featuring four holds versus two outperform ratings and a median twelve-month price target of $48.50, which now represents almost a double from its February 1, 2022 close. On average, they expect the company to lose $0.57 per share on revenue of $376.1 million in FY22, representing a 50% surge at the topline over FY21E.
Beneficial owner Durable Capital has used the downslide as a buying opportunity, adding over 382,000 shares in the $21 area on January 26th and 27th, they also added some $2.1 million to their holdings in February and more than $20 million so far in March.
Verdict:
There is a lot to peel back with Clear. In addition to its contradictory or perhaps paradoxical customer satisfaction matter, there are certain metrics that are unclear - no pun intended - making the company appear as if it has something to hide. New enrollments are up 100% sequentially but there is no granularity as to what portion are paying subscribers versus platform users, which are generally free trials and non-paying members employing Health Pass. As such, it is not possible to ascertain what it actually receives per paying subscriber net of reimbursements back to Delta, United, and Amex, amongst other promotions. The revenue from partners (e.g., stadiums) is considered "immaterial" and there is no marketing effort underway to upsell Health Pass users to CLEAR Plus.
And one might surmise/hope that the need to show proof of vaccinations or any identity to enter a restaurant will completely end soon - obviating the most basic need for some of its applications. Management disagrees, believing the requirement or convenience of presenting a secure identity is a secular trend. Other applications, such as using it to pay for concessions at an event can be handled by Apple Pay or a chipped credit card in a timely manner. And with the company in nine of ten of the largest airports in the country already, any bump in bookings will likely be a function of increased international travel and a tight labor market, not any network effect, blue sky in its current markets, or a secular shift in demand, unless it makes a sizable commitment to the international market. CLEAR Plus is a luxury service and I personally like using it.
However, trading at a price-to-FY22E sales ratio of approximately seven times net of cash is still sort of rich for a company whose organic growth prospects beyond 2022 don't look stellar and has never experienced profitability in any year since its 2010 relaunch. As for the medium to longer term outlook, the recommendation here is to remain on the sidelines despite huge insider buying from a committed beneficial owner of the shares so far here in 2022.
"If you want total security, go to prison. There you're fed, clothed, given medical care and so on. The only thing lacking... is freedom." - Dwight D. Eisenhower
Bret Jensen is the Founder of and authors articles for the Biotech Forum, Busted IPO Forum, and Insiders Forum.