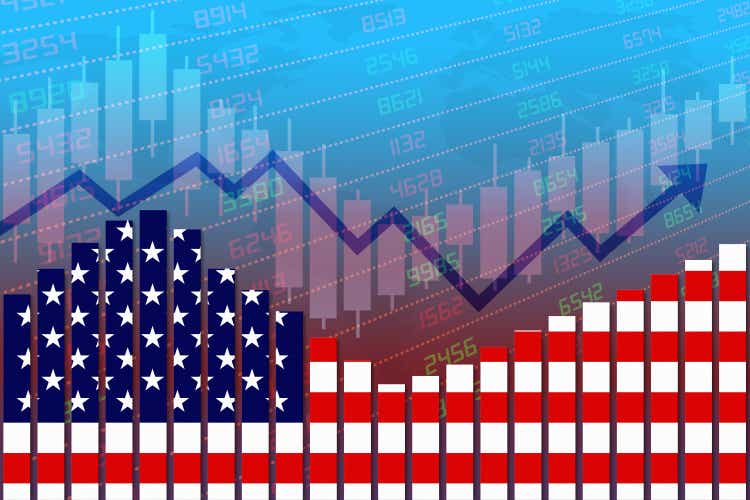 Quick Introduction to Business Development Companies ("BDCs")
Business development companies ("BDCs") invest shareholder capital in privately owned, small- and medium-sized companies most of which are American/U.S. (as a requirement of the BDC/RIC structure). BDCs aim to generate income and capital gains when the companies they invest in are sold, much like venture capital or private equity funds. Anyone can invest in BDCs as they are public companies, traded on major stock exchanges.
Similar to Real Estate Investment Trusts ("REITs"), Business Development Companies are regulated investment companies ("RICs") required to pay at least 90% of their annual taxable income to shareholders, avoiding corporate income taxes before distributing to shareholders. This structure prioritizes income to shareholders (over capital appreciation), driving higher annual dividend yields that mostly range from around 6% to 11%. I firmly believe that higher-yield investments will become even more attractive in an inflationary and rising interest rate environment (as shown below) especially as investors are seeking additional income from invested capital.
This article compares two BDCs that I currently own, Gladstone Investment (NASDAQ:GAIN) and Gladstone Capital (NASDAQ:GLAD), both of which are managed by Gladstone Management Corporation.
GAIN is a private equity fund focused on acquiring mature, lower middle market companies with attractive fundamentals and strong management teams. As a publicly-traded business development company, GAIN provides both equity and debt capital, which greatly increases certainty and speed of closing as well as provides GAIN's shareholders with both current yield in the form of monthly dividends and potential capital gains upside. In addition to providing most, if not all, of the equity and debt capital required to close a transaction, GAIN has no partnership end-of-life deadlines and can structure investments in line with the long-term needs of the businesses we invest in. By providing truly patient, long-term capital, GAIN is a value-added partner to the companies we invest in.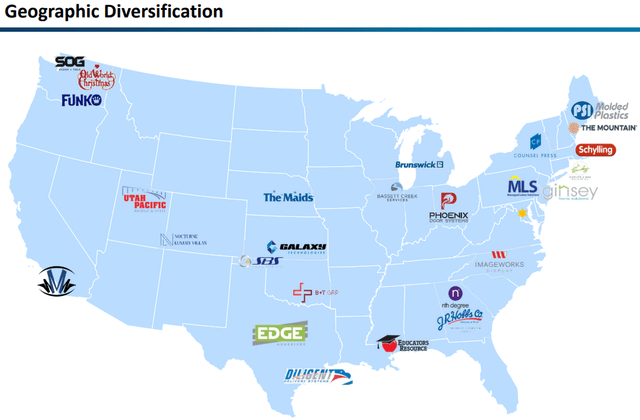 Source: GAIN Website
---
GAIN Dividend Coverage Update
Author's Note: The following information was provided to subscribers along with three quarters of financial projections using base, best, and worst-case assumptions to test the sustainability of the current dividends for GAIN.
For calendar Q4 2021, GAIN beat my best-case projections only due to adviser fee credits and higher-than-expected success fee income (mostly from SOG Specialty Knives & Tools) partially offset by lower portfolio yield and no dividend income. Also, there was a decline in the overall portfolio resulting in lower leverage which is now the lowest in the sector with a debt-to-equity ratio of 0.54 (net of cash) and plenty of growth capital available to improve dividend coverage. More importantly and as predicted in the previous report, there were additional realized gains of $0.66 per share mostly due to exiting its investment in Pioneer Square Brands to support additional supplement dividends in 2022 which will be discussed in the updated GAIN Deep Dive Projections report. 'Core NII' takes into account incentive fees related to capital gains:

---
GLAD Dividend Coverage Update
Author's Note: The following information was provided to subscribers along with three quarters of financial projections using base, best, and worst-case assumptions to test the sustainability of the current dividends for GLAD.
For calendar Q4 2021, GLAD easily beat my best-case projections due to higher-than-expected dividend and fee income combined with higher fee credits covering its monthly dividends by 137%. As discussed in the previous report, GLAD sold its investment in Lignetics, Inc. resulting in success fee income of $1.6 million and $13.4 million or $0.39 per share of realized gains during Q4 2021. GLAD's net asset value ("NAV") per share increased by another 1.7% during the quarter due to overearning its dividends and improved valuations from its 'watch list' as discussed later.
As of December 31, 2021, the company has over $100 million of available liquidity under its credit facility for additional portfolio growth. As shown in the following table, GLAD would have covered its dividends by 108% without the benefit of fee credits.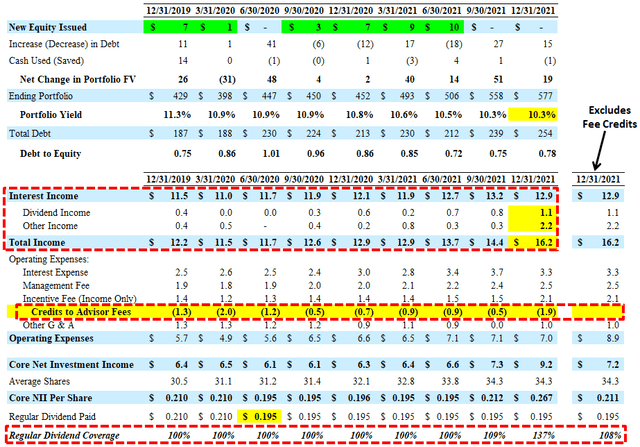 GLAD's dividend coverage continues to improve including the reduced reliance on incentive fee credits by management to cover the dividend.
GLAD's advisor credits have historically included the following three components:
Credits for closing deal fees paid directly to the manager of which there should always be some and this eliminates any conflicts in pushing fees over yield on investments.
Credits to reduce the management fee on syndicated credits to 0.50% which is declining as a percentage of the overall portfolio and will become immaterial soon.
Incentive fee credits for 100% coverage of the dividend.
As shown below, there were no incentive fee credits for the recent quarter but there was almost $1.9 million of credits related to the first category: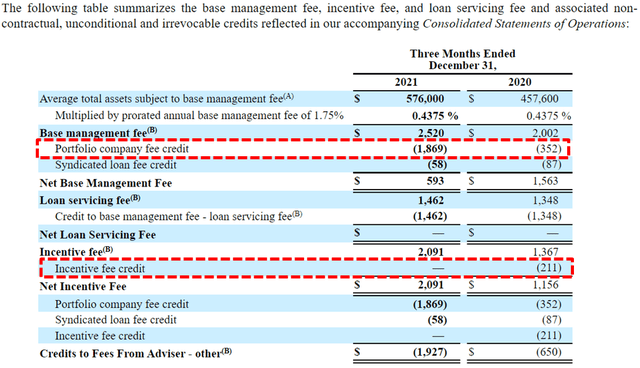 GLAD has slightly higher-than-average payment-in-kind ("PIK") income as a percentage of total interest income that recently increased from 4.4% to 8.8% over the last four quarters and I will be watching closely over the coming quarters.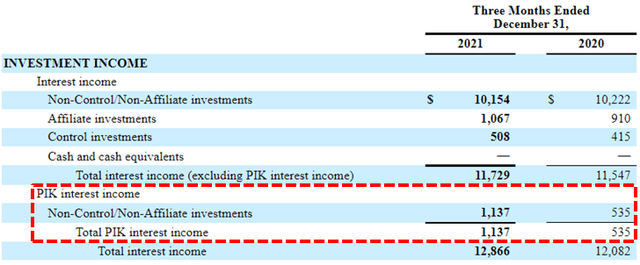 ---
Expense Ratios, Fee Agreements, and Dividend Coverage Comparisons
As a part of assessing BDCs, it's important to take into account expense ratios. BDCs with lower operating expenses can pay higher amounts to shareholders without investing in riskier assets.
"Operating Cost as a Percentage of Available Income" is one of the many measures that I use which takes into account operating, management, and incentive fees compared to available income. "Available Income" is total income less interest expense from borrowings and is the amount of income that is available to pay operating expenses and shareholder distributions.
GLAD has what I consider to be a more shareholder-friendly fee agreement with a slightly lower base management fee of 1.75% but is still above the BDC average of around 1.48%. More importantly, is the generous 8.0% hurdle which is critical for dividend coverage during lower-performing quarters. As a reminder, the "hurdle rate" is the amount of required net earnings before the manager begins to receive an income incentive fee. However, neither of these BDCs have a "total return hurdle" to protect shareholders from potential credit issues. The expense ratio for GLAD is much lower due to the lower base management fee and just below the BDC average partially due to the previously discussed fee credits.
The "dividend coverage LTM" shows the average dividend coverage over the last 12 months (four quarters). It's interesting to note both BDCs have higher-than-average coverage currently around 110% but GAIN has much lower leverage (debt-to-equity) implying the potential for improved dividend coverage through portfolio growth.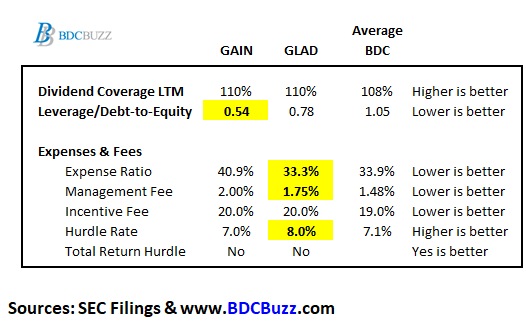 GAIN Interest Rate Sensitivity Analysis
Interest rate sensitivity refers to the change in earnings that may result from changes in interest rates. Most companies report interest rate risk/opportunity in the "Quantitative and Qualitative Disclosures About Market Risk" section of the regulatory filings:
Interest rate sensitivity refers to the change in earnings that may result from changes in the level of interest rates. Because we fund a portion of our investments with borrowings, our net investment income is affected by the difference between the rate at which we invest and the rate at which we borrow. As a result, there can be no assurance that a significant change in market interest rates will not have a material adverse effect on our net investment income."
As of December 30, 2021, 100% of GAIN's portfolio investments bore interest at variable rates and 100% of borrowings were at fixed rates which are its 2026 and 2028 unsecured notes "GAINN" and "GAINZ."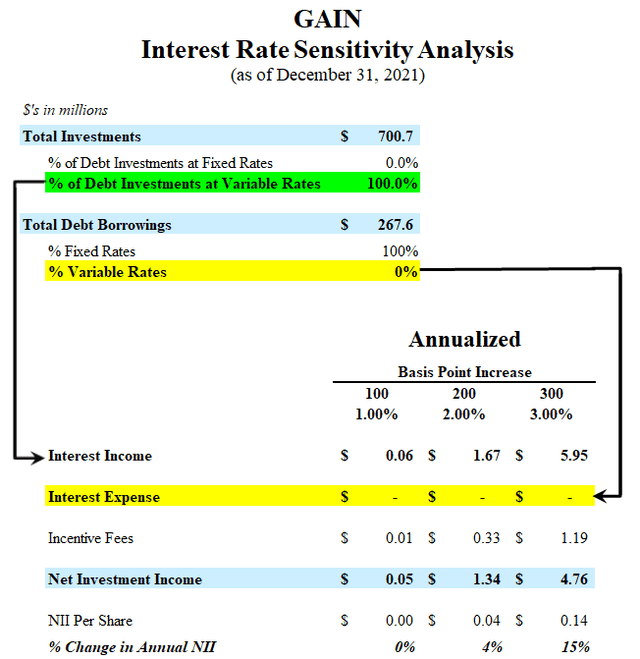 ---
Portfolio Mix and Credit Quality
Analyzing BDCs involves much more than looking at historical dividend coverage which is primarily what this article is focused on. Upcoming articles will discuss portfolio credit quality and realized/unrealized gains which are critical for both of these BDCs and primarily responsible for net asset value ("NAV") per share growth and increased dividends both of which are the primary drivers of higher returns to shareholders.
As shown below, GAIN has increased the amount the dividends paid to shareholders over the years which will likely continue as predicted in previous articles.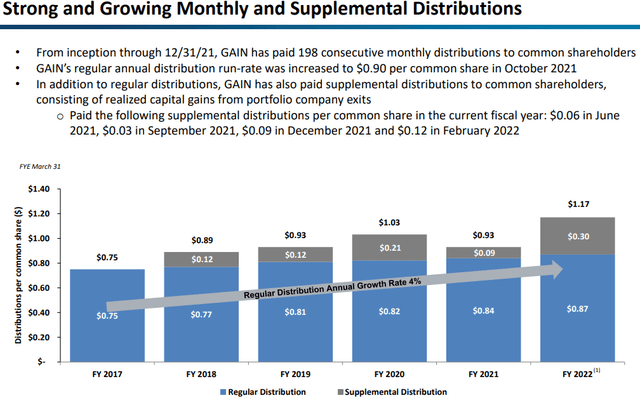 Hopefully, investors started a position in GAIN three years ago after reading "Dividend Increases For The High-Yield BDC Sector, Part 6: Gladstone Investment" as GAIN has outperformed the S&P 500 since:

The following table shows a handful of the metrics used to compare BDCs but please keep in mind that this information is oversimplified and needs discussion. For example, not all "first-lien" is the same credit quality. I would feel much safer with second-lien in a higher quality BDC than first-lien in a lower quality one. Many of the BDCs that were the worst performers had plenty of first-lien only to have huge declines in book values or net asset values ("NAV") the following quarters. Medley Capital (MCC) and Fifth Street Capital (FSC) were perfect examples of this.
Also, non-accruals are investments that a BDC is currently not accruing income due to credit issues. Some BDCs will exit or restructure these investments just before the quarter-end taking a realized loss but avoiding being listed as a credit issue when it comes to reporting. It's better to look at historical realized losses which clearly identify recent/previous credit issues as discussed in some of the articles.
It should be noted that GAIN's management is conservative often considering investments as temporarily on non-accrual but remain almost fully valued due to management expecting a full recovery. J.R. Hobbs and SBS Industries Holdings are a majority of the investments currently on non-accrual status and marked over 90% of cost which means that these investments will likely be back on accrual status soon.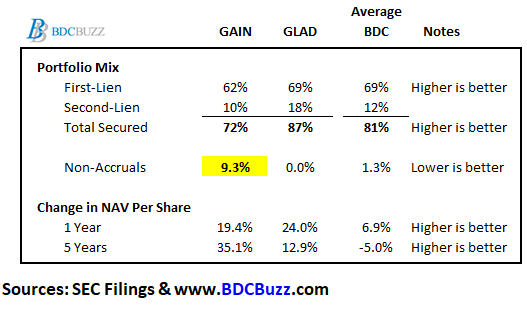 As shown below, GAIN and GLAD have above-average performance when it comes to changes in NAV per share: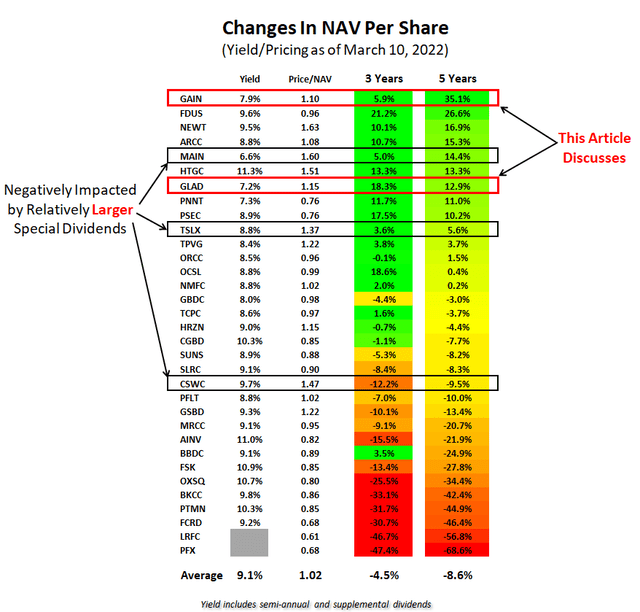 ---
Setting Target Prices and Article Summary
There are very specific reasons for the prices that BDCs trade driving higher and lower yields mostly related to portfolio credit quality and dividend coverage potential (not necessarily historical coverage).
BDCs with higher quality credit platforms and management typically have higher quality portfolios and investors pay higher prices. This drives higher multiples to NAV and lower yields.
BDCs with lower expenses and higher potential dividend coverage typically have stable to growing dividends and investors pay higher prices. This drives higher multiples to NAV and lower yields.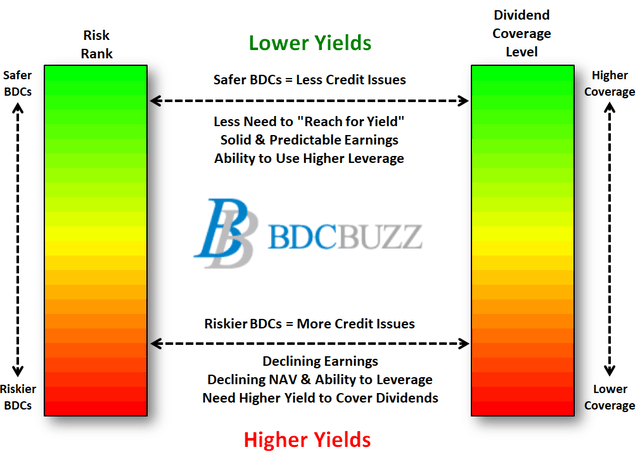 Also, and this is very important, the price-to-book/NAV is highly dependent on the amount of dividends that a BDC is paying as a percentage of NAV (but also taking into account risk profile and projected dividends).
For example, GLAD is currently paying a regular monthly dividend of $0.065 per share which is $0.78 annually and 8.3% of its current NAV per share ($0.78/$9.44). This is slightly below the BDC average partially due to the recent NAV increase of 24% shown in the previous table. However, there is a good chance that GLAD will be increasing its dividend at some point so please take into account as it currently has a lower dividend yield.
GAIN recently increased its regular monthly dividend by 7% from $0.070 to $0.075 as well as an additional supplemental dividend of $0.12 per share for Q1 2022. I have assumed that the company will pay at least $0.25 per share of supplemental dividends in 2022 which would be around $1.15 per share for 2022 or 8.7% of its current NAV. However, there's a very good chance that GAIN will be increasing its dividends again including higher amounts of supplemental dividends.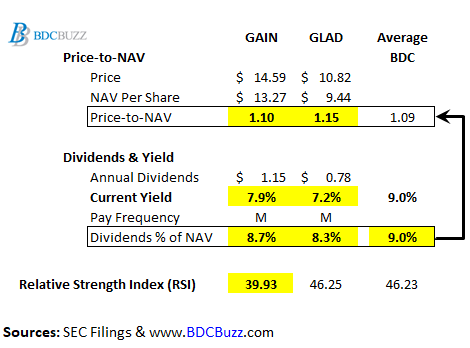 I closely watch for general market pullbacks to make purchases of higher quality BDCs. Some of the indicators that I follow include S&P Volatility Index (VIX), Fear & Greed Index, and the Relative Strength Index ("RSI") for the BDC sector that I track using Google Sheets (see below).
The Relative Strength Index or RSI is an indicator that I use only after I already know which BDC I would like to purchase but waiting for a good entry point. I consider target prices to be much more important when adding to current positions. Also, I would suggest that investors ignore RSI when starting small positions and then use it for timing additional purchases to build your position. As shown in the previous table the current RSI for GAIN is around 40 and GLAD is just over 46 near the current BDC average. This would imply that GAIN is a better buy at these levels also with a higher dividend yield of almost 8%.
The following chart is from the BDC Google Sheets so that subscribers can see in real time if the sector is overbought or oversold. It's helpful for investors that are concerned about the change in price on a specific holding/position. When the entire sector is oversold there's nothing wrong with "your stock" and it means that you should buy more at these levels. BDC pricing is often simply driven by monthly changes in investors attitude about risk.
Previously, BDC prices were rallying from the January 24, 2022, lows and many peaked in early February 2022. However, prices have pulled back again along with the general markets even though many BDCs increased their dividends. Also, many BDCs have upcoming ex-dividend dates for quarterly and special dividends likely driving lower prices similar to the December 2021 lows.
Please note that March 18, 2022, is a triple witching Friday which is the simultaneous expiration of stock options, stock index futures, and stock index options contracts all on the same trading day occurring on the third Friday of March, June, September, and December. Last year, June 18, September 17, and December 17 were triple witching Fridays and the BDC sector pulled back during those weeks often hitting lows the following Monday. This would imply that next week and/or the following week could provide buying opportunities, especially after ex-dividend dates mentioned earlier.
As shown below, the average RSI previously rebounded from the most recent low on January 24, 2021, and is currently 46.2 (neutral territory). After each general market and BDC sector pullback, BDC pricing quickly rebounded giving investors little time to make additional purchases so please be prepared.