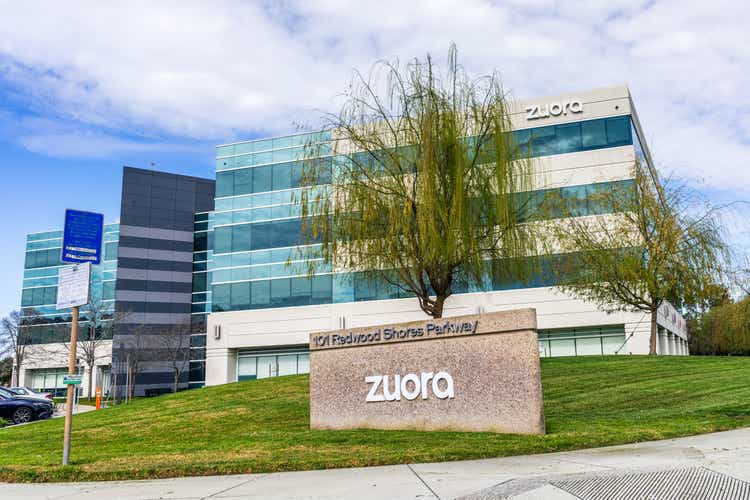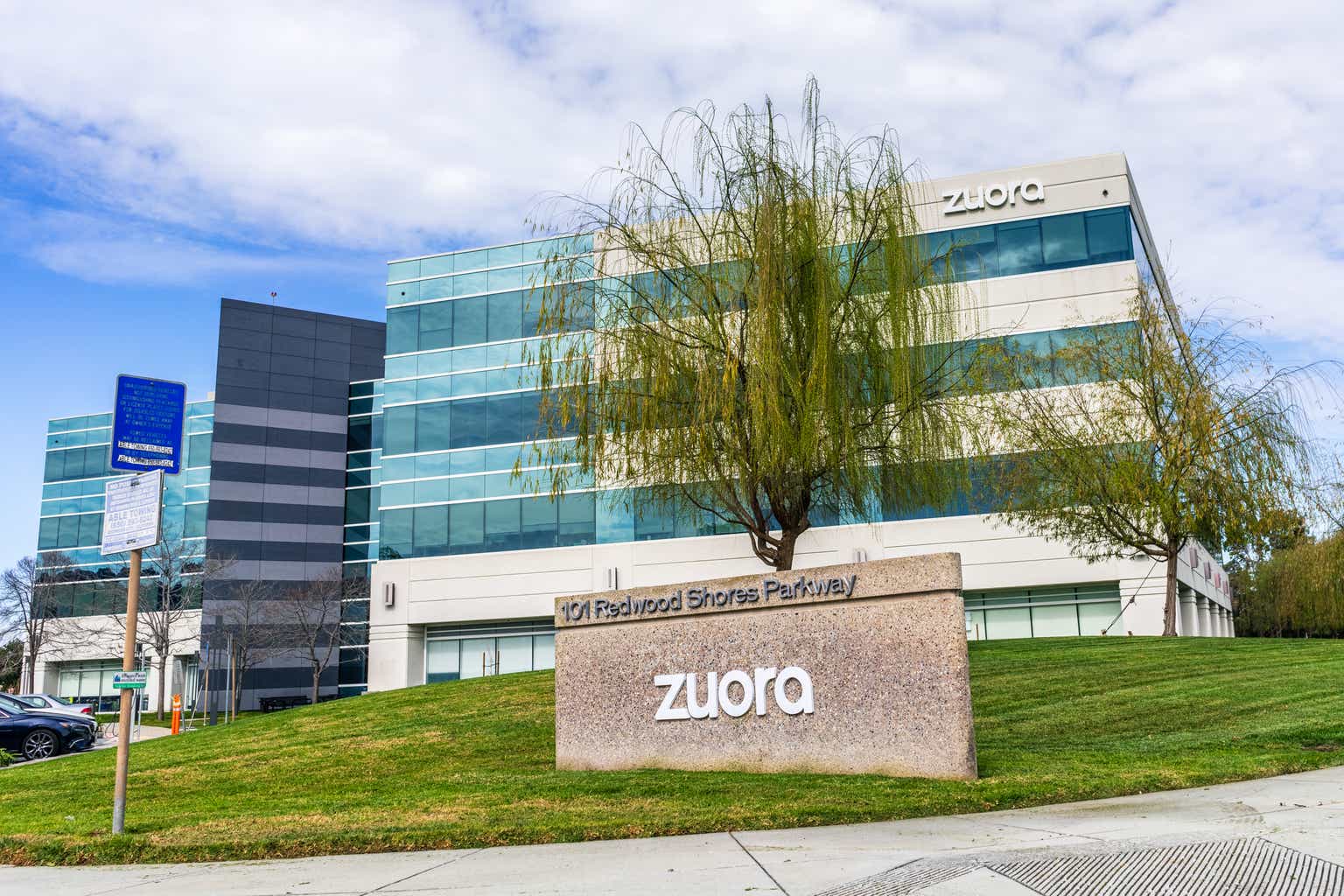 Stock markets are continuing to trade in a very volatile fashion, but over the past week, there have been glimmers of hope that investors are starting to get tired of over-reacting to the same news and being bearish on the macro picture. In my view, the best way to play this situation is to slowly position yourself for a rebound, but protect yourself on the downside. The way to do this, of course, is to buy into "growth at a reasonable price" stocks that have been pummeled over the past few months and have plenty of room from a valuation perspective to spring back once sentiment returns.
Zuora (NYSE:ZUO) is one such ideal play. This subscription SaaS company, which designs an ERP (enterprise resource planning) platform for fellow subscription businesses to manage their customers and billings, has been quietly plugging along with improved growth rates versus last year and improving profitability. Still, Zuora retains the mark of a stock that has been discarded into the penalty box, and its valuation remains at startlingly low levels.
In early March, Zuora reported fiscal fourth quarter results and guided toward a fairly robust FY23. In spite of this, the stock is down ~15% since (largely in sympathy with other growth stocks, as the entire market has continued to plunge following the intensification of the Russia/Ukraine conflict), while also being down ~40% from peaks near $23 notched last November.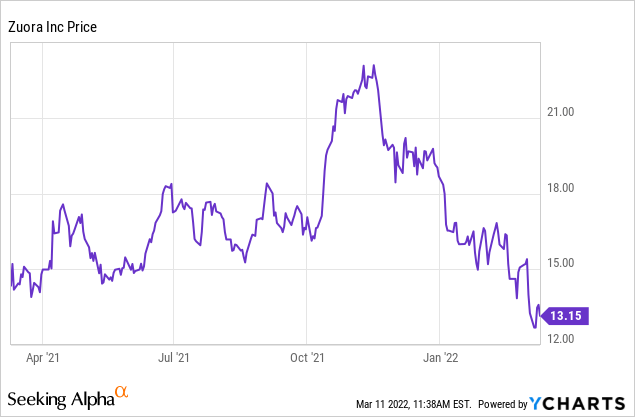 The title of this article spells it all out: in my view, Zuora remains an incredibly safe investment. Growth momentum is there, and it has a strong unique product and veritable drivers for continued expansion (distinguishing it from Yext (YEXT), which recently had a major fallout and ousted its founder/CEO and CFO). Zuora's margins, also unlike Yext, are tilting toward positive - and the company is already generating positive FCF and expects FCF to grow handsomely in the coming fiscal year. To me, this stock has all the makings of a successful recovery rally story.
The bullish thesis for Zuora
Here's a refresher, for investors who are newer to this name, on the full bullish thesis for Zuora:
Subscription-based business models are becoming dominant. Given the fact that more and more businesses are adopting this type of model, Zuora's base of potential customers has widened significantly. Zuora's uniqueness in this regard is also important to point out: companies can choose a regular ERP, but Zuora's subscription-focused solutions help to address common pain points.
Innovation track record is strong; the product portfolio is expanding. There's virtually no other company that markets itself as a purpose-built platform for subscription companies. Zuora has also done a good job at fleshing out its portfolio of solutions, ranging from revenue management to billing tools to CPQ (configure, price and quote) applications.
Zuora grows along with its customers. As Zuora's clients' subscriber bases grow, so does Zuora's opportunity to monetize and grow alongside its customers. The company has noted that upsells have hit a "record pace" in Q2, and highlighted several key milestones like GoPro's subscription-based storage and insurance program (a key feature of the company's planned turnaround) hitting 1 million subscribers.
Offloading services work to partners. As Zuora has scaled, it has also been able to ramp up its third-party vendors and resellers to take on more of the unprofitable services/onboarding work that typically acts as a drag on software-company margins. Zuora's mix of subscription versus services revenue has grown over the past several quarters, helping boost gross margins and illustrating where Zuora would prefer to be at scale.
Acquisition possibility. While I never like to base any investment decision based on high hopes that the stock will get acquired, Zuora checks off a lot of boxes for being acquired: it's small with just a ~$2 billion market cap; it offers a very unique product that many larger software companies may want to get their hands on, especially during times when organic growth is fading; and it's FCF positive.
Valuation check
At current share prices near $13, Zuora trades at a market cap of $1.67 billion. After netting off the $215.4 million of cash and $1.7 million of debt on Zuora's most recent balance sheet, the company's resulting enterprise value is $1.46 billion.
Meanwhile, for the upcoming fiscal year, Zuora is guiding to a pretty tight revenue range of $402-$406 million, representing 16-17% y/y growth - also indicating acceleration versus 14% y/y growth in the most recent quarter.
Against this revenue outlook, Zuora trades at just 3.6x EV/FY23 revenue - which is quite a modest multiple for a company expected to grow in the high teens, while also generating positive free cash flow and near-breakeven pro forma operating margins.
The bottom line here: Zuora may not be the most exciting software company on the block, but its combination of consistent growth, confident outlook, free cash flow expansion and value orientation make it quite an attractive investment.
Q4 download
Let's now discuss Zuora's latest Q4 results in greater detail. The Q4 earnings summary is shown below:
Zuora's revenue in Q4 grew 14% y/y to $90.7 million, beating Wall Street's expectations of $90.3 million. Subscription revenue growth, which is the driver of Zuora's margin, grew 19% y/y to $77.3 million - matching Q3's growth pace. We actually like the fact that professional services revenue is down y/y, and that the professional services mix of total revenue has declined to 15%, three points better than 18% in the year-ago quarter. As can be seen in the chart above, professional services is still something that Zuora provides below cost. The revenue mix shift toward subscription is the primary driver for Zuora's two-point bump in pro forma gross margins to 61%, up from 59% in the year-ago quarter.
Zuora's growth has been supercharged relative to several years ago, when growth had sunk to the high single digits. One of the main drivers behind this has been a large equity infusion from SilverLake Capital, which has allowed the company to invest in go-to-market and provide a cash buffer for tuck-in acquisitions.
Here's some commentary on the growth that Zuora has been able to achieve, and its priorities looking ahead, per CEO Tien Tzuo's prepared remarks on the Q4 earnings call:
We started the year with ambitious goals around ARR, growth in dollar-based retention rate. And today, when I reflect in the quarter in the year, I am thrilled to share that we delivered. I'm also excited to share that Silverlake, a global leader in technology investing is partnering with us by way of a $400 million investments into the business. The undeniable momentum of the subscription economy and the clear leadership we hold in the space was the catalyst to this relationship. This investment allows us to pursue new initiatives, such as potential targeted acquisitions and other opportunities to broaden our product offerings and enable our customers to deliver exceptional subscriber experiences.

I could not be more thrilled about the partnership. With that, let me share some additional details about our results for the quarter in the year. At the start of the year, we said that the biggest opportunity in the subscription economy lies with large companies. Both enterprise incumbents and the fastest-growing disruptors, and this year we saw that this was absolutely the case. These companies are recognizing that recurring revenue business models, those that focus on building ongoing relationships with their customers offer a faster path to growth. In fact, our latest subscription economy index report, which analyzes anonymizing aggregated data of long-term Zuora billing customers just launched. And this time has shown that subscription businesses continue to outpace the S&P 500 growing 4.6 times faster over the entire past decade.

Now, while some have wondered whether the stay at home growth phenomenon was temporary, our data shows that overall subscription economy businesses are holding on to their pandemic subscribers and accelerating into the new-year."
Other points to note: Zuora has been successful in upselling as well, with 18% of its customers now purchasing the entire Zuora suite. Bookings for Zuora's newest product, Zuora Revenue, also doubled in FY22.
Zuora is expecting acceleration in ARR growth as well. ARR grew at a 20% y/y pace in Q4 (faster than revenue growth). Next year in FY23, the company is guiding to 21% y/y ARR growth, and by fiscal year 2025, Zuora is aiming to hit 25-30% y/y growth in ARR. A lot of this growth will come from within the company's existing install base, as the company believes there to be $450 million of upsell opportunity within today's pool of customers - more than double Zuora's current annual revenue clip.
Of course, Zuora hasn't neglected profitability either. Q4 pro forma operating margins in the quarter came in at a near-breakeven -1%, up slightly from -2% in the year-ago Q4. The company is also projecting breakeven pro forma operating margins in FY23, despite the additional expectation of acceleration in ARR. In addition, Zuora generated $10.3 million of positive FCF in FY22, despite a slight cash burn in the year-ago quarter, and for next year is also projecting continued expansion to $14-$17 million in FCF.
Key takeaways
Value, consistency, and a line of sight to profitability - these are the hallmarks of why Zuora makes for a great investment during a volatile market that will eventually enter into a rebound phase. Stay long here and use the dip as a buying opportunity.