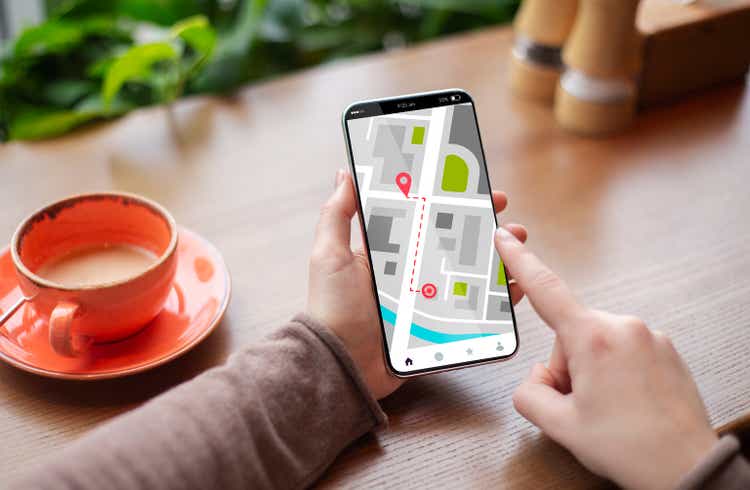 Well, we argued that Q4 and Q1 would be rather ugly for Smith Micro (NASDAQ:SMSI) and Q4 was indeed pretty ugly, responsible for all of the FY2021 non-GAAP losses ($2.2M) and then some (Q4 non-GAAP net loss was $2.4M).
However, a much better future is in sight as the company is set to have the top three US carriers (and two minor ones abroad) migrate onto the SafePath 7.0 family safety app this year, starting with T-Mobile (TMUS) in the next few weeks.
The apps for T-Mobile have already been approved in the Apple and Google app stores; the wait is simply for the launch of the T-Mobile marketing campaign.
Meanwhile, Verizon (VZ) is already marketing its legacy app which of course is also provided by Smith Micro since it bought the Family Safety business from Avast.
The marketing is already increasing subscribers. Here is Bill Smith, CEO of Smith Micro (Q4CC):
I believe this is just the first step in utilizing extensive new retail marketing efforts, which have already proven to be effective in growing the subscriber base and profitability of carrier provided Family Safety services.
This bodes well when they will migrate onto SafePath 7.0 later this year and as a side note, they are leveraging Verizon's use of ViewSpot, another Smith application, in the store marketing efforts. And then there is this (Q4CC):
For example, we are targeting Smart Family basic subscribers to promote the premium and tier of the service as the Smart Family premium includes several additional features, such as family location services and driver safety monitoring. This digital marketing strategy illustrates that we're using all channels and tactics at our disposal to grow revenue at Verizon. Overall, our main Verizon-related priorities during 2022 will be to grow revenues while successfully migrating the carrier Smart Family service to our SafePath platform.
The company retained AT&T (T) as a customer, although that led to an additional payment of $13.6M to Avast as an earnout, the payment was made in Q4 (responsible for the ugly GAAP print).
Just like at Verizon, the company is embarking on a joint marketing campaign for the legacy app, while the move over to the SafePath 7.0 platform is planned for later this year.
Both Verizon and AT&T will benefit from the migration experience at T-Mobile and management is pretty upbeat with respect to the opportunities at AT&T as well (Q4CC):
The tremendous support we've received from the carrier up to this point, coupled with the exponential growth potential of the relatively small Secure Family's subscriber base, is just the tip of the iceberg at AT&T. The upside potential for this account is truly immense for Smith Micro.
Not for the first time, we remind readers of the 2019 SafePath ramp at Sprint (in blue):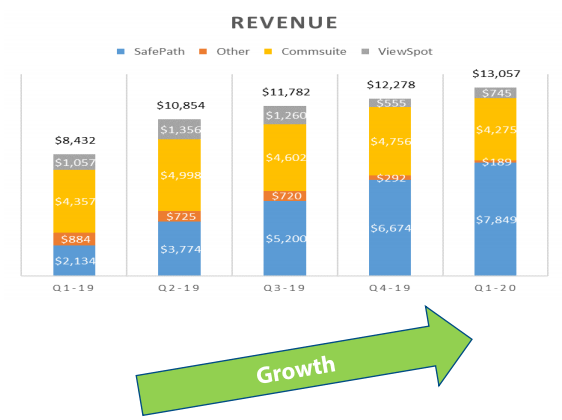 That ramp was cut short by the pandemic and the acquisition of Sprint by T-Mobile. We will soon experience something like the above, with the proviso that:
T-Mobile/Sprint is 3x the size of Sprint alone
T-Mobile ramp will include legacy app migration
The other two big carriers will follow (as well as Wind Tre and Vodafone Check), although not necessarily on similarly favorable terms.
CommSuite and ViewSpot
The bad news in Q4 was that the subscribers at Sprint for CommSuite are accelerating their migration to the T-Mobile network, which is why CommSuite revenue is declining at an even faster clip than expected. However:
In comparison to SafePath, CommSuite has much less potential for growth.
Just over half of the revenue for CommSuite comes from Boost, the prepaid arm of DISH (DISH), and the company signed a contract with DISH for more extensive use, so CommSuite is still able to attract new customers.
While the revenues for ViewSpot are a fraction of those of SafePath, there is potential for significant expansion:
The variable (marketing) part of revenue declined significantly, but this can turn in the future.
The company extends contracts with Verizon and Cricket.
There have been a couple of successful trials for new customer wins.
The company has enhanced functionality to increase the TAM to include the wider retail market.
ViewSpot Studio enhances content management capability and decreases cost, Verizon and Cricket are already on it.
Figures
The Q4 figures were ugly as a result of the one-off payment to Avast for retaining AT&T as a customer (a price well worth paying, we would argue) and the more rapid decline of CommSuite (and to a lesser extent of legacy family safety apps) at Sprint.
This is all transitory, although Q1 isn't going to see much improvement (apart from not repeating the one-off payment to Avast).
While Q2 might still not show material improvements, the company is set up to improve dramatically in H2 and beyond:
T-Mobile will have launched the marketing campaign and moved the subscribers of legacy apps to SafePath 7.0 platform with better conditions (a revenue share agreement on a per-subscriber basis). The migration of legacy app subscribers should provide a considerable additional subscriber tranche, on top of what they get on board with their marketing efforts.
The other two carriers will follow, also with marketing new subscribers and migration of legacy app subscribers.
Once the carriers are on SafePath 7.0, there are significant additional opportunities with SafePath Home, given that carriers are getting FWA routers in homes and there is an opportunity for SafePath Home to be stored on that to enable consumers a single pane of glass for all their family safety functionality (parental controls of TVs, game consoles, etc.)
Gross margin will return to the 80%-90% level with the consolidation of all four legacy apps onto SafePath 7.0, which will be completed Q1 2023.
New contracts
Smith inherited the contracts Verizon and AT&T had with Avast and these are not as favorable as the recently negotiated contract between Smith and T-Mobile, which works on a revenue share per subscriber basis.
However, given that Smith Micro is participating in marketing campaigns with both, there will be a per subscriber element in these contracts (or in upcoming contract renewals); otherwise, Smith would not have an incentive to participate in marketing.
We think it is likely the company will get similar type contracts when these legacy app subscribers are migrated onto SafePath 7.0 because SafePath 7.0 is much more sophisticated in terms of functionality and lack of alternatives, but this isn't a given.
Conclusion
Q1 will still be difficult, it will take time to ramp new customers from T-Mobile and any additional Verizon and AT&T customers won't add all that much as these are still under the legacy contracts.
However, a big boost will come when the carriers migrate subscribers from their legacy apps to the SafePath 7.0 platform, beginning with T-Mobile, followed by Verizon and AT&T (and also the two smaller foreign carriers).
This will increase gross margin as there will be only one platform to support, but it also opens the way for more favorable contracts with Verizon and AT&T.
While CommSuite revenues are declining rapidly as a result of Sprint subscribers moving over to the T-Mobile network, there are the Boost subscribers and new opportunities at DISH.
With $16.1M left in cash, we don't expect that to become a problem but admittedly they don't have huge margins here.
We expect the performance to improve markedly on the migration of legacy subscribers and marketing ramp at T-Mobile alone in H2 with the other carriers joining later.
The carriers have a couple of hundred million clients, they only need a fraction of these to subscribe to SafePath 7.0 for things to improve tremendously at Smith, given the high gross margins. And given the planned migration from legacy apps, they're almost guaranteed as much.
There is no patience in this market, that isn't all that surprising given what's going on in the world, but a year from now we think that the financial outlook for the company will have changed pretty dramatically.