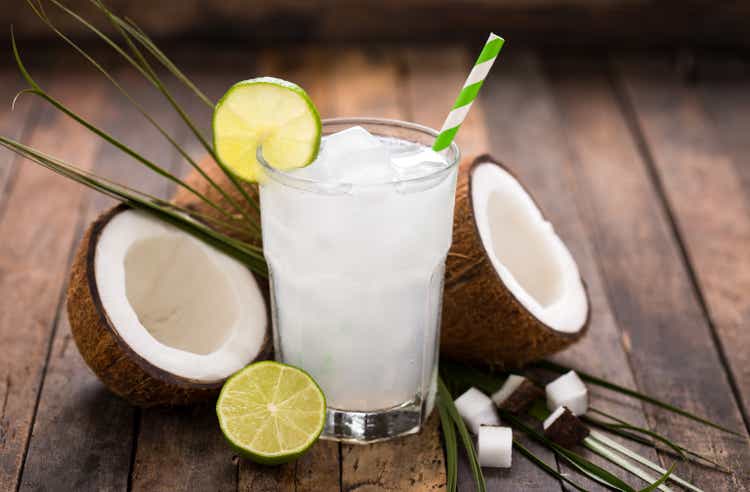 Although there are many food and beverage companies that investors can choose from, finding niche players in this market that happen to be innovative can be a challenge. One company that does fit this bill is a firm called The Vita Coco Company (NASDAQ:COCO). Recent performance by management has resulted in revenue expanding at a nice pace. That trend looks set to continue for the foreseeable future. Unfortunately, the company is struggling from margin compression that is likely to continue through at least the current fiscal year. But when you factor in the overall low risk of the enterprise and consider where it's priced relative to similar firms, it's not all that bad a prospect. More likely than not, the lofty multiple the company is trading for likely means that further upside is limited. But for very long-term investors who don't mind waiting for an extended period of time, it could well still be a decent prospect to consider.
A play on coconut water
The operating history of Vita Coco dates back to 2003. Since then, the company has expanded into an interesting player with a sizable footprint. It made its mark by producing and selling packaged coconut water and, in recent years, it has been extending into other healthy beverage categories. In addition to selling its hallmark Vita Coco brand of coconut water, the company also sells other coconut oil and coconut milk offerings. On top of this, it owns a brand called Runa, which is a plant-based energy drink inspired from a plant that is native to Ecuador. Another brand the company owns is called Ever & Ever, which is a packaged water brand. Plus it also owns a flavored protein-infused water product called PWR LIFT.
In terms of how sales are organized, management has said that, today, the business has two key segments. One of these is the Americas segment. During the company's 2021 fiscal year, this particular segment accounted for 83.2% of the volume sold by the business and accounted for 85.3% of total revenue generated by the company. The other segment is the International segment, which is responsible for the remaining 16.8% of the firm's volume sold and 14.7% of its revenue. Looking at things a different way, we can see that, in 2021, its own Vita Coco coconut water brand was responsible for 70.2% of its overall revenue. Private label sales represented a further 24.9% of revenue. And the 'Other' category of revenue made up the remaining 4.9% of sales.
In the past three years, sales for the company have grown at a pretty nice clip. Between 2019 and 2021, revenue increased from $283.9 million to $379.5 million. Volume sold has undeniably been a significant contributor to the company's revenue growth. For instance, between 2020 and 2021, sales of the company grew by 22.2%. This was driven in large part by a 17.9% increase in volume sold. What's more, management anticipates this trend continuing for the foreseeable future. For the 2022 fiscal year, management expects sales to rise by between 16% and 20%. That would take revenue up to between $440 million and $455 million.
Although the revenue path for the company has been encouraging, profitability has been a bit mixed. Net income jumped from $9.4 million in 2019 to $32.7 million in 2020. Then, in 2021, net profits trimmed some, declining to $19 million. Management chalked a significant portion of this decline in profitability up to an increase in cost of goods sold per case equivalent that, in turn, was driven by a worsening of ocean freight rates as well as other domestic logistics issues. The company also was affected by pricing and product mix issues as well, with those, combined with other incremental costs of goods sold, impacting the business to the tune of $24 million. The bad news is that management does expect this kind of pressure to continue into the 2022 fiscal year. However, they have not provided any guidance as to what net profits might be for the year.
There are, of course, other profitability metrics that we should consider. One of these is operating cash flow. After rising from $21.8 million in 2019 to $33.3 million in 2020, it plunged to negative $16.2 million last year. That said, if we adjust for changes in working capital, the decrease would have been from $31.9 million in 2020 to $21 million last year. The only profitability metric that has been consistently on the rise has been EBITDA. This rose from $20.1 million in 2019 to $35.1 million in 2020 before ticking up modestly to $36.9 million last year. This is the only profitability metric for which management provided any guidance for the 2022 fiscal year. Based on their estimates, it should come in at between $32 million and $36 million. If we were to apply this same kind of year-over-year change, using the midpoint of expectations, then net profits should be around $17.5 million while operating cash flow should be $19.3 million.
Using these figures, we can effectively price the company. But how attractive the company looks will be determined by which year of data we choose to rely on. For instance, if we rely on the 2021 figures for the company, it is trading at a price to earnings multiple of 30.7. This increases to 33.3 if we look at 2022 estimates and it drops to 17.8 if we rely on what the company achieved back in the 2020 fiscal year. Using the price to operating cash flow approach, the multiple for the company using the 2021 data would be 27.7. This pops up to 30.2 if we use the 2022 estimates, while dropping to 18.3 if we rely on results achieved in 2020. I also looked at the company through the lens of the EV to EBITDA multiple. 2021 figures result in this coming in at 15. This increases slightly to 16.3 if we rely on 2022 estimates. And it totals about 15.8 if we rely on results achieved in 2020.
To put the pricing of the company into perspective, I did decide to compare it to five similar firms. On a price-to-earnings basis, three of the five firms had positive results, with a range of 9.5 to 98.3. Using the price to operating cash flow approach, the range was from 21.1 to 107.9, with four of the five companies included in that range. In both of these cases, only one of the companies looked at was cheaper than Vita Coco. Finally, using the EV to EBITDA approach, the range was from 21.1 to 123.3. In this case, using our 2021 results, our prospect was the cheapest of the group.
| | | | |
| --- | --- | --- | --- |
| Company | Price / Earnings | Price / Operating Cash Flow | EV / EBITDA |
| Vita Coco | 30.7 | 27.7 | 15.0 |
| SunOpta (STKL) | 9.5 | 107.9 | 22.4 |
| Vital Farms (VITL) | 98.3 | 52.5 | 69.3 |
| Calavo Growers (CVGW) | 98.1 | 47.4 | 38.7 |
| Whole Earth Brands (FREE) | N/A | N/A | 21.1 |
| Landec Corporation (LNDC) | N/A | 21.1 | 123.3 |
Takeaway
For investors who are interested in a rapidly growing niche beverage company, Vita Coco is definitely worth looking at. Ultimately, I suspect the company will fare well over an extended period of time. Having said that, it is facing headwinds as a result of high costs and logistics issues. More likely than not, this will eventually pass. And if it does, it could result in a decent amount of upside for the company. But until we see evidence of that coming to pass, while shares of the company might be cheap relative to other players, they do look rather pricey on an absolute basis. The firm is aided by the fact that it has cash in excess of debt in the amount of $28.61 million. That significantly lowers the risk for investors and makes paying a higher premium more reasonable. But this is not enough to make me feel like this is a strong and compelling prospect at this time. Rather, I see it as a neutral opportunity that is tilting in the direction of being a 'buy'.